El Cabo San Juan beach is an undeveloped tropical paradise in Parque Tayrona. Situated along the northeast Caribbean coast, it's easy to access and deserving of its reputation as one of Colombia's, if not South America's, prettiest beaches.
To get there requires a little bit of effort, but it'll be worth it. Santa Marta is the main jumping off point for visits to Parque Tayrona. You can book a cheap flight, or take a bus if you're already within Colombia.
Want to stay in Santa Marta? Book your hostel here
Once in Santa Marta, or the nearby fishing village of Tanganga, the most popular way to reach the entrance of Parque Tayrona is to book a shuttle service from your hostel or hotel. I booked my trip at La Casa de Felipe in Tanganga, which you can do whether or not you're staying there.
The cost was about 15,000 pesos ($8.50), and it turned out to be the not-so-quick and comfortable way to go. They squashed as many people as possible into the minivan, and when the last few travelers who booked the shuttle saw their only comfortable option would be the roof, they took a more costly taxi instead.
And I bet they got there a lot faster than us, as we stopped several times for people to get money from ATM's, as well as snacks and water.
Once on our way, it wasn't more than an hour's drive up the coast to the park entrance. Foreigners pay 34,000 pesos ($19) to enter, while most Colombians pay 13,000 ($7.50).
The shuttle will drive you further into the park. If you've arranged your own transport, such as a taxi, make sure it drives you to the start of the trail as well. If you make the mistake of being let off at the park entrance, you'll have a minimum 1-hour walk along a paved road that looked very boring. Don't waste your energy to save a few dollars.
At the start of the trail, you'll see some horses for rent. The cost is about 16,000 pesos ($9). If you choose to walk, as most do, it's an easy 30 minutes through the jungle, on a clearly marked trail. It can get muddy in places, so you'll be more comfortable in shoes. If you only bring flip flops, it's still possible, but will be faster (if not more painful) barefoot.
After a half hour, you'll start hearing the crashing waves, at which point you'll emerge from the jungle on a rocky outcropping. The way down isn't clearly marked, so if you find yourself at a dead end requiring rock climbing skills, you're going the wrong way. Back up and look for the trail down to Arrecifes beach.
This first beach has dangerous riptides, and it's not advised that you swim there. Several hundred visitors have died along these beaches, so don't become a statistic. That said, I did the initial jungle walk with a rowdy group of six Chileans, and upon seeing this first beach, they immediately went for a swim in the shallows, despite a clearly heavy surf.
Arrecifes beach is the first of three. It's about a 50-minute walk to the second, named La Piscina. Both of these beaches have fincas where you can stay, however both are more popular with Colombians than foreigners, who prefer the more picturesque El Cabo San Juan.
It takes about an hour and a half walking at a leisurely rate to reach El Cabo San Juan, which features a single finca with restaurant, hammocks, and camping ground. A short walk beyond El Cabo is a nude beach, however this is generally only visited by sun worshipers staying at El Cabo.
2011 prices for accommodations at Finca Cabo San Juan are:
Cabin: 50,000 pesos ($28)
Hammock on rocks: 25,000 pesos ($14)
Hammock by beach: 20,000 pesos ($11)
Tents: 25,000 pesos ($14)
Own hammock or tent: 15,000 pesos ($8.50)
Prices are per person. Checkout is 2 PM. Electricity runs from 6 PM to 10 PM, though sometimes the generator is on during the day too. The restaurant serves breakfast, lunch, and dinner. Prices range from 8,000 to 20,000 pesos ($5 – $11) per meal.
Bring snacks, but there's no point bringing all your own food and water. It's heavy to carry, you need to supply your own pots/utensils, and no fires are allowed.
The best place to spend the night is a hammock in the bungalow on the rocks. It offers 360-degree views of the sea and coastline.
In addition to better views, you'll only hear the crashing waves below, whereas guests staying at the campground are exposed to the noise from the generator every night. Plus, the campground is set back from the water (and therefore sea breeze), so mosquitoes are a potentially bigger problem. Rented hammocks include mosquito nets.
But there are a few downsides to staying in the hammocks on the rocks as well. Due to your exposure to the wind, it can get chilly at night. Definitely bring a change of warm clothes for the nights, such as a hoodie and pants. A light sleeping bag would also work well. The finca rents blankets for a small fee.
I had a base layer, t-shirt, and thin hoodie, along with board shorts, and was still cold enough to shiver. It took me an hour or two to fall asleep, but once I did, I slept pretty well and there were no issues with mosquitoes.
Another downside to staying high up on the rocks is your ability to access them. Namely, it requires crossing a small stream that cuts through the sandy split between beaches. At low tide, it's only a foot or two deep, with a gentle current — no big deal. At high tide, it's a different story. The water can be chest-high, and the current out to sea is much stronger.
Unfortunately, as I found out during my stay, the tide comes in during the early evening.
Picture this, you enjoy a nice dinner with new friends, maybe a few beers, and then are walking back to the cabin with just a head torch to light your way.
What was once an easy-to-cross stream has become a torrent of muddy water. You have no choice but to wade through the water, and climb up on the exposed rock that acts as a partial bridge. From the rock, you have to make a short leap onto a wet wooden plank held in place by a few sandbags. Oh, and it might be raining too.
So I think part of why I was shivering before falling asleep was the fact that I had to get soaking wet to return to the hammocks. They don't warn you about this when you choose where to stay.
While I only had a beer or two, several girls got properly drunk, and I could hear their screams as they waded through the cold water to get back to their hammock later in the evening.
When the sun is out, the main beach at El Cabo San Juan is the hub of activity. It could easily be a beach in the South Pacific. Guys love climbing on the big rocks, while most of the girls are happy to work on their tans.
There are several ways to exit El Cabo San Juan.
You can walk back the way you came, which can take about two hours, and then catch a bus or taxi back to Santa Marta. You can rent a horse to speed up the experience. Or my personal preference, pay 40,000 pesos ($25) for a seat on the daily speedboat back to Taganga.
The boat ride lasts 45 minutes to an hour, depending on the seas. One Aussie girl I spoke with who took the boat to El Cabo San Juan said it was the worst boating experience of her life, and she'd spent time working on cruise ships. Apparently the sea was rough, and the boat bounced up and down violently, causing her to get doused with water the whole trip.
My ride back to Taganga was perfect, and a fun way to see a section of the coast that isn't otherwise accessible.
____________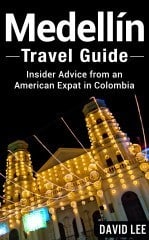 My 138-page, all-original Medellín Travel Guide is now available for Kindle and PDF.
.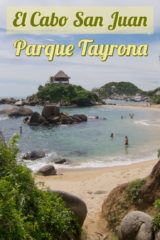 Dave is the Founder and Editor in Chief of Go Backpacking and Feastio. He's been to 66 countries and lived in Colombia and Peru. Read the full story of how he became a travel blogger.
Planning a trip? Go Backpacking recommends: