The crystal clear waters surrounding Providencia Island, Colombia, are as gorgeous as any on our beautiful blue planet.
Looking at the photo below, you'd be forgiven for thinking it was taken in the South Pacific or the Gulf of Thailand.
Alas, pretty Providencia is found in the Caribbean, closer to Nicaragua's coast than Colombia in South America.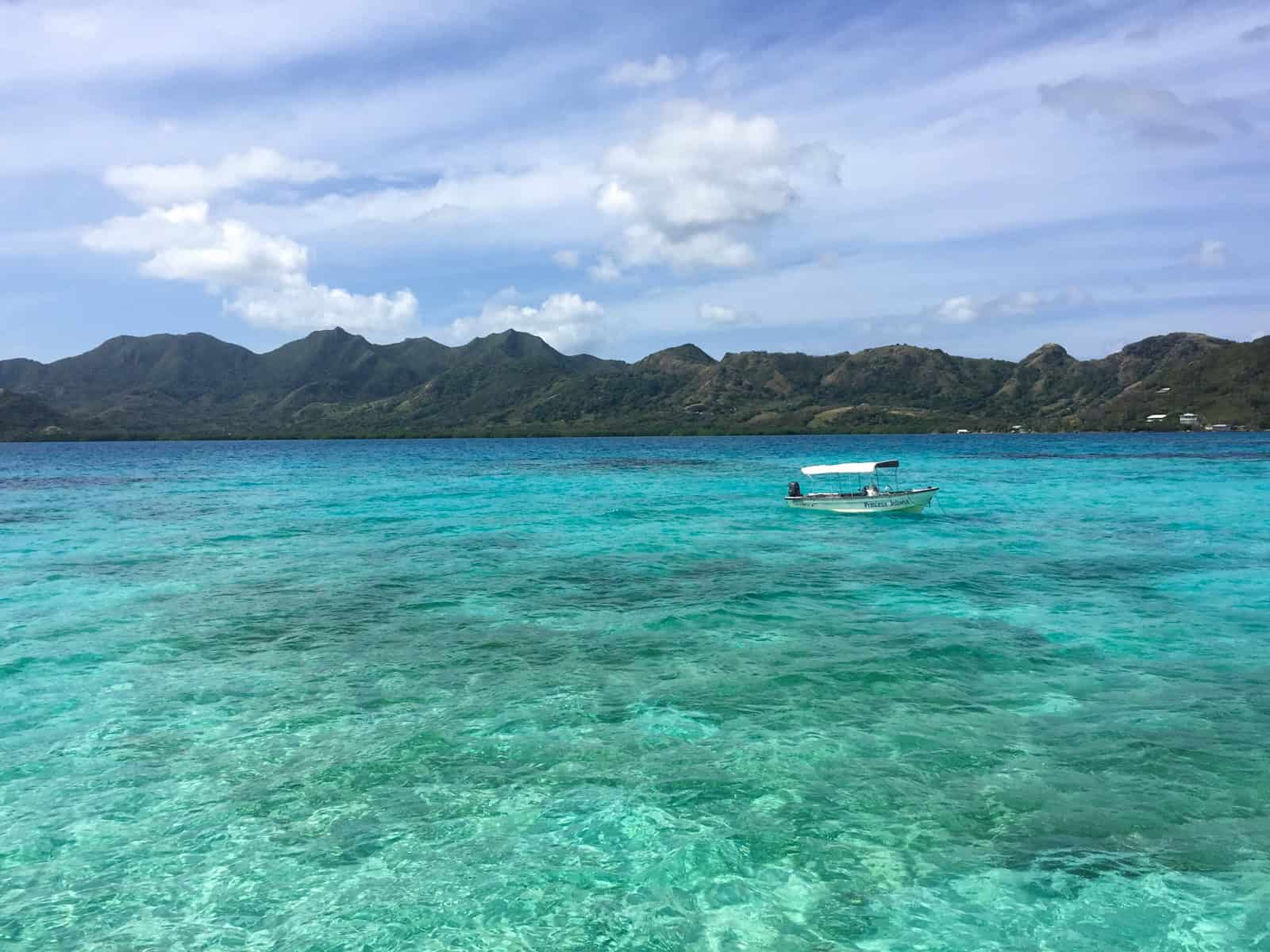 Providencia is a smaller island than nearby San Andres and is less developed.
For readers who've been to Mexico's Maya Riviera, San Andres island is to Cancun as Providencia is to Tulum.
Whether Colombian or foreign, most travelers stop when they get to San Andres. This has some advantages, especially if you're on a tight budget.
It saves you time and money on transportation. You're more likely to meet other travelers, whether Colombian or foreign.
The beaches of San Andres are more extensive, and there are more bars and restaurants. If partying is your preference, this is the better island for it.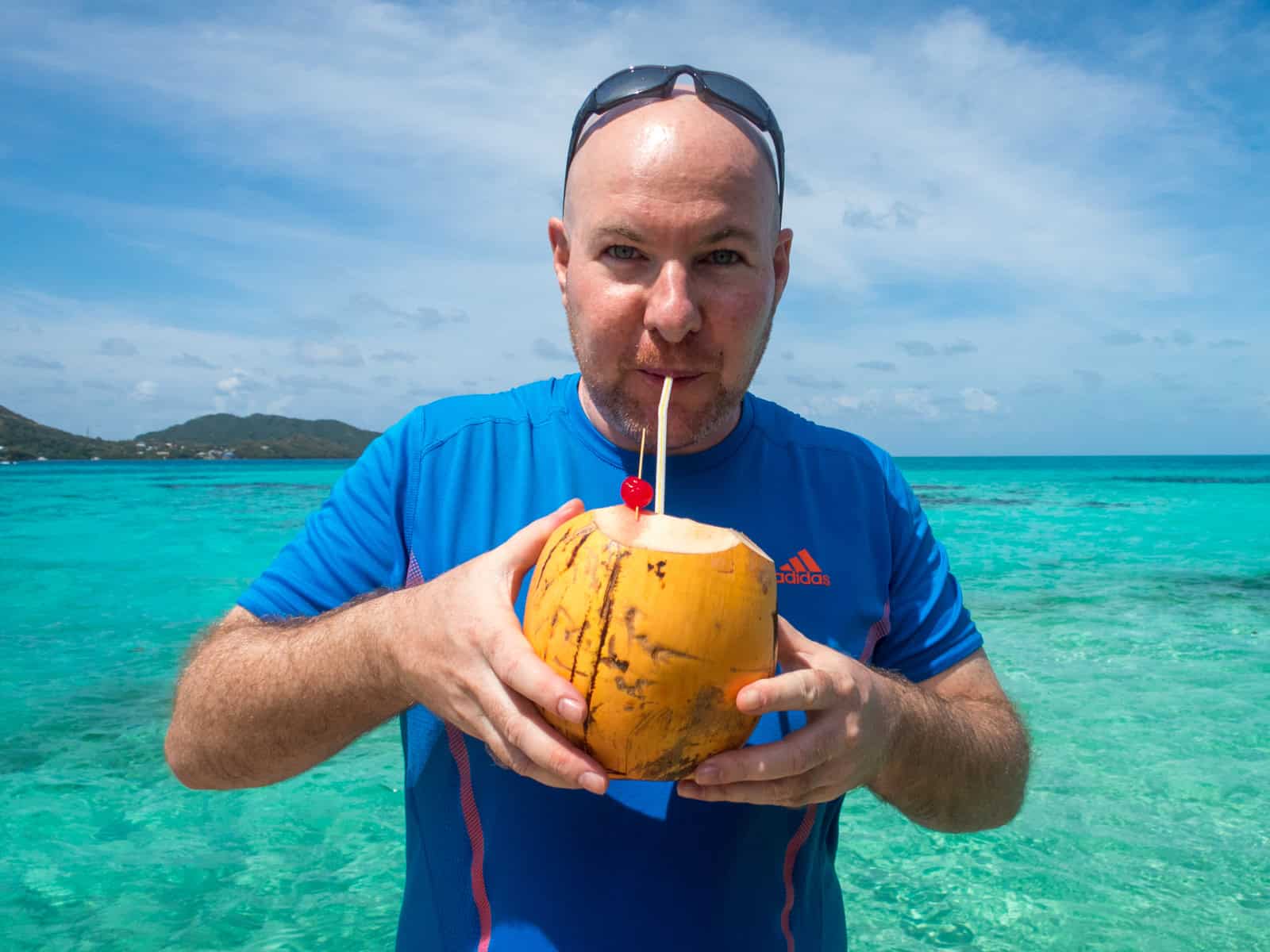 But, San Andres doesn't feel all that unique. It's been a popular Colombian vacation destination for decades. And it shows.
Meanwhile, low-key and laidback Providencia has remained relatively undeveloped. With its unspoiled beaches, the island has a population of just 5,000 residents.
Expect this to change, though, as the Colombian government works to expand Providencia's El Embrujo Airport so it can get international flights.
Despite the hiccups to travel in 2020-21, developers see plenty of opportunities; it's only a matter of time before there's new construction.
My advice is to prioritize travel to this incredible small island over San Andres and get there as soon as possible, so it still feels special.
I've put together this Providencia Island travel guide based on my experience of spending two days and two nights exploring scenic spots on the island.
Providencia Island Travel Guide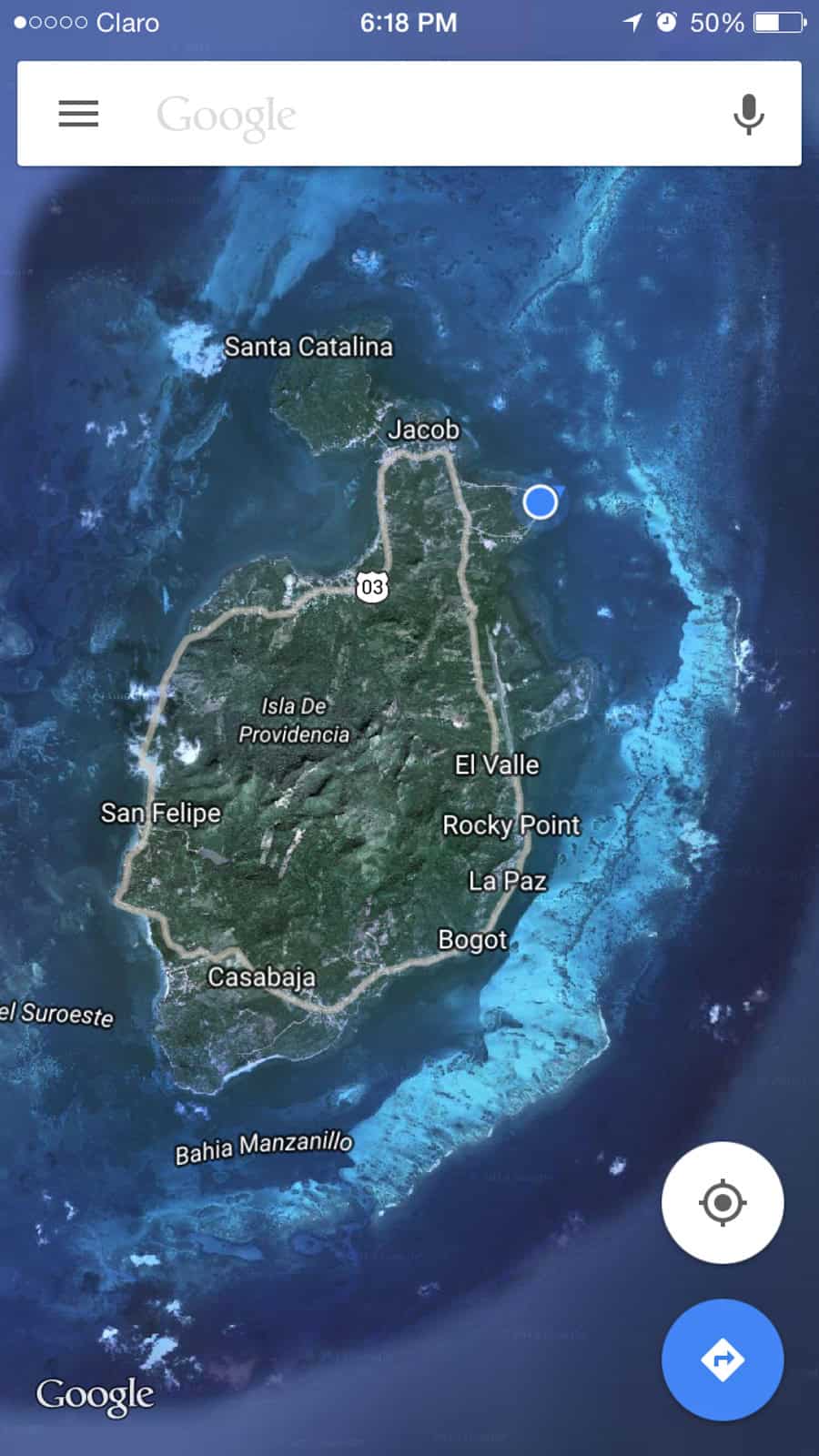 FAQ: Planning Your Trip
Where is Providencia, Colombia?
Providencia is located in the western Caribbean Sea, near Nicaragua.
It's a part of the archipelago of San Andres, about a 20-minute flight north of San Andres island (or several hours by ferry).
Providencia is a part of the Seaflower Biosphere Reserve, a UNESCO Marine Protected Area.
The Seaflower Biosphere Reserve is an oceanic archipelago with coral banks, small islands and islets forming part of atolls, which are rare systems in the Caribbean Sea.

— UNESCO
Is it safe to visit?
Yes! Providencia is safe for travelers of all ages. The economy relies on tourism, and it has a much smaller population than San Andres.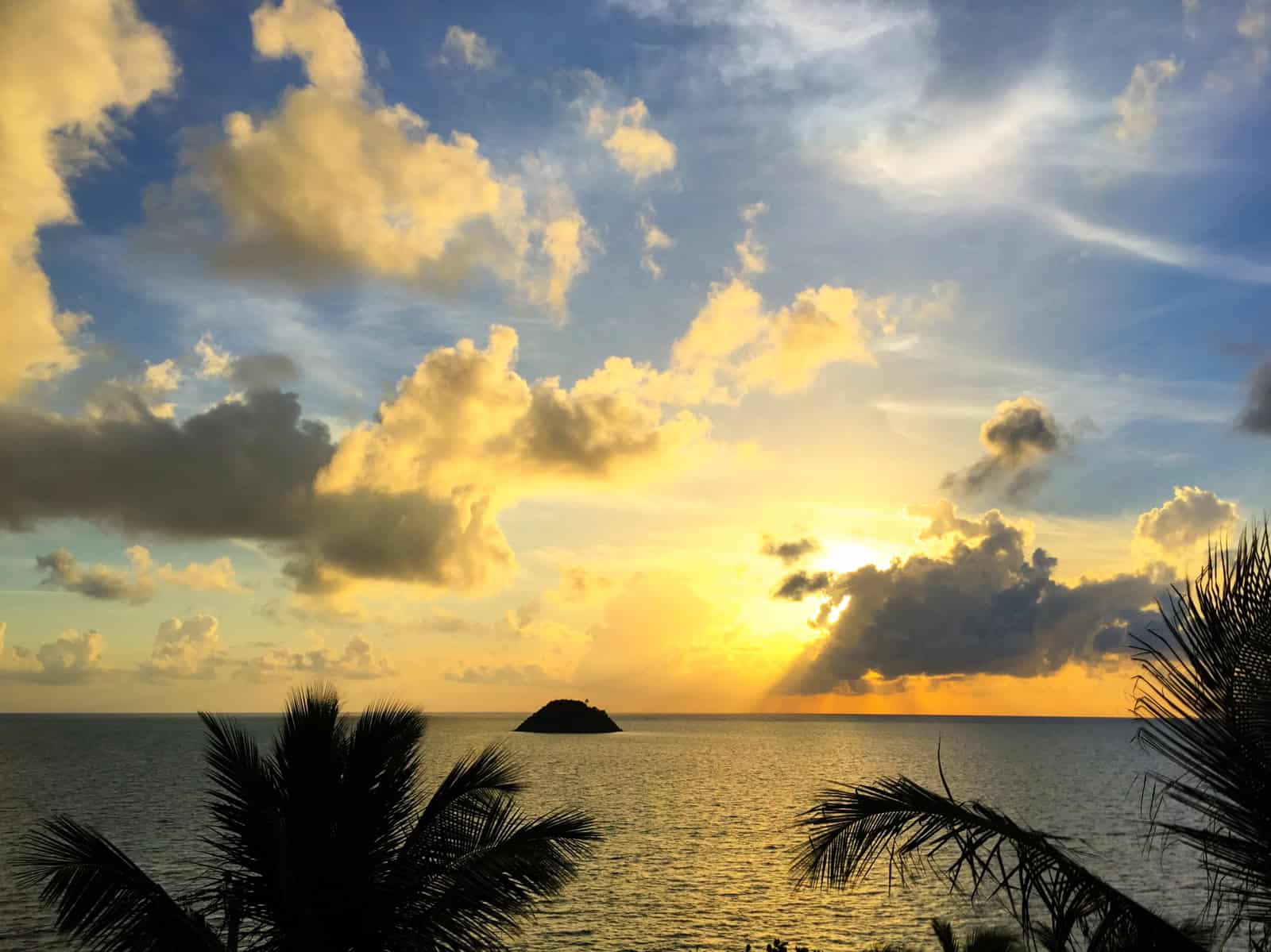 When's the best time of year to go?
As with San Andres, the best time to visit Providencia is February, March, and April during the dry season, and this is the high season.
The average temperature is pretty steady throughout the year, ranging from 78 F to 85 F.
I visited San Andres and Providencia in mid-February, and the weather was beautiful.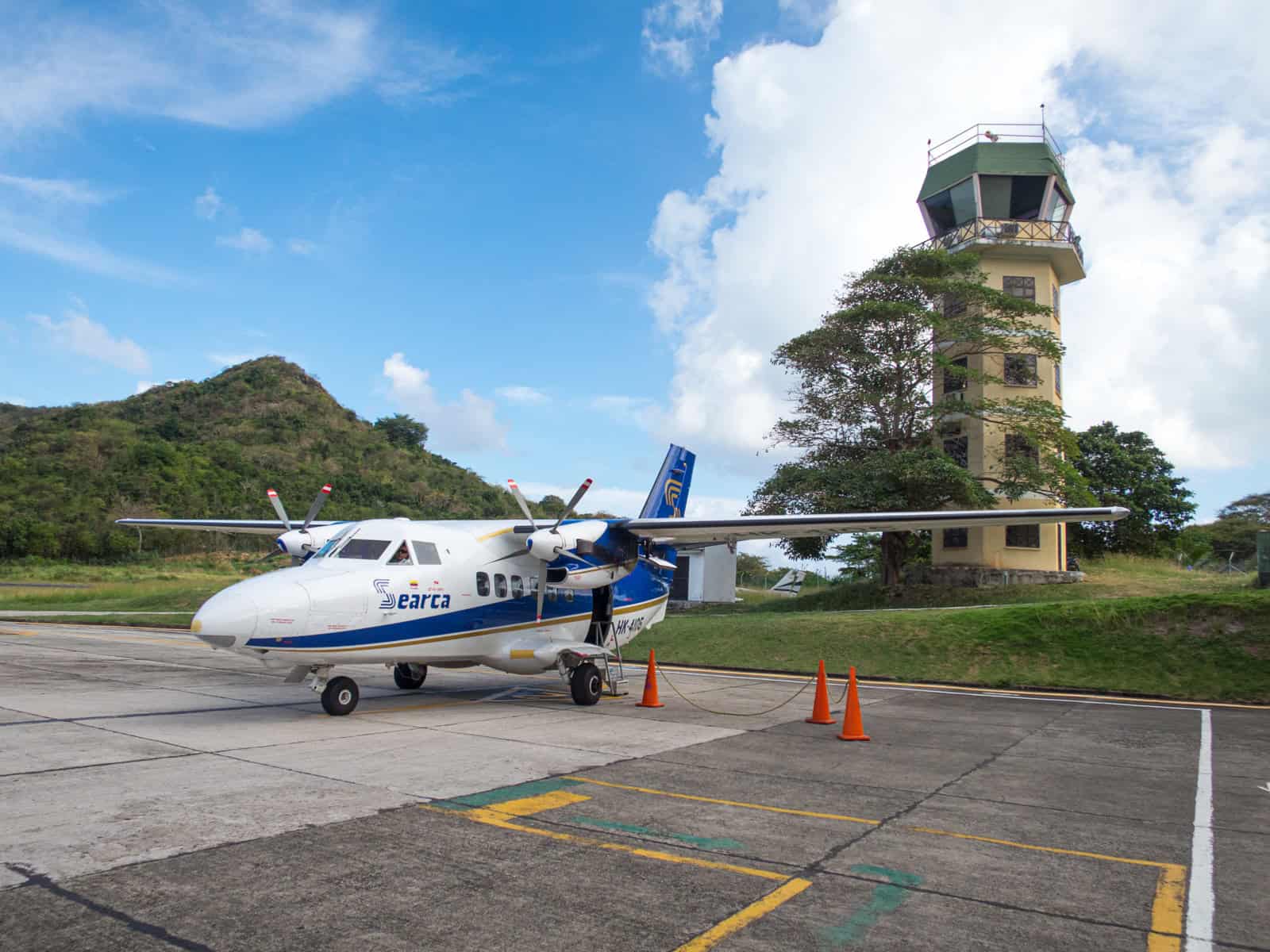 How do you get to Providencia Island?
There are currently no international flights to Providencia from the United States or anywhere else.
You'll first need to fly from mainland Colombia to San Andres. Search a site like CheapOAir for low rates.
If you'd like to fly from San Andres to Providencia, expect to pay $50-$100 each way. The prop planes hold about 20 people; the flight time is 20 minutes.
Two airlines operate between the islands. I flew Satena, a Colombian government-owned airline that uses Searca charter flights, for a $108 round trip. The other airline is San Germán Express.
The catamaran-style ferry is operated by Conocemos Navegando and takes about three and a half hours. Both options are subject to local weather conditions.
The plane is marginally more expensive than the ferry, saves significant time, and avoids potential seasickness.
I was happy to pay for flights for the slight price difference, maximizing my time in Providencia.
Where should you stay?
Providencia is much smaller than San Andres, which will hopefully make your choice of where to stay more manageable.
After going ultra-cheap for five nights in San Andres by only spending $92 on a hostel dorm, I chose to make my stay in Providencia one I'd never forget.
I booked two nights at Deep Blue Hotel, Providencia's only boutique luxury hotel. It was expensive at $221 per night for a Junior Suite, but so worth it.
I had a spacious room with a sea view and deck, a rooftop pool, easy access to the restaurant, dock, and snorkeling around Cayo Cangrejo (Crab Caye).
If you're trying to keep your cost of travel in Colombia down, then your best bet is to stay at a posada or cabaña (check Booking.com) or Airbnb.
Note: In mid-November 2020, the eye of Hurricane Iota, a ferocious Category 5 storm, passed within six miles (11 kilometers) of Providencia, resulting in significant damage. As of May 2022, Deep Blue Hotel is still temporarily closed for repairs.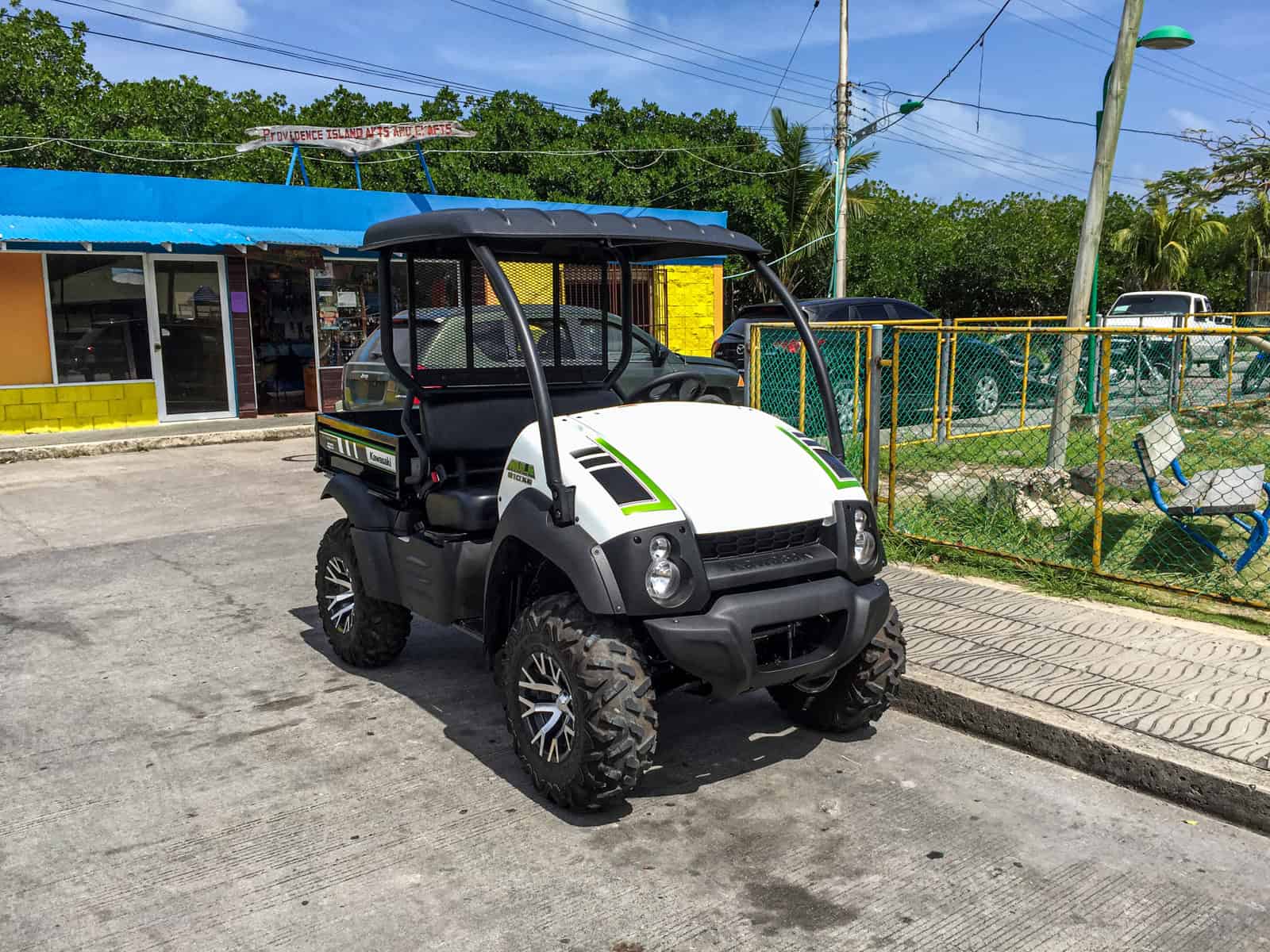 How do you get around?
Providencia has one paved road that circles the island, and very few go inward to the island's lush green interior.
A taxi from the airport to my hotel nearby was about $4.
I rented an electric golf cart (pictured above) from Deep Blue Hotel and spent the day driving around the island for my first full day.
I also used it in the evening to revisit Roland's Roots Bar. The cost was $50 for an 8-hour rental.
It was in excellent condition and extremely easy to drive. I realized, by comparison, that the golf cart I'd rented in San Andres was a piece of junk.
Renting a bicycle is another option if you prefer to get some exercise along the way.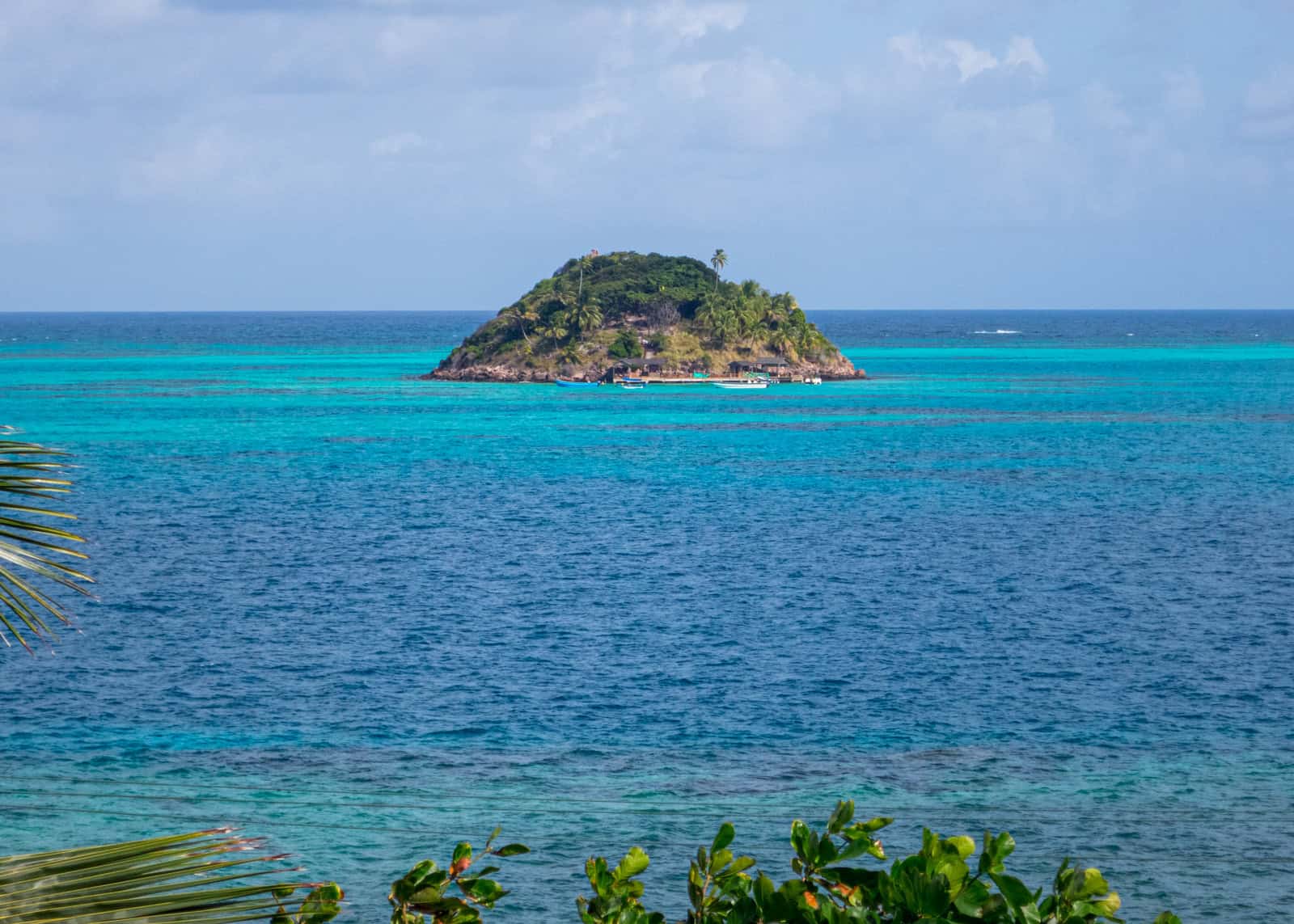 How much does a trip to Providencia cost?
The cost of visiting Providencia can vary greatly depending on your accommodation, length of stay, and activities.
I blew my typical backpacker budget out of the water by splurging on luxury accommodation.
Eating several meals at the hotel restaurant was also more costly than if I'd been eating at mom 'n pop spots.
The total cost for my two-day, two-night luxury stay in Providencia was about $800.
This includes roundtrip airfare from San Andres, a luxury hotel, golf cart rental, a three-hour snorkeling tour of Crab Caye, and meals and drinks.
If I'd rented a room at a posada (local inn) for $37 per night, my cost would've been half that at around $400 (if you factor in cheaper meals, too).
Suggested Budget
$100 roundtrip airfare from San Andres
$40 per night for accommodation
$50 for an 8-hour golf cart rental
$37 per person for a 3-hour snorkel tour to reef and Crab Caye (I went with two others, so the total cost was about $110)
$6 entrance fee for Crab Caye
$6 to $8 per taxi ride within a few miles of the airport
$6 to $8 per meal
$2 for fresh coconut water or a beer at Roland's Bar
As you can see, it's relatively affordable, even for backpackers on a budget.
You can reduce accommodation costs if traveling with another person, and the longer you stay, the lower the average daily price.
I'd wanted to stay three or four nights instead of two but waited too long to book flights.
The result was five nights on San Andres and two on Providencia, instead of the other way around.
One upside of my lack of planning was that I felt comfortable booking Deep Blue because I knew I was limited to two nights.
Things to Do in Providencia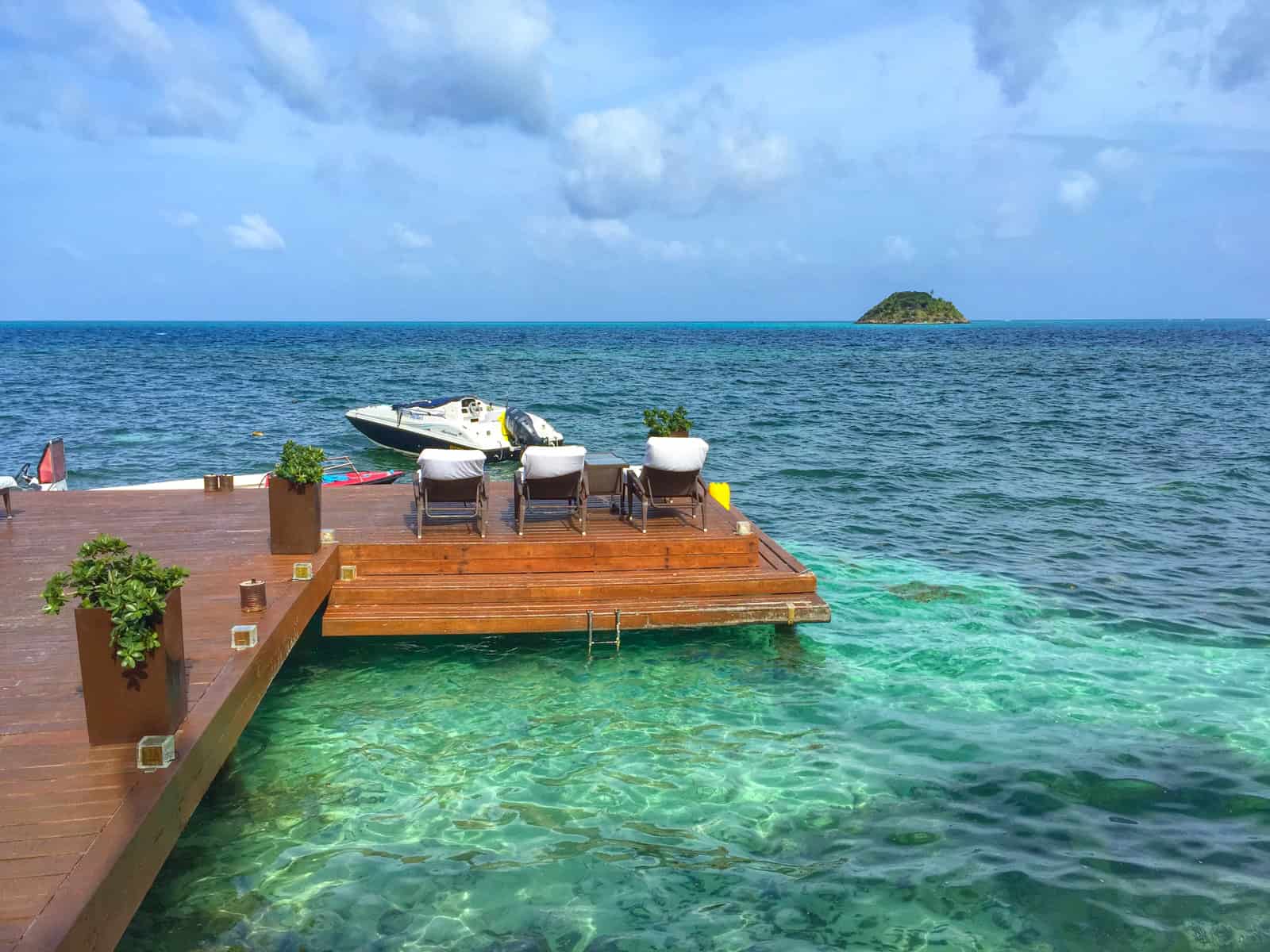 Crab Caye (snorkel)
The highlight of my stay on Providencia Island was a three-hour snorkeling tour of Crab Caye and the surrounding reef on my second day.
Both are a part of the Old Providence McBean Lagoon National Natural Park and are easily accessible from the dock at Deep Blue Hotel.
You don't need to be a hotel guest to arrange a boat trip. Also worth noting, my three-hour tour was not in the speed boat pictured above; it was a decidedly less sexy boat.
I split the $110 cost with a couple, bringing the cost down to $37 per person. There's a $6 park fee when you visit Crab Caye.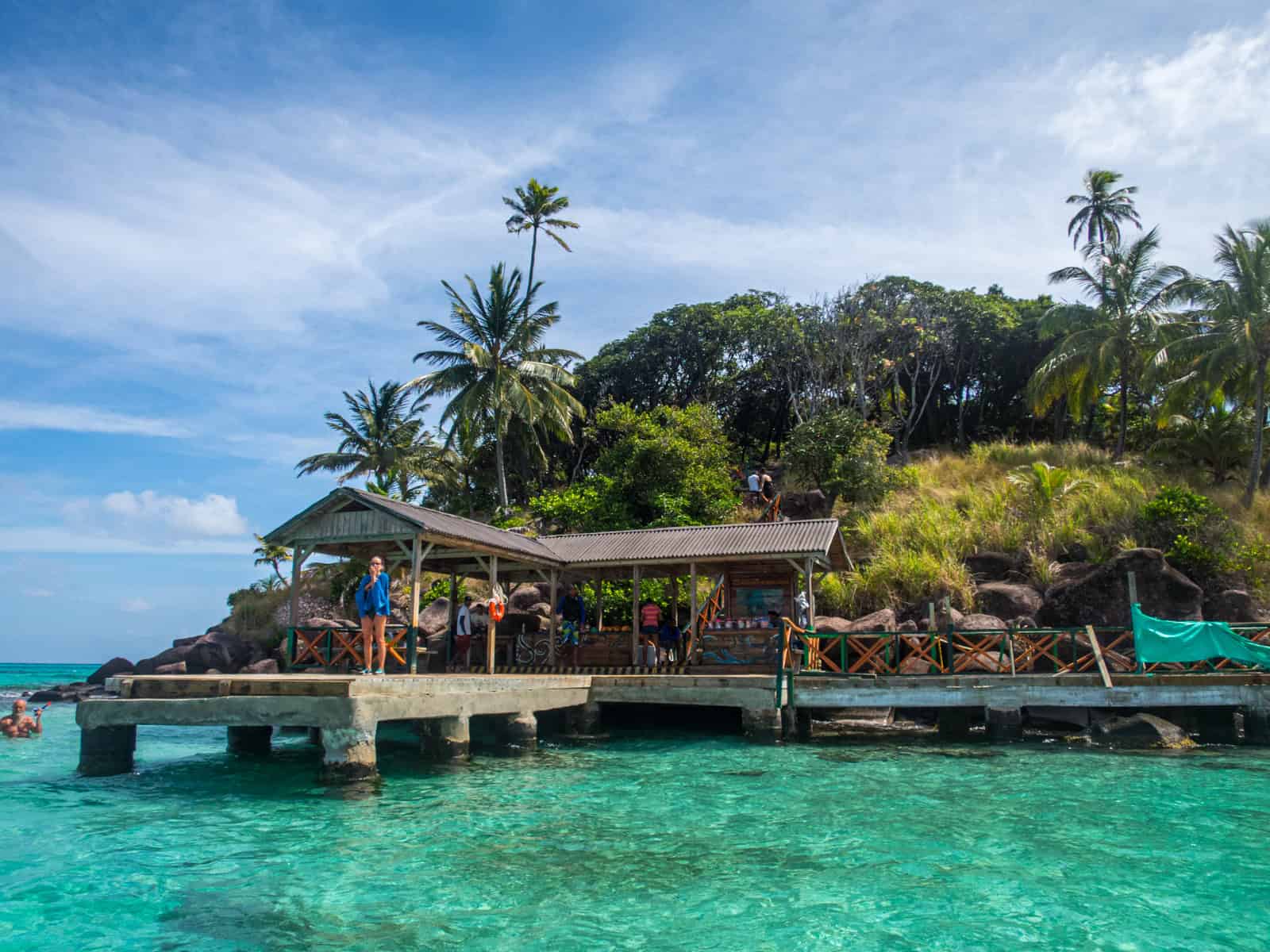 The short ride out to Crab Caye was spectacular. The sparkling water was picture-perfect, and the coral was so tall that it broke the surface in places.
Our boat driver was skilled at navigating these turquoise waters so as not to damage the coral reefs.
Crab Caye is tiny, and there's a bar on the dock, which is hard to resist while hanging out there.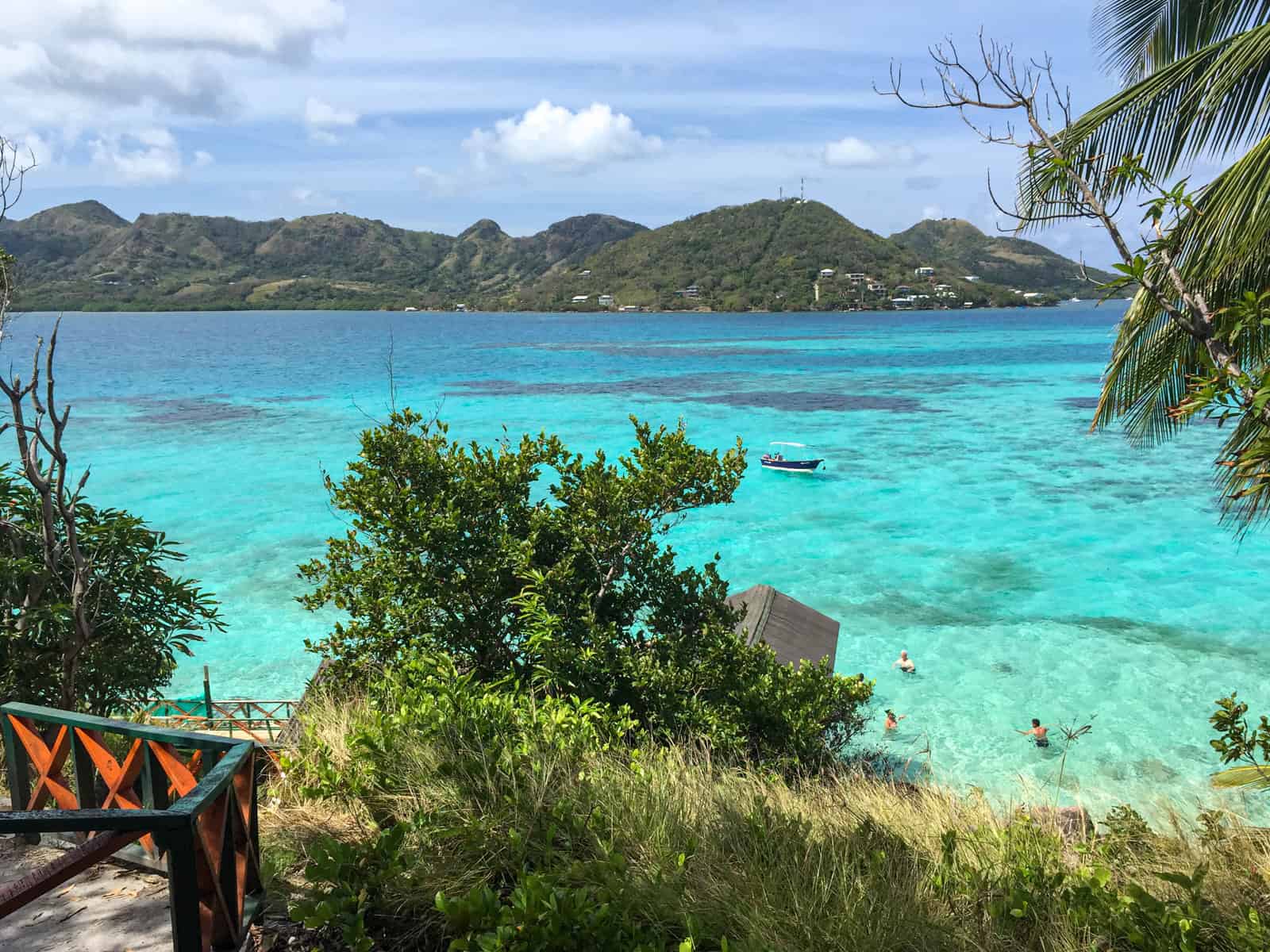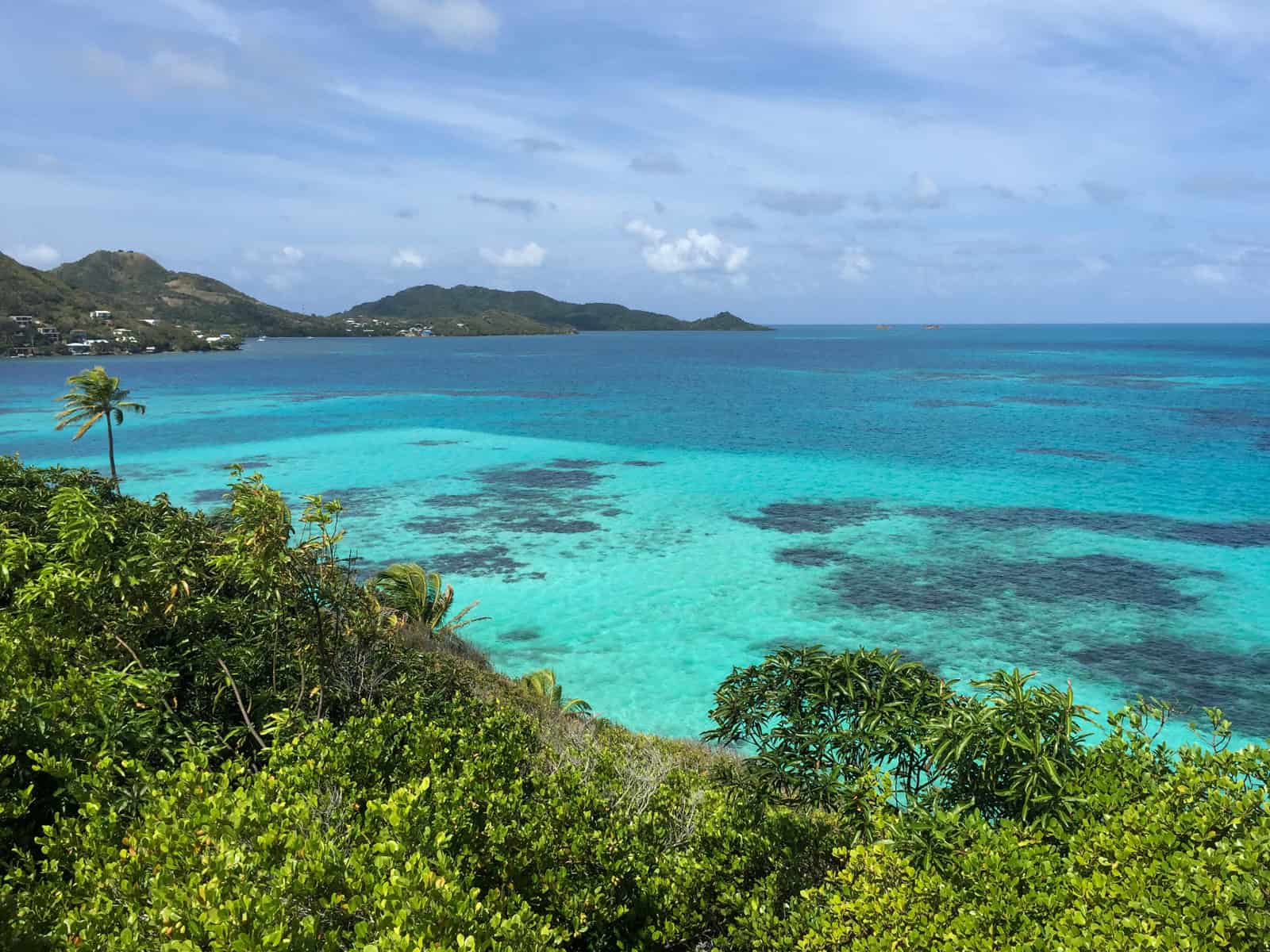 The first thing I did was walk up the stairs to reach the top of this tiny tropical island.
The views toward the island of Providencia reminded me of idyllic places in Thailand like Koh Tao.
And unlike the popular snorkeling spots on San Andres, which can be overwhelmed by Colombian vacationers, I felt like I had the perfect place to relax.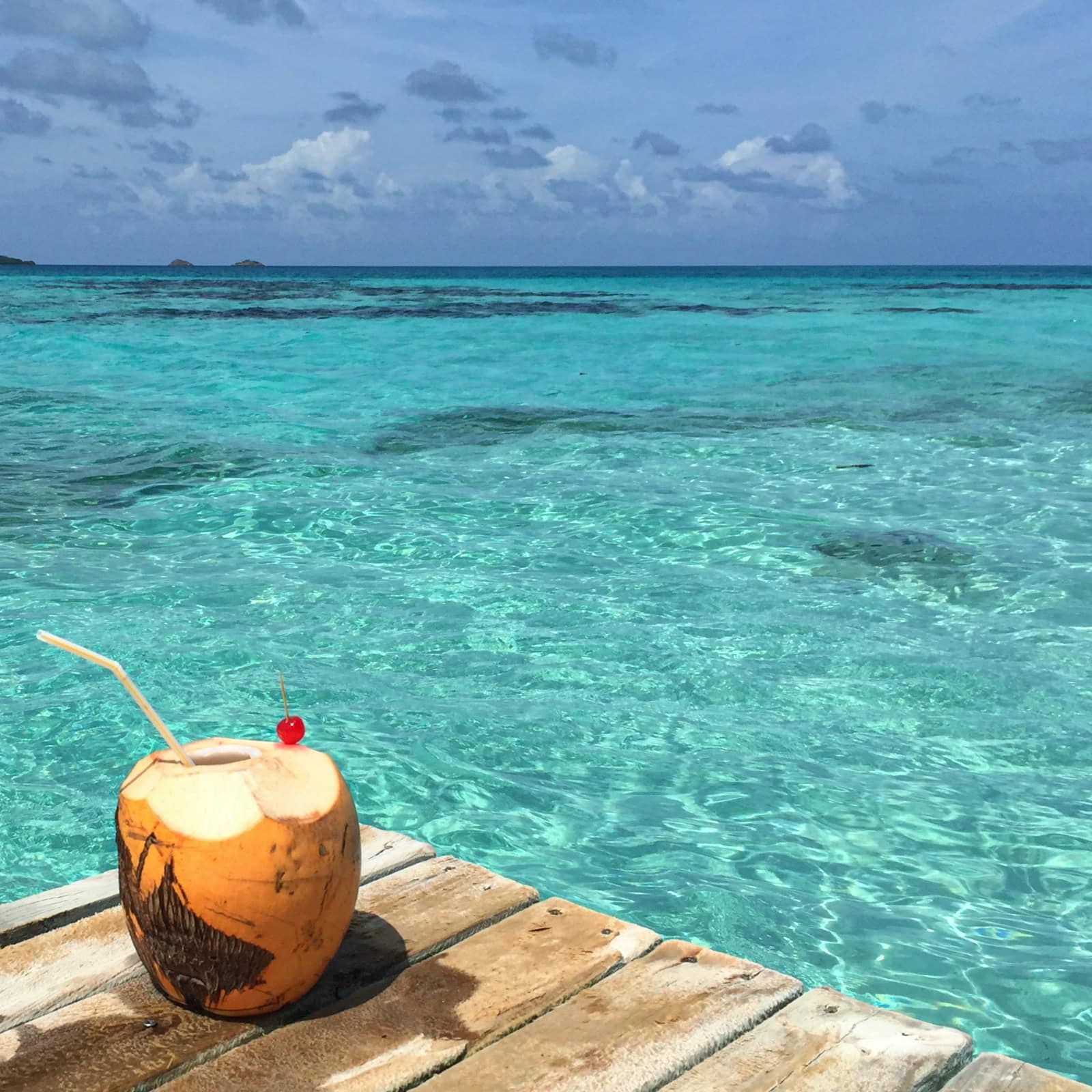 After taking photos, I snorkeled around Crab Caye, enjoying the sparkling waters and colorful marine life.
I wrapped up the trip with fresh coconut water on the dock.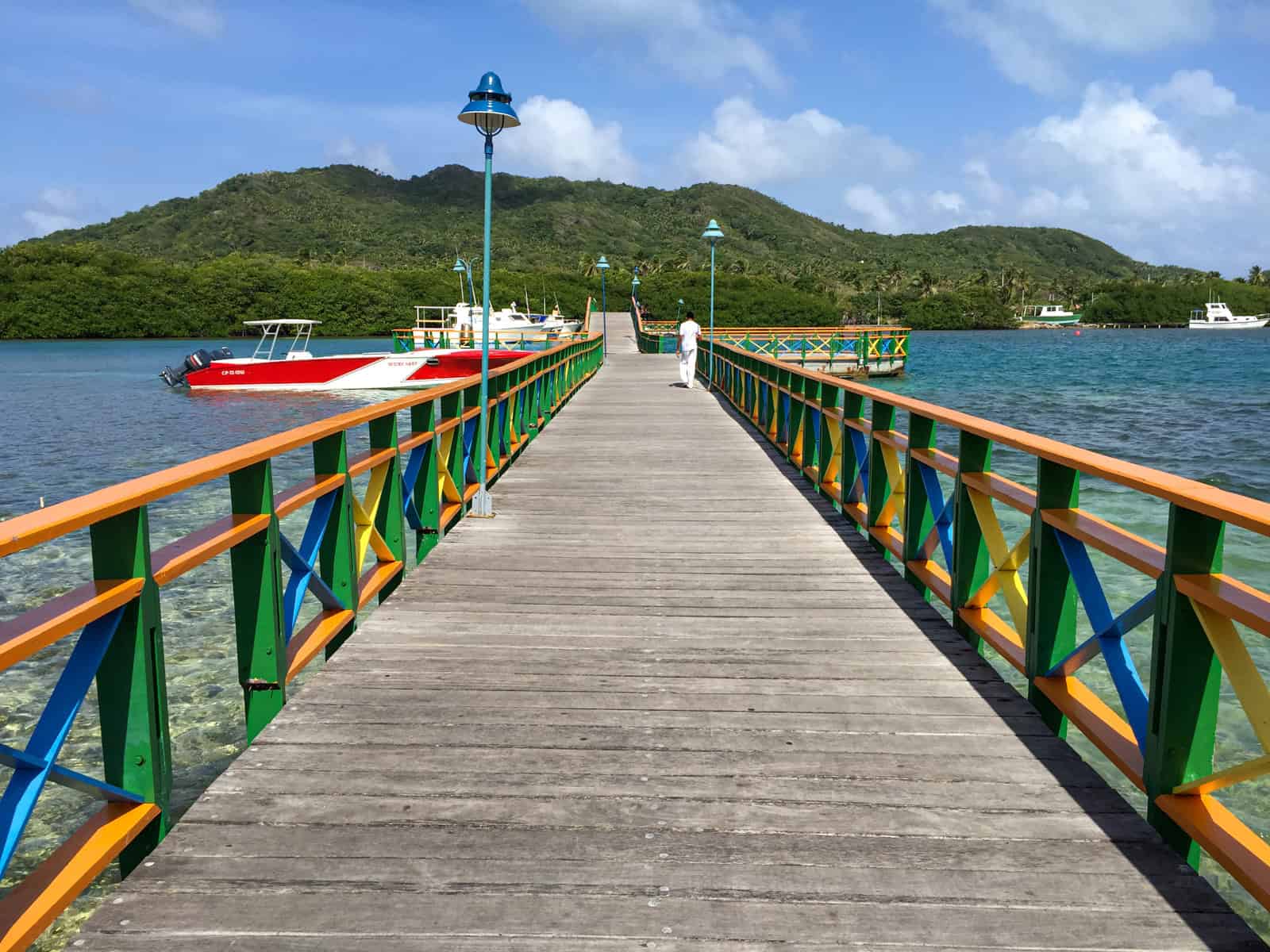 Santa Catalina Island
My first day on Providencia, which began the morning I arrived by air, involved a golf cart rental and a self-driving tour of the island.
I drove counter-clockwise, starting at Deep Blue Hotel on the northeast coast to Santa Catalina Island off the northwest.
A colorful, 100-meter floating footbridge known as Lover's Lane (Puente de Los Enamorados) connects Providencia to Santa Catalina.
Couples who cross the bridge together are destined for eternal love, the legend says.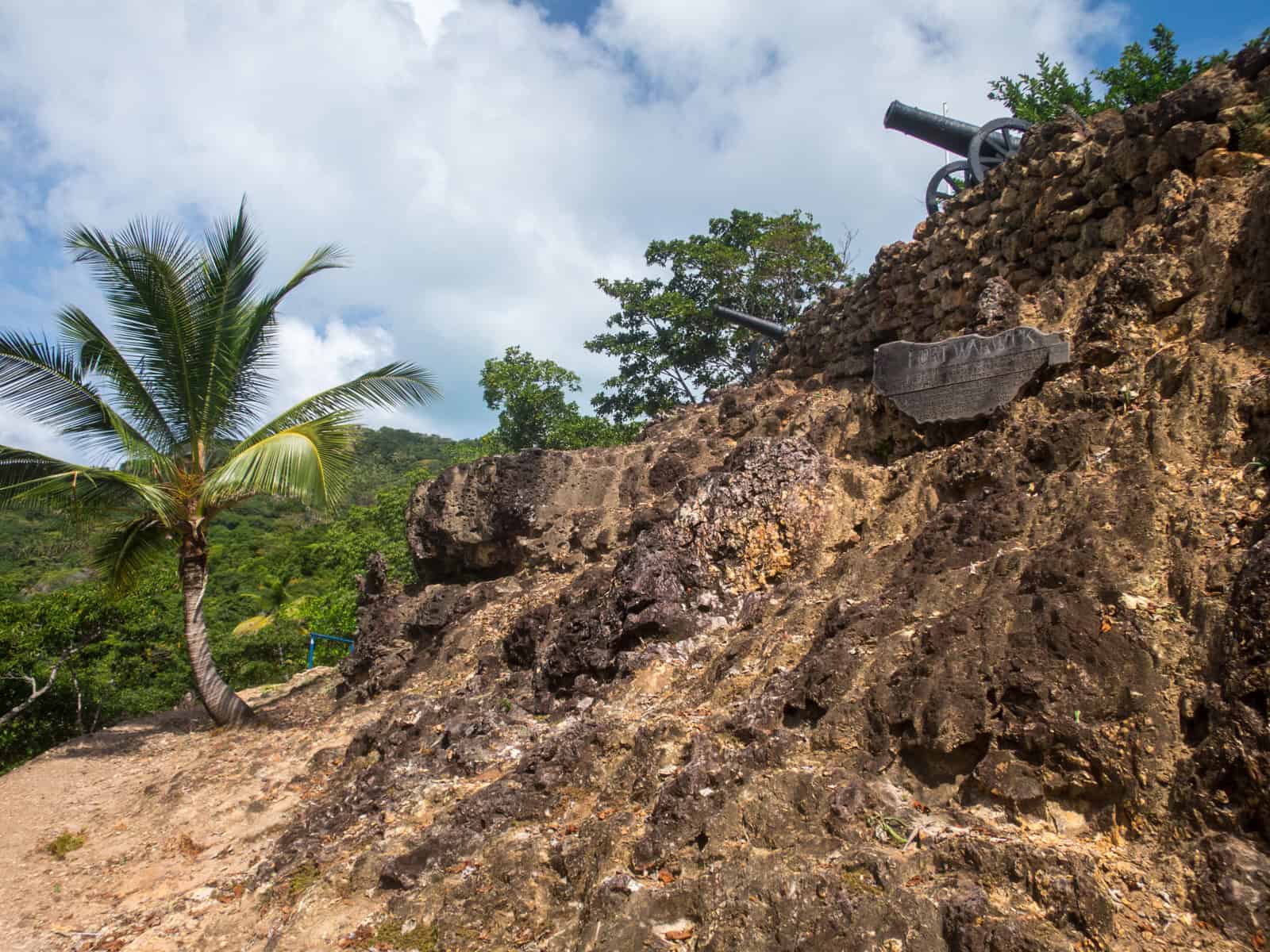 Once I'd walked across the bridge, I turned left (west) and followed the contours of Santa Catalina until I reached Fort Warwick in the southwest corner.
The fort takes its name from the Second Earl of Warwick, an aristocrat who established a British colony on Providencia in 1639.
A short climb up a staircase makes it easy to get scenic views looking back at Providencia.
If you walk another ten minutes up the coast, you'll reach Morgan's Head, a rocky outcropping supposedly in the shape of the pirate Henry Morgan.
Morgan took control of Providencia and Santa Catalina in December 1670 and used them as a base to launch raids on the Spanish in Panama.
Before the fort, I came across a dynamic local with a makeshift beach bar renting snorkeling gear.
The waters around Santa Catalina are supposed to be terrific; however, I wanted to keep working my way around the island.
I did, however, stop long enough to buy a coconut drink for a few bucks.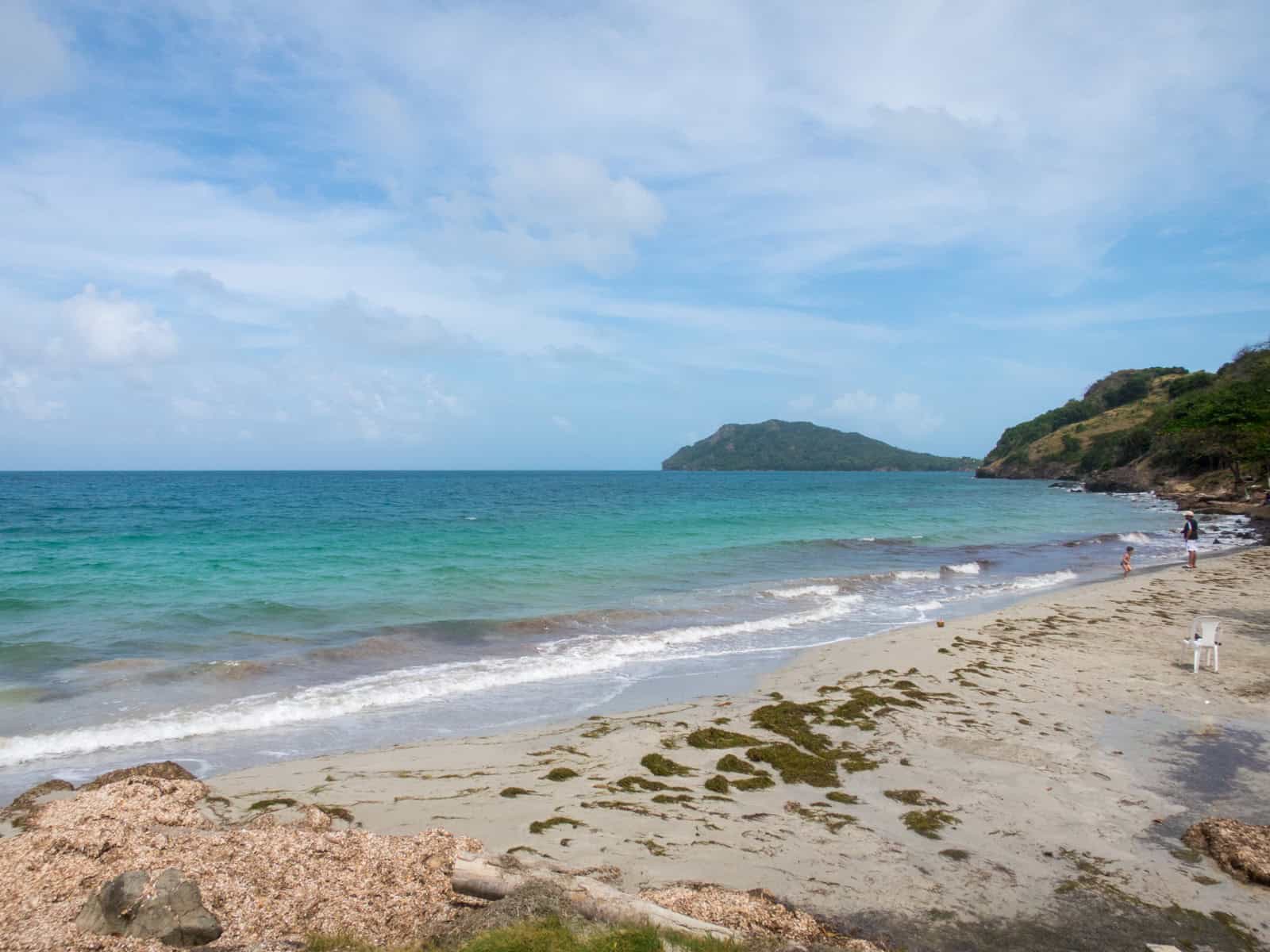 Almond Bay
Back in my golf cart, I continued driving down the west coast of Providencia until I saw a giant octopus sculpture in front of a sign pointing to Almond Bay.
I parked my cart and walked down a steep access road. A small Rastafarian restaurant and bar were at the bottom.
I bought another fresh coconut (gotta stay hydrated!) and surveyed the scene.
There were a few beachgoers; seaweed lined the sand. Santa Catalina was visible to the north. It didn't do much for me, so I moved on.
Fresh Water Bay
Ten minutes south of Almond Bay is Fresh Water Bay, a nicer-looking beach with a small village.
Here you'll find various accommodations, including Blue Almond Hostel, many posadas, and some hotels. There are a few dive shops, too.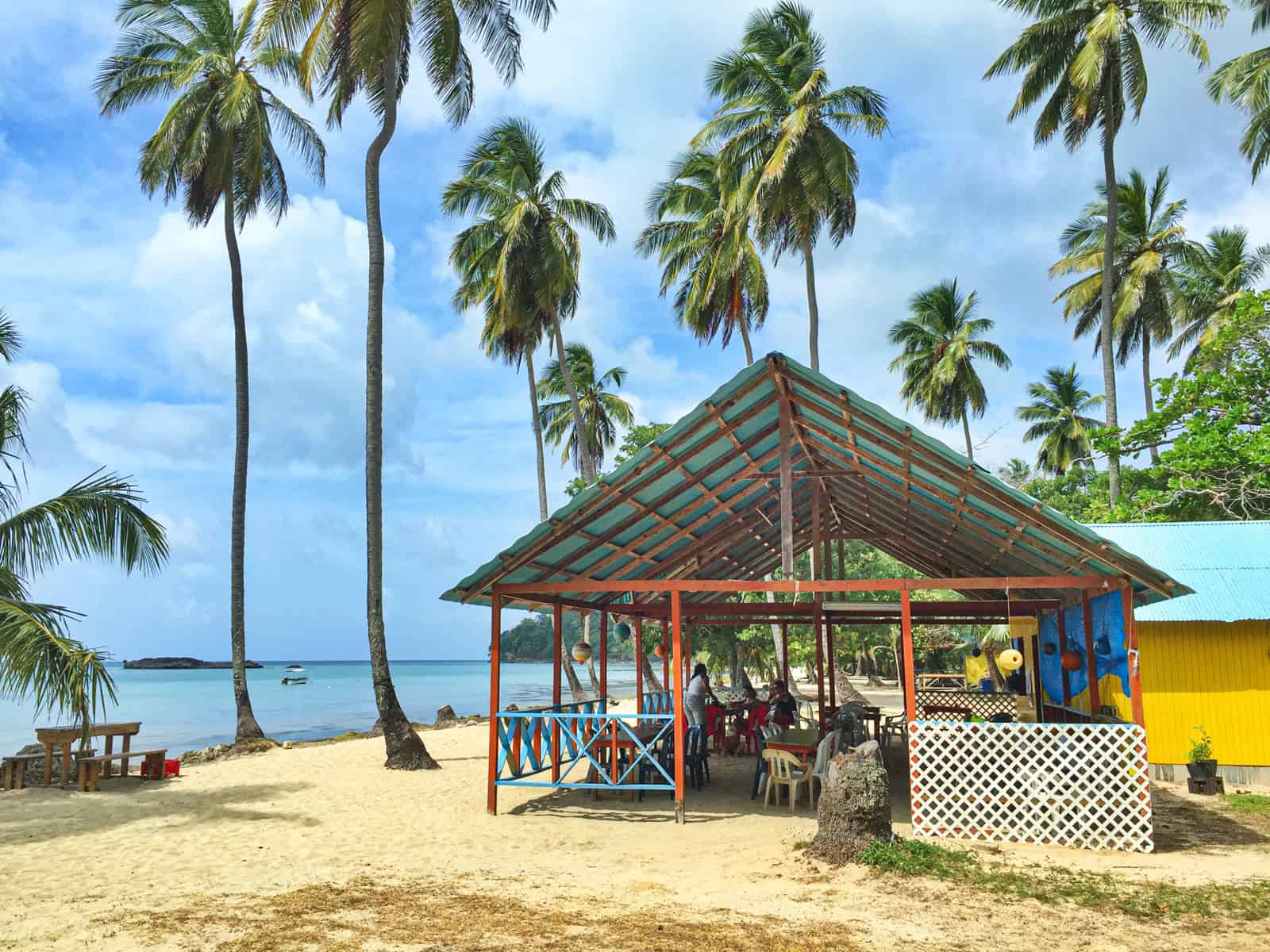 Southwest Bay
Southwest Bay is about a five-minute drive south of Fresh Water Bay, where I stopped for lunch at Arturo Newball's open-air restaurant.
It was situated perfectly on the beach, amongst the palm trees.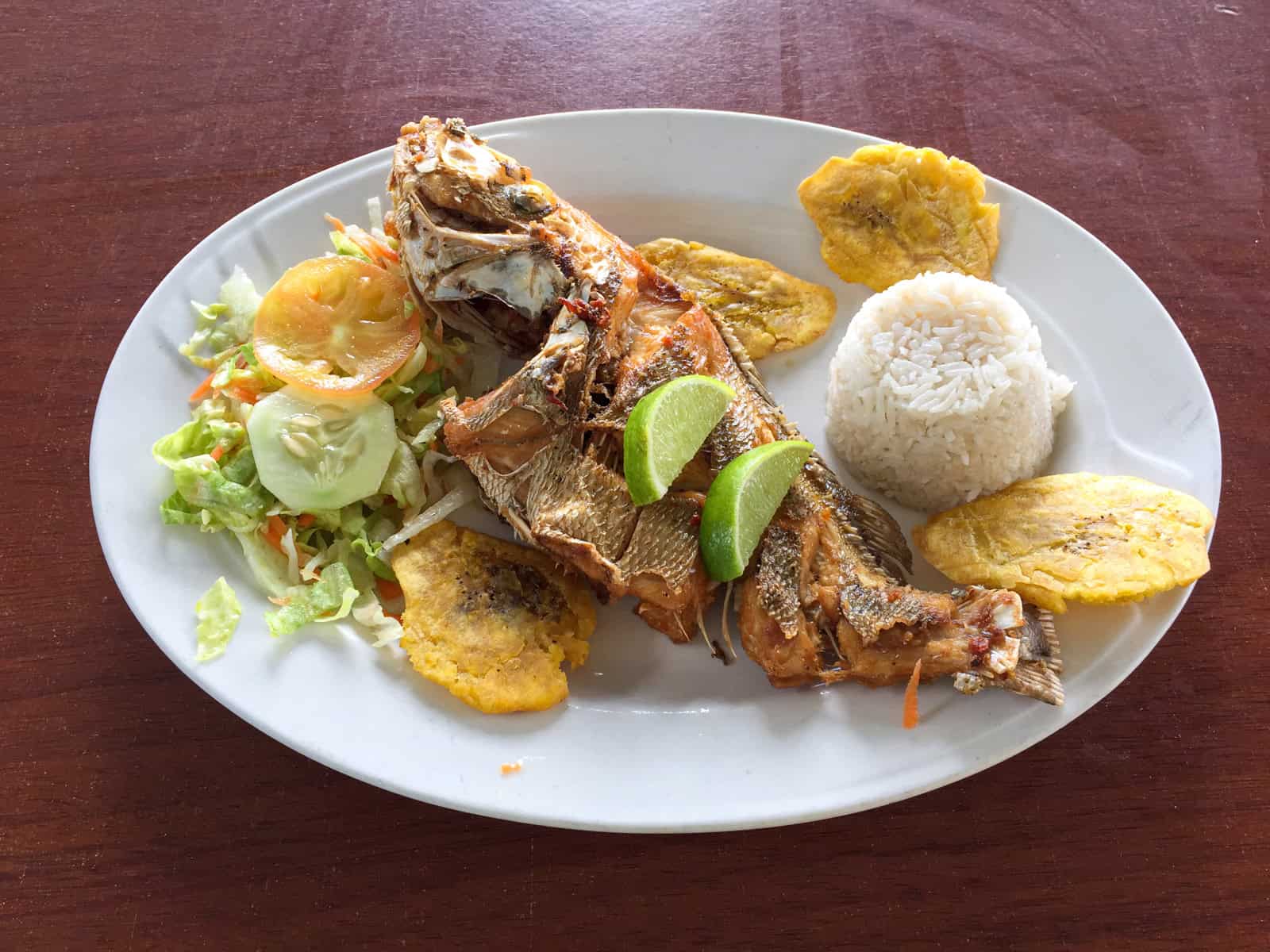 I ordered my favorite fried snapper (known as "pargo" locally) for about $5. It was served with rice, plantains, and salad.
There are some accommodations near this beach, too, and a dive shop.
The main road cuts across Providencia's southern tip from Southwest Bay to Bottom House on the southeast coast.
Once you reach Bottom House, there's an access road for Manchaneel Beach.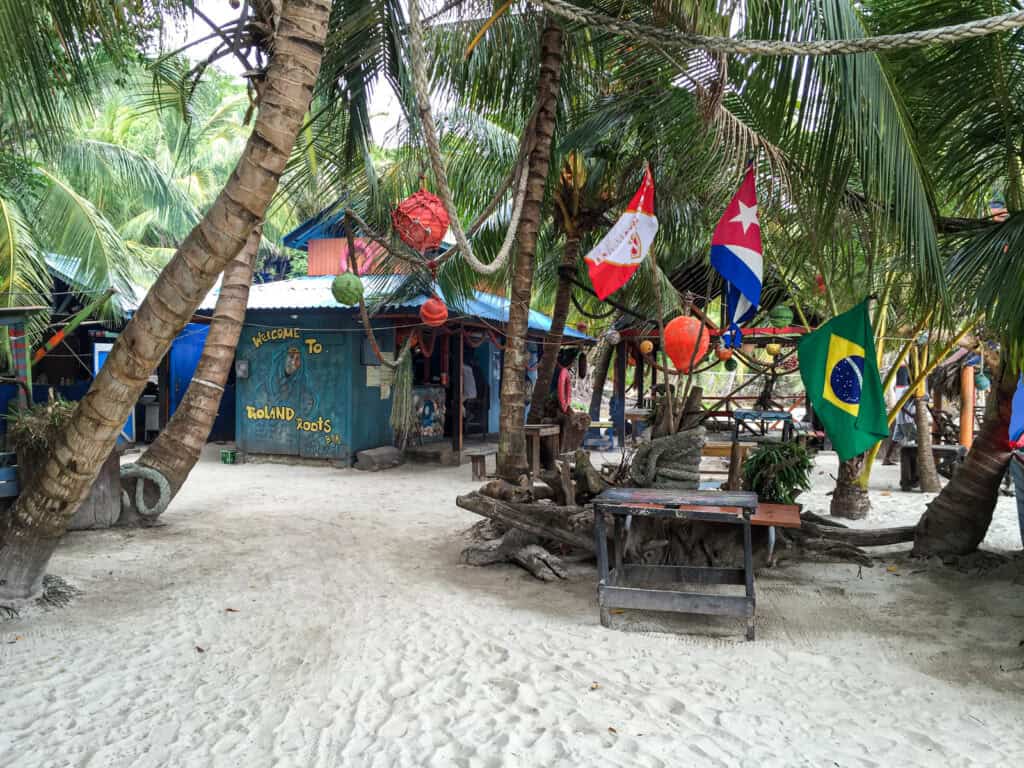 Manchaneel Beach (Playa Manzanillo)
Manchaneel Beach is one of the island's long, prettier stretches of beach. It's mostly on its own, but you're not far from anywhere on Providencia!
There's a hotel and dive shop and the island's popular Roland Roots Reggae Bar. Eventually, it's hard not to see a beach like this becoming more developed.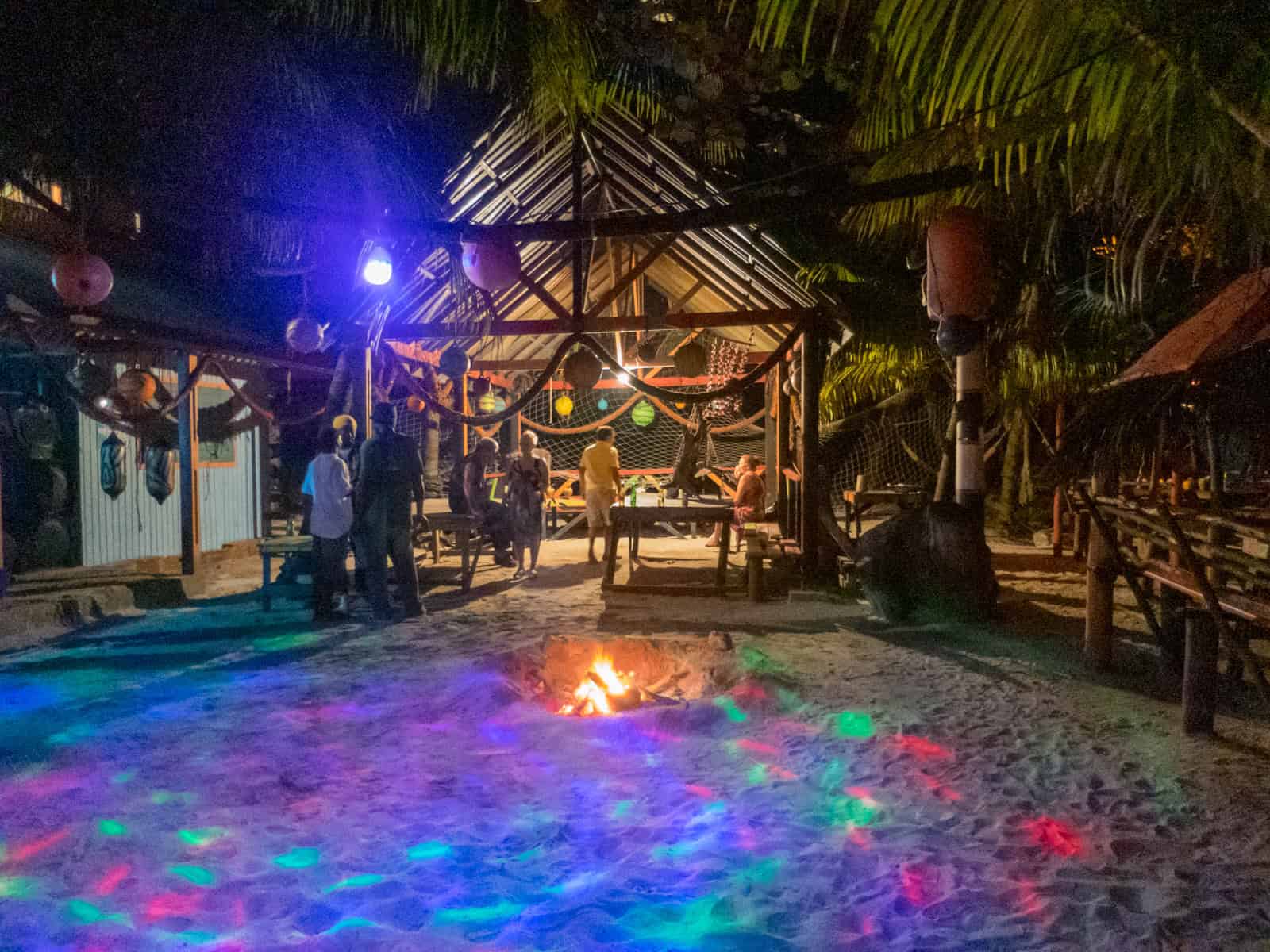 Roland Roots Reggae Bar and Restaurant
Providencia is a super relaxed place to hang out, if you can't already tell. Therefore, it's no wonder the island's reggae music bar is a popular gathering spot in the evenings.
After dinner at my hotel, I took the golf cart back to Roland's for a beer.
I didn't talk to anyone or stay all that long, but I'm glad I went to see it at night. It would've been more fun had I gone with someone.
My self-guided tour of the island came to a close, driving north up the eastern side of Providencia, past the airport, and back to my hotel.
Hike to the Peak
Due to the limited time I had in Providencia, I didn't get a chance to hike up to the peak (El Pico) at the center of the island's tropical forest.
Judging from the overwhelmingly positive reviews on Google Maps, it's a relatively easy three-to-four-hour roundtrip hike to the island's highest point.
Scuba Diving
Last but not least, Providencia's 20-mile-long barrier reef is the third-largest in the world. Only Australia's Great Barrier Reef and the Belize Barrier Reef are more extensive.
As I mentioned earlier, it's a UNESCO Marine Reserve.
Popular dives include swimming along the steep walls cascading with sponges at sites such as Blue Hole and Contour, exploring the caves and fissures at NX and Tete's Place, and cruising the sunlit shallow coral gardens at Bajo de San Felipe and Left Channel. Throw in a few shipwrecks such as Planchon, a World War II German tanker, and there's not much else you could ask for in a dive destination.

— Scuba Diving
For detailed information on what to expect diving around coral reefs in Providencia, check out this review by Joe's Scuba Shack.
Final Thoughts
I hope you found this information helpful for planning a trip to Providencia Island, Colombia.
Providencia is on the shortlist of places I daydream about regularly, regardless of how much time passes.
The "Sea of Seven Colors" that surrounds this tiny Caribbean island is worth the effort to get there.
Dave is the Founder and Editor in Chief of Go Backpacking and Feastio. He's been to 66 countries and lived in Colombia and Peru. Read the full story of how he became a travel blogger.
Planning a trip? Go Backpacking recommends: