Covering some 20 square kilometers of desert between Trujillo and the Pacific Ocean, the adobe city of Chan Chan was constructed by the Chimor civilization starting around 850 AD.
This was about the same time the Moche civilization, which created Huaca de la Luna and Huaca del Sol, went into decline.
Chan Chan was inhabited until 1470 AD when it was conquered by the Incas.
While Chan Chan may hold the coveted UNESCO World Heritage Site status, I found it to be far less interesting than the mountaintop ruins of Kuelap, and colorful Huaca de la Luna.
That said, the sheer scale of the city does leave one in awe.
During my tour, we walked around the Tschudi Complex. It was immense in and of itself, yet it is just one of a dozen palaces within the entire city.
What You Need to Know
You can visit Chan Chan as a 1/2 day trip, or like me, bundle it with a visit to Huaca de la Luna y Huaca del Sol in the morning. The pricing below is based on the full day trip.
How Much: $30 + tip ($16.50 for transport/guide, $1 for museum entrance, $3.50 for ticket to ruins, $5.50 for lunch, $3.50 for entrance to Chan Chan)
Difficulty: Easy
Where to Book: Tours are easy to arrange through any of the offices located around Trujillo's main plaza. If you're not fluent in Spanish, make sure you're getting an English-speaking guide.
What to Bring: Camera, sunglasses, hat, and sunscreen. There are plenty of vendors from which to buy snacks and water along the way.
____________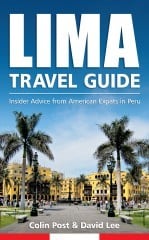 Dave's 160-page, all-original Lima Travel Guide is available for Kindle.
Dave is the Founder and Editor in Chief of Go Backpacking and Feastio. He's been to 66 countries and lived in Colombia and Peru. Read the full story of how he became a travel blogger.
Planning a trip? Go Backpacking recommends: