During my weekend getaway to Guatape, a small lakeside pueblo a few hours east of Medellin, Colombia, I also visited a popular landmark called El Penol.
We hired a tuk-tuk, which zipped as quickly as it could from one pueblo to the next, however knowing how Colombian buses are driven, I felt a little uneasy every time we entered a sharp turn.
The 220-meter tall monolith begs to be tackled by visitors young and old. While we were there, climbers were taking the adventurous route up the rock face, while myself, Troy, and the regular parade of Colombian and international tourists climbed the 600+ stairs which were ensconced in a large crack.
Once I reached the top of the rock, I knew why so many Colombians had recommended I make the day trip from Medellin to visit. The landscape of rolling green hills, surrounded by the blue waters of the artificial lake, were picture-perfect.
____________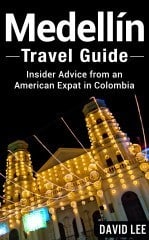 My 138-page, all-original Medellín Travel Guide is now available for Kindle and PDF.
.
Dave is the Founder and Editor in Chief of Go Backpacking and Feastio. He's been to 66 countries and lived in Colombia and Peru. Read the full story of how he became a travel blogger.
Planning a trip? Go Backpacking recommends: