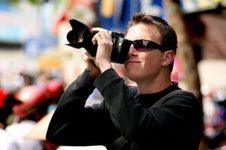 I lived with Charlie for two years in Virginia. After we parted ways, I began saving for my RTW trip, while he was establishing a new life in the Sichuan Provence of China, learning to speak fluent Mandarin, and building a career as a professional DJ.
I was lucky enough to visit him for two weeks on my trip around the world, and see first hand how well he had adapted to life in China. Enjoy!
GoBackpacking: Why did you choose to leave your job as a graphic designer in the USA and travel to Asia?
Charlie: I got bored. My life turned into uninteresting routine and I had to break out.
I could see colleagues who, through decades of meaningless office toil, had lost something very precious. I decided that no matter what the cost I wouldn't befall the same fate.
Asia was one of several candidates – it turns out that it suits me well so I've been here for several years.
You now call Chengdu home. What were your first impressions of the city upon arrival, and how does it differ from the other large cities in China like Beijing or Shanghai?
Chengdu has a unique charm that's difficult to describe. It's at once a bustling metropolis and a very friendly laid back place.
Chengdu, and West China in general, are vastly different from cities on the east coast including Shanghai and Beijing.
Personally, I wouldn't choose to live in the megacities on the east coast because to me they are too much of a compromise. Shanghai and Beijing are so developed and westernized that I don't really feel like I'm in China.
When did you realize you could earn a living as a DJ instead of the more common approach of teaching English?
I quickly realized that there are many paths to earning income besides teaching English.
Music and DJ'ing were things I had been involved with for years before coming to Asia so it was a natural fit.
The truth is that there are countless opportunities overseas at the moment if you can produce a competitive product or service – teaching English is the easiest path which is strewn with many people who do it because they don't see or don't want to pursue the other options.
What challenges did you face while learning to do business within China's nightlife and entertainment industry?
As far as doing business, the most difficult part was adapting to the language and culture.
Learning to fend for myself as an entrepreneur and not allow people to take advantage of me just because I'm a guest in their country.
Staying productive and pushing forward is sometimes a challenge when I vacation several months out of the year and don't have anyone making a schedule for me.
These have probably been the biggest challenges but I don't see them as very unique to the music industry in China.
Where were you on May 12, 2008, when the magnitude-8 Sichuan Earthquake struck near Chengdu? Have there been any lasting effects or has the region fully recovered?
During last year's earthquake, I was on Qing Cheng Shan which is one of the birthplaces of Daoism.
That day I was on a motorcycle excursion with several friends and the earthquake hit when we were making our way back down the mountain.
We were trapped in a section of the mountain with about 100 locals and had to hike down the mountain which took 24 hours.
During most of this time, it was raining and there were constant and powerful aftershocks as well as no roads due to landslides taking them all out.
A few months later I returned to the mountain to retrieve my dirt bike which was where I left it.
To this day the part of the mountain that I was on (the backside, called Hou Shan) is closed due to the damage it sustained.
Are there any misconceptions or stereotypes about life in China you'd like to clear up?
It's difficult for me to address misconceptions about China because I rarely interact with people who have no exposure to China.
Before arriving in China several people were stunned to hear that I would willingly commit myself to China but I did and do consider those people to be narrow-minded.
China isn't for everyone but I've found that it's a wonderful place that I'm happy to find myself.
With that said, I'm sure I could say the same of many other countries as well.
Do you have any tips or tricks for learning Mandarin?
My number one tip: speak and hear Chinese all day. Don't just go to Mandarin class and return to English when you finish.
Whether this means finding a companion or friend who doesn't speak English or surrounding yourself with non-English speakers, this is the quickest path to proficiency.
There are many aids which will speed the process, the most important being your own motivation and fascination.
From the very beginning, keep a journal and write down every word and phrase you learn.
I haven't taken a single lesson in Chinese but my skills have eclipsed those of Chinese language majors in the States.
I don't believe that speaks to my natural intelligence as much as my learning methods.
For more information on how to quickly become proficient in foreign languages, I recommend checking out Tim Ferriss' blog. I've utilized a lot of his methods and found them to be very practical and effective.
Beyond China, which countries would you like to visit next and why?
At the top of my list is South America. It's a region that I haven't personally explored and it interests me because, like Asia, it's developing very quickly.
The fact that most of the continent speaks a single language makes it very accessible as well.
Also on my list is Iran – I have a lot of Iranian friends and Iranian politics are of particular interest to me.
Like China, I believe that Iran has the power to destroy popular misconceptions about people and culture that linger in the back of my own mind.
Dave is the Founder and Editor in Chief of Go Backpacking and Feastio. He's been to 66 countries and lived in Colombia and Peru. Read the full story of how he became a travel blogger.
Planning a trip? Go Backpacking recommends: