[B]ackpacking is a pretty cheap way to travel. The biggest cost you're going to encounter is booking flights to your destination, then after that it's all about the street food and hostels.
Although travelling long distance can be eye wateringly expensive, flying really doesn't need to break the bank either. With a little bit of savvy it's easy to find cheap flights; just follow these tips and you can't go wrong.
Flight comparison sites are really useful at this point. Not only do they tell you which airlines and times are cheapest to fly, they can also show you which airports it's cheaper to fly from, which destinations it's cheaper to fly to, and what time of year you should travel.
Be flexible
If you're just starting to plan your escape, you may not be set on your destination. Do you want to channel Leo DiCaprio in Thailand, or trek through the rainforests of South America?
If tossing a coin isn't working, toss the destinations into a flight search engine instead. Whichever one has the cheapest flights, wins.
Setting your destination to 'everywhere' on Skyscanner allows you to see where's cheapest to fly to say in August.
But you might have your heart set on a trip to India, and nothing's going to change your mind: not even cheap flights.
In this case it's still possible to be flexible: simply look at the departing airport instead. Sometimes flights from your local airport will be more expensive than a larger airport in a different part of the country.
When you're booking your flights, compare the difference in cost. If it would be cheaper to travel to the other airport and fly, then go for it.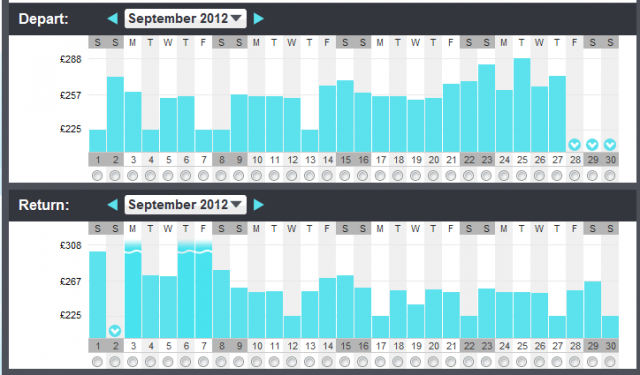 Travel off-peak
Off peak tickets isn't a term that only applies to trains. Using an online comparison tool it's possible to search for the same flight over the course of a week, month or year and see how it fluctuates.
Weekend flights are generally more expensive than weekday flights due to higher demand, and you're likely to find that flights during the school summer and Easter holidays are a lot pricier for the same reason.
Just play around a little: arriving a day earlier or later could save you hundreds.
Skyscanner's month view makes it easy to see when the cheapest days to fly are. See the example below for a comparison of flights to Toronto Pearson in Canada from Heathrow in September.
Take the long way round
Direct flights are almost always more expensive than flights with a stopover, another thing to look out for when you're using a comparison tool. Before booking your flight, make sure that you really are getting the best value for money.
The flight with a two-day stop in Dubai may be a little cheaper than the flight stopping in Bangkok, but weigh up how much your accommodation and food is going to cost. Dubai is the more expensive country, so you may find that you quickly spend the money that you've saved by stopping there.
________
Disclosure: This article was brought to you by James from Skyscanner.net, a flight comparison website based in Edinburgh.
This post was written by a guest contributor. Please reference the author's byline in the post above for more information. If you would like to guest post on Go Backpacking, please read our submission guidelines. For information on advertising opportunities, go here.
Planning a trip? Go Backpacking recommends: