Sarasota, Florida, is not a cheap destination like Southeast Asia or South America, but there are ways to make your holiday to Sarasota a little more affordable. You can keep costs down on the Gulf Coast by mixing expensive activities with free things to do in Sarasota. I do love a good freebie!
Your wallet will thank you, plus these free activities are pretty awesome.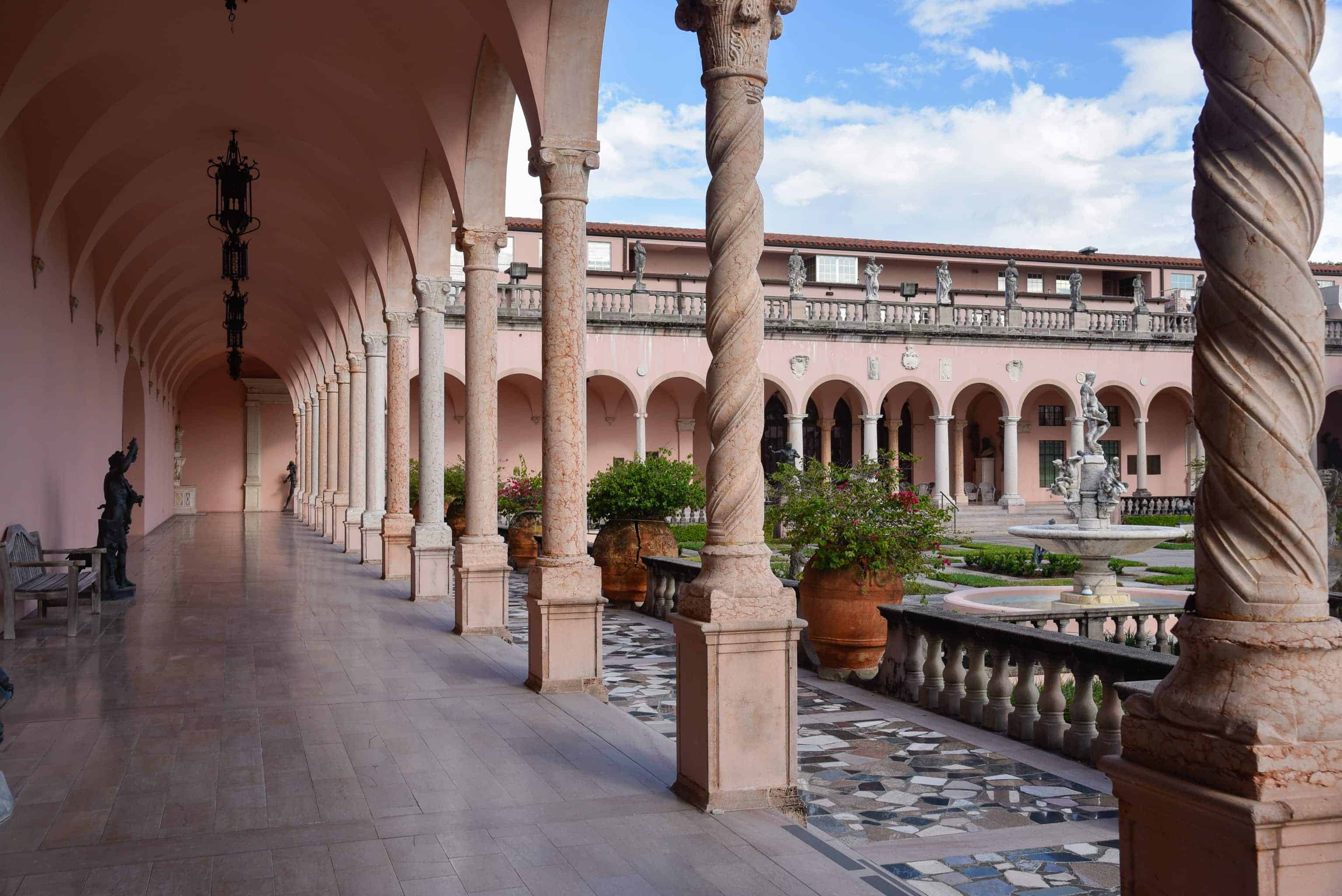 10 Free Things to Do in Sarasota
Sarasota is a cool town. There is seriously heaps to do in the area, including some great activities that won't break the bank.
The beaches in Sarasota are some of the best in the country due to the picturesque white, fluffy quartz-crystal sand.
The city is also home to one of the best museums we've ever visited (don't roll your eyes just yet – we aren't even "museum people")
Okay, without further adieu, here are ten fun and free things to do in Sarasota.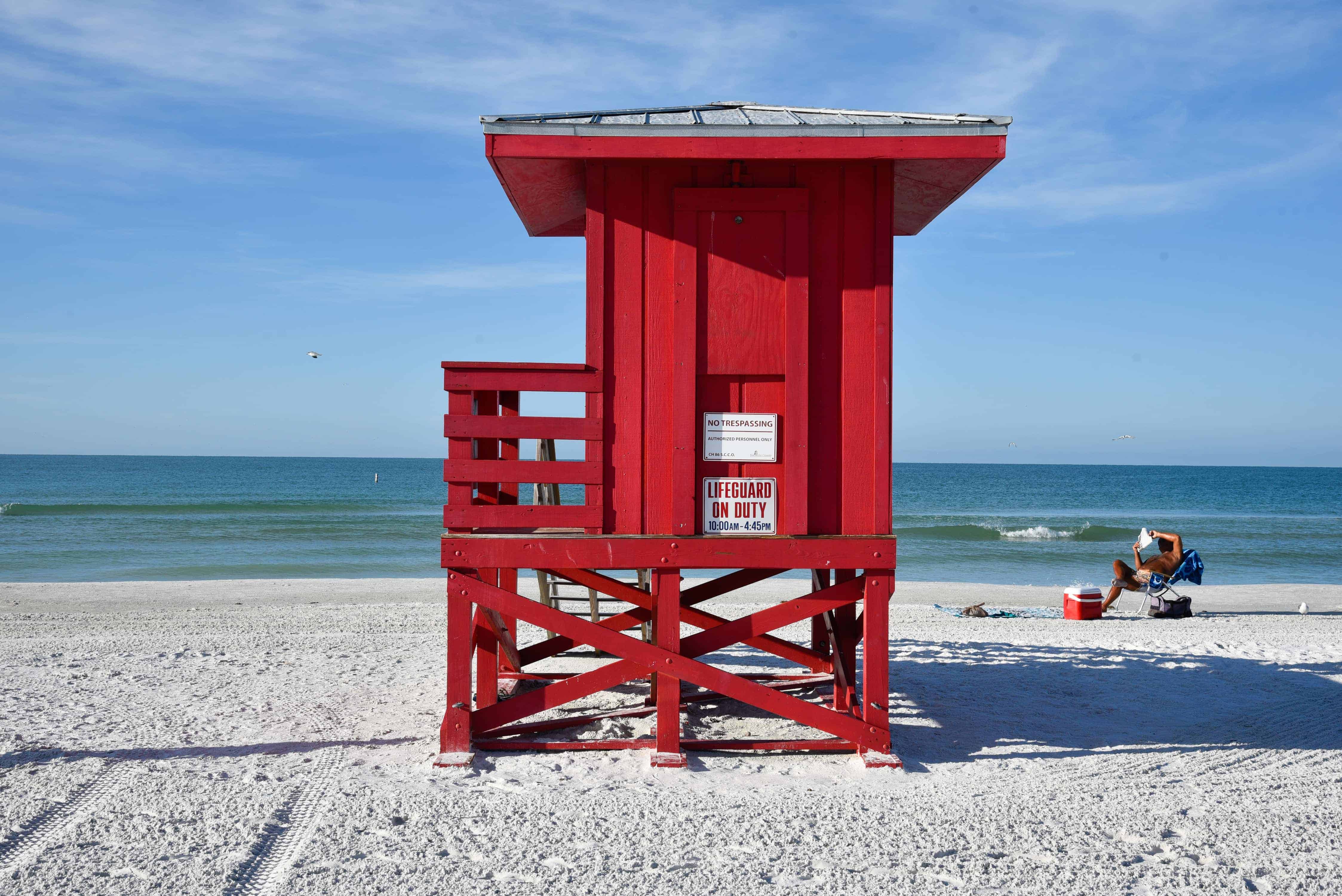 1. Community Drum Circle
We heard of the Community Drum Circle from a spiritual lady we ran into in Sarasota.
There are a lot of hippies in Sarasota. I imagine they are partial to the city due to the healing properties of the quartz-crystal sand, but that is just a wild guess.
If you are in Sarasota on a Sunday, you are in luck. The "hippie" Community Drum Circle is held every Sunday at Siesta Key Beach one hour before sunset.
The Sarasota community loves and gets involved with this ritual—chanting, dancing, and singing.
If you are looking for the Community Drum Circle, it is between lifeguard stands 3 and 4 on Siesta Key Beach.
2. Siesta Key Beach
Even if your stay doesn't fall on a Sunday, we strongly recommend visiting Siesta Key Beach, our absolute favorite beach in Sarasota County.
And we are not the only ones who feel it is a fantastic beach.
It has been awarded Best Beach in the United States numerous times—in 2004 by the Travel Channel, in 2011 by Dr. Beach, and in 2015 by Tripadvisor.
The beach is highly regarded due to the blinding white, quartz-crystal sand.
Aside from the stunning sand, colorful lifeguard stands are also all over the beach, which is perfect if you want an Instagram-worthy photo.
Siesta Key Beach is free to park, which is rare in Florida.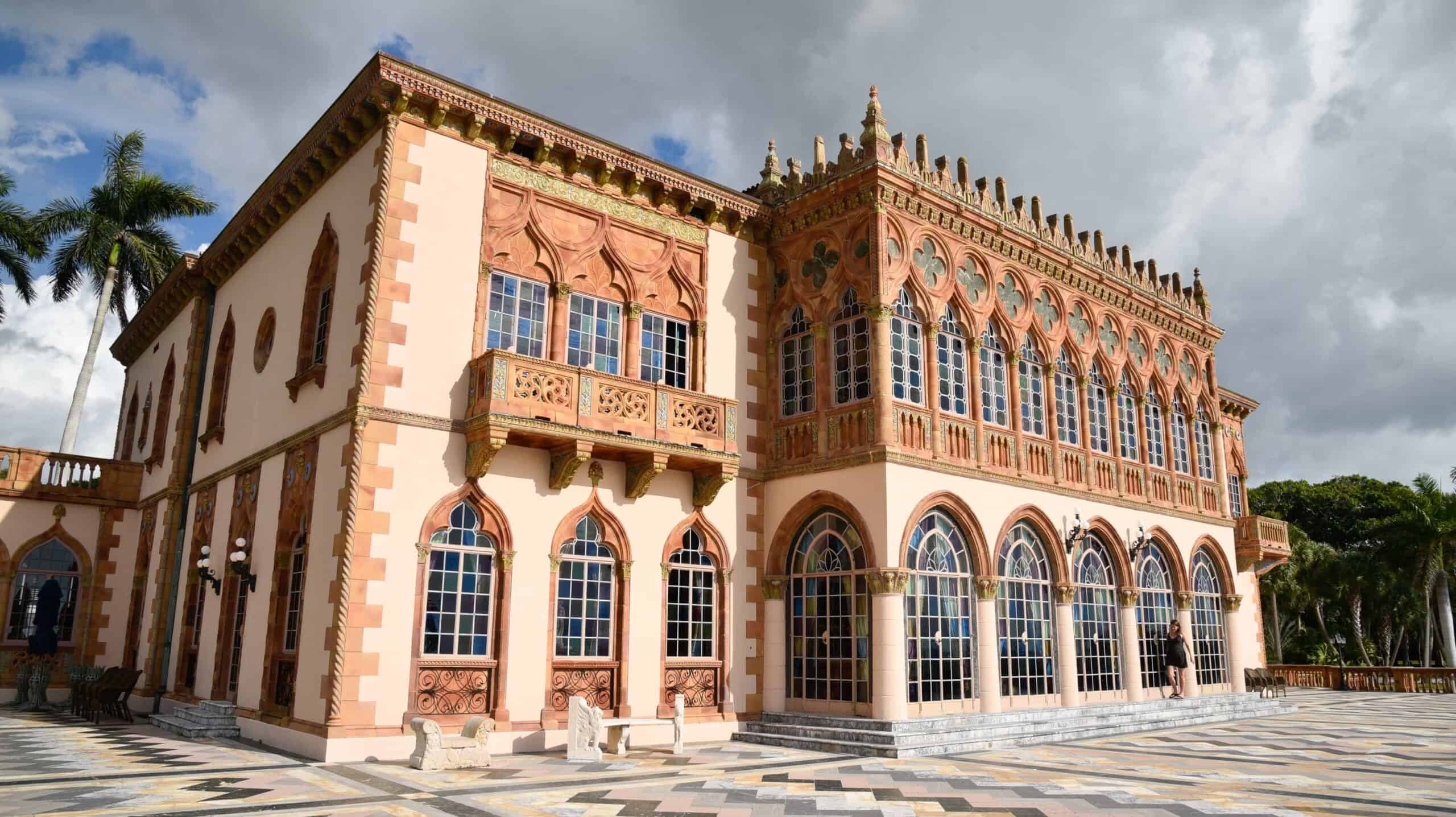 3. Ringling Museum of Art
If you are in Sarasota on a Monday, you MUST visit The John & Mable Ringling Museum of Art.
The museum is usually $25 a person, but admission is free on Mondays, which might be the best deal in Sarasota.
One interesting fact about Sarasota is that it was once a circus city. John Ringling was the owner of a circus in Sarasota called: "The Greatest Show on Earth."
Long story short, John purchased a large piece of land in Sarasota, where he collected various interesting and unusual works from around the world.
He eventually turned part of his home into a museum you can still visit today.
Even if you are not interested in art, we highly recommend visiting the Ringling Museum of Art, as the premises are beyond opulent.
The Ca d'Zan building is the most impressive in the complex. John hired a New York architect to build a Venetian Gothic-style palace on the water.
The house is 36,000 square feet and has 41 rooms and 15 bathrooms. It cost him a staggering 1.5 million dollars back in 1924.
The Ringling Museum of Art is an excellent place. We aren't at all surprised by the great Tripadvisor reviews. In short, go here.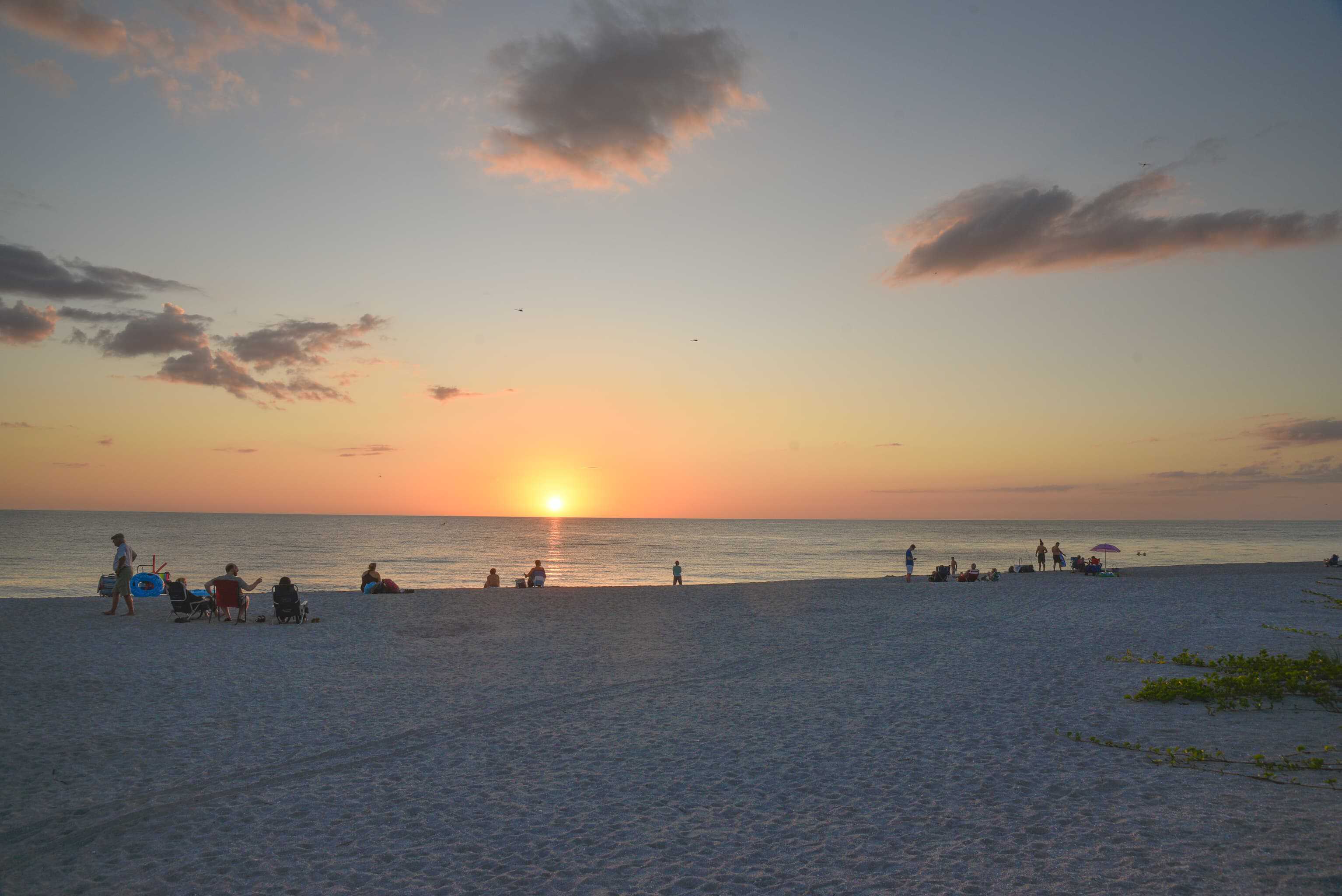 4. Turtle Beach
If you are interested in seeing turtles while in Sarasota, Turtle Beach is the best place to go.
The best time to see turtles in Sarasota is when they nest between May and October.
In saying this, sadly, your wild turtle viewing chances are pretty low year-round as turtles come out after dark when there is less chance of predators around.
Regardless of turtles, Turtle Beach is a great place to visit in any event.
While the sand is dark and grainy, the water is stunning. The beach also offers the most amazing sunsets.
For those traveling to Sarasota on a budget, you will be happy to know that there is a great campground nearby.
Parking spaces at the campground are tight, but it's located right on the beach.
If you drove to Sarasota and brought your women's bike, you can put it to good use cruising from this beach to the others.
We will be putting Turtle Beach back on our list of fun, free things to do in Sarasota the next time we visit.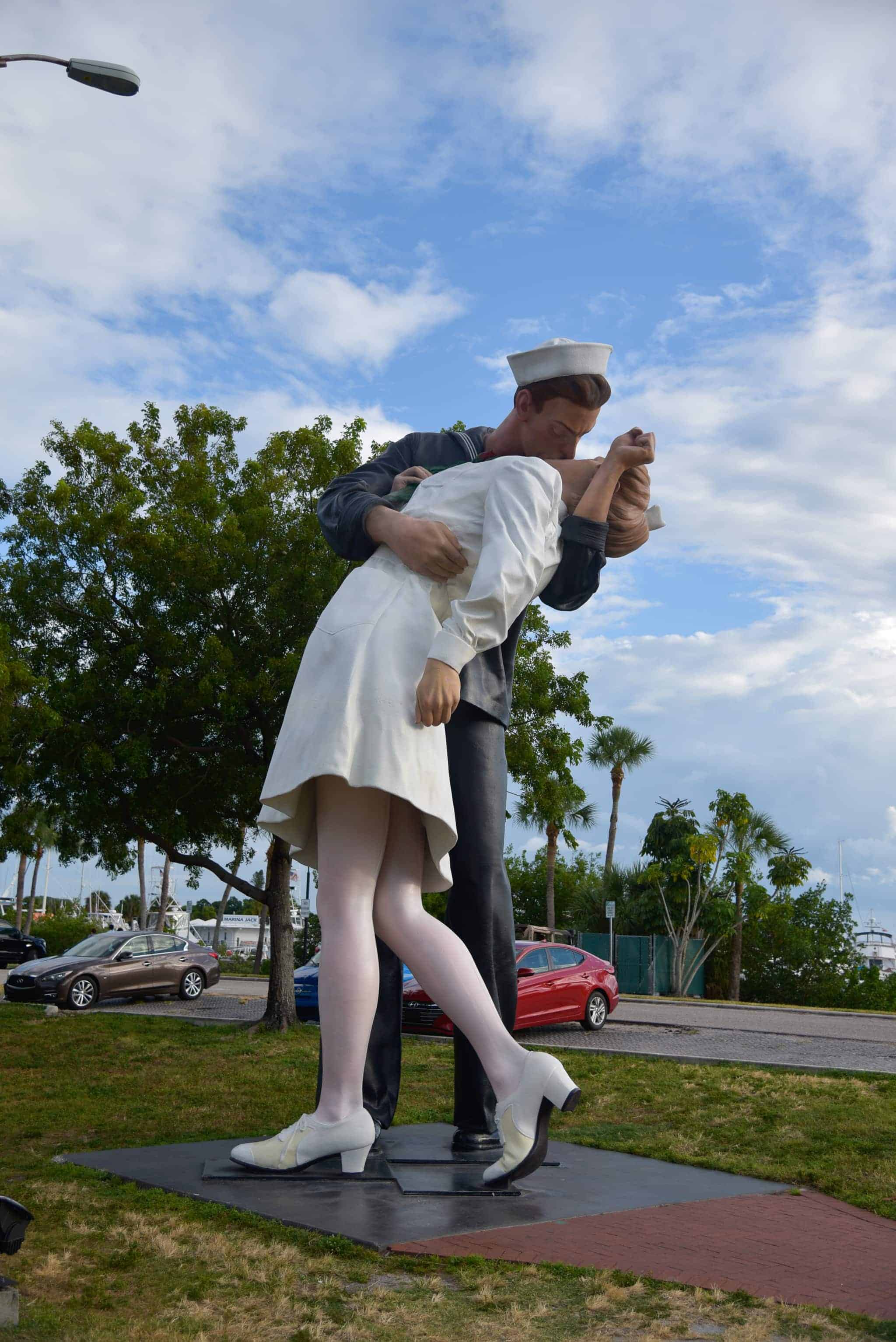 5. Unconditional Surrender Statue
One of the most popular things to do in downtown Sarasota is to visit the unconditional surrender statue.
The statue of a United States Navy Sailor kissing a nurse is a famous icon depicting the end of WWII.
The statue is based on a photo of George Mendosa and Greta (Zimmer) Friedman in New York.
Interestingly, there is controversy around the famous statue as the pair did not know each other before the photo, sparking claims that the image captured a sexual assault.
The story goes that George Mendosa was so happy to find out the war was over (and being a little drunk) he grabbed Greta Friedman, a random nurse in the streets, and kissed her.
Many argue that the statue is an assault and should not be glorified.
Due to the assault claims, the statue in Sarasota has been subjected to graffiti by "Me Too" protesters in recent years.
While George and Greta are now deceased, there appeared to be no bad blood between them as they met up numerous times for interviews and to recreate the memorable moment in New York.
It is free to enter and view the Unconditional Surrender Statue in Sarasota.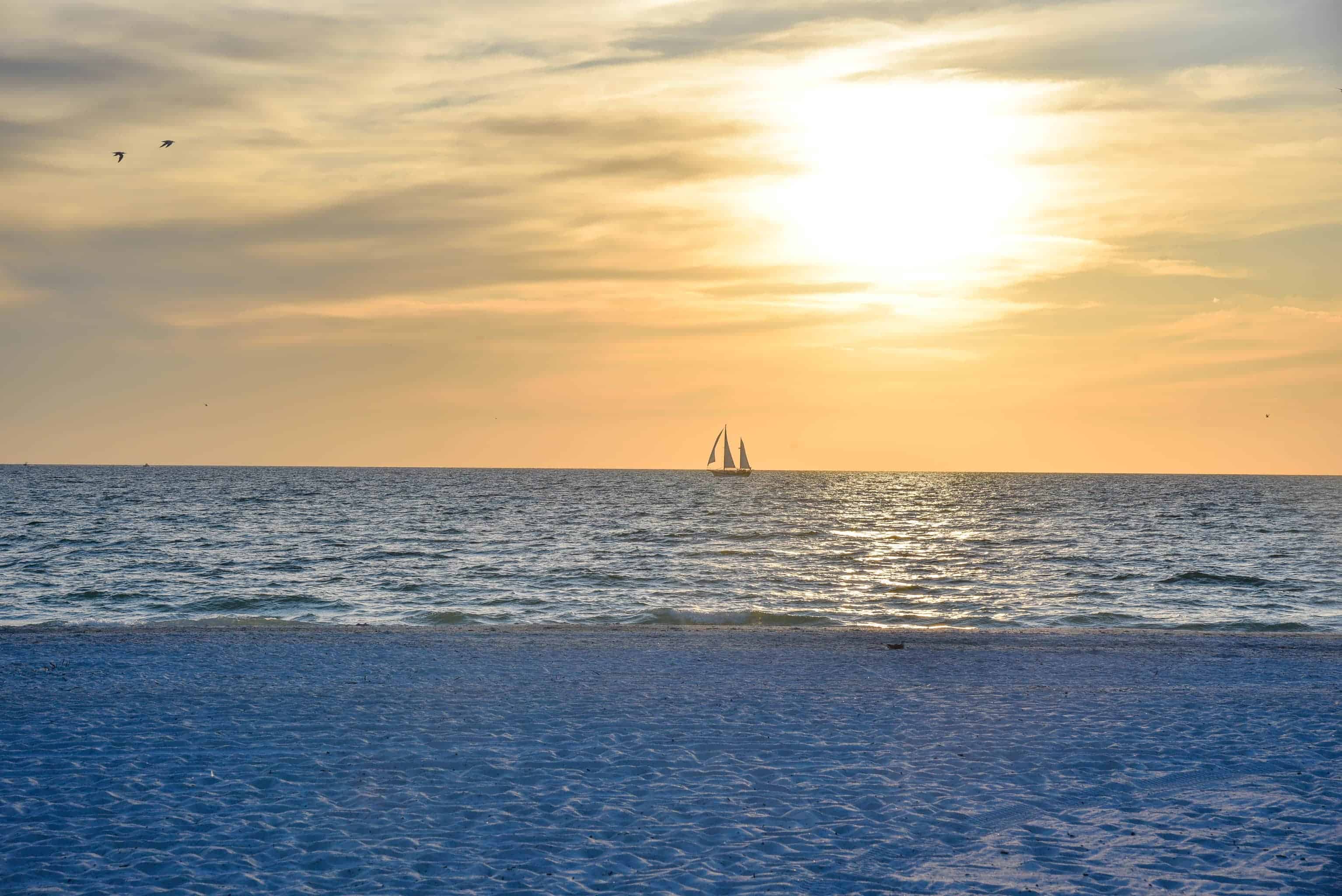 6. Coquina Beach
Coquina Beach is a fabulous free beach to visit in Sarasota.
It is a popular beach for locals and tourists as it has perfect white, fluffy quartz-crystal sand and warm water, ideal for swimming.
One quirky element of Coquina Beach is that it is home to thousands of very friendly squirrels who live in the woodlands just off the beach.
Seemingly, they are fed by tourists who visit the beach as they are ridiculously friendly.
We were a little scared of a squirrel attack while at the beach. After the fact, it was super fun to laugh about the squirrels at CCoquinaBeach.
Like most beaches in Sarasota, Coquina Beach has free parking.
See also: Clearwater Beach – Florida's Finest White Sand Beach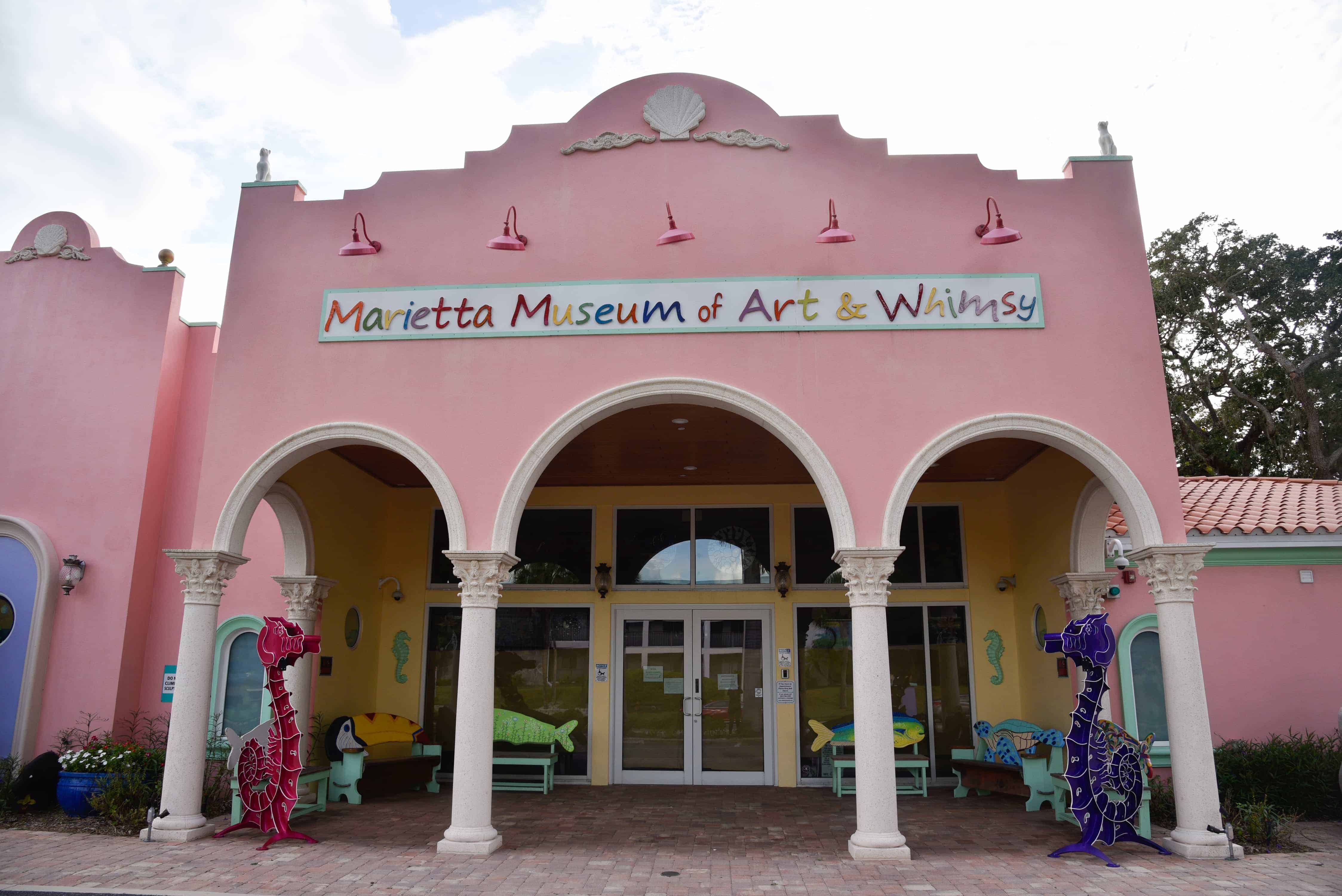 7. Marietta Museum of Art and Whimsy
The Marietta Museum of Art and Whimsy is another excellent free activity in Sarasota.
This museum is a winter activity set up for snowbirds. It closes for the summer and reopens the day after Thanksgiving on November 29.
In winter, in Sarasota, you will find all different types of interesting art inside the museum, from paintings to sculptures.
While it is free to enter, they ask for a $5 donation as they are a not-for-profit organization. This donation is entirely at your discretion and not mandatory to enter.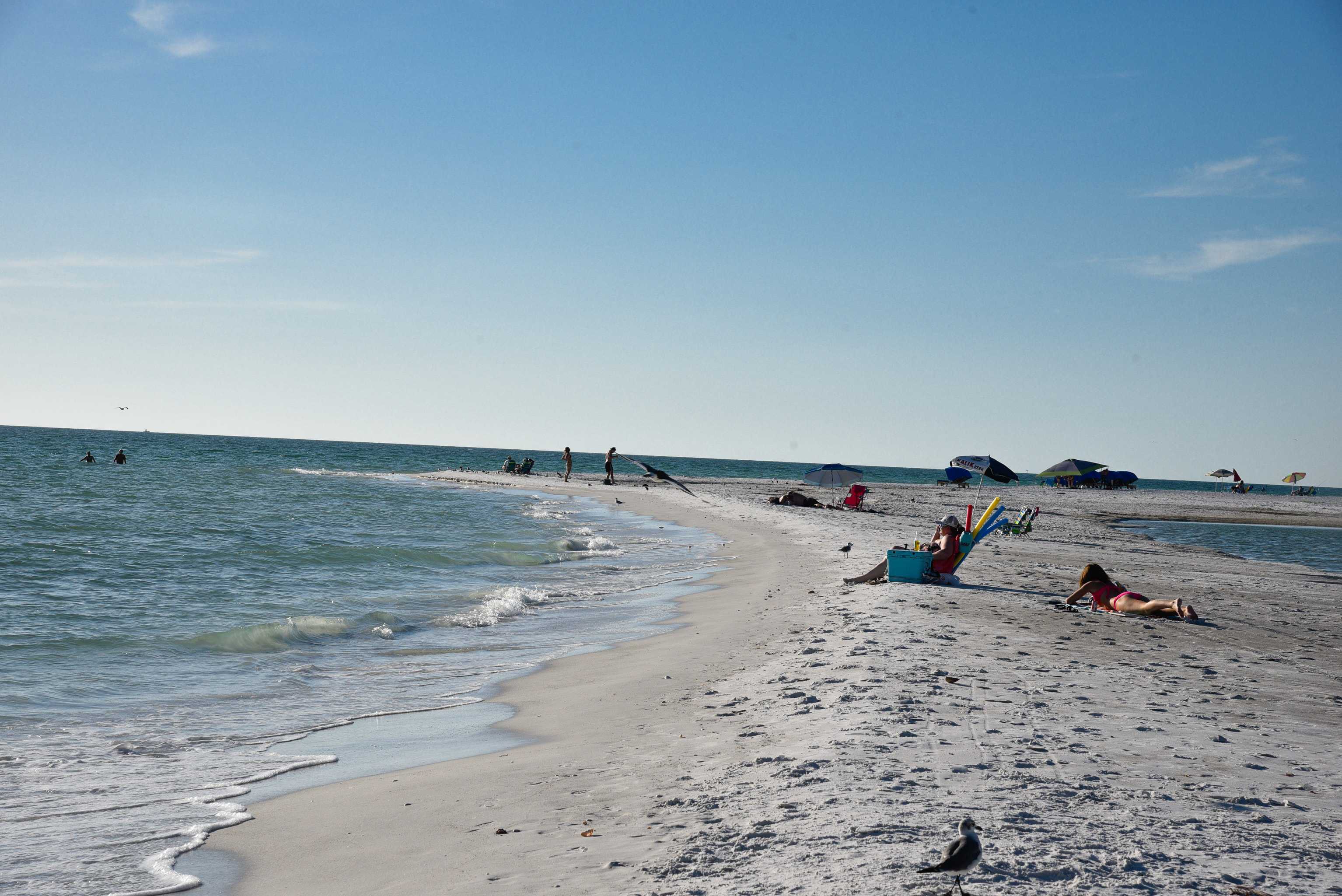 8. Lido Key Beach
If you decide not to head to the Siesta Key area, we recommend a trip to Lido Key—the beaches on Lido Key are stunning.
Lido Key Beach is the rival beach in Sarasota to Siesta Key Beach.
Like Siesta Key Beach, the sand is white and fluffy, and the water is perfect for swimming.
South Lido Key Beach is also a lovely beach in the area; however, it's not possible to swim at this beach due to strong currents. It is popular with anglers as the waters are teeming with fish.
It is free to park at Lido Key Beach except at the North end of the beach, where Sarasota County recently installed pay and display between Monday and Friday.
9. Celery Fields
The celery fields are an excellent place for nature lovers in Sarasota, and it is particularly popular with those who enjoy bird watching and photography.
The celery field is essentially a large wetland area in Sarasota. The park offers a few good elevated nature trails for more up close and personal bird watching.
You can see much of the same wildlife here that you can view at Myakka River State Park, a paid State park just outside Sarasota.
The celery fields in Sarasota are entirely free to visit!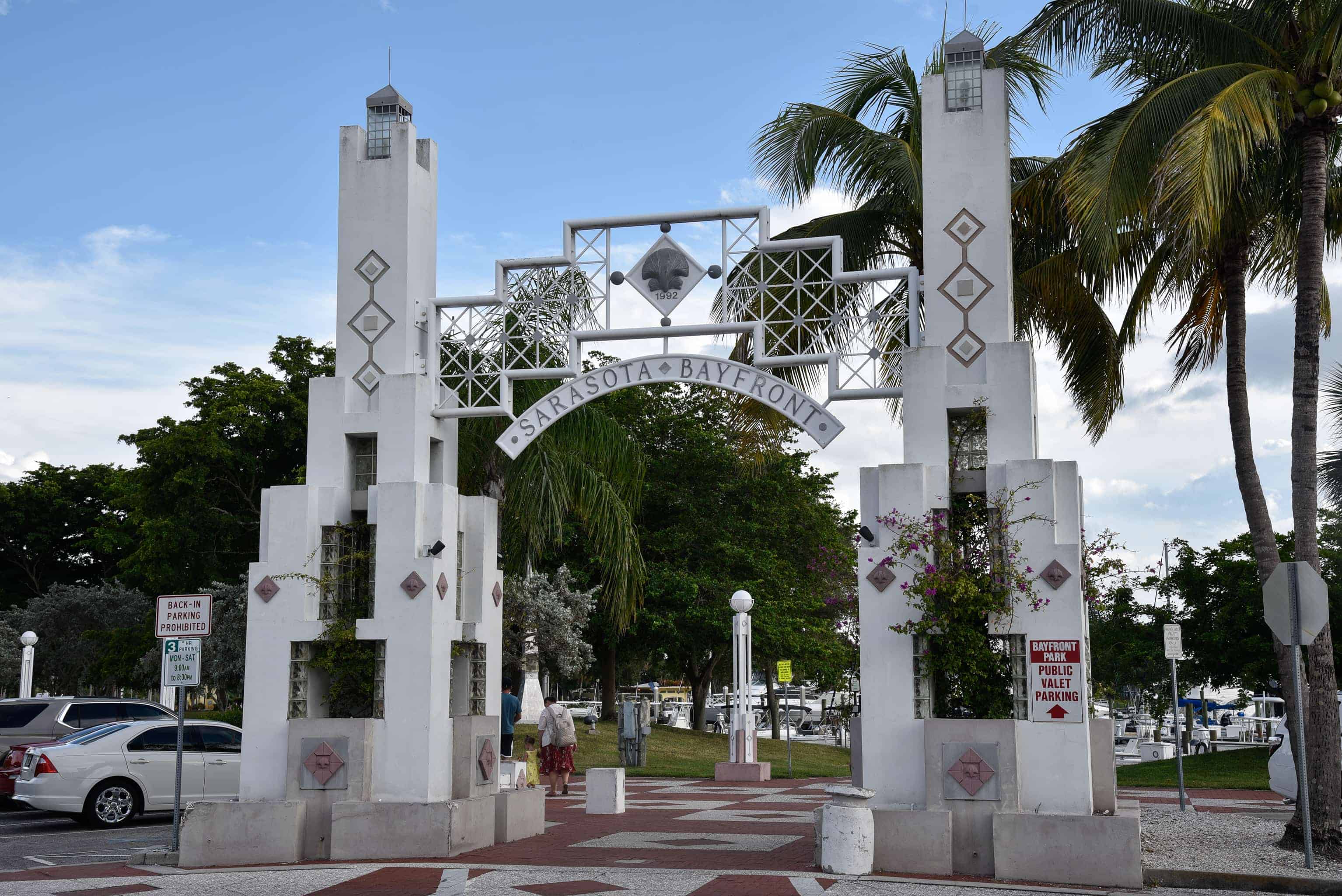 10. Bayfront Park
Located along Palm Avenue, next to the Statue of Unconditional Surrender, you will find Bayfront Park and the Children's Fountain.
It is entirely free to enter Bayfront Park in Sarasota. The park is a great place to go for a stroll on the Sarasota waterfront.
Families like to bring their children to play in and around the water fountains. There are also great picnic spots, kayak rentals, and a fun tiki bar.
Bonus: Affordable Things To Do in Sarasota
There are a few cheap activities that we would recommend in Sarasota.
The Marie Selby Botanical Gardens is an affordable activity in Sarasota that the whole family will love. It costs $20 per person to enter the picturesque gardens.
The Myakka River State Park is another good place to visit in Sarasota if you love the great outdoors and want to see wildlife, including alligators and deer.
The State Park is also home to the popular and well-rated Myakka Canopy Walkway, with terrific views of the Sarasota area.
It is possible to camp at Myakka River State Park for $26 a night, or you can get a day entry pass for $6 a vehicle.
The last reasonably affordable activity we recommend is the Mote Marine Laboratory and Aquarium.
At $46 entry per adult, this is a popular option for family fun in Sarasota County as it allows visitors to see Florida manatees.
Planning a trip? Go Backpacking recommends: