Going for my first walk on the white sand of Clearwater Beach, Florida, felt like a rebirth.
I'd survived the pandemic, been fully vaccinated, and reconnected with my parents in person.
It was time for a few days of R&R at one of the best beaches in the United States.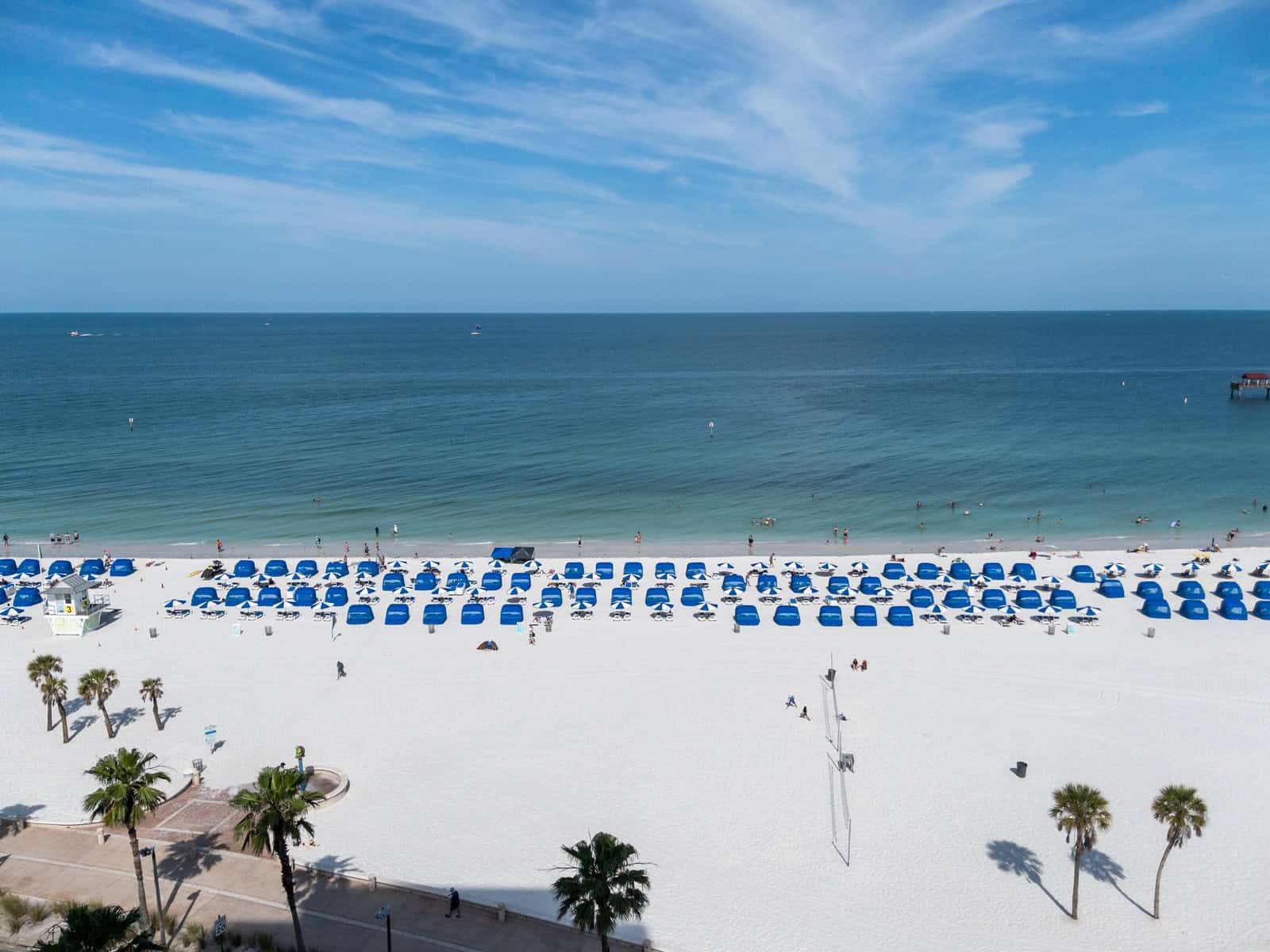 Clearwater Beach is located on a barrier island off the western coast of Florida, a half-hour west of Tampa Bay and north of St. Petersburg.
In mid-May, when I visited, the Clearwater Beach weather was ideal.
Highs were in the 80s, with lots of sun and wisps of white clouds across the otherwise blue skies.
I picked Clearwater Beach for its accolades and easy access to the Tampa International Airport, which offers direct flights to Austin on Southwest Airlines.
I fly this route often enough that it made sense to get a Southwest credit card to earn points for free flights.
On the other hand, choosing where to stay was a more difficult decision. Clearwater Beach is pricier than I expected.
Clearwater Beach Travel Guide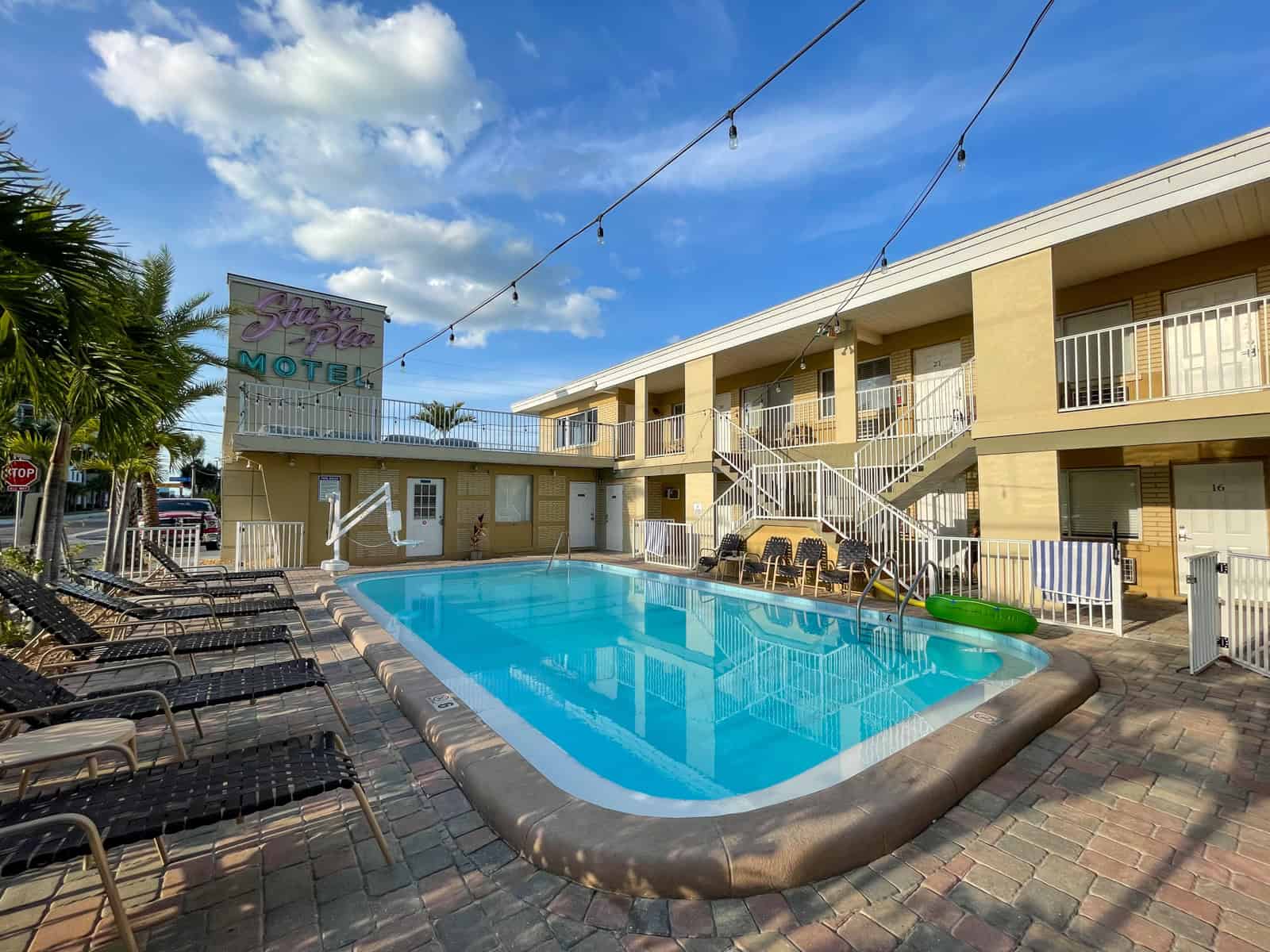 Where to Stay
I began by searching for Airbnbs in Clearwater Beach, only to find the cheapest options available were still expensive for what you get.
The big hotels were $400+ per night, and there was no way I would pay that. I prefer to fly to Mexico for the weekend for that price.
Sta 'n Pla Motel
I settled on a one-bedroom apartment in the Sta 'n Pla Motel two blocks from the beach. Including fees, it came out to $200 per night.
Thankfully, I had $80 in Airbnb credit, bringing the cost down to $160 per night, or $320 total.
Still a lot, but I'd been waiting 17 months to see a beach and didn't lose too much sleep over it.
Besides, I had a trick up my sleeve to end the trip on a high note.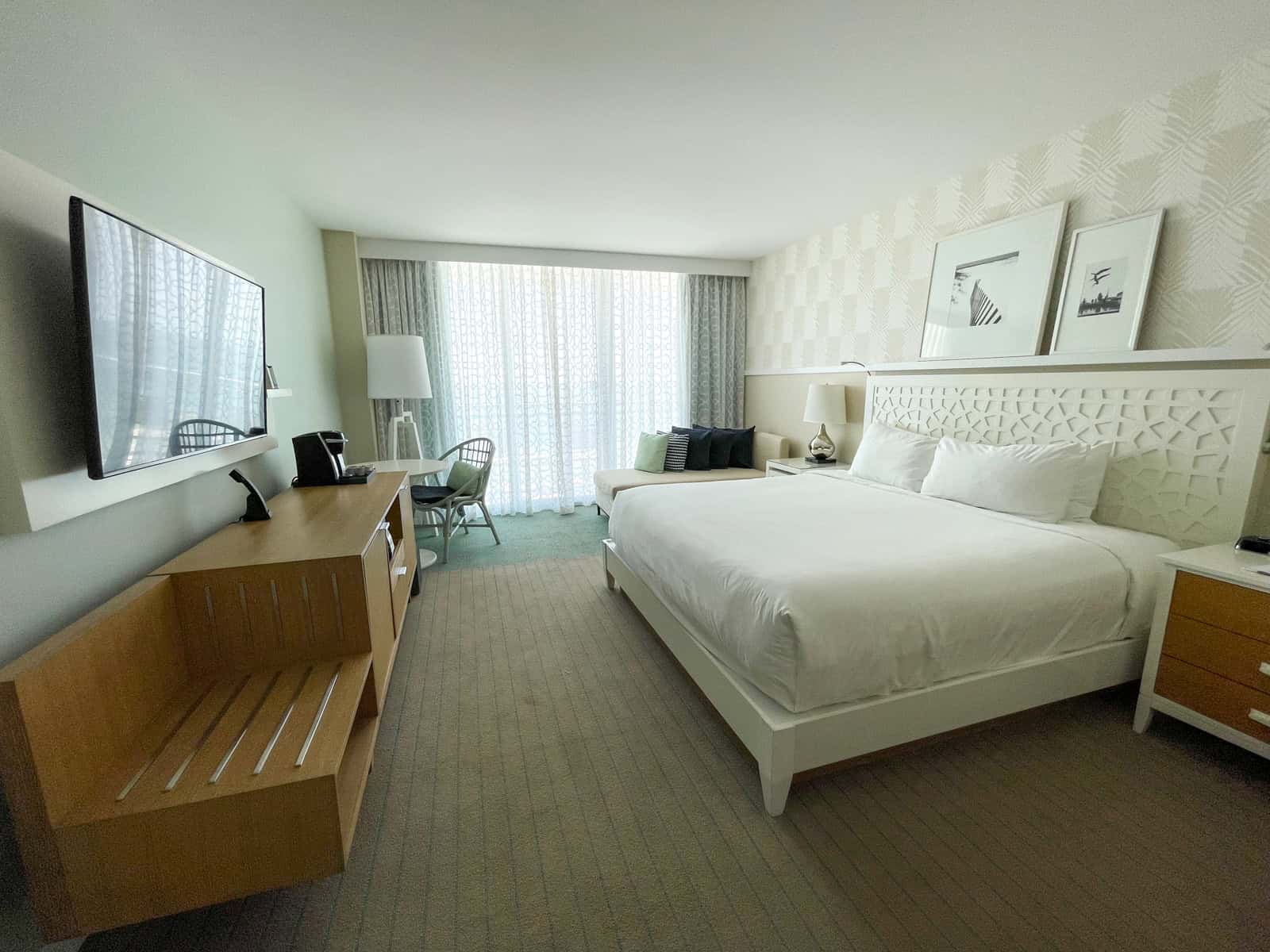 Wyndham Grand Clearwater Beach
The last night of my Florida trip would be spent in a Gulf view room at the Wyndham Grand Clearwater Beach resort, a $500+ value I received for significantly less.
A few years earlier, while at the Austin Kite Festival in Zilker Park, I was approached by a woman signing up people to attend a Wyndham timeshare presentation.
The reward for attending was 30,000 points that could be redeemed at Wyndham's locations.
I signed up, earned the points in exchange for a few hours of my time (during which I did not buy a timeshare), and waited for an excellent opportunity to use them.
That opportunity came in the form of a night at their premiere Clearwater Beach resort.
It would be my first time staying at a Wyndham property.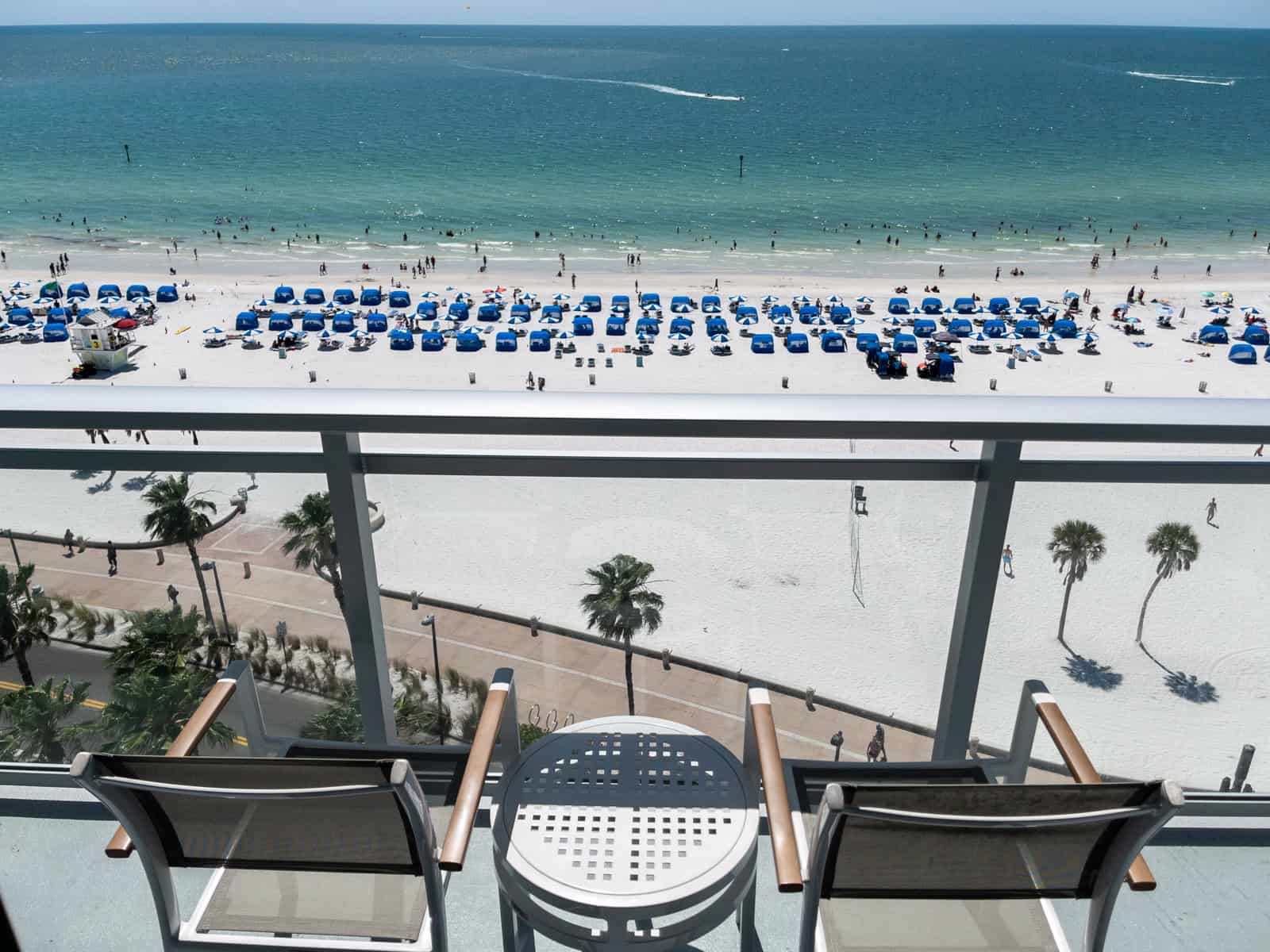 The points were enough for a standard room, which I booked.
I later received an email offering the chance to upgrade to a Gulf view room for $60, based on availability.
I signed up and was happy to learn I'd received the upgrade at check-in.
As you can see from my balcony view above, the scenery was spectacular.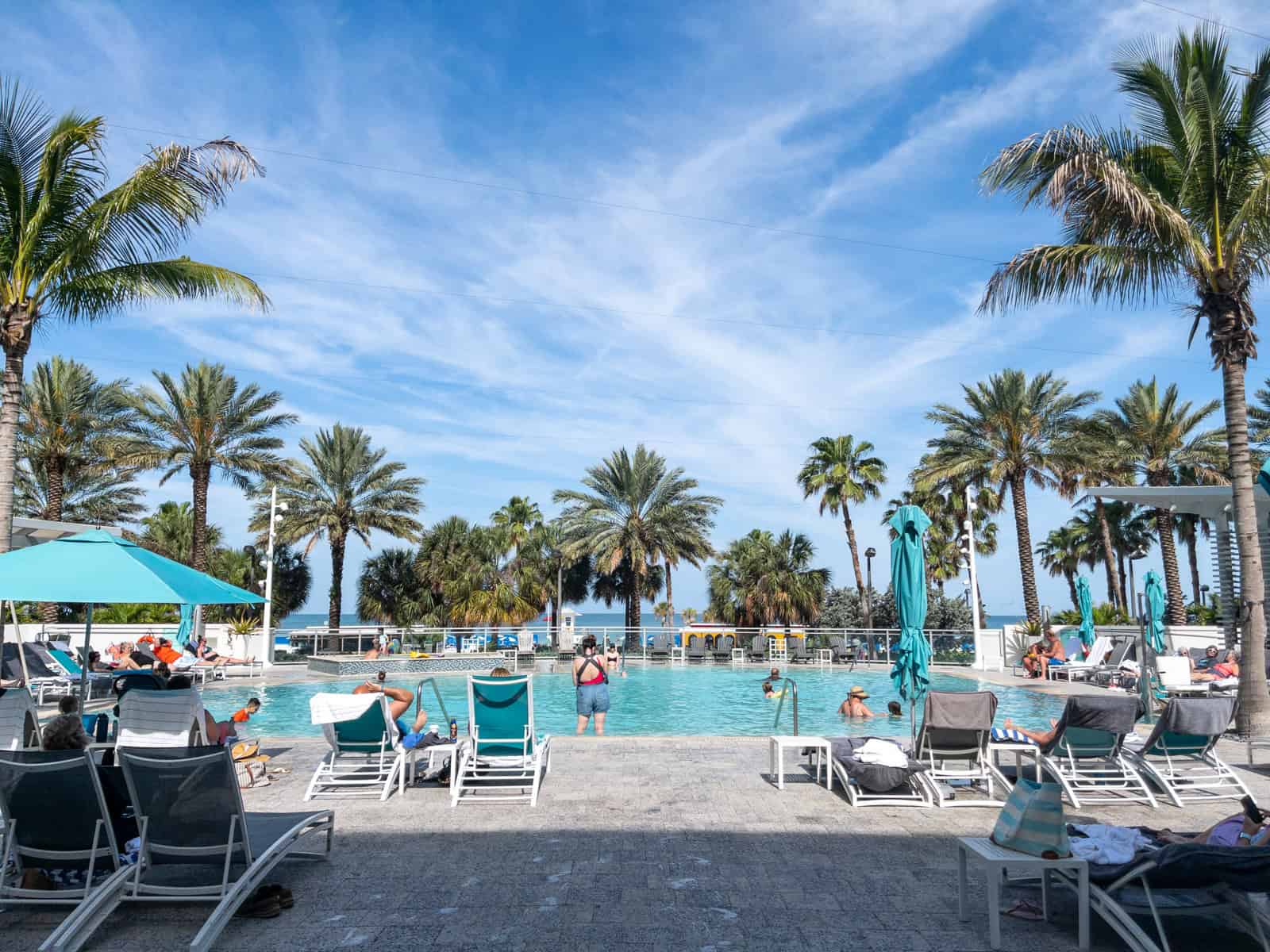 Staying at the resort afforded me access to the pool, though I didn't use it for more than a quick dip.
However, I enjoyed a happy hour cocktail and salad with chicken for dinner at the pool bar.
I sat in one of the resort's shaded lounge chairs on the beach the morning of my departure.
I left mid-morning before anyone came by to charge me.
My stay at the Wyndham Grand Clearwater was well worth my time listening to the timeshare presentation.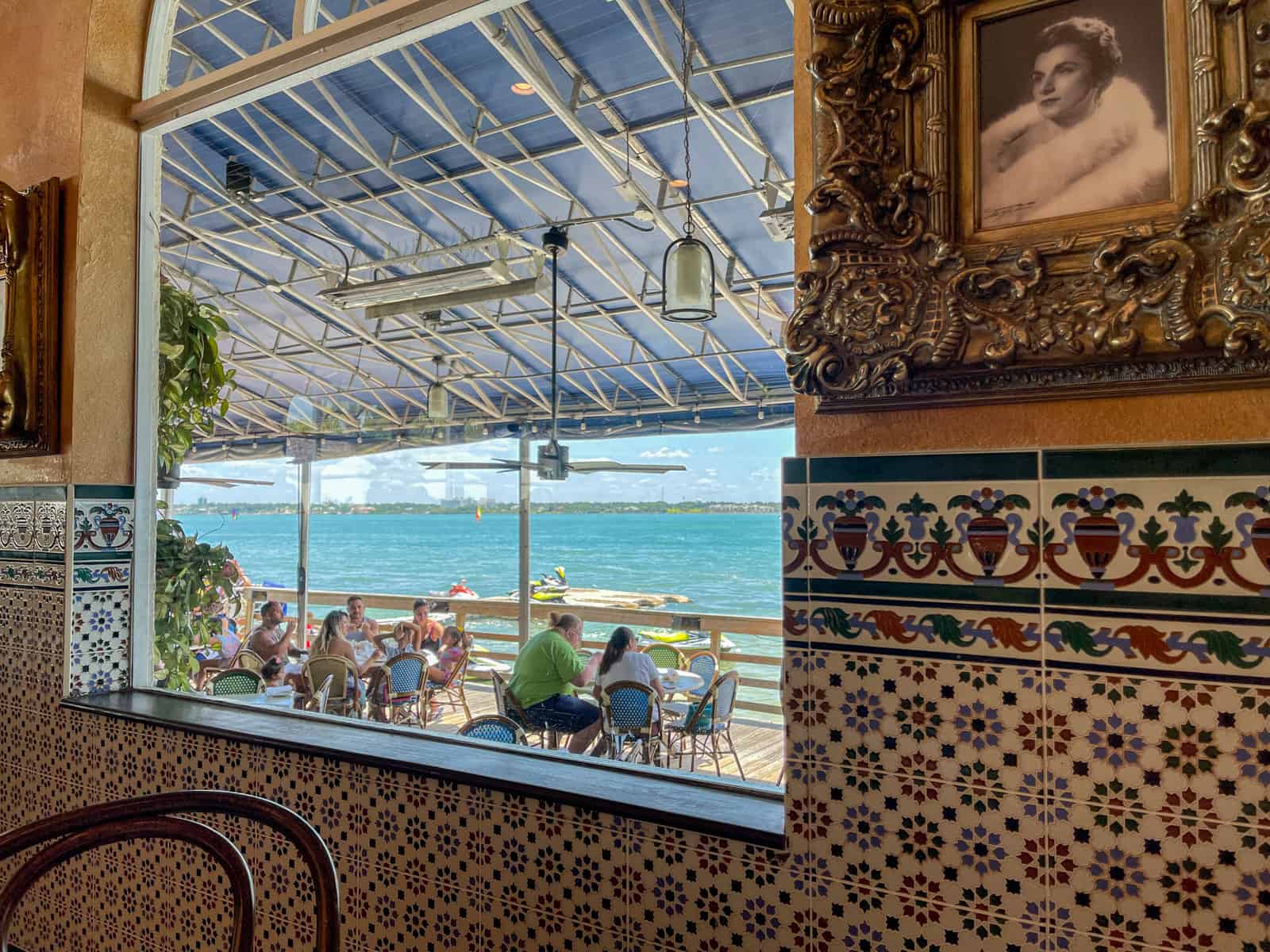 Where to Eat
When it comes to Clearwater Beach restaurants, I made a few discoveries.
First and foremost, Columbia Restaurant is technically just south across a bridge on Sand Key.
Columbia is a family-owned and operated Spanish restaurant that dates back more than 117 years. The original location is in Tampa Bay.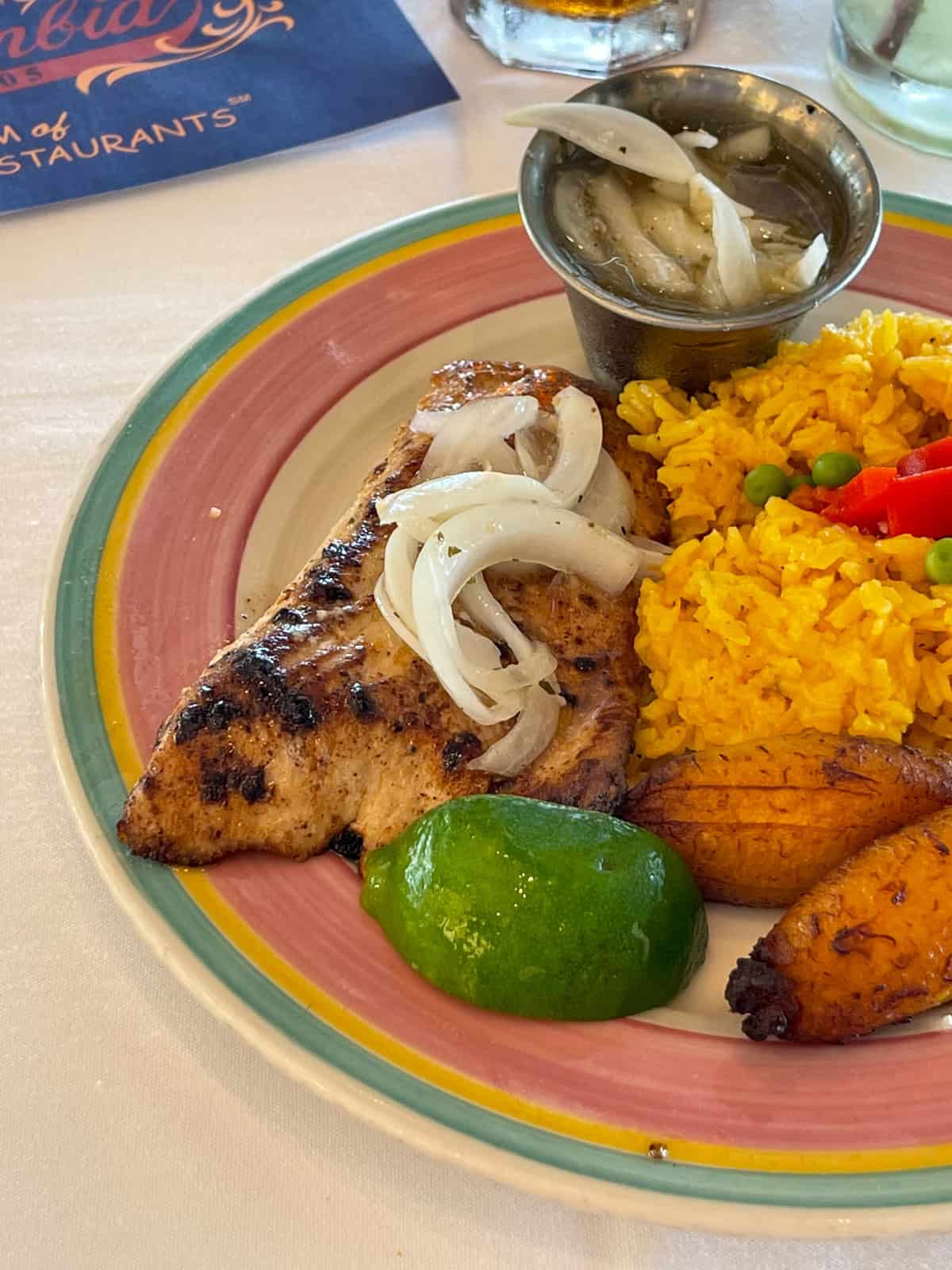 I had the chicken and plantains, a mojito, and a terrific view of the sparkling blue waters outside.
I sat inside due to the heat; however, they have a large outdoor deck and a dock with jet skis!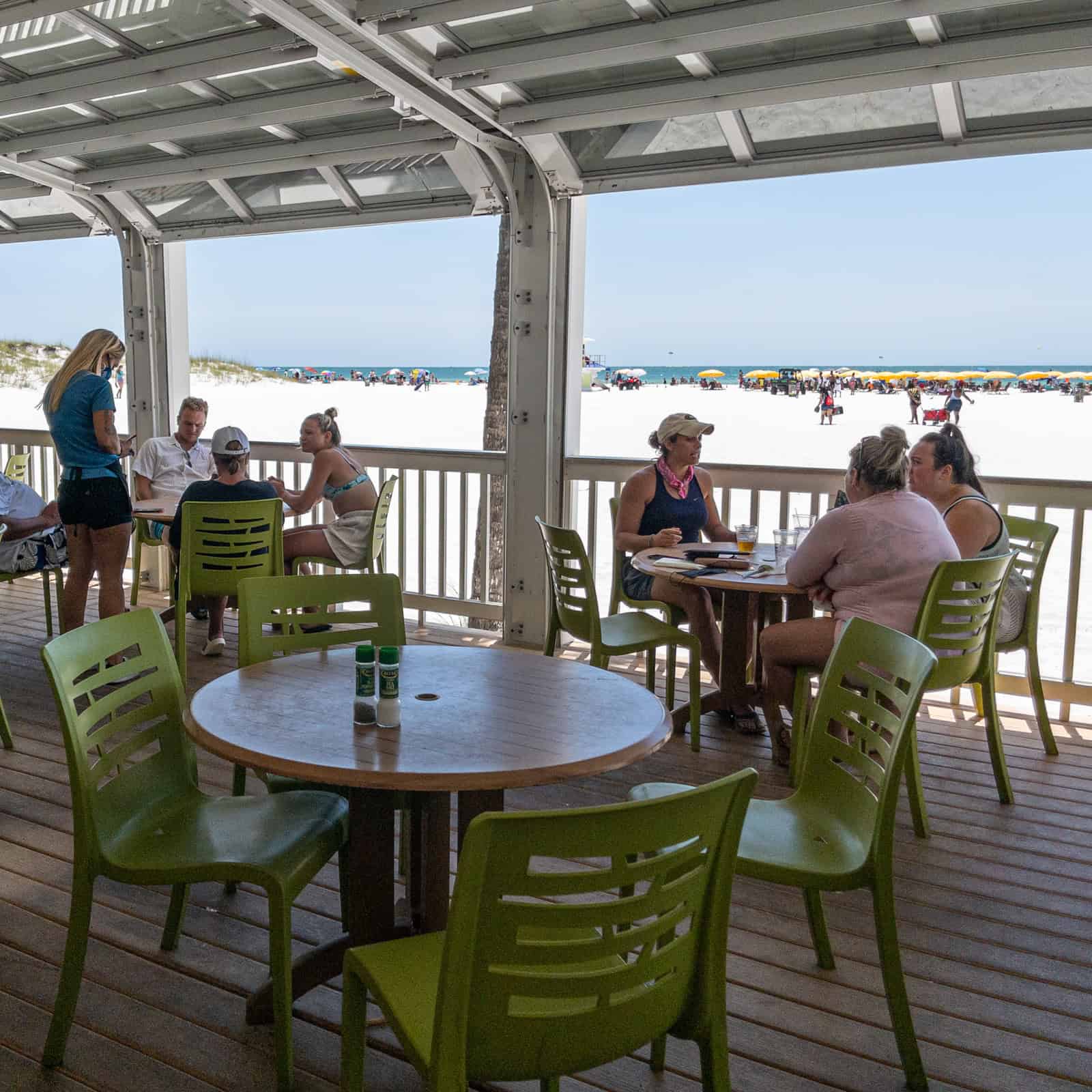 My friend, Shannon of A Little Adrift, was in the area when I was visiting, so we met up for lunch at the Palm Pavilion Beachside Grill & Bar.
It was the ideal spot for a leisurely lunch catching up with an old friend.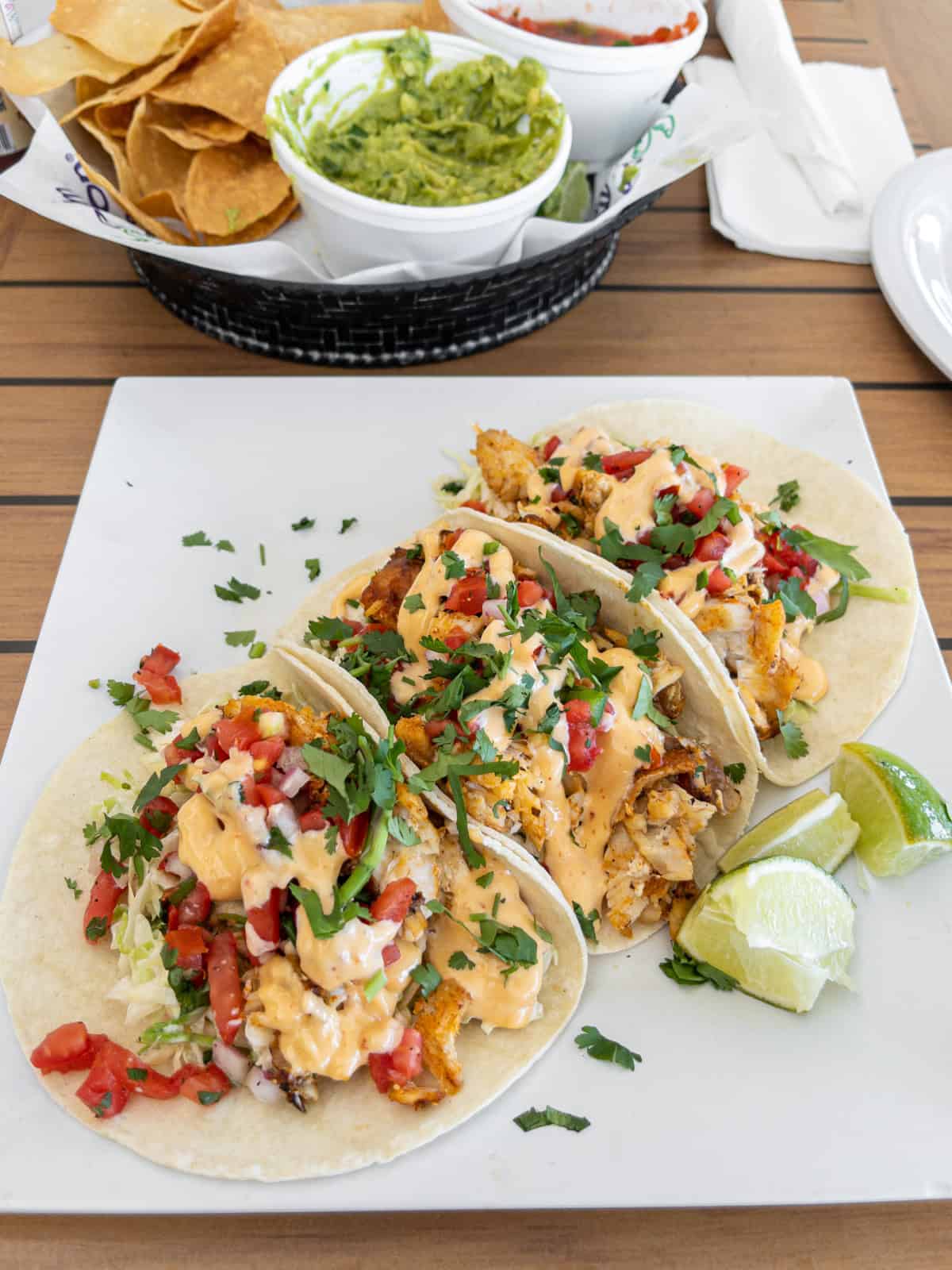 We had chips, salsa, and guacamole, and I ordered fish tacos as the main course.
Shannon and I last shared Mexican food in Oaxaca five years earlier.
I appreciated being able to linger as long as we liked on the restaurant's deck without pressure to pay and leave.
As mentioned above, I also had dinner at Wyndham's pool bar one night.
Another night, I ate at Shor American Seafood Grill at the Hyatt Regency Beach Resort.
I picked it for the convenient location and Gulf view. The grilled avocado and salmon dishes were excellent, too.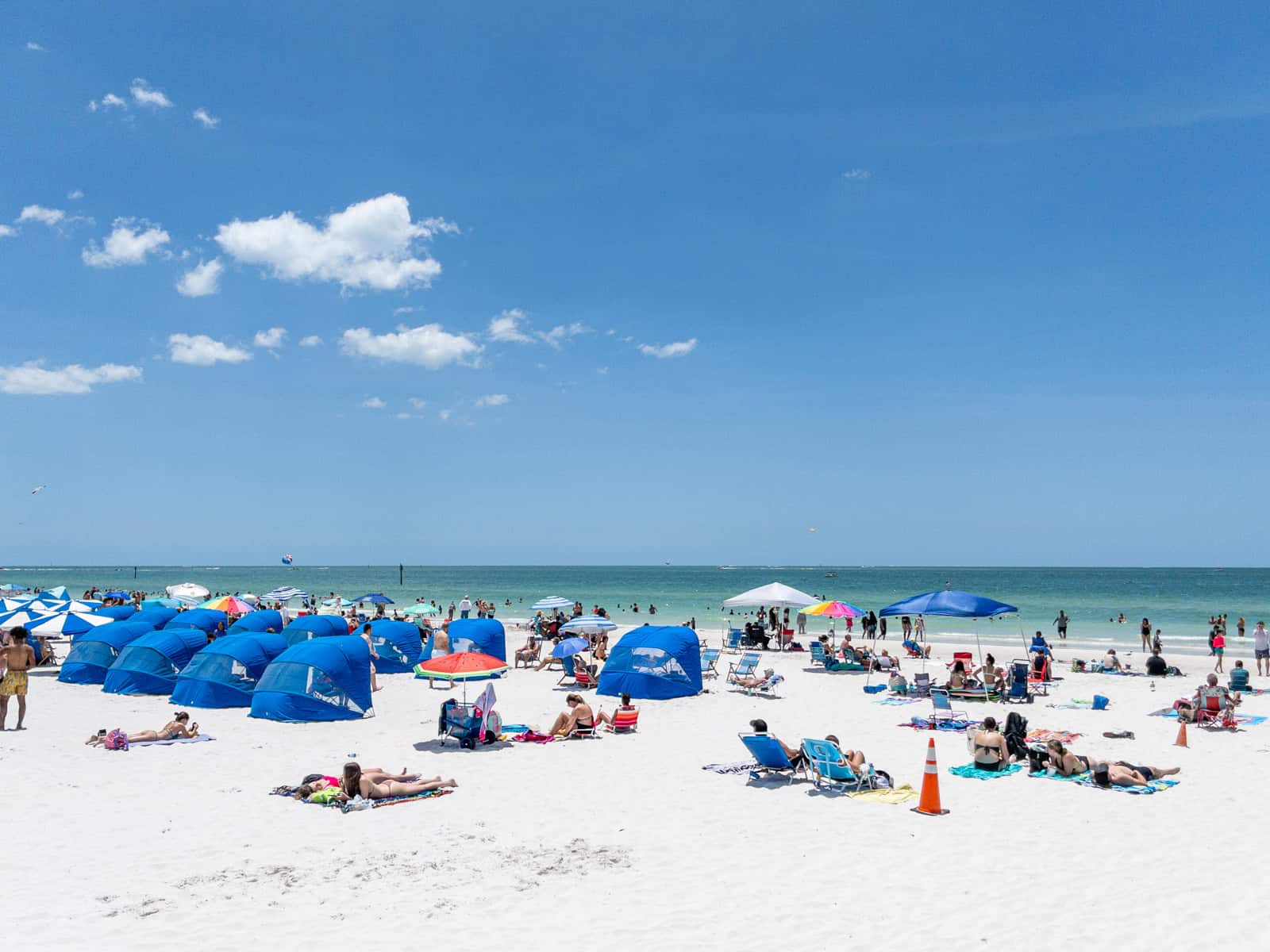 Things to Do in Clearwater Beach
If all you want is to hang out at the beach, I can't blame you. After a year and a half in landlocked Austin, TX, that was my focus. However, there are plenty of activities available, too.
Hang out on Clearwater Beach
Let's start with the white sandy beach and calm, clear Gulf waters. It's a legit world-class beach, even if it doesn't sound as exotic as a Thai beach half a world away.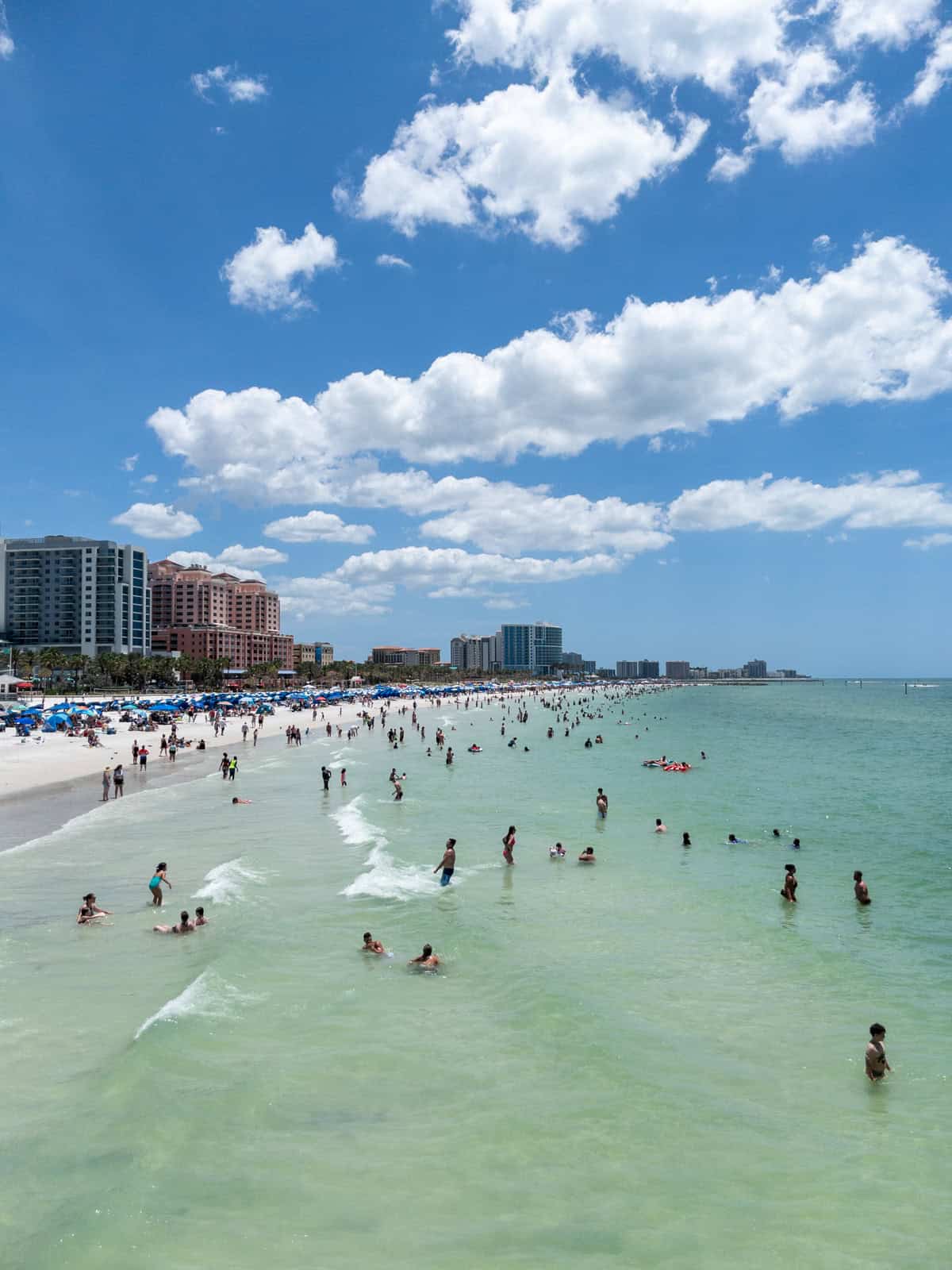 I went for walks on the beach in the mornings and left my footprints on the freshly groomed sand.
The beaches were packed with families, couples, and groups of friends in the afternoons.
On one walk, I noticed the music played went from Guns 'n Roses to reggaeton to electronica.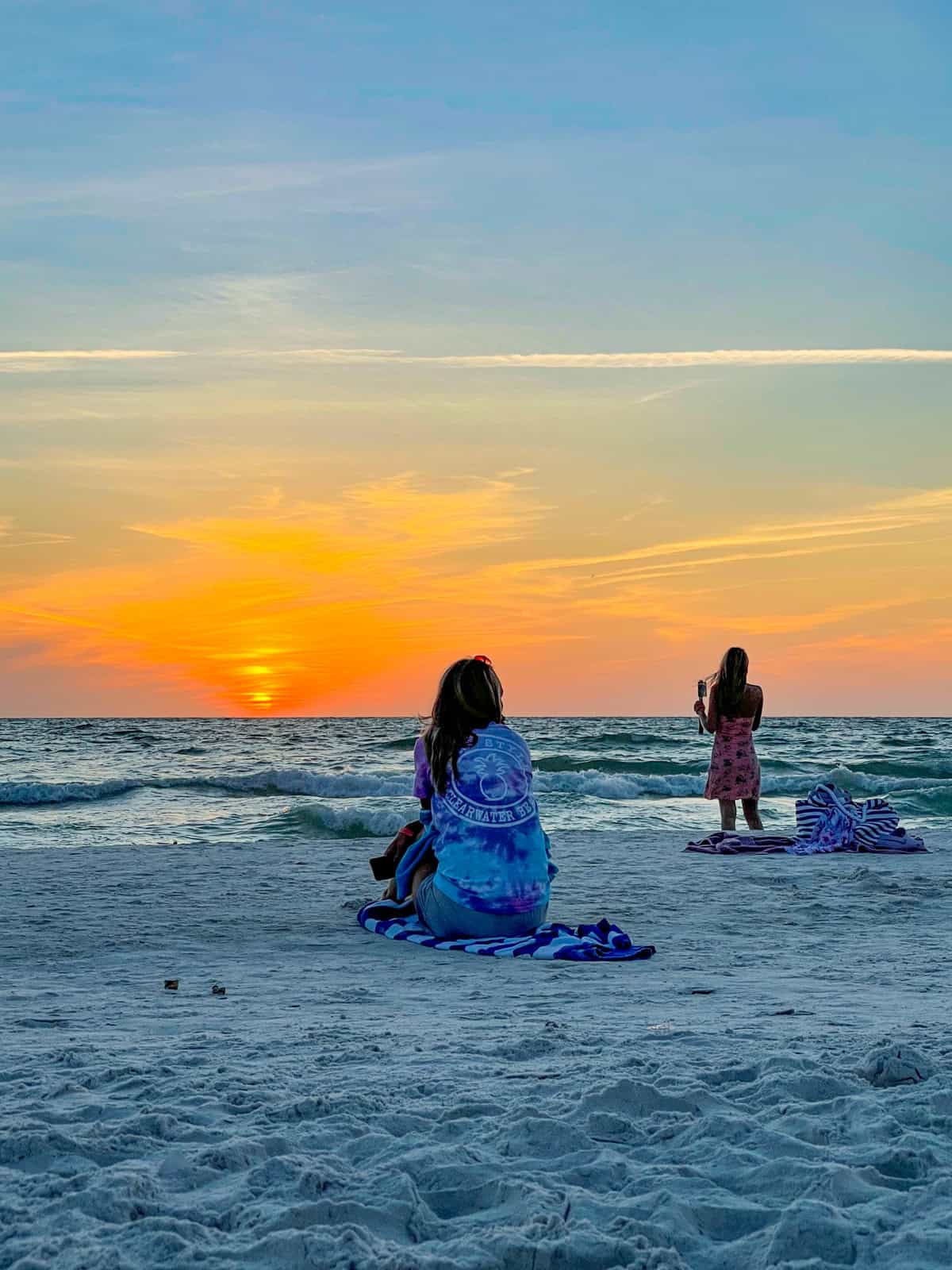 The vacationers were in a generally upbeat mood. It was the largest concentration of people I'd been around since 2019, and I felt comfortable and safe (both being outside and fully vaccinated).
I watched the sunset each evening, first from the beach and the next night from my balcony at the Wyndham.
As fair-skinned as I am, I can better enjoy beaches in the early mornings and late afternoons when the risk of burning is lower.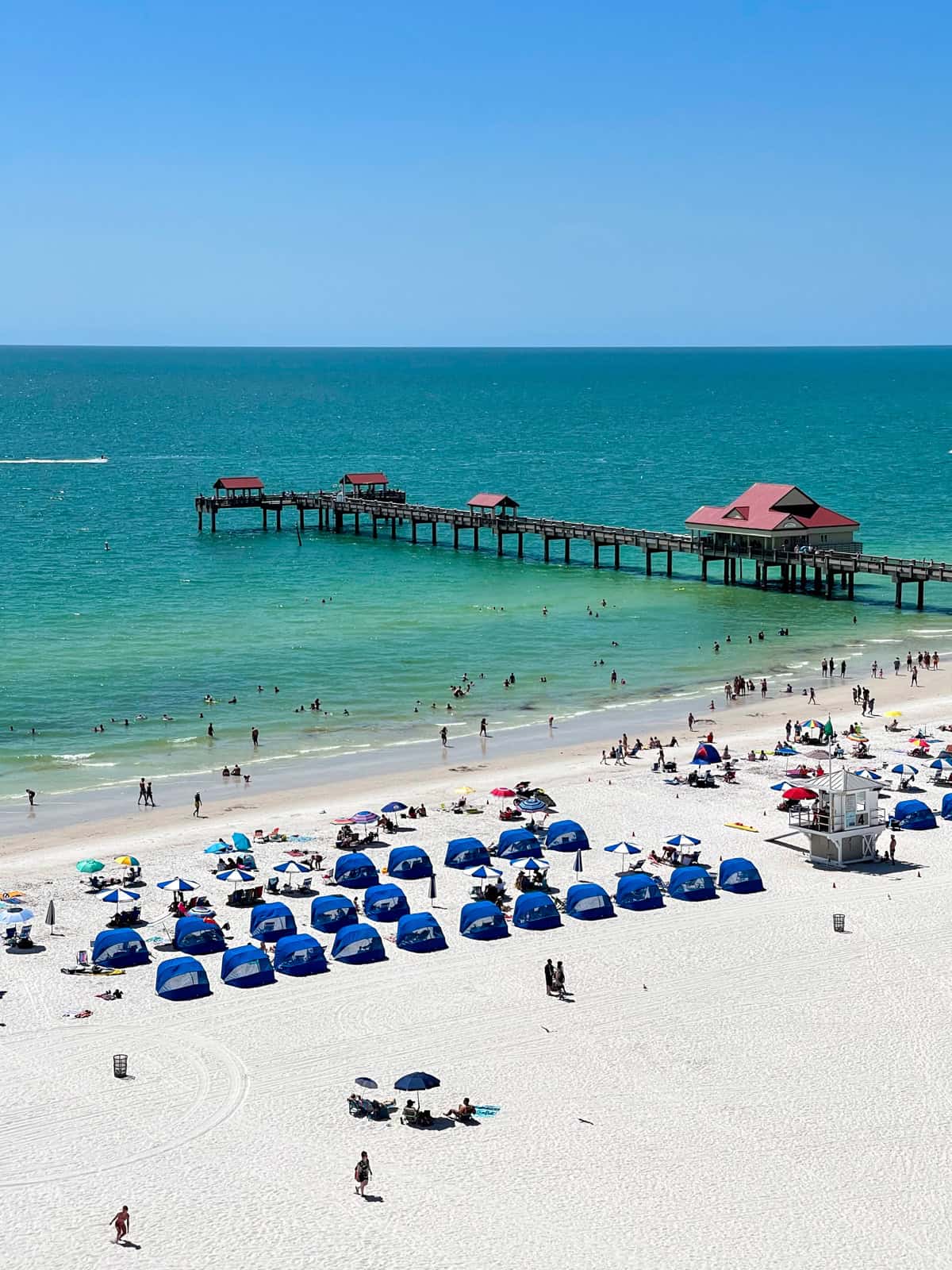 Pier 60
Anyone who walks along Clearwater Beach will see and eventually run into Pier 60.
This wooden pier offers visitors the chance to get another perspective on the beach.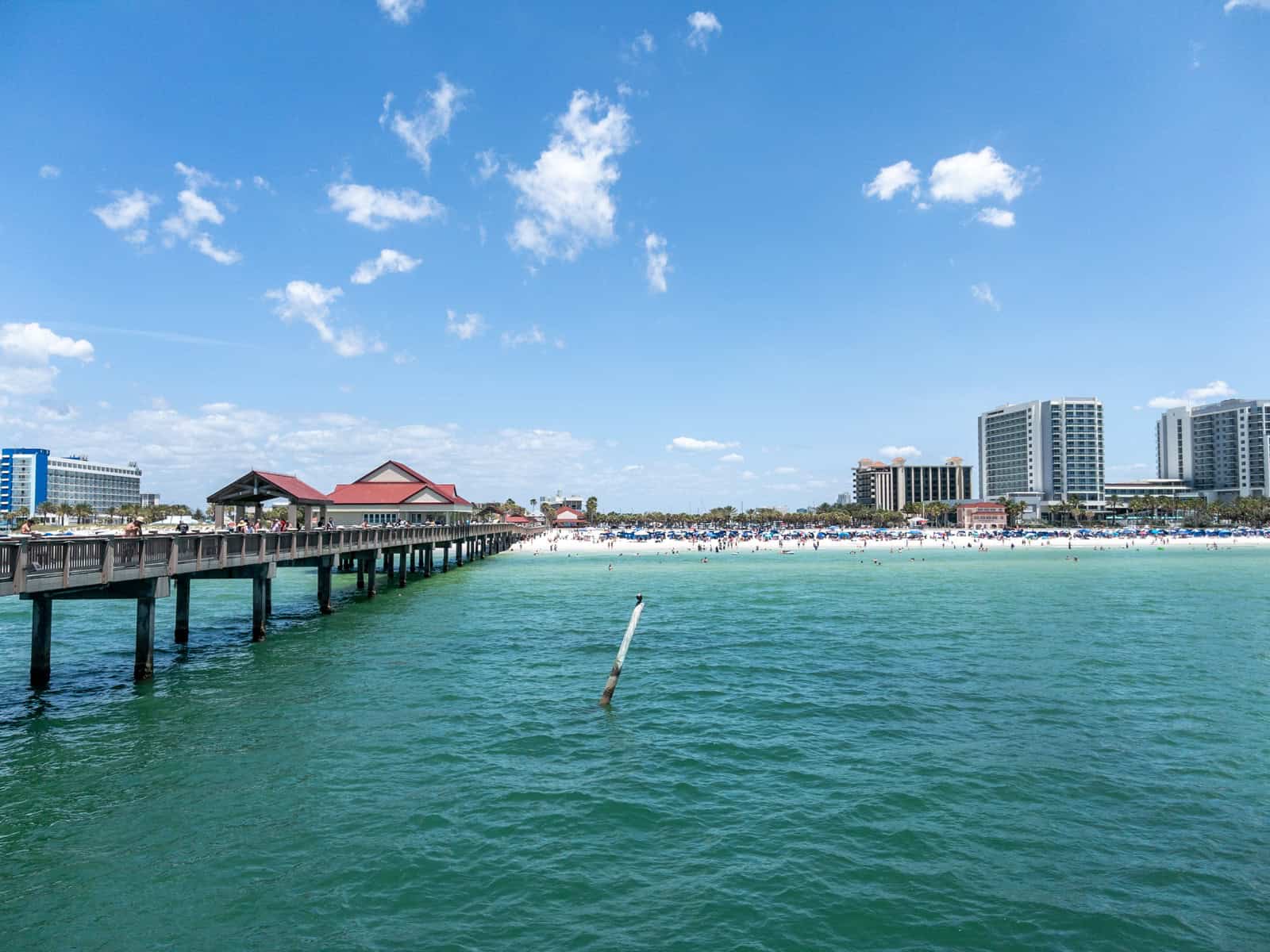 Fishing with the best baitcasting reels from the pier is allowed, and plenty of people were fishing when I walked out on it.
There's a $2 charge if you want to walk to the far end of the pier, which I recommend. If you're lucky, you may spot some dolphins!
Dolphin Watching
Want to increase your odds of seeing wild dolphins at play? Book one of the many boat tours in Clearwater.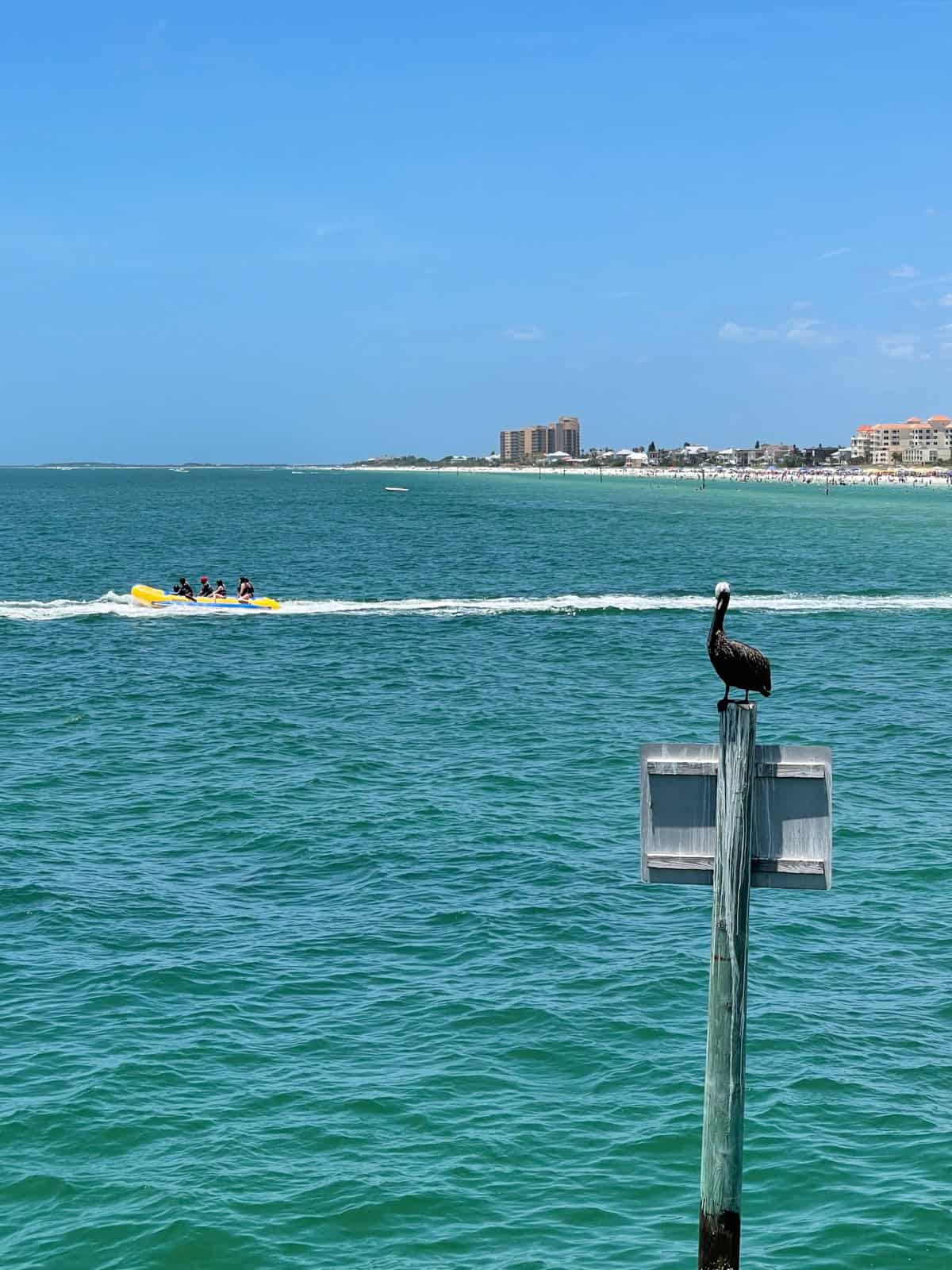 Watersports
There are numerous watersports to enjoy in Clearwater Beach. Banana boat rides, jet-skiing, parasailing, snorkeling, and scuba diving are popular.
Explore Nearby Beaches and Islands
If you'd like to escape the crowds on Clearwater Beach, many other beaches on nearby islands are worth exploring.
Having a car, either your own or a rental, helps here, as rideshare prices can be costly during summer.
Sand Key Park and Beach – a few minutes' drive south of Clearwater Beach.
Caladesi Island State Park – at the north end of the same island as Clearwater Beach. Accessible via foot or boat.
Honeymoon Island State Park is just north of Caladesi Island, accessible by boat or car (via the Dunedin Causeway).
***
Overall, my experience at Clearwater Beach surpassed my expectations. The white sand and warm Gulf waters are vacation-worthy.
Finding affordable accommodation may be challenging, so consider visiting during the shoulder seasons (spring or fall).
Florida often comes up regarding weird and oddball behavior in the United States. But it's also the state that undeniably offers some of our best beaches, and Clearwater Beach is one of them.
Dave is the Founder and Editor in Chief of Go Backpacking and Feastio. He's been to 66 countries and lived in Colombia and Peru. Read the full story of how he became a travel blogger.
Planning a trip? Go Backpacking recommends: