Visiting Gocta Waterfall, which is arguably the world's 3rd tallest at 771 meters (2,530 feet), is an easy day trip from Chachapoyas.
For $18, you can join a tour that includes roundtrip transportation in a minivan. The park entrance fee is another $2, and a fresh trucha (trout) lunch will run $3.50.
The hike from the drop-off point to the base of the waterfall takes an average of 2 hours, and there's a house with water and snacks for sale at the halfway point.
While it can seem like an easy hike, the altitude can slow you down if you haven't had a few nights to acclimatize in Chachapoyas (Elev: 2,300 meters) first.
The volume of water coming over the falls varies greatly based on the time of year.
I visited in October, before the start of the rainy season, so the water that was falling looked more like a cloud of mist than a heavy torrent.
____________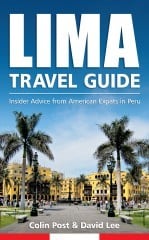 Dave's 160-page, all-original Lima Travel Guide is available for Kindle.
Dave is the Founder and Editor in Chief of Go Backpacking and Feastio. He's been to 66 countries and lived in Colombia and Peru. Read the full story of how he became a travel blogger.
Planning a trip? Go Backpacking recommends: