Buying a backpack can be an overwhelming experience, especially if it's your first time traveling this way.
Your average REI or local sporting goods store will have a dedicated section, sometimes even a wall, full of options.
When traveling around the world, your backpack is your best friend.
It will go everywhere with you, and it will act as your home away from home.
How do you know which one will be right for you before handing over your credit card?
Several factors will play into your decision-making process.
The key things to take into consideration when buying a backpack are:
length of your trip
where you are going
personal travel style
In this guide to buying a backpack, we'll share what to think about and look for so you can make the best choice.
Things to Consider When Buying a Backpack
Purpose
First, think about what type of backpacking you'll be doing.
Here are a few questions to consider:
Will you be hiking in the wilderness?
Are you riding trains from city to city in Europe with a Eurail pass?
Hostelling in Latin America?
Will you be doing a lot of walking and moving from place to place, or will you stay put for long periods?
If you plan to go island-hopping in Thailand or Greece, you may want to bring a smaller backpack than if you're moving to Paris for the summer.
Are you confident you can carry all of your belongings (on your back)?
How much stuff will you need to bring with you?
There are specific traveling backpacks available, but more often than not, hiking backpacks are used.
Before you decide to buy a backpack, it can help to physically go into a store and try some on to see how they fit and feel.
Your backpack will be on you quite a bit, so it's essential that it fits properly and feels good on your body when full.
Cost
Keep in mind that there can be a direct correlation between price and quality.
The last thing you want to happen is to have your backpack tear open down the side, and all your stuff spill out while on a bus or walking down the street.
Some backpacks cost as little as $50, while others can easily cost a few hundred.
A mid-range backpack that costs $100 – $200 will suit most travelers' needs.
Size
When buying a backpack, you'll want to analyze the physical size of it – when it's empty and full.
Is it a hard frame, or is it collapsable?
When it's full, will the dimensions fit the standard airline size regulations for a carry-on bag?
If not, are you okay with checking your backpack for flights?
The trick to buying a backpack is making sure it's big enough to carry your things but not too big and bulky that it becomes a burden.
Weight
Not only does the weight of the stuff you pack in your bag add up, but you'll want to consider the weight of the empty backpack as well.
Some bags are made of thick canvas, while others are constructed of high-tech, low-weight fabric like Tyvec.
Buying a backpack that isn't too heavy, but still feels strong, is essential.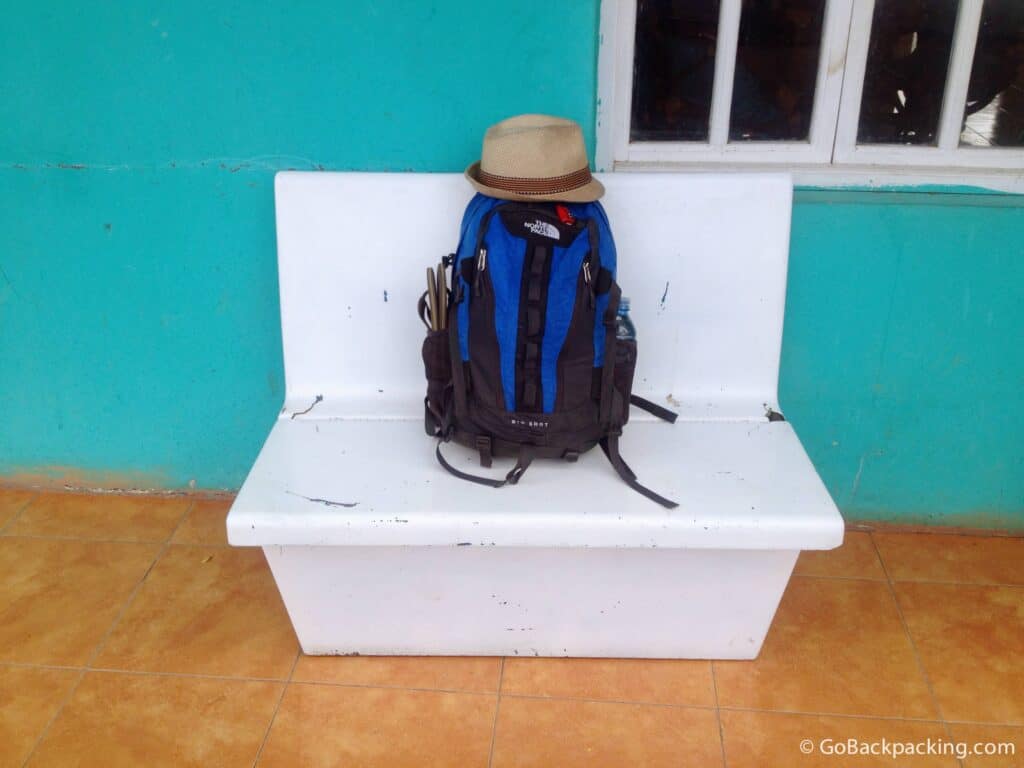 Benefits of Packing Light
Here at Go Backpacking, we've always recommended a less is more approach.
Dave (our Editor in Chief) has experimented with mainly medium and small backpacks over the last 20 years.
Traveling light was a consideration when he bought his first backpack, a Gregory Chaos, which ended up lasting him 15 years (1998-2012).
Here are a few reasons to consider carrying a small, school-sized backpack instead of a large, bulging rucksack.
Small Size: When you carry less, you have more options. A small sized backpack doesn't tie you down or hold you back from doing things on the go.
Convenience: We bet you enjoy walking, exploring, and thoroughly checking things out when you travel. It's priceless to easily walk across a city with all your belongings and not feel like you need first to find a place to stay so you can drop off your stuff.
Standing Out: The bigger the backpack, the more you'll stand out as a tourist. This isn't always a bad thing (we are all tourists when we travel), but there are benefits of blending into your local surroundings.
Safety: Due to its small size, you can carry all your belongings with you wherever you go. As a result, your things are less of a target. A giant bag can draw more attention, while there are plenty of people going about their daily life with smaller backpacks worldwide.
Related: 5 Must-Have Items for Female Travelers to Pack
Types of Travel Backpacks
There are many different kinds of packs to consider when buying a backpack for travel.
Hiking Backpack
One of the most popular kinds of travel backpacks is made as a hiking backpack.
These kinds of packs are made for carrying stuff long distances and are often filled from the top.
The packs themselves are usually lightweight and durable for every condition you may experience out on the trail.
Specific Travel Backpack
These packs usually are not made for walking extremely long distances but rather to carry heavier loads than hiking backpacks.
Travel specific backpacks are very sturdy and sometimes include a zipper opening around the belly of the pack so it can conveniently open like a suitcase.
These packs are suitable for digital nomads who may stay in one place for extended periods, but they need to carry rather large loads when they move.
Often, these packs will have individual storage compartments for things like travel laptops.
Wheeled Backpack
If carrying a bag on your back all day is not for you, you might want to consider a wheeled backpack.
They include a rugged set of wheels as well as backpack straps.
For those who have never used a wheeled backpack for travel, you may consider borrowing a friend's wheeled backpack for a trial run before buying one yourself.
Many people find the grass isn't greener on the other side and that the hassle of lugging around something on wheels is not worth the stress.
Day Pack
It's called a day pack because it's typically only large enough to carry enough supplies for a single day trip.
However, if you travel with the ease of super lightness, you may want to consider fitting everything you need into a convenient day pack.
Generally speaking, the smaller the day pack, the better. If you can fit the essentials for a day spent out of your accommodation, the pack does the trick.
Note: Many backpackers carry both a large main backpack along with a smaller day pack. You can find an ultra-lightweight day pack that can fold into a shoe almost anywhere – even when traveling.
Reputable Brands
Recommended Backpacks (2019)
Osprey Atmos AG 50L
The Osprey Atmos AG 50L backpack is the most compact and well-ventilated pack on the market.
The Anti-Gravity feature will make you feel like you are carrying less for those long-distance hikes and everyday travel.
Also, the removable floating lid makes for a more accessible backpack than ever before.
Osprey is known for providing a backpack that will contour itself to your body, which guarantees a better fit.
Capacity: 3,051 cubic inches, 50 liters. The Atmos AG is also offered in a 65-liter variety.
See all Osprey backpacks on Amazon
Gregory Zulu 40
The Gregory Zulu 40 backpack is the most versatile on this list.
It is small enough for use as a day pack, yet large enough for a light traveler to use on backpacking adventures.
With its Free Float Dynamic suspension and adjustable torso length, it is one of the most agile packs on the market.
Although Gregory is often known for making rugged, heavy-duty packs for mountain hiking, this backpack does the trick for any travel.
Although the Zulu model fits men better than women, Gregory also offers a smaller Jade model (28 liters) comparable to the Zulu for women and within the same price range.
Capacity: 2,319 cubic inches, 38 liters. The Zulu is offered in 55 and 65-liter varieties.
See all Gregory backpacks on Amazon
Eagle Creek Unisex 65L
The Eagle Creek Unisex 65-liter backpack was made for both male and female travelers.
The easy to use adjustable suspension will improve the comfort you experience and make it feel like you are carrying less weight.
Digital nomads and travel bloggers will appreciate the dedicated space for up to a 17″ laptop.
A unique feature of this backpack is the safety whistle built into the sternum strap.
Capacity: 65 liters
See all Eagle Creek backpacks on Amazon
Granite Gear Crown 2 60L
The Granite Gear Crown 2 60L backpack is the ultimate lightweight, low-cost budget backpack.
It is unimaginably light at only 2.2 pounds, and the frame can be removed on lighter loads to reduce the carrying weight to 1.7 pounds.
The torso length on the Crown 2 is not adjustable. However, Granite Gear makes the product in three different sizes to cater to your body size.
Granite Gear provides a backpack that gets the job done without the unneeded bells and whistles that drive up the cost.
Capacity: 3,660 cubic inches, 60 liters. The Crown 2 is also offered in a 38-liter variety made for both men and women.
See all Granite Gear backpacks on Amazon
The North Face Banchee 50
The North Face Banchee 50 backpack has a proprietary OPTIFIT technology that provides many ways to adjust the pack to your preferred fit.
Plenty of front panel storage makes it optimal for accessing things on the fly. This is an often overlooked aspect of a great travel backpack.
The North Face is known for providing quality products that last, and the Banchee 50 is no different.
Capacity: 3,051 cubic inches, 50 liters. The North Face Banchee 50 is a unisex pack not offered in any other size.
See all North Face backpacks on Amazon
Last Updated on December 16, 2020 by Dave Lee