Located in North Central Arizona, just a few miles from the Utah border, Page awaits millions of outdoor adventurers every year. From the best hiking in Page, AZ, to camping, four-wheeling, and watersports, there is a lot to experience in this stunning area.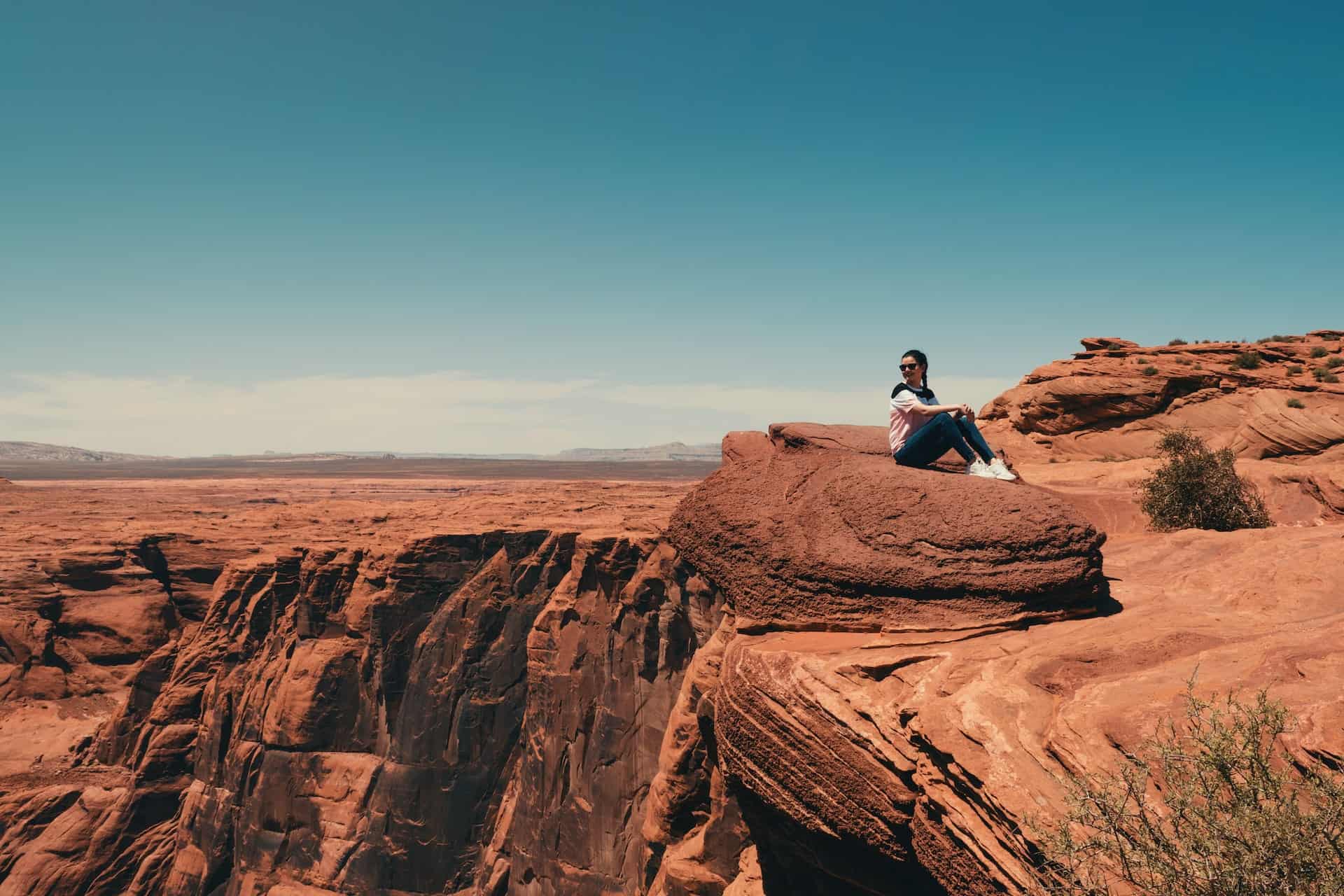 The proximity of Lake Powell has long made Page a favorite destination for those who want to take their boats equipped with Stryker T-Tops out on the water.
However, with the recent droughts and severe water shortages that have hit the area, more people are looking to explore on land.
In Page, Arizona, dozens of exciting hiking trails await you if you are a hiking enthusiast looking for a new adventure.
Let's take a closer look at the adventures that await you, your backpack, and your hiking boots.
7 Hiking Trails Near Page
1. Page Rimview Trail
Distance: 10 miles
Elevation Gain: 682 feet
The Page Rimview Trail features unique and stunning views of the desert and seasonal wildflowers along its 10-mile length. Mountain bikers, hikers, and runners use this trail all year long.
Bring more water than you think you need, as the terrain is exposed and the climate is hot and dry. Pace yourself in the summer, as this trail can be demanding and doesn't offer much shade.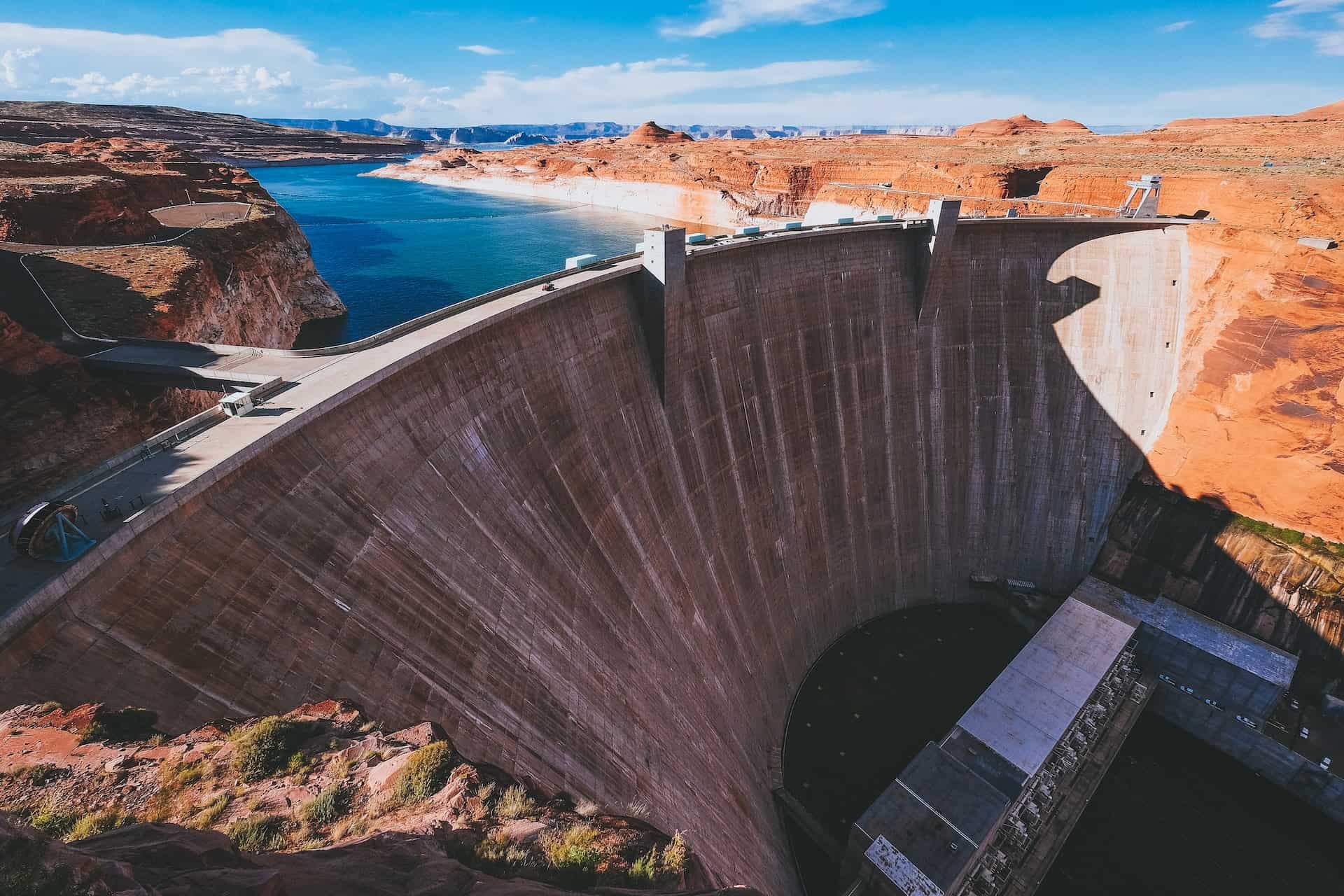 2. Pedestal Alley
Distance: 3 miles out and back
Elevation Gain: 240 feet
Whether you're a beginner or a more experienced hiker looking for desert scenery near Page, AZ, the hike to Pedestal Alley will suit you.
In addition to crossing washes along the way, there's also sandy terrain and rocks to be encountered.
Pedestal Alley is part of the 1.25-million-acre Glen Canyon National Recreation Area, with directions on the NPS website or park maps.
It's important to note that, despite this being a relatively short hike, the conditions in the desert are incredibly harsh. Be adequately prepared before hiking, stay hydrated, and wear sunscreen.
3. Hanging Gardens
Distance: 1.4 miles out and back
Elevation Gain: 24 feet
The trail to Hanging Garden offers scenic views of the desert and the opportunity to visit a natural spring. This hike is 1.4 miles roundtrip.
It's like a desert oasis in the alcove that hosts the Hanging Garden. From Hanging Garden, you can see distant Wahweap landmarks to the north. Keep an eye out for poison ivy.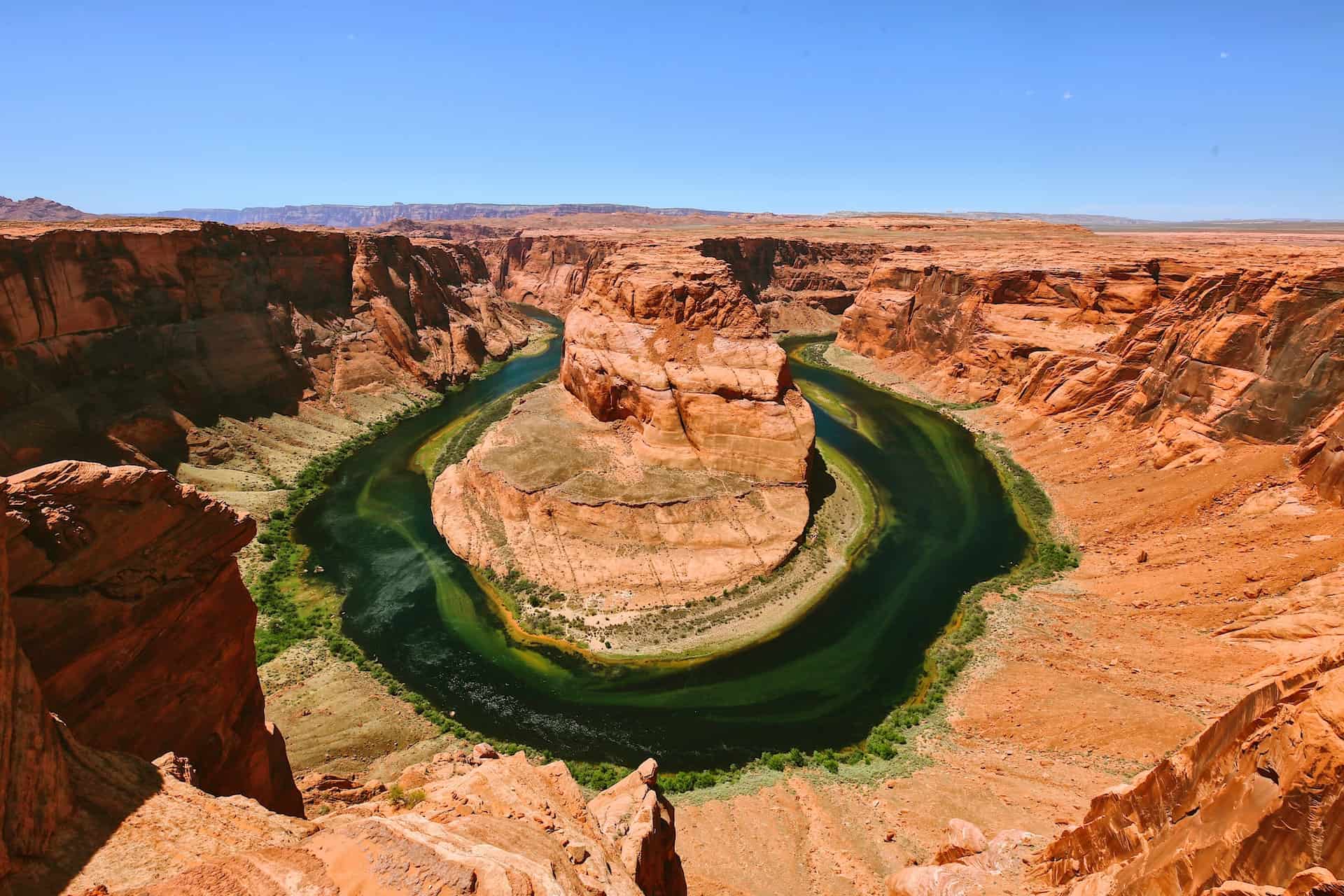 4. Horseshoe Bend
Distance: 1.52 miles out and back
Elevation Gain: 157 feet
Located near the city of Page, AZ, Horseshoe Bend is a classic backpacker destination and one of the best things to see in the region.
The parking area is big, and the bend is enormous, so there's lots of room to take in the view and get pictures.
One thousand feet above the Colorado River, the blue river water contrasts sharply with the sculpted sandstone walls, making for a breathtaking sight.
The view won't look the same every time you go; the colors of the walls and water change depending on the time of day.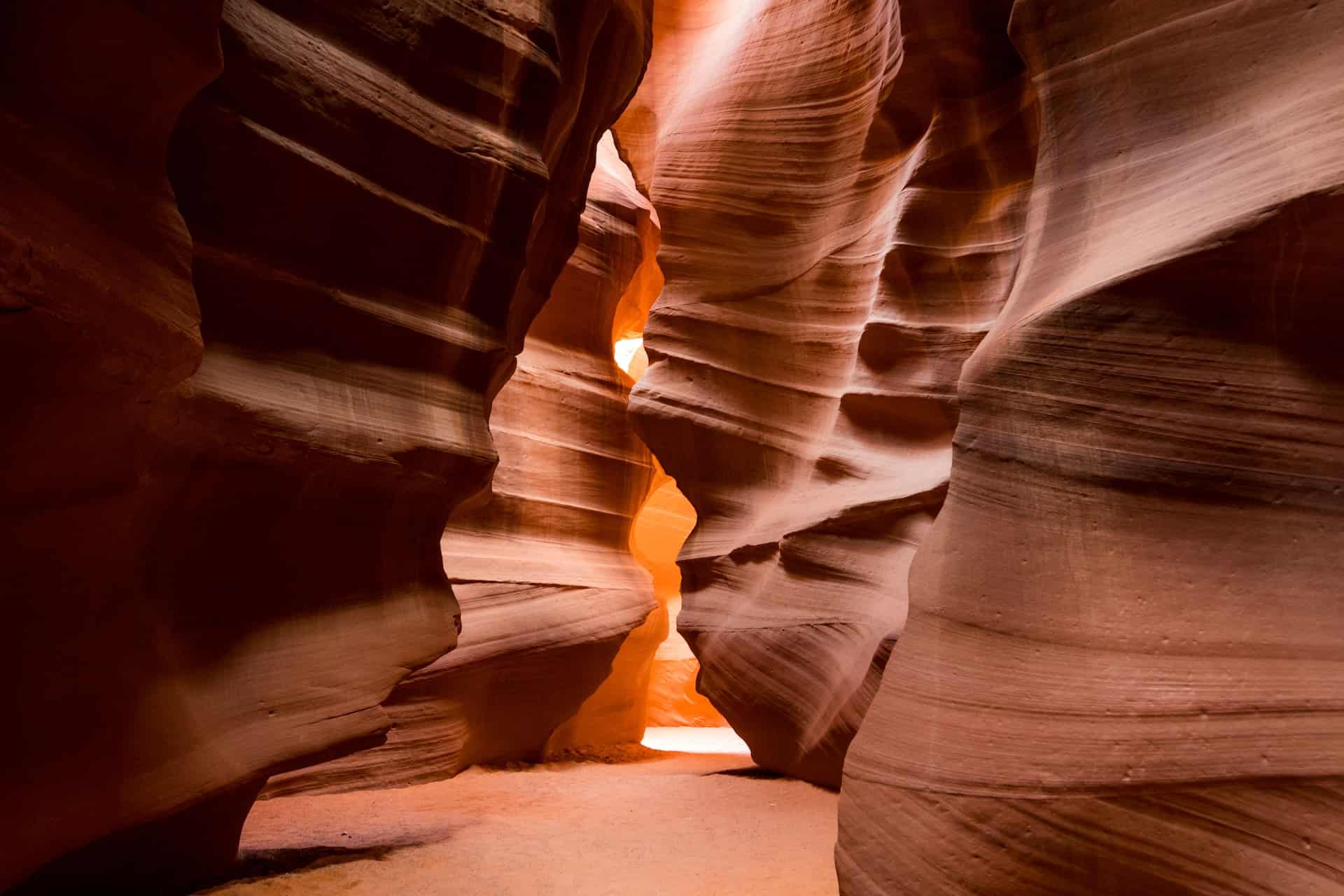 5. Antelope Canyon
Upper or Lower Antelope Canyon Tours
Enjoy spectacular lighting while exploring beautiful slot canyons—local Navajos guide tours.
Antelope Canyon is the most photographed slot canyon in the United States, and it's on Navajo land near Page, AZ, so you must book a hiking tour.
Upper Antelope Canyon and Lower Antelope Canyon are the two primary canyon areas.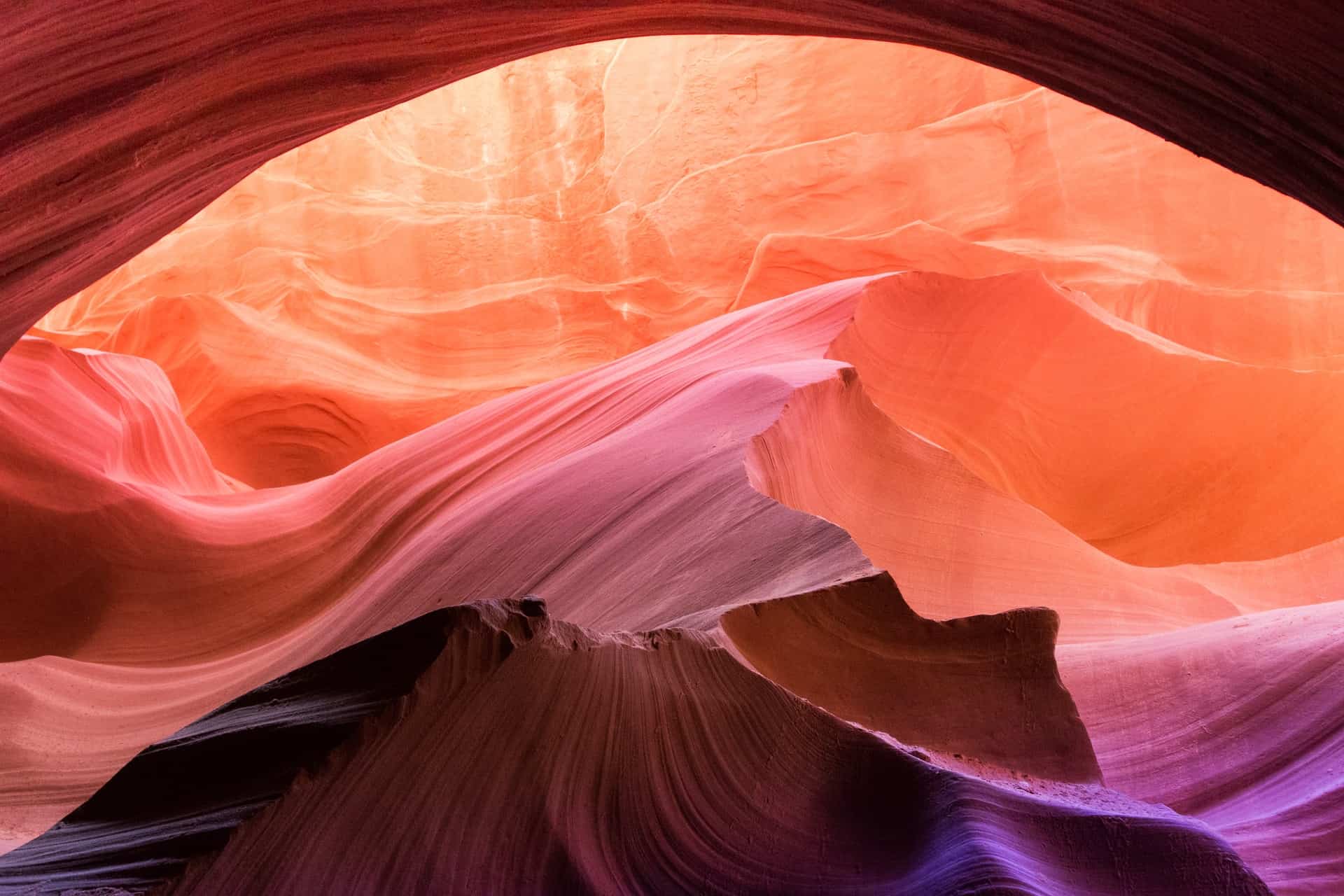 In the LeChee Chapter of the Navajo Nation, the walls of the Upper Antelope and Lower Antelope canyons rise 120 feet above the streambed.
The cost of a guided tour depends on the length of time and day you prefer. You can purchase a tour in nearby Page, Arizona, for up to $80 per person.
6. Rainbow Bridge
Distance: 1.8 miles from the boat dock
Elevation Gain: Minimal
Enjoy a day trip further afield to Rainbow Bridge National Monument in Southern Utah.
This natural arch is made of sandstone, spans 234 feet, and is considered one of the world's highest natural bridges.
There's a lot of scenery along the way as you pass through spectacular canyons and rocky ledges to be rewarded with expansive vistas.
The best way to visit is to take a boat ride from the Wahweap Marina in Page, followed by a 1.8-mile walk out and back to the stone arch.
Summer is hot, fall has little water, and winter has snow. Spring is the best time for a trip like this.
7. Chaol Falls
Distance: 8 miles out and back
Elevation Gain: 200 feet
A 40-foot waterfall rewards hikers for their eight-mile round-trip effort. Despite the minimal elevation gain, you must pay close attention to trail markers, so you don't get lost.
It's a fun and scenic hike through Navajo Canyon to get to Chaol Falls. This trail goes through a long canyon with picturesque walls on either side.
As the name suggests, it is a narrow riverine canyon upstream from Antelope Point's marina.
Approximately a quarter mile before the falls come into view, you can hear the sound of the falling water in the narrow canyon. Keep an eye out for dinosaur tracks on the hard white rock layer before the falls.
It's important to note that the carvings carved into the walls also depict bighorn sheep, deer, and hunting scenes of other wildlife present when the Anasazi lived in the Navajo Canyon.
Related: Things To Do in Sedona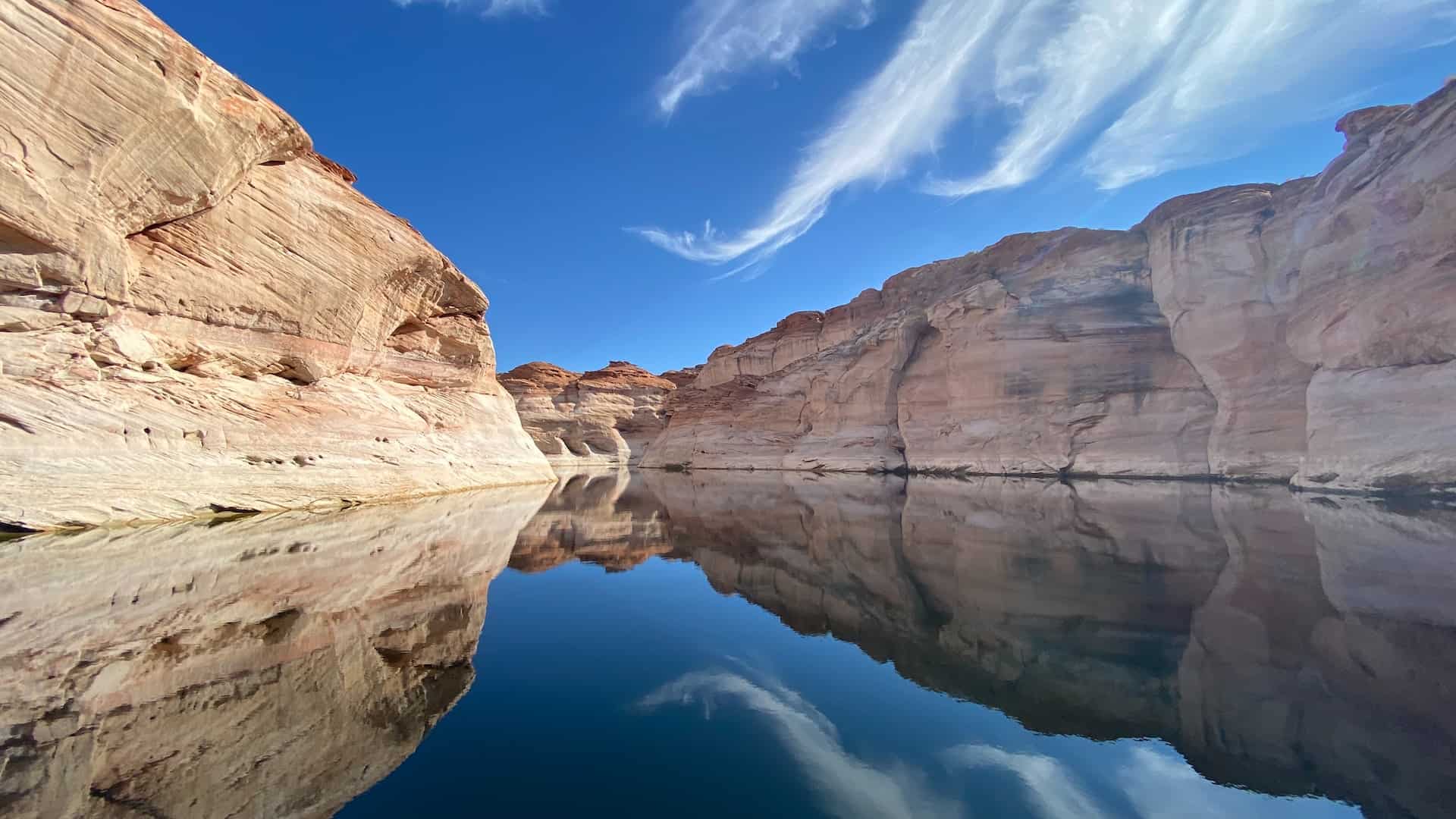 If you're living in or visiting the American Southwest and looking for adventure, you must schedule a trip to Page in Northern Arizona.
Along with the magnificent Lake Powell and the Glen Canyon, you can enjoy the beauty of the unique landscape on any of these trails.
Before you head out hiking in Page, AZ, always have the proper equipment, lots of water, a charged phone, and a map.
_______
This story is brought to you in partnership with Stryker T-Tops.
I began writing as a professional on my blog and then discovered my true calling: writing about technology, news, home improvement, and business. I have been a technical writer, author, and blogger since 2010.
Planning a trip? Go Backpacking recommends: