Driving into Sedona is an awe-inspiring experience. Massive red rock mountains line the landscape. The best things to do in Sedona are outdoor activities, allowing you to enjoy these spectacular views.
I visited Sedona in Northern Arizona as an 11-year-old on a family vacation to the American Southwest, though my memories are faint.
There were scenic drives, and a glimpse of the Grand Canyon, during our 10-day road trip.
Thirty-five years later, I returned to Sedona one autumn weekend to celebrate my birthday. Adult Dave was excited to hit the trails, see the sights, and make new memories.
Based on my recent visit, I've put together this list of the best things to do in Sedona and the surrounding area. All the spots are within city limits or a maximum 30-minute drive away.
Hiking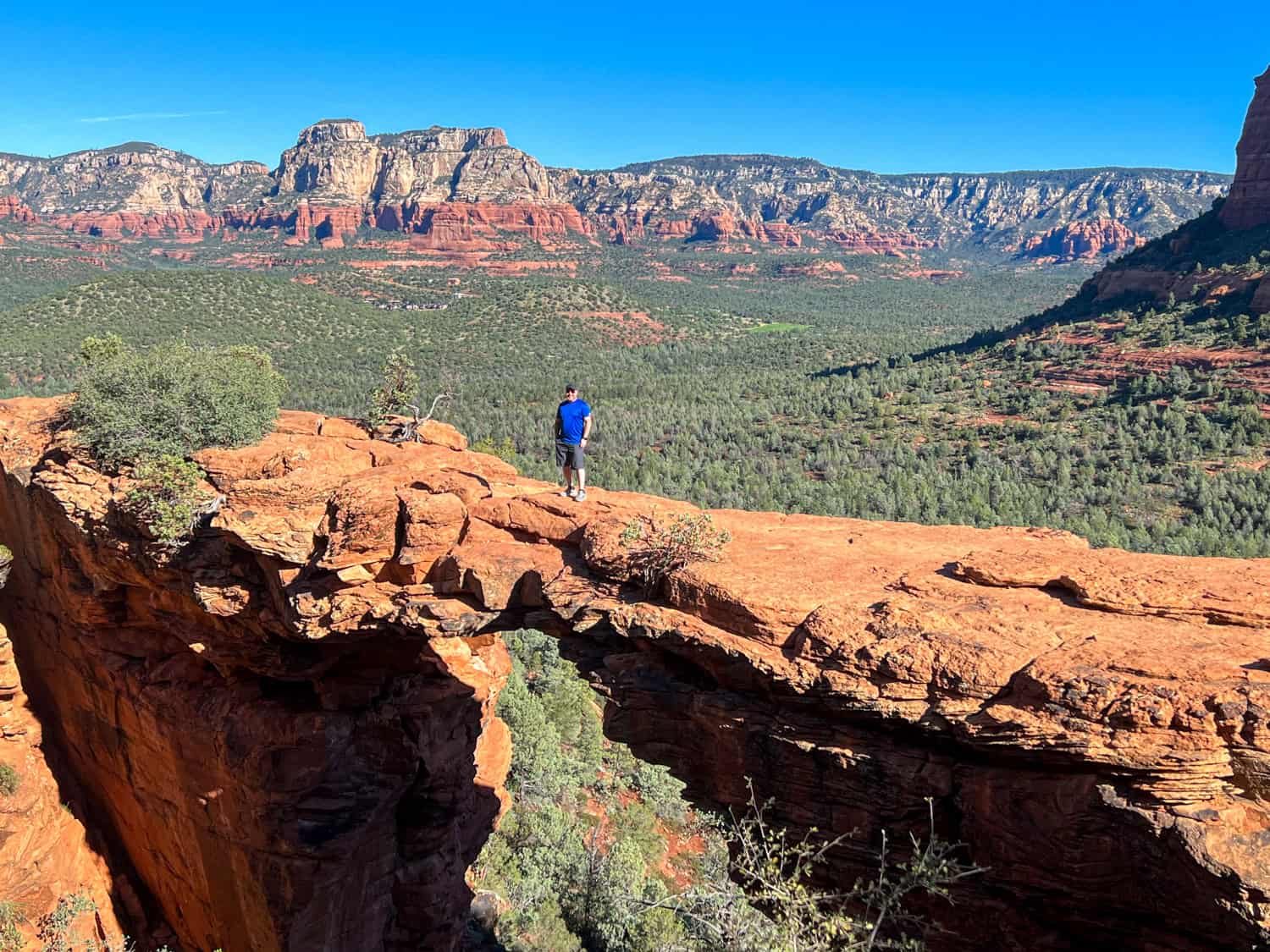 1. Devil's Bridge
Let's begin atop a 57-foot tall natural sandstone arch, ominously called the Devil's Bridge.
It's one of the best places for a photo and not too challenging a hike to reach. We saw backpackers of all ages, from kids to older adults.
That said, this is the desert, and one of the most popular outdoor destinations in the United States, so it pays to start early.
The best time to begin hiking the Devil's Bridge Trail is sunrise, and going before sunset is another option if you don't mind potentially hiking out in the dark.
The starting elevation is 4,600 feet above sea level, and there's a 400-foot elevation gain. Our roundtrip hike took 2.5 hours, including 20 minutes of waiting in line for photos on the stone bridge.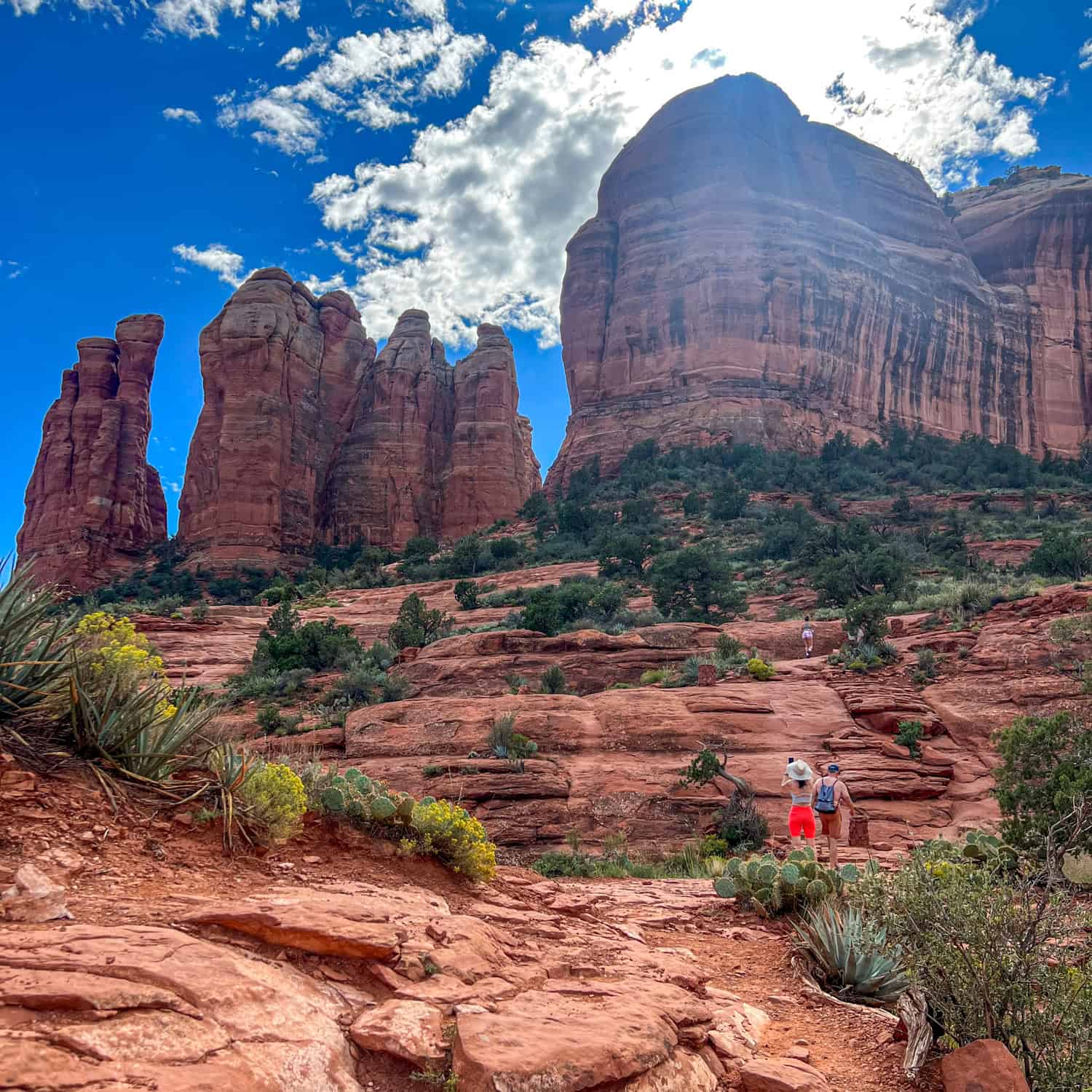 2. Cathedral Rock
A short but steep climb takes you up Cathedral Rock, another one of Sedona's best hikes.
We tackled this one the same day as Devil's Bridge; while shorter (about 1.2 miles roundtrip), it's the more difficult of the two trails.
Some scrambling is required in one particularly steep section, so bring a small backpack for your water bottle, phone, and camera to ensure you can have both hands free. Proper hiking boots are also smart.
The views of red rock formations are breathtaking. And if you ultimately decide not to climb up, you'll still see enough to know why visiting Cathedral Rock Trail is of the most incredible things to do in Sedona.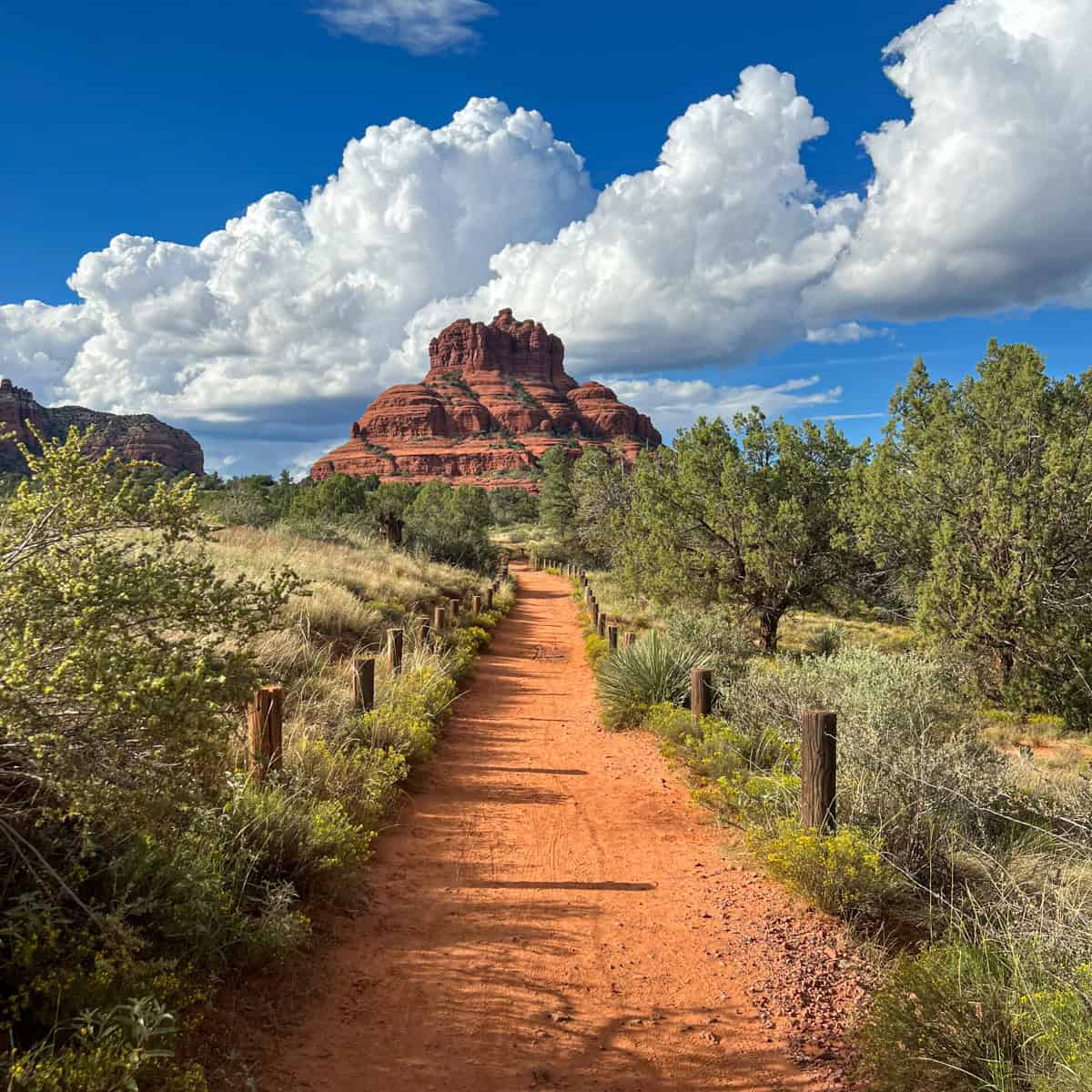 3. Bell Rock
For an easy hike, head for bucolic Bell Rock just off U.S. Highway 179. We entered the parking lot at about 4 p.m. and walked the Bell Rock Pathway for one hour.
The trail was relatively flat and easy to follow, and the nearby Courthouse Butte complimented the views of Bell Rock.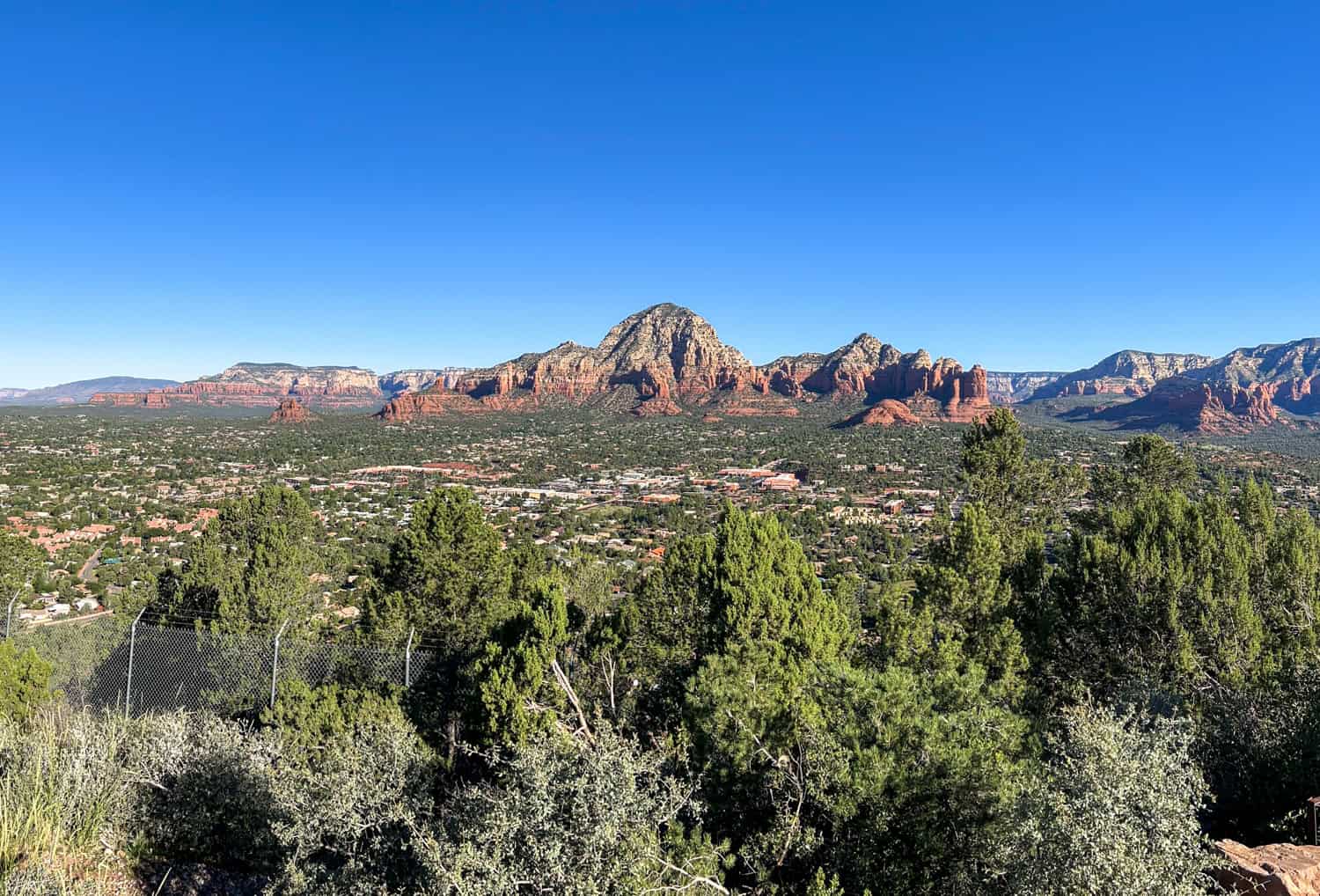 4. Airport Mesa
The Sedona Airport is located on Airport Mesa (also known as Table Top Mountain). This regional airport is used by small planes arriving and departing Sedona and helicopters offering scenic rides.
Beyond transportation, there are several other reasons to visit Airport Mesa. The Airport Loop Trail is a 2.5-hour roundtrip path that goes around the airport.
If you don't have time for a hike, at least drive up to the Sedona Airport Scenic Lookout for a terrific view of West Sedona, Capitol Butte, and Wilson Mountain.
Stop by Mesa Grill Sedona at the edge of the runway for breakfast, lunch, or dinner. We watched many small planes take off and land while eating brunch there.
Points of Interest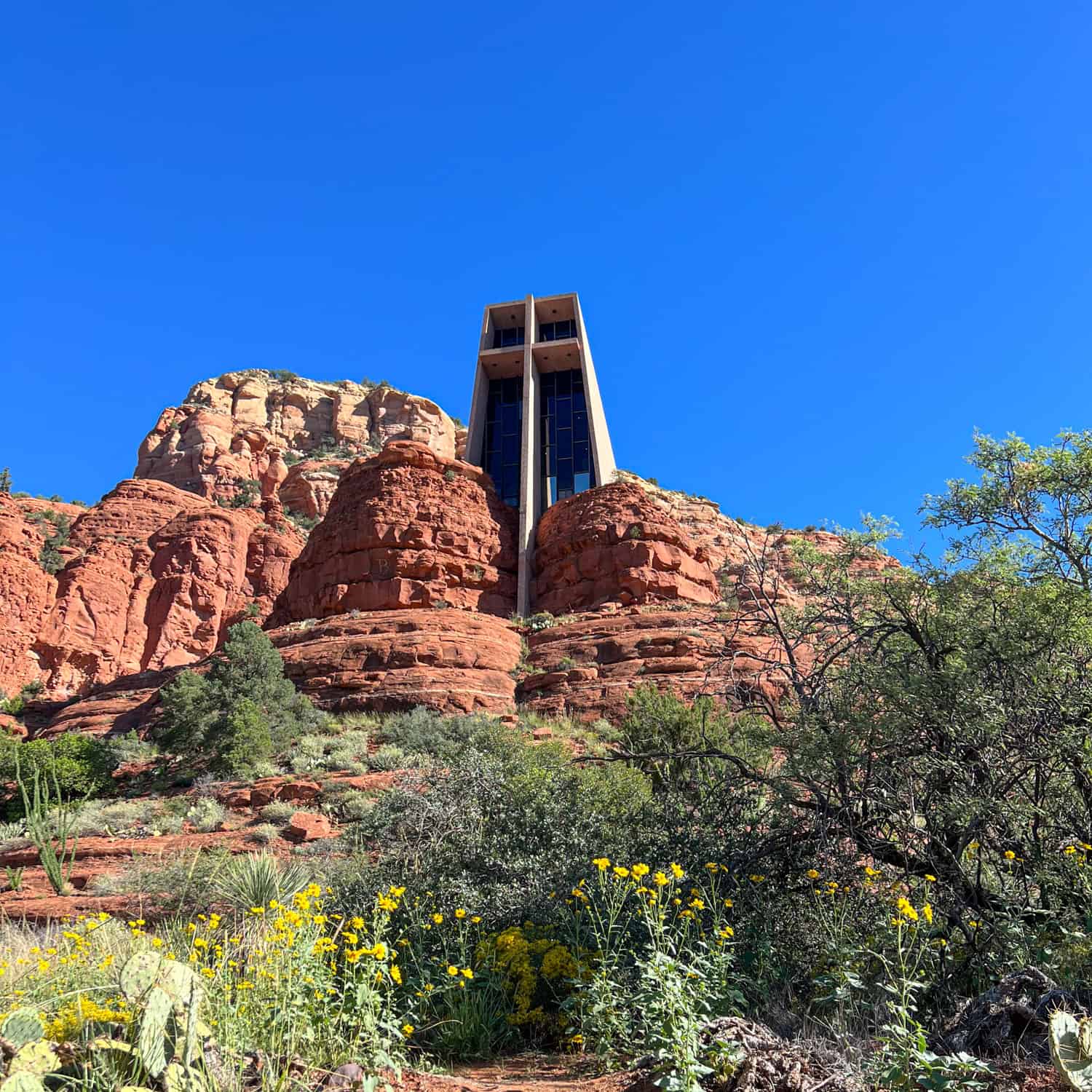 5. Chapel of the Holy Cross
Built into the red rocks for $300,000 in 1956, the Chapel of the Holy Cross is visible to the naked eye from as far away as Cathedral Rock.
Inspired by New York City's Empire State Building, Marguerite Brunswig Staude, a local rancher and sculptor, commissioned the chapel.
The Roman Catholic chapel is a popular place for photographs and is open daily from 9 a.m. to 5 p.m.
Out of respect for the religious building, visitors are asked to remain silent and not bring food, drinks, or pets inside.
6. Amitabha Stupa and Peace Park
Tibetan Buddhists built Amitabha Stupa and Peace Park to create a "spiritual destination for prayer, meditation, and the experience of peace in a sacred place."
The serene park in Northwest Sedona features a stupa, a seated Buddha, and prayer wheels. It's a great spot for a few minutes of quiet reflection.
7. Sedona Heritage Museum
The Sedona Heritage Museum highlights the lifestyles and work of the people who settled in the city, beginning as far back as 1876.
Learn about ranching, cowboys, and movies made in the region at this small museum in Jordan Historical Park in Uptown Sedona. Self-guided tickets for adults are $7.
8. Tlaquepaque Arts & Shopping Village
If shopping is a must for you, check out the historic Tlaquepaque Arts & Shopping Village near the intersection of Highway 89A and 179 (Red Rock Scenic Byway).
In this crafts village, you'll find a mix of art galleries featuring local artists, shops, cafes, restaurants, and the Oak Creek Brewery. It's the perfect place to pick up a souvenir from your time in Sedona.
Additional Activities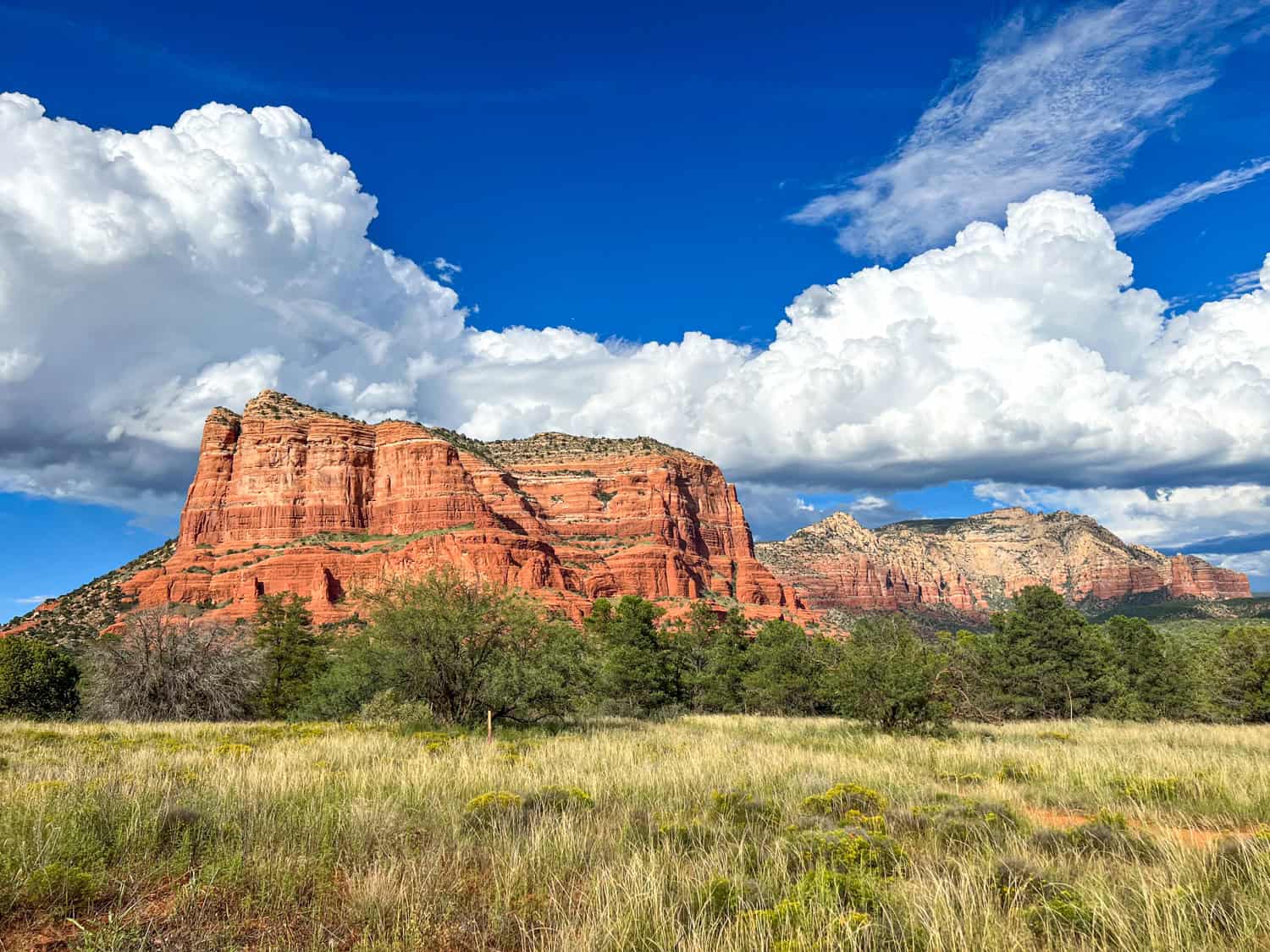 9. Visit a Vortex
Sedona is known for its vortexes (vortices), swirling centers of energy emanating from the earth.
Health-conscious and spiritual travelers come to Sedona to spend time in these energetic fields.
Meditation, yoga, and healing ceremonies are some of the ways they try to harness these unseen forces.
The four best-known Sedona vortex sites are:
Airport Mesa
Cathedral Rock
Bell Rock
Boynton Canyon
The most accessible and closest to the city center are the Airport Mesa Vortex and Bell Rock Vortex.
Of the four, the Boynton Canyon Vortex is the furthest. All are labeled in Google Maps to make finding them easy.
I visited three of these energy vortexes and can't say I felt any different, though I was on the move, hiking trails and savoring the scenery, not feeling the rocks for vibrations.
10. Mountain Biking
One of the best ways to explore Red Rock Country is on a mountain bike. You'll cover ground more quickly than on foot, and it's more exciting, too.
Sedona offers mountain bikers 250 miles of singletrack, suitable for all skill levels, from beginner to advanced.
Bikers share these trails with hikers and horseback riders, so safe riding and good etiquette are a must!
The annual Sedona Mountain Bike Festival is held the first week of March and brings together more than 90 vendors and many biking enthusiasts. If you're in town, it's an excellent opportunity to demo bikes.
11. Hot Air Balloon Ride
If you're not afraid of heights, consider a hot air balloon ride for amazing views of the red rock landscape.
I ventured skyward in a hot air balloon in Cappadocia, Turkey. While it scared me, the scenery and experience were unforgettable, and I imagine the same can be said for ballooning in Sedona.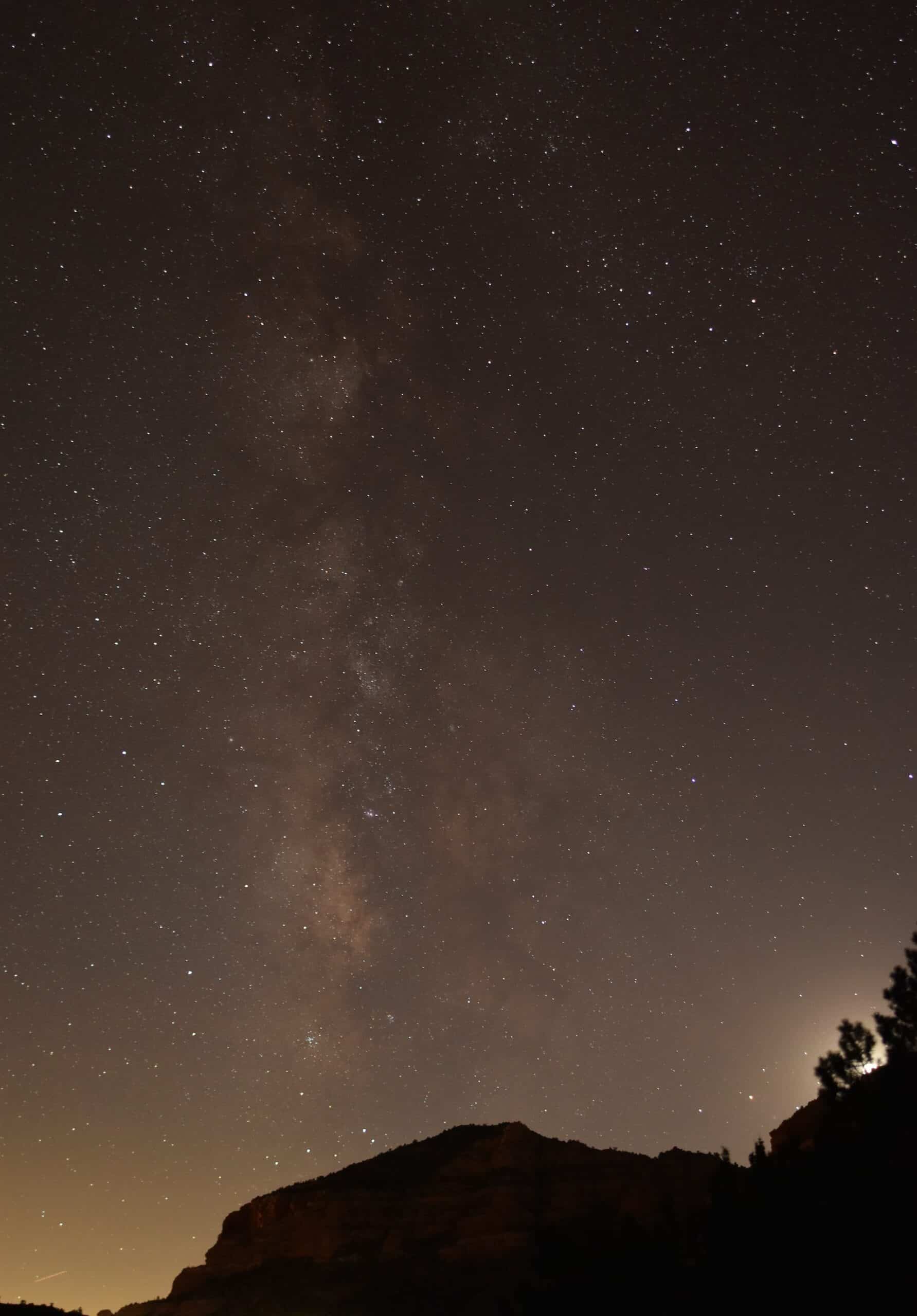 12. Stargazing
Sedona's stunning views don't end when the sun goes down. The community has invested in reducing light pollution to make the night sky more visible.
As a result, Sedona was designated a Dark Sky Community in 2014. While you may be surprised by the number of stars you can see within city limits (as I was after dinner at Mariposa), there are places where the sky is even brighter.
My friend Valerie Stimac, author of "Dark Skies: A Practical Guide to Astrotourism" (Lonely Planet), put together a list of incredible spots for stargazing in Sedona. Check it out.
13. Wine Tasting
If you're looking for a break from outdoor adventures that involve climbing rocks and walking along cliffs, try a wine-tasting tour.
The Verde Valley Wine Trail runs from Winery 1912 in Sedona to Cottonwood, about 19 miles to the southwest.
This is one of Arizona's newest wine regions, with seven wineries and eight tasting rooms open to visitors—just enough places to make a day trip out of it.
Things To Do Near Sedona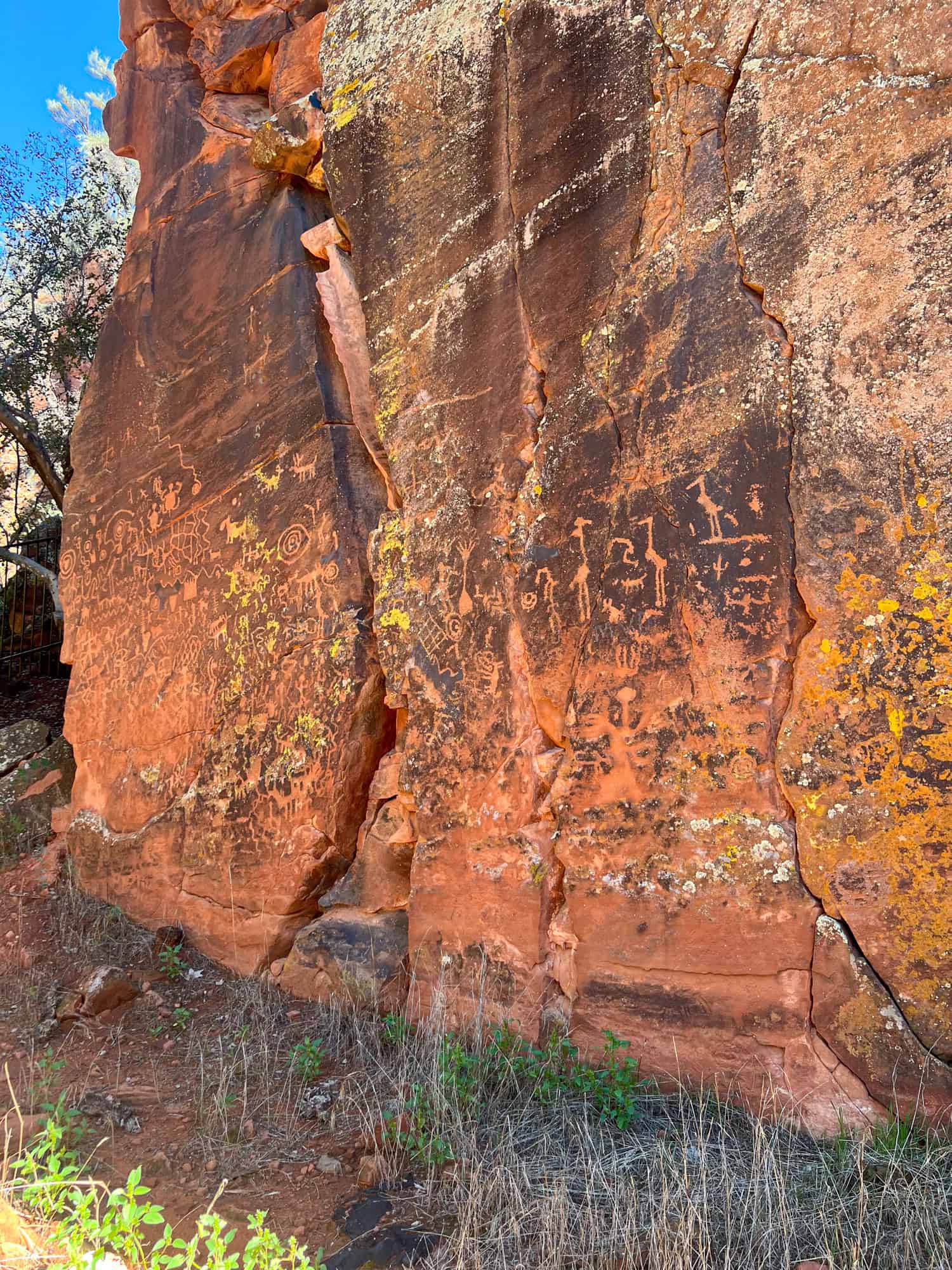 14. Petroglyphs at V Bar V Ranch
Get a glimpse of what life was like in the Verde Valley between A.D. 1150 and 1400 with a visit to V Bar V Ranch, home to the most extensive petroglyph site in Red Rock Country.
Centuries ago, indigenous people carved more than 1,000 images reflecting their way of living into 13 rock panels. Today, archaeologists refer to their approach as the Beaver Creek Rock Art Style.
The ranch is about a 17-mile drive south of Sedona on Highway 179.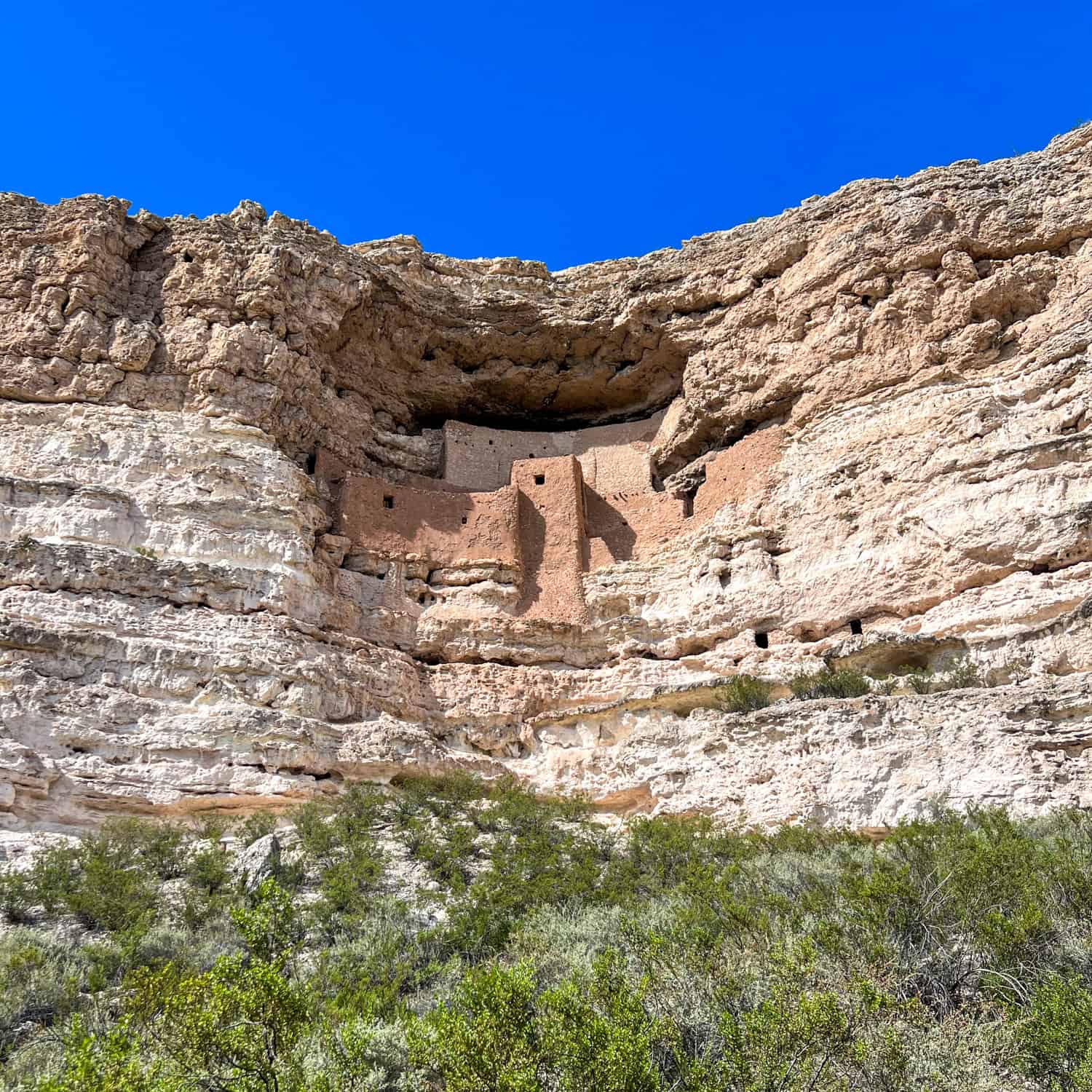 15. Montezuma Castle National Monument
Thirteen miles southwest of the petroglyphs, just off Interstate 17, is another notable archaeological site, Montezuma Castle.
This 20-room dwelling near Beaver Creek was constructed within a limestone cliff and is a wonderous sight to see in person.
The building belonged to the Sinagua People and was the third National Monument dedicated to protecting Native American culture when it was established on December 8, 1906.
If you're traveling to the Sedona area from the south, stop by Montezuma Castle on your way into town.
The monument is open daily, from 8 a.m. to 4:45 p.m. Adult admission is $10, and it's a short walk from the Visitor Center to see the castle.
16. Oak Creek Canyon
A short drive north of Sedona lies Oak Creek Canyon, a forested area along the creek. It's a great place to go swimming, fishing, or camping.
The canyon is part of the Coconino National Forest, a 1.8-million-acre wilderness area encompassing Sedona's red rocks and mountains.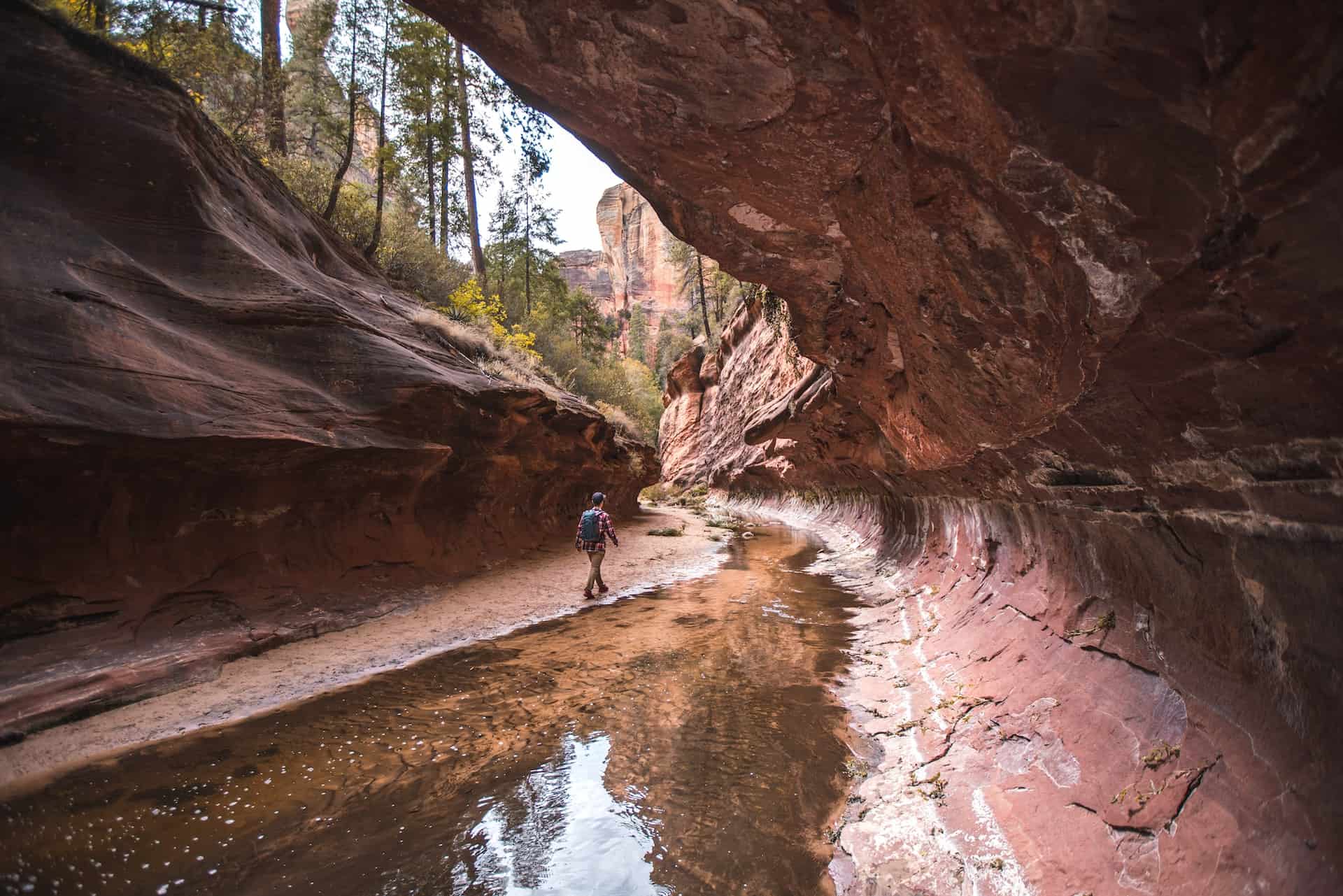 17. Slide Rock State Park
The Slide Rock State Park is about three miles north of Oak Creek Canyon (and seven miles north of Sedona).
The park is named after Slide Rock, an 80-foot natural waterslide. There are also several short hiking trails (under a half-mile each) and places for swimming and fishing.
The park is open daily, and admission is on a per-vehicle basis, from $10 to $30, depending on the time of year.
***
Sedona may not be the cheapest place to visit in Arizona for the budget-conscious, but if you can swing a visit, even for a few days, you'll be richly rewarded.
Dave is the Founder and Editor in Chief of Go Backpacking and Feastio. He's been to 66 countries and lived in Colombia and Peru. Read the full story of how he became a travel blogger.
Planning a trip? Go Backpacking recommends: