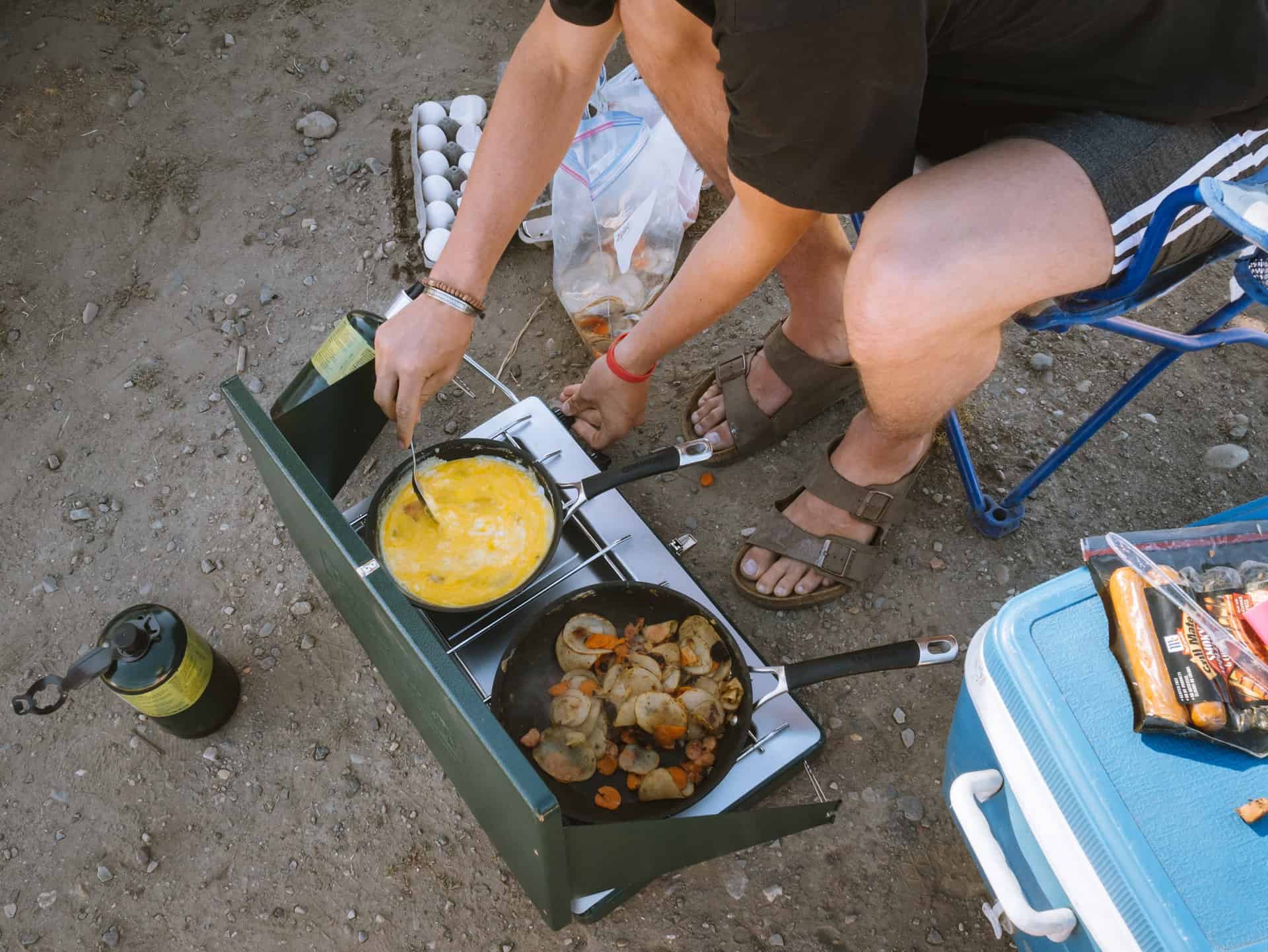 Camping is the cheapest form of vacation in the U.S. Because it gives you the thrill of exploring nature, about 28 million people went camping in 2018 alone.
For most people, camping is an inexpensive de-stressor. Once you have invested in camping gear, you are set for life.
Just because you're in the woods, it does not mean you can't enjoy a gourmet meal.
It may be served on a paper plate, but it shouldn't taste like paper. This article from Camping Forge teaches you how to make great coffee to go with your meals.
What's more, you can bond with your family while you cook and enjoy these treats.
Eggs and Chips for Breakfast
It's a new twist on the classic fish-and-chips.
Ingredients
One pound of potatoes
4 tablespoons of olive oil
1 onion
3-4 eggs
paprika
salt
parsley, or any other herb that you can get your hands on
Steps to Cook
Heat the pan with olive oil.
Slice the potatoes into medium-sized chips and onions into thin slivers.
Cook them together for about 20-25 minutes with the occasional toss.
Once the potatoes are done, add seasoning.
Make spaces in the pan for the eggs.
Break open the eggs in those spaces and let them cook for a couple of minutes.
Sprinkle with herbs, and you have yourself a hearty breakfast.
Strawberry-Marshmallow Skewers
If you prefer something sweet for breakfast, this will have you eating right off the skewers.
Thread the skewers with marshmallows and strawberries alternately.
You can take as many skewers as the number of people.
Hold them over the campfire and rotate continuously until toasted.
You can leave them on the skewer or remove them on a plate.
Drizzle with honey or caramel.
Dot them with roasted almond slivers, hazelnuts, pecans, or any other nutty friend at hand, and enjoy!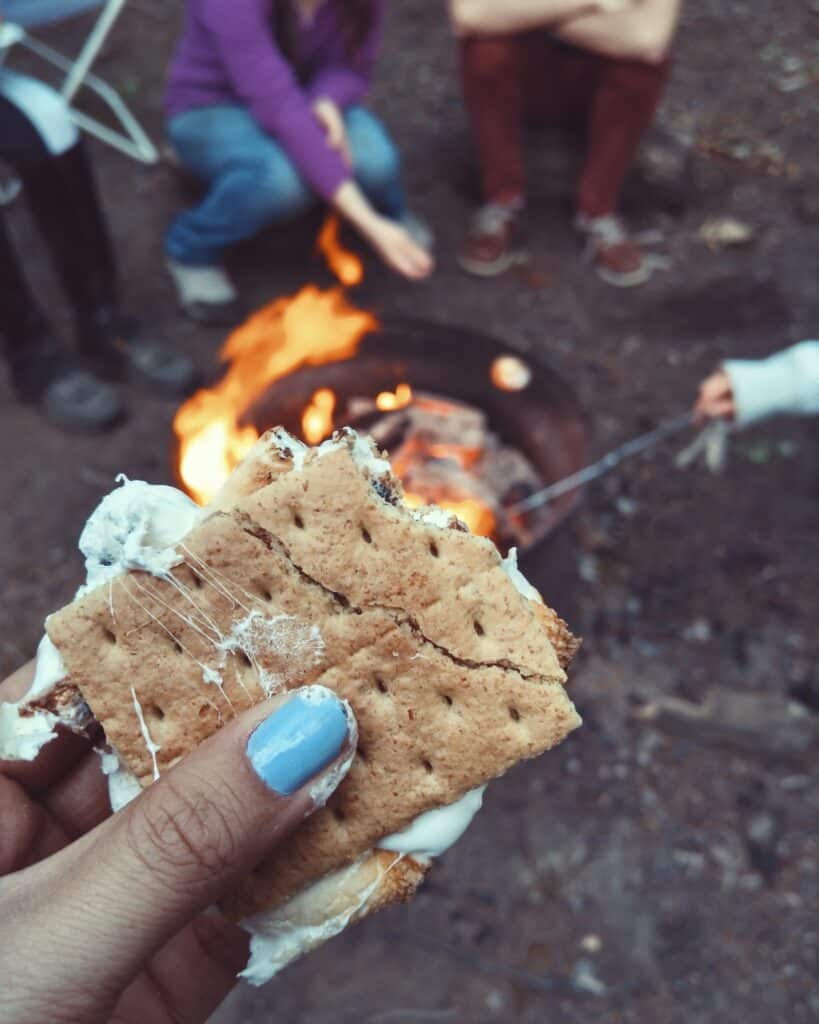 S'mores Three-Way
Yes, we are partial to marshmallows, but then they are the ultimate camping food. Need I say more?
This is a no-fuss anytime recipe that will have you licking your fingers and plates.
Strawberry S' mores need a cookie, topped with a toasted marshmallow, topped with a strawberry slice. That's about it.
Chocolate S' mores need thin chocolate wafers, topped with cinnamon-dusted marshmallows, and topped with milk chocolate (you can go with dark chocolate, too) squares. Tada!
The final take. Graham crackers topped with creamy peanut butter.
Place a couple of banana slices, a toasted marshmallow, and top with a chocolate square.
Furthermore, this article from Camping Forge brings recipes that are delicious and look like a work of art.
Pulled Pork Sandwiches to Go
These sandwiches are simple to make, and you can pack them up for lunch on the go while you trek and hike.
First, heat a few English muffins with a little butter.
Heat the pulled pork or any other meat leftover from dinner.
Fry eggs until just set, but still runny, and a slice of cheddar.
Assemble your sandwich. This makes for a perfect all-day meal.
Meat and Bean Dinner
After a day full of trekking, hiking, and other activities, you need a hot filling meal.
This one-pot meal is the perfect finish to your day.
All you need is three quarters of bacon and ground beef each, one can of baked beans, half a cup of barbeque sauce, and biscuits.
Grill the bacon and chop it up.
Cook the beef until done and add the chopped bacon and the rest of the ingredients.
Dunk your biscuit into it or layer it like an open burger.
Drinks Anyone?
Who won't enjoy sitting around the campfire with a warm drink in your hand?
Here we have two drinks; one for adults and the other for kids.
Warm Caramel Malt needs milk, caramel, and malted milk powder.
You can use the caramel left from marshmallow skewers.
Heat milk and caramel in a pan until steaming.
Add one spoon malted milk powder into mugs and pour hot mild.
For you adults, we have a warm spiced rum drink that will give you a fuzzy feeling.
It's as easy as heating 100 ml rum, 200 ml water, 25 g butter, 1 blood orange juice and zest, 4 cloves, 1 star anise, 1 tsp cinnamon powder, 1 bay leaf, and 1 tsp maple syrup.
Don't let it boil, and there you go. Oh! What a finish to a perfect day.
This article from Camping Forge is designed to make your meals quick, tasty, and out of a gourmet food magazine.
You don't need too many pots or pans. Sometimes, you don't need them at all. Therefore, you can pack light and still enjoy fantastic food.
______
This story was brought to you in partnership with Camping Forge.
This post was written by a guest contributor. Please reference the author's byline in the post above for more information. If you would like to guest post on Go Backpacking, please read our submission guidelines. For information on advertising opportunities, go here.
Planning a trip? Go Backpacking recommends: