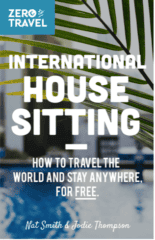 If you are a frugal traveler, you've probably heard of the term "house sitting."
Not a new concept, house sitting is now more popular than ever and gives you the flexibility to travel the world and stay anywhere for free.
International House Sitting is an ebook that takes you through the house sitting process and covers everything you need to know about house sitting, what it is exactly and how you can do it.
Whether you are a young budget traveler, on a career break or exploring the digital nomad career path, anyone can benefit from house sitting and this book will show you how.
With nearly 20 years of travel behind them, and more than $20,000 saved since 2013, the authors Nat Smith and Jodie Thompson are living proof that this lifestyle is possible, and share all their tips and stories in this ebook.
They don't just focus on house sitting, but about how you can have a life filled with as much travel as you want, no matter what your situation or background.
What to Expect
This book is very honest and tells you exactly what to expect.
House sitting isn't a holiday as some may expect, and Nat and Jodie explain the responsibility that comes with it, including how to form a mutual understanding with the owners of what will be expected of you.
Throughout the book, their examples strike a chord with the reader and make you realize that this lifestyle is possible. They make you delve into your psyche of why you want to house sit and what you want to get out of your experience.
There are also sections on visas and flights too, recommending the best booking sites that they use. They explain how to build rapport with your hosts and what to do if you have an emergency, plus how to get paid doing it.
The book includes quotes from others and gives tips on how you can stand out from your competitors with ideas to make you shine above the rest.
Having never house-sat before, I was interested to learn that it's more of a community than I expected.
As a result, I feel better equipped to know how to create my profile, contact hosts, and be ready for my first interview with potential hosts.
Conclusion
This book is excellent for those who are new to house sitting as it provides you with all the information that you need.
With no images and just 113 pages, International House Sitting is a quick read, and you can easily digest the information within a couple of hours.
Some of the chapters run into each other, so there isn't a clear divide, but the information is very useful.
However, this isn't just a how-to house sit book. The text is sprinkled with inspiring quotes and parts of the book focus more on listening to your intuition, making this a good read for a spiritual traveler and those open to possibilities on the road.
As the authors suggest, if you just house sit for one night, the guide will have paid for itself.
Plus, there are freebies too as International House Sitting comes with a free review and video course to create a great video for your profile, along with the ultimate international house sitting toolkit, a five-part audio interview series.
International House Sitting is available on Amazon Kindle.
Lisa Eldridge is a travel journalist specialising in solo travel. Her background in the travel industry fuelled her passion to see the world and for the last seventeen years, she has travelled extensively as a solo traveller, living and working in numerous countries. She has now been to 100 countries and 60 of these solo.
Planning a trip? Go Backpacking recommends: