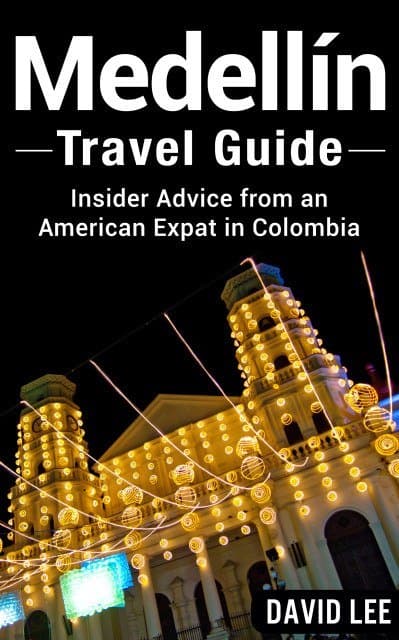 [I]t's here! My first book, the Medellín Travel Guide: Insider Advice from an American Expat in Colombia is now available.
Since announcing the good news a few weeks ago on my Medellín Living blog, close to 100 copies have been sold in both the PDF and Kindle formats.
Plus, it's now available through Barnes & Noble for the Nook.
Reviews and feedback have been overwhelmingly positive, and I'm thankful for everyone who has taken the time to share their thoughts.
Below are a few quotes from the early reviews on Amazon.com:
"As the Co-ordinating Author of Lonely Planet Colombia (5th ed.), it is my pleasure to recommend David Lee's new guidebook to Medellín." — Jens Porup, Author, Lonely Planet
"…the overriding aspect that makes this a book to buy is the warmth of David Lee as he shares his own experiences – like an old friend who acts as a reliable guide to give you first hand advice on how to enjoy the City of Eternal Spring." — Grady Harp, Hall of Fame Reviewer, Amazon.com
"In every section you get a real understanding of how the culture works, how people meet, eat and enjoy life in Colombia- something that no traditional guidebook has captured yet." — First Time Twins Mama
This travel guide includes ALL the advice I would've wanted in a guide when I first arrived in Colombia over four years ago, including tips for:
How to enjoy the nightlife
Where to get the best food
Sightseeing
Which pueblos to visit
Where to stay
Getting around
How to stay safe
It lays the groundwork for visitors to get the most of their time in Medellín, whether it be a quick weekend trip, or more.
In fact, I was recently chatting via email with a male expat, married to a paisa. Even he was able to learn a thing or two from the guide, and he's been living in Medellín for years!
And it's not just for foreigners. Another person who bought the guide was a Colombian from Cali, living in the USA, and wanting to learn more about Medellín.
For the rest of this week, you can pick up the Kindle version for the cost of a beer. Starting next week, I'm going to begin raising the price.
The PDF version is available for the cost of a mojito, but I don't expect the low price to last much longer either.
If you have any questions about the guide, please leave them in the comments below, and I'll be happy to answer them.
Dave is the Founder and Editor in Chief of Go Backpacking and Feastio. He's been to 66 countries and lived in Colombia and Peru. Read the full story of how he became a travel blogger.
Planning a trip? Go Backpacking recommends: