Mount Meru stands at 14,968 feet (4,562 meters), making it one of the highest mountains in Africa and the second-highest mountain in Tanzania.
This dormant stratovolcano is located in the Arusha Region of Tanzania, 43 miles (70 km) west of its "older brother" — the renowned Mt Kilimanjaro.
While not as tall and popular as Kilimanjaro, Mt Meru has much to offer those interested in a less challenging but still exciting and memorable climb.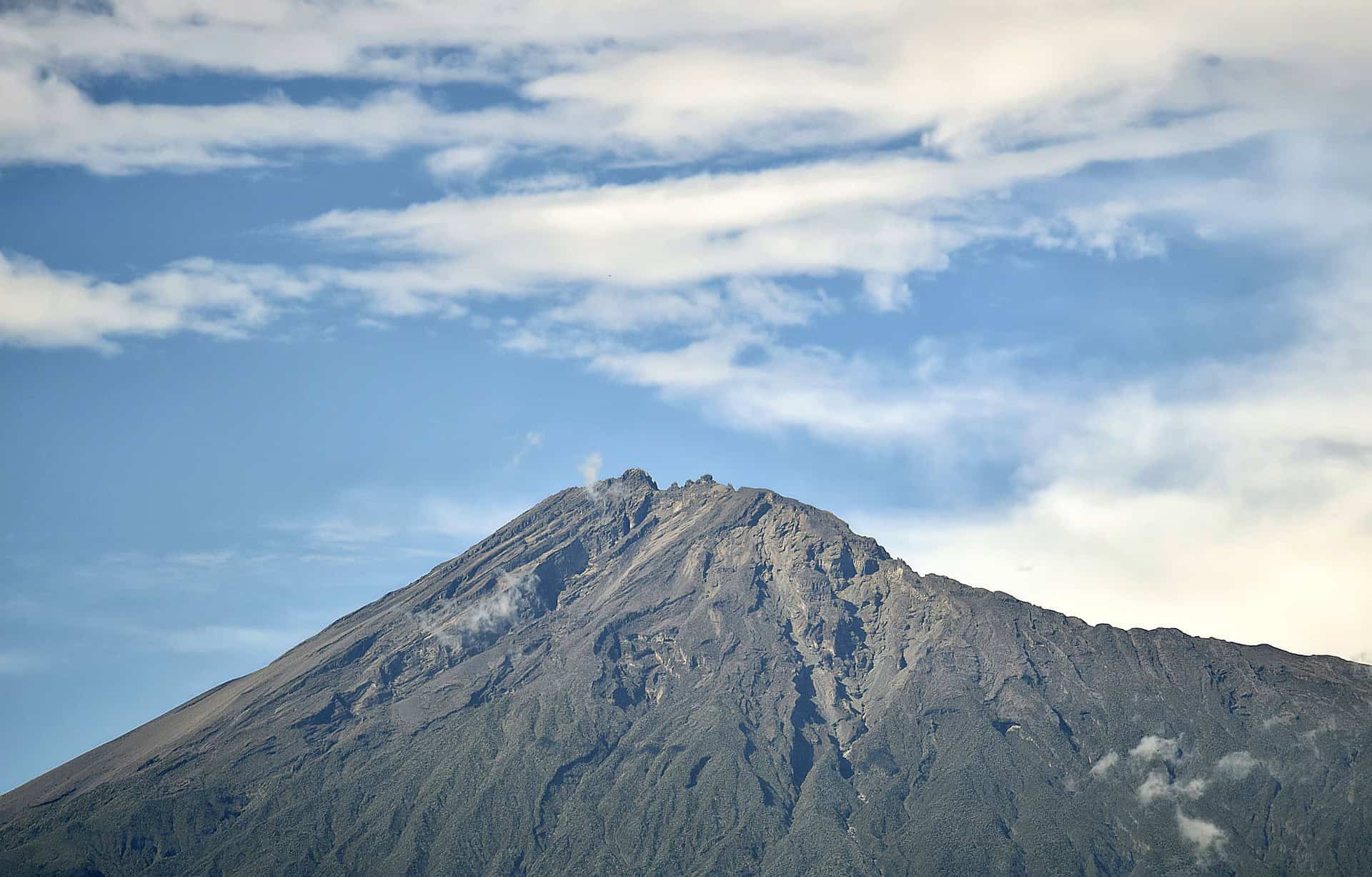 In addition, climbing Mt Meru first will provide the ideal acclimatization for those aiming to summit Mt Kilimanjaro.
What is Mount Meru, and where is it located? Who was the first to climb it? What are the climbing routes, and how can you prepare? And why is climbing Meru a good idea?
We'll answer all these questions and more in this brief article.
Planning Your Mount Meru Summit in Tanzania
Since the early days, the Mount Meru climb has become much more accessible, safe and comfortable — almost anyone of average physical health can complete this moderately paced 3-4 day trek.
You can expect hut accommodation on the mountain; it's not luxurious but is warmer and cozier than sleeping in a tent.
No previous mountaineering experience or special equipment is required to summit Mount Meru.
Typically, the local porters will carry most of your luggage while the cooks ensure you enjoy tasty meals daily.
It might be a good idea to book in advance and ask your tour operator about the logistics.
Frequently Asked Questions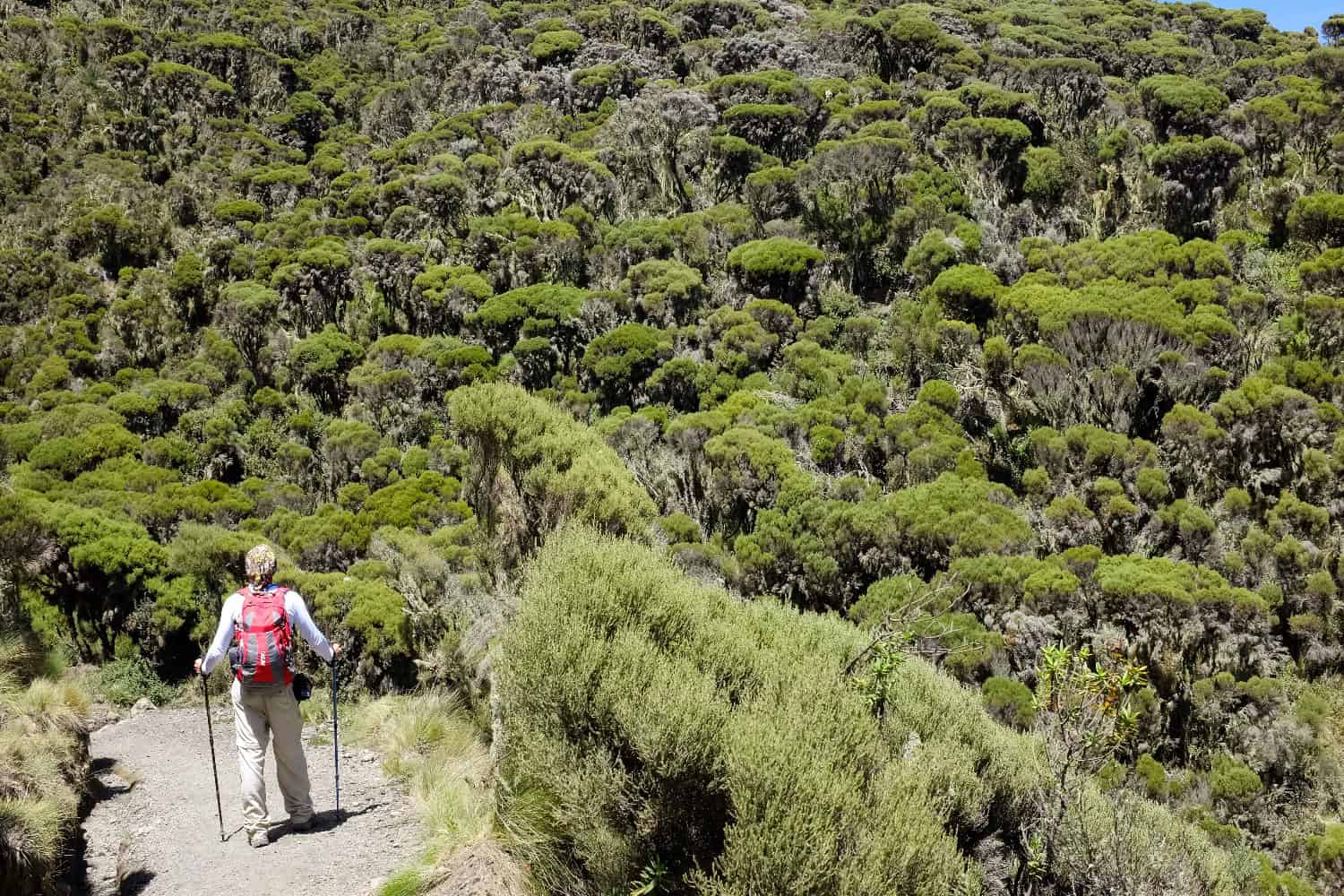 Where is Mt Meru located?
Like Mt Kilimanjaro, Mt Meru is located in northern Tanzania, East Africa. The two peaks stand 43 miles (70 km) apart, but on a clear day, it's easy to see Meru from Kilimanjaro and vice versa.
Mt Meru is north of Arusha, a city in the Arusha Region of Tanzania.
Meru stands at the center of the Arusha National Park, famous for its diverse wildlife, including leopards, monkeys, and over 400 species of birds.
The mountain slopes rise above the savannah and are covered by lush forests that give way to sparser vegetation and rocky landscapes as you reach the summit.
The Kilimanjaro International Airport is only 35 miles (60 km) away, and it's easy to get to the starting point of Meru climb from Arusha town.
Is it a volcano?
Yes, Mt Meru is a giant stratovolcano, just like Mt Kilimanjaro or Mt Fuji in Japan. But don't worry; this volcano is dormant. The last time it had a minor eruption was in 1910.
You can tell there was more volcanic activity in the past by observing the craters and cones on the mountain.
The higher regions of Mount Meru also have plenty of geological evidence to point at volcanic activity in the past, for example, volcanic rock of various shapes.
At the top of Mount Meru, you will also see its large horseshoe caldera, which formed during an enormous eruption many thousands of years ago.
Who was the first to climb Mt Meru?
The first person to ascend Mount Meru in Tanzania more than 100 years ago was Carl Uhlig in 1901 or Fritz Jaeger in 1904.
Both were German mountaineers, and it's disputed to this day which made the first official ascent to the summit.
Related: How to Prepare for High Altitudes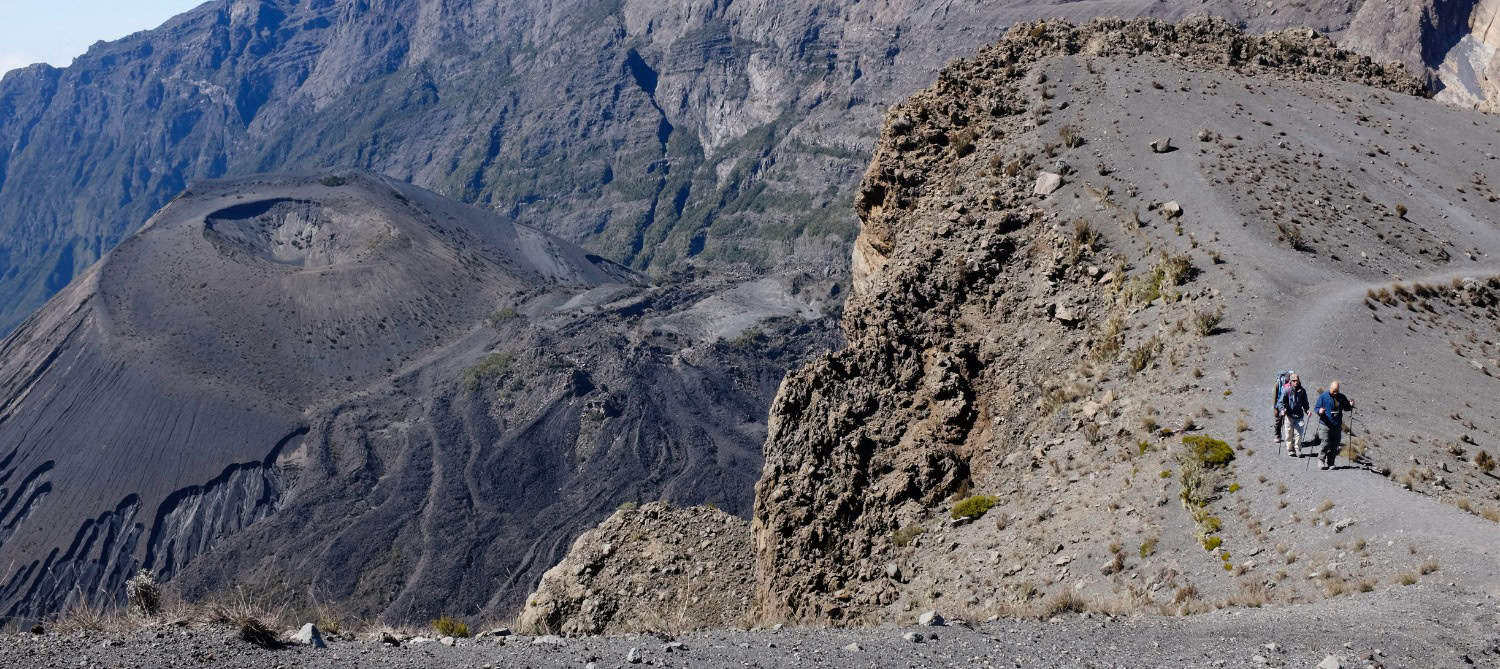 How high is Mt Meru?
Meru stands at an altitude of 14,968 feet (4,562 meters). While this height is significantly lower than its "older brother," Mt Kilimanjaro, we should not underestimate it.
Mt Meru's peak is high enough to cause altitude sickness, especially if climbed too quickly.
This is why Mount Meru trekking trips are usually 3-4 days; they allow for good acclimatization and ensure a very high success rate.
What hiking routes are available on Mt Meru?
On Mount Meru today, there is only one official route to the summit — the Momella Route.
Meru treks start at the Momella Gate (4,921 ft / 1,500 m). During the first day, you will follow the path to Miriakamba Hut (8,250 ft / 2,514 m), going through the savannah section that changes into the rainforest as you climb higher.
On the second day, you will continue the ascent through the forest section to the Saddle Hut (11,700 ft / 3,566 m). At this altitude, plant life becomes rarer and shorter.
You'll typically get an early start (the best time is about 2 a.m.) on the third day to reach the summit in 5-6 hours, right around sunrise, when the scenic view from the mountain is incredibly stunning.
The climbing group would typically descend to the Momella Gate on the same day.
The path is steep in some sections, and you might be short of breath due to the altitude on your way up.
But overall, it is not a technical trek, so almost anyone who can comfortably walk about 6 miles (10 km) can do it.
Why Climb Mt Meru?
There are several reasons why climbing Mt Meru in Tanzania might be an excellent idea for your African adventure.
It's excellent preparation for summiting Kilimanjaro and a fantastic climb in its own right.
Not as Difficult or Expensive as Kilimanjaro
While many travelers come to Tanzania specifically to conquer the renowned Mount Kilimanjaro — the tallest mountain in Africa, the Mount Meru climb is not necessarily inferior.
You will find fewer tourists on Meru (popular routes on Kili are crowded during the peak season), and the climb is neither as long nor as challenging as the Kilimanjaro expedition.
While all Kilimanjaro routes except one do not have hut accommodation, you don't need to worry about sleeping in a tent when climbing Meru.
If you're intimidated by the tallest mountain in Africa or do not have enough time on your vacation, then Meru is a great option.
In addition, it is significantly more affordable compared to Kilimanjaro; climbing Mount Meru is a good value.
Lots of wildlife and incredible scenery
Situated in the Arusha National Park, the lower regions of Mount Meru are teeming with wildlife.
Hikers will likely encounter wild animals in their natural environment, including antelope, buffalo, black and white colobus monkeys, giraffes, and, with some luck, elephants and leopards.
To make your adventure safe and protect the animals from poaching, an armed ranger will accompany your group up to the Saddle Hut.
In addition, you will have spectacular views of Africa's magnificent landscapes.
Another spectacular sight rarely mentioned is the night sky with bright stars, unlike anything you can see in a light-polluted city.
Great warm-up before the Kilimanjaro trek
The Kilimanjaro trek is notorious for its challenges, including altitude sickness and the need to acclimatize.
Reaching the peak of Mount Meru is the perfect thing to do for anyone who wants to test themselves and have the best preparation for climbing Kilimanjaro.
Being at a higher altitude for several days will make your body more comfortable in the high-mountain environment, so your Kilimanjaro climb will be smoother.
Mt Meru climb is a fantastic addition to any safari
Finally, climbing Mt Meru can become the highlight of your safari trip.
Many of Tanzania's stunning natural reserves are located relatively close to the mountain, making such a combination particularly attractive.
This way, you'll be able to experience a broader range of experiences that Tanzania can offer!
______
This story is brought to you in partnership with Altezza Travel.
Ellen is a Tanzania-based travel writer. She is passionate about exploring every corner of this beautiful East African country and loves sharing her experiences with new or prospective travelers through her writing. Her ongoing goal is to climb one mountain, anywhere in the world, every year.
Planning a trip? Go Backpacking recommends: