The Museo Rafael Larco Herrera is a privately owned museum in Lima.
The main collection features Pre-Columbian art, including items from the Moche and Chimu civilizations, which I'd learned about while touring temples outside Trujillo.
A visit to Museo Larco was among the first things I did in Lima, and that's not because it houses a well-known collection of erotic pottery (yes it was).
____________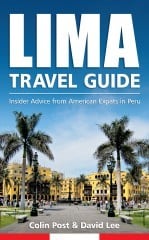 Dave's 160-page, all-original Lima Travel Guide is available for Kindle.
Dave is the Founder and Editor in Chief of Go Backpacking and Feastio. He's been to 66 countries and lived in Colombia and Peru. Read the full story of how he became a travel blogger.
Planning a trip? Go Backpacking recommends: