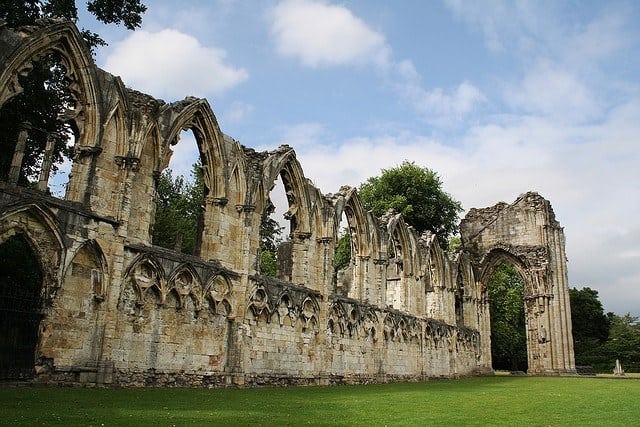 An age-old rivalry exists in England, dividing its inhabitants into two camps: the Southerners and the Northerners.
The Midlands is a bit of a grey area (perhaps they have dual citizenship?).
Insults have been thrown from both sides, but these tribes now live mostly in harmony together on the island.
Being a Southerner myself, I headed to university in the North with a feeling of trepidation and excitement. But I loved it.
Yorkshire is one of England's most beautiful counties, and a road trip around its countryside, seaside towns and cities is a great way to take it all in.
Cheap car rentals allow you to travel in the UK on a budget, and stop off wherever takes your fancy.
York
The historic city of York is a good place to start. Despite its relatively small size, there's plenty to do during a short stay.
You can walk around its ancient walls, admire the Minster's stained glass, and drop into the Evil Eye bar for one of the best cocktails around.
The city's Jorvik Centre has been set up on the site where archaeologists found evidence of Viking houses and workshops.
An underground ride takes you around a reconstruction of a Viking settlement, with authentic smells and everything.
My friend and I turned out to be the only adults on it at the time, but I think we were still the most excited.
Scarborough
You can drive from York to the seaside town of Scarborough in just over an hour.
Scarborough is a quintessentially British holiday resort, and its beaches have some of the cleanest water in Europe.
The famous Scarborough Fair, which attracted merchants from all over the world in the Middle Ages, is today celebrated in September with typically English pastimes including morris dancing and jousting competitions (must dust off my lance).
North York Moors
One of best drives in Yorkshire, and in Britain in fact, is through the North York Moors.
The area is a national park and also a great place for walking and cycling – there are over 1,400 miles of paths to choose from, and you can stay in one of the picturesque local villages or towns.
Drive up the Moors from Scarborough towards Whitby, and take a few detours on the way to enjoy the scenery.
One highlight is the 'Hole of Horcum'; a deep section of the valley which legend holds was created by a giant scooping out the earth. It also rates highly on Britain's rude place names.
Whitby
Whitby is located on the dramatic North Sea coast and inspired Bram Stoker's Dracula.
I remember visiting on a particularly wet and windy autumn day and being practically blown around the ancient abbey, whose ruins stand on top of a hill and loom over the rest of the town.
No day in England, however, is too wet to enjoy fish and chips, and there are plenty of good seaside restaurants there to choose from.
If the weather's on your side take it out to watch the sunset over the horizon, which is excellent competition for any sunset in the South.
_______
About the Author: Katherine likes to get a feel for the history of the places she visits and seeks out the bits which reveal something about the culture in different areas of the globe. She has traveled in four different continents and is looking forward to exploring the rest. Her post was brought to you by Carhiremarket (dot) com.
This post was written by a guest contributor. Please reference the author's byline in the post above for more information. If you would like to guest post on Go Backpacking, please read our submission guidelines. For information on advertising opportunities, go here.
Planning a trip? Go Backpacking recommends: