The city of London is more than just iconic buildings and historic landmarks; it's a hotspot for outdoor activities.
Living a stone's throw away from London has given me a unique perspective on the city. I've spent countless days wandering through its bustling markets and absorbing culture in its world-class museums.
But while the city's artificial wonders are captivating, they can sometimes overshadow the incredible array of outdoor activities London has to offer.
If you want to breathe fresh air while exploring the city's many big parks and participating in various fun outdoor activities, this story is for you.
From tranquil spots in Richmond Park to the thrilling adventures at Go Ape, London has something for everyone. Let's dive in and discover the best London outdoor activities to experience this year.
London's Outdoor Activities
Delve deeper into London, and you'll discover many outdoor experiences waiting to be explored. From serene waterways to exhilarating treetop adventures, the capital boasts diverse experiences catering to every kind of outdoor enthusiast.
Whether you're a local seeking a fresh perspective or a visitor eager to embrace the city's natural side, here are my recommendations for London's best outdoor activities.
Stand Up Paddle Boarding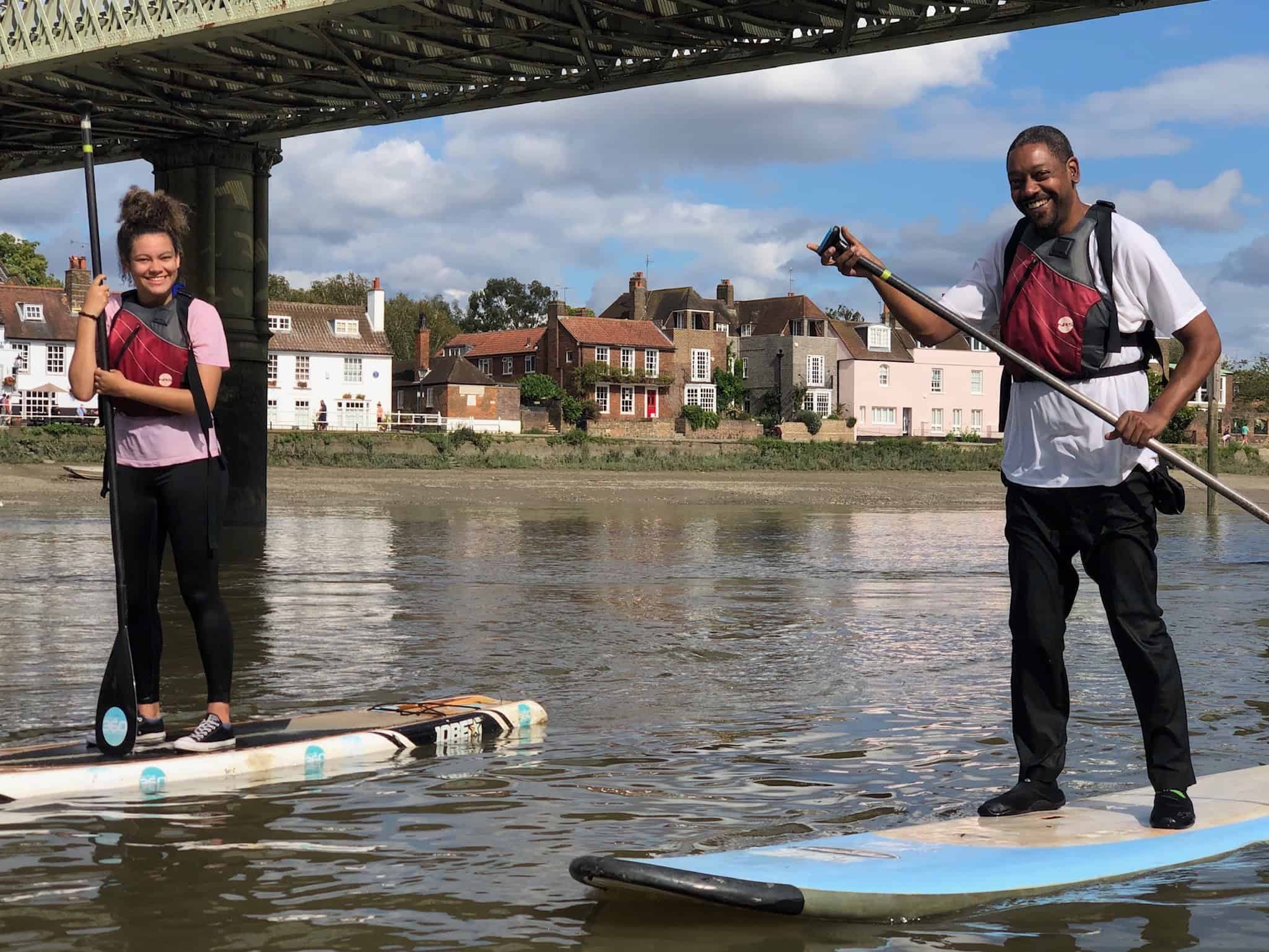 Londoners have long cherished the tranquil experience of paddleboarding along the city's serene canals.
London's abundant waterways provide an unparalleled backdrop for stand up paddleboarding, granting participants a unique urban perspective.
Grab your paddleboard or hire one from the many locations across the city, and get ready to embark on an aquatic adventure.
Whether you're gliding through the calm waters of the Paddington Basin, navigating the lively canals of Camden filled with its eclectic houseboats, or drifting amidst the modern skyscrapers near Canary Wharf, this water sport offers a blend of peacefulness and excitement.
Over the years, it has become a summer pastime and a year-round favorite, drawing locals and visitors in for its captivating charm.
Check out our comprehensive guide for a deeper dive into the best places to paddleboard in London.
Go Ape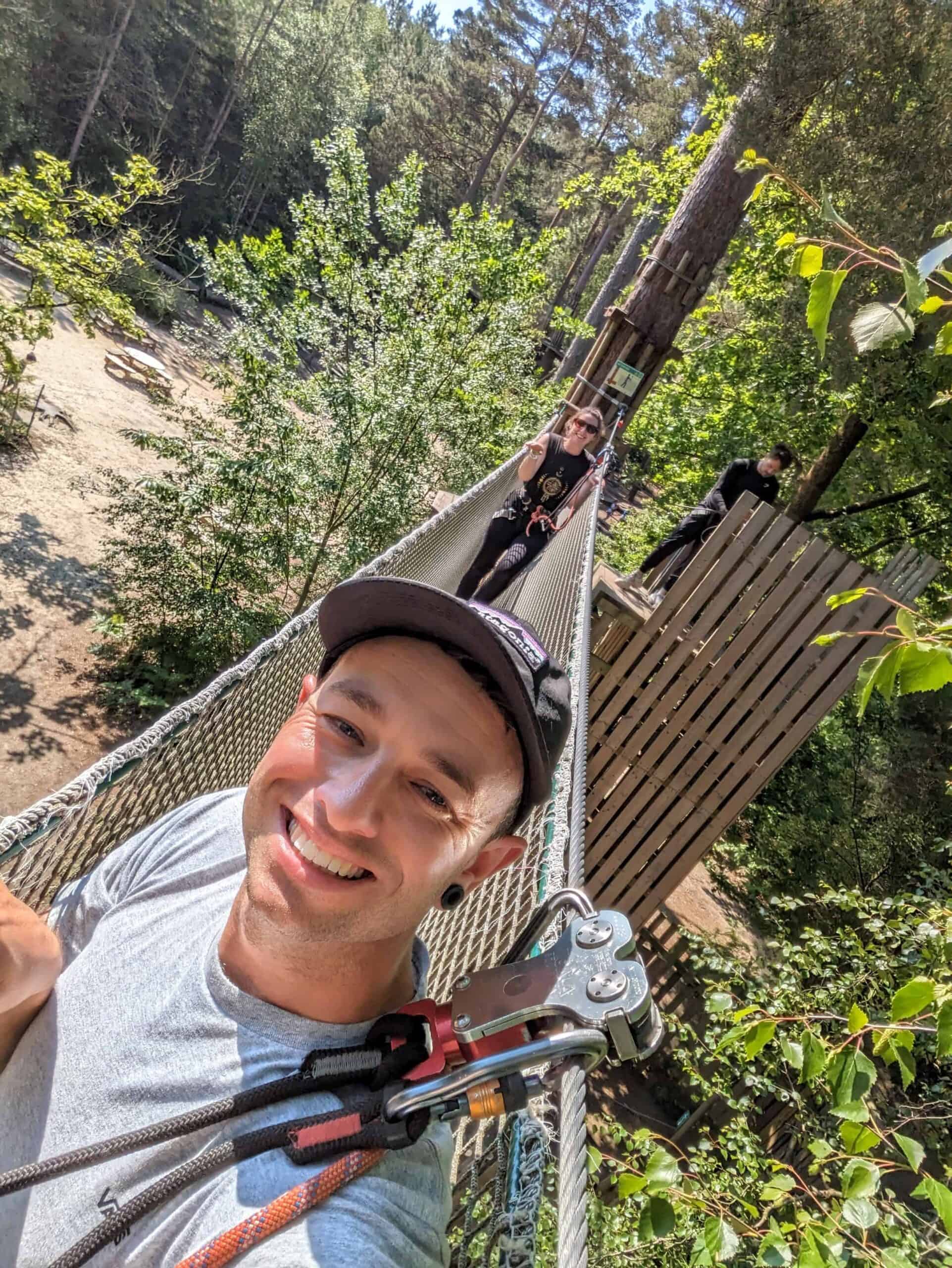 Nestled within the lush surroundings of Battersea Park, Go Ape offers a genuine call of the wild within the city's concrete confines. But it's worth mentioning that Battersea Park is just one of several Go Ape locations sprinkled across London—and even more are within a short distance of the city.
Earlier this year, I celebrated an anniversary with my partner Becci at the Go Ape in Bedgebury, Kent. It was an absolute blast and offered a slightly different vibe than the city locations.
What sets Go Ape apart is its expert blend of outdoor adventure elements with a challenging physical obstacle course set high in the trees. It's a real test of agility, courage, and balance. Plus, the spectacular city views from the treetop courses give you the surreal feeling of floating above London's iconic skyline.
So, if you're hunting for the ultimate outdoor activity in London, I highly recommend giving Go Ape a go—you won't regret it!
Deer Spotting in Richmond Park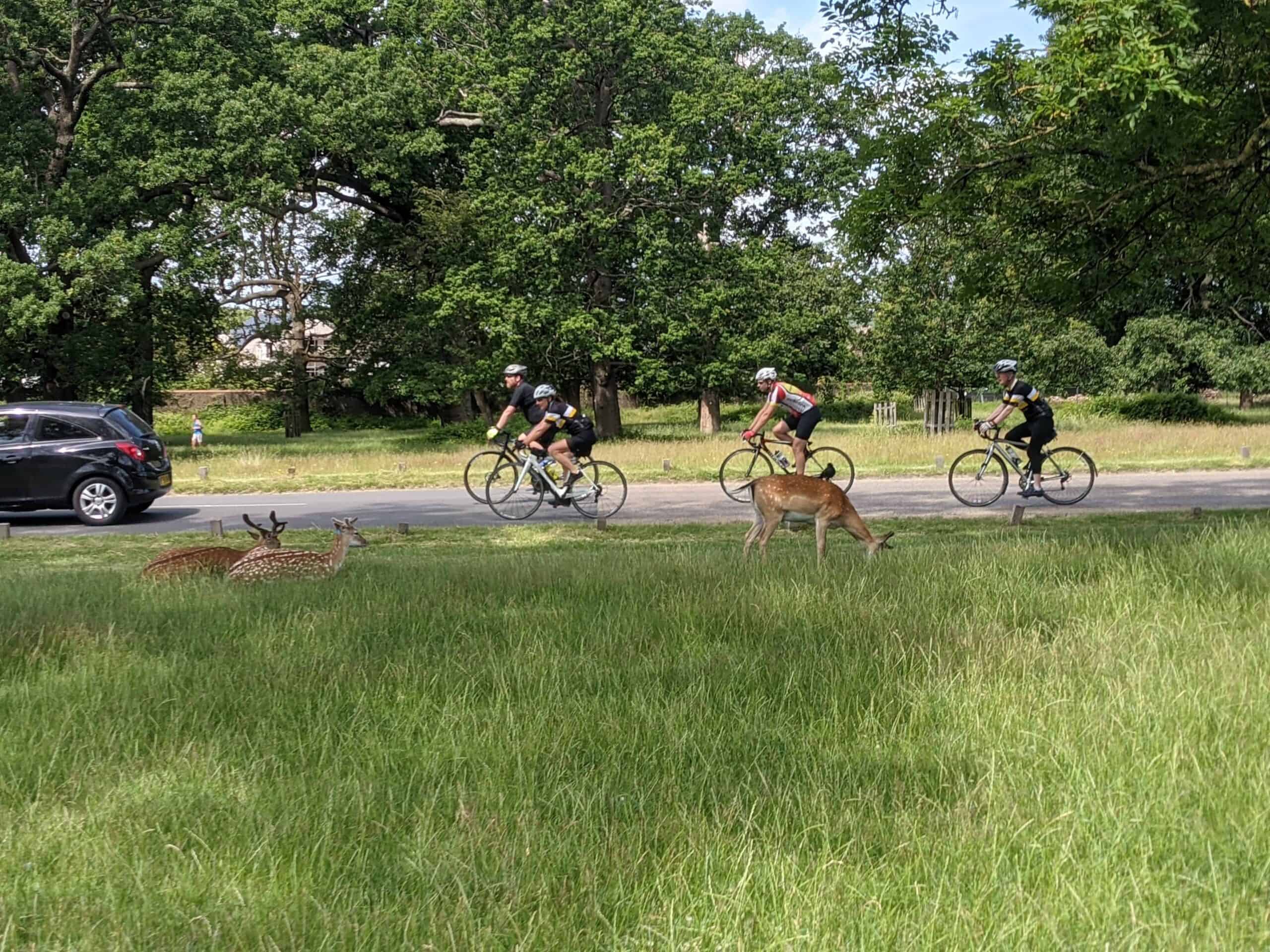 Richmond Park, a crown jewel in West London, is more than just a calm oasis amid the city's chaos.
Beyond its picturesque meadows and woodlands, it's a sanctuary for herds of majestic fallow deer. These graceful creatures have become synonymous with the park, delighting visitors with their natural elegance.
Especially as the sun casts its golden hues during twilight hours, Richmond Park takes on an ethereal aura, ranking it among London's premier nature reserves.
I can personally attest to the park's allure. It's an ideal place for a family outing—my boys were thrilled to see the deer so up close and personal.
Hackney City Farm
Venture to East London, and you'll stumble upon the vibrant and ever-welcoming Hackney City Farm.
Nestled amid the metropolitan landscape, this green sanctuary offers an authentic urban farm experience. But it's more than just an educational space; it's an oasis where you can foster a deep connection with nature.
Here, you can engage in various activities, learn about sustainable living, and perhaps indulge in some street food offered by local vendors, making your visit a wholesome, earthy, and delightful experience.
Hackney City Farm is a testimony to London's commitment to green living, nurturing communities, and fostering learning.
Ride the London National Cycle Route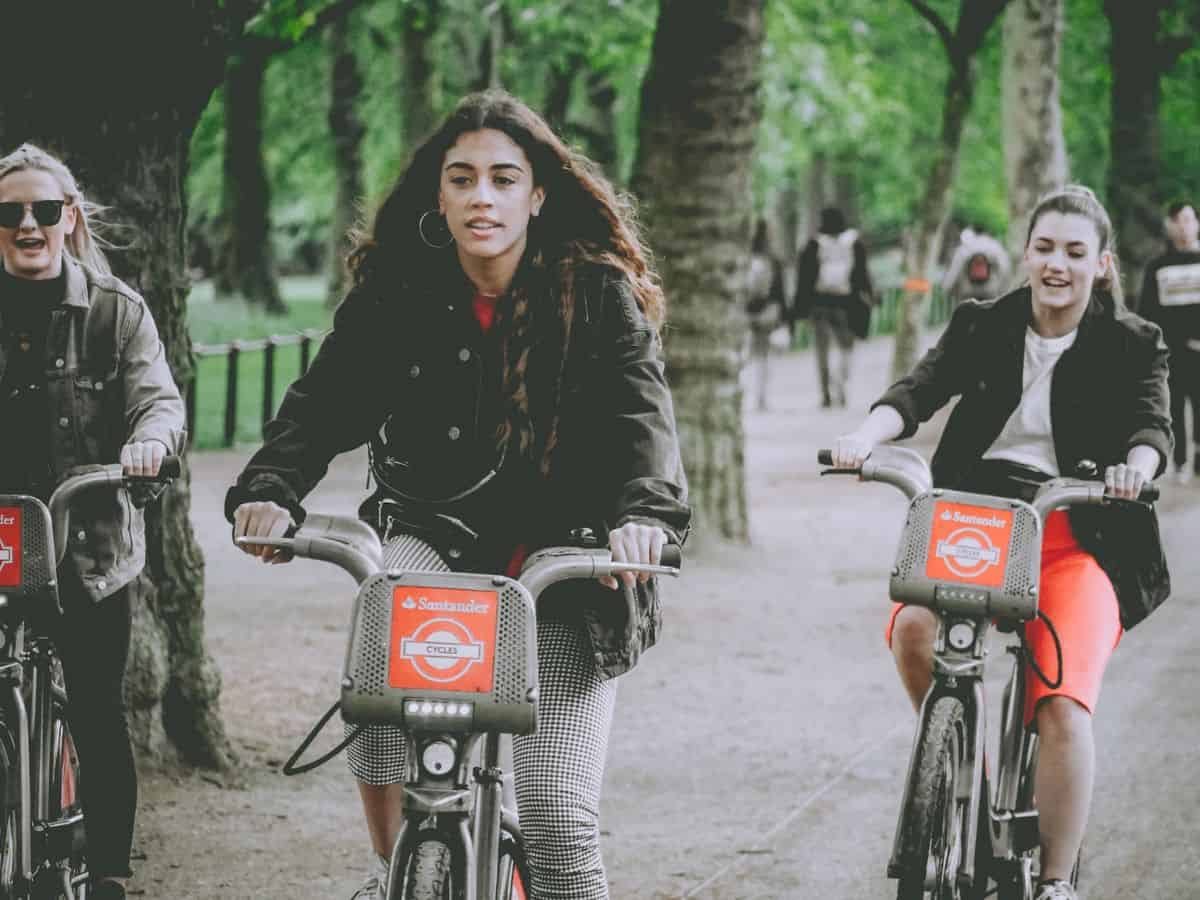 For cycling enthusiasts, the London National Cycle Route presents an unparalleled opportunity to explore cool corners of the city on two wheels.
Starting your journey from the picturesque surroundings of Finsbury Park and pedaling your way through to the stunning vistas at Alexandra Palace Way, you will traverse some of London's most scenic routes.
It's not just a ride but a journey through the essence of the city, weaving through lush parks and vibrant neighborhoods.
Undoubtedly, embarking on this cycling route is one of the best outdoor activities in London, providing both adventure and fresh air amidst the city's hustle and bustle.
Outdoor Swimming
The tradition of outdoor swimming in London has surged in recent years, drawing both locals and visitors to its refreshing aquatic retreats.
Brockwell Park's Lido, for instance, offers a historic setting to take a leisurely dip. At the same time, the picturesque Hampstead Heath ponds provide a natural swimming experience for those keen on a more rustic setting.
As temperatures climb, there's no better way to spend a sunny day than indulging in the city's outdoor swimming spots.
Whether it's a morning plunge to invigorate the senses or simply lounging by the pool in the afternoon, London's outdoor pools and ponds provide a tranquil escape from the hustle.
Walking Along the Thames Path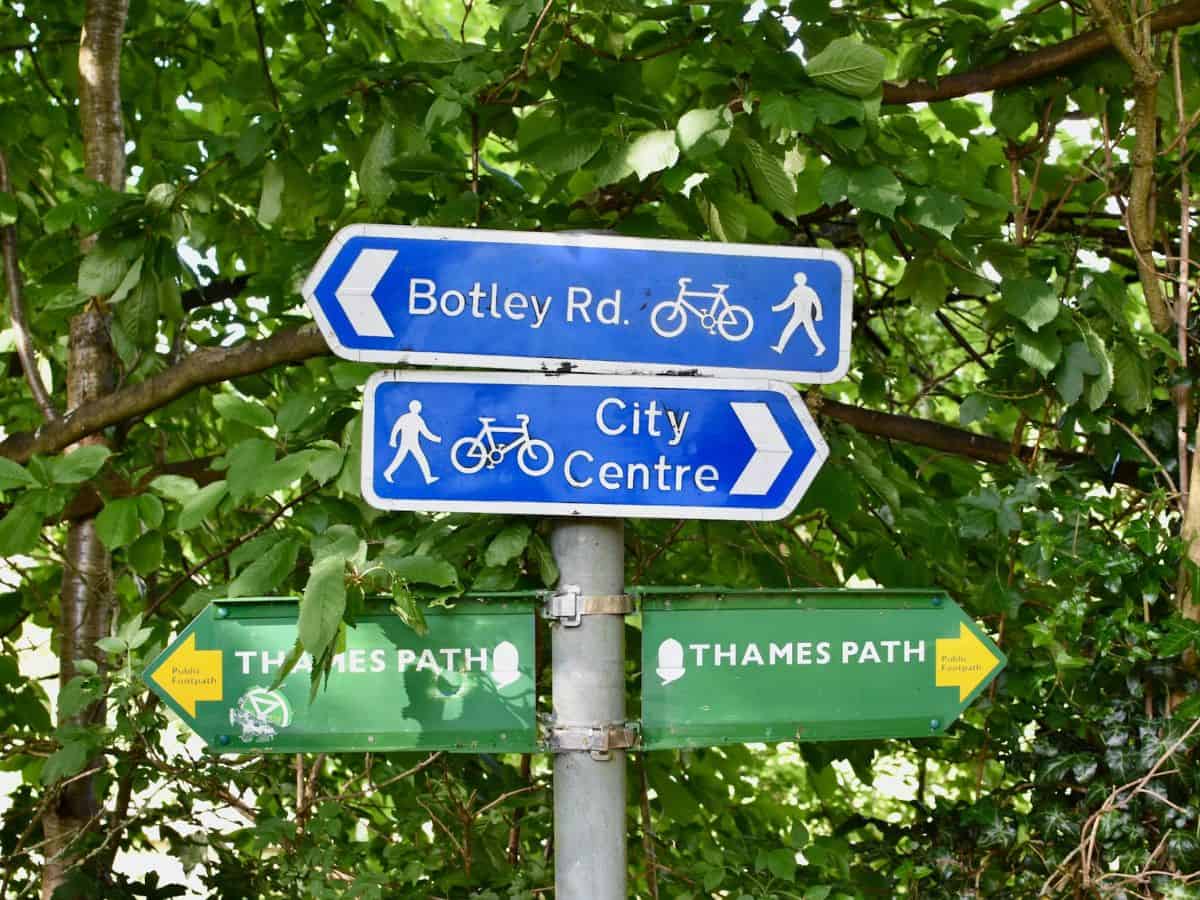 For those eager to delve into London's scenic offerings on foot, the Thames Path is a must-explore.
Spend a day wandering its picturesque stretches with views of the Thames River, immersing yourself in natural beauty.
For the more adventurous souls, challenge yourself to tackle the entire 185-mile pathway, which presents a multi-day hiking experience unlike any other. Don't forget to pack a tent if you're keen on wild camping along the route.
With panoramic views waiting around every bend, the Thames Path is a great place for both casual strollers and avid hikers to enjoy an outdoor adventure.
Related: 6 Alternative London Tourist Destinations
Discover London's Gardens
London's verdant gardens are a delightful juxtaposition against its busy streets.
From the vast expanse of Kew Gardens, which showcases botanical wonders, to the intimate Chelsea Physic Garden with its medicinal plants, there's a sanctuary for every nature lover.
The Kyoto Garden in Holland Park provides a serene slice of Japanese elegance, while Hyde Park offers idyllic views amid the landmarks.
These green spaces offer a break from the cityscape and a journey through time and culture.
A Day at the Zoo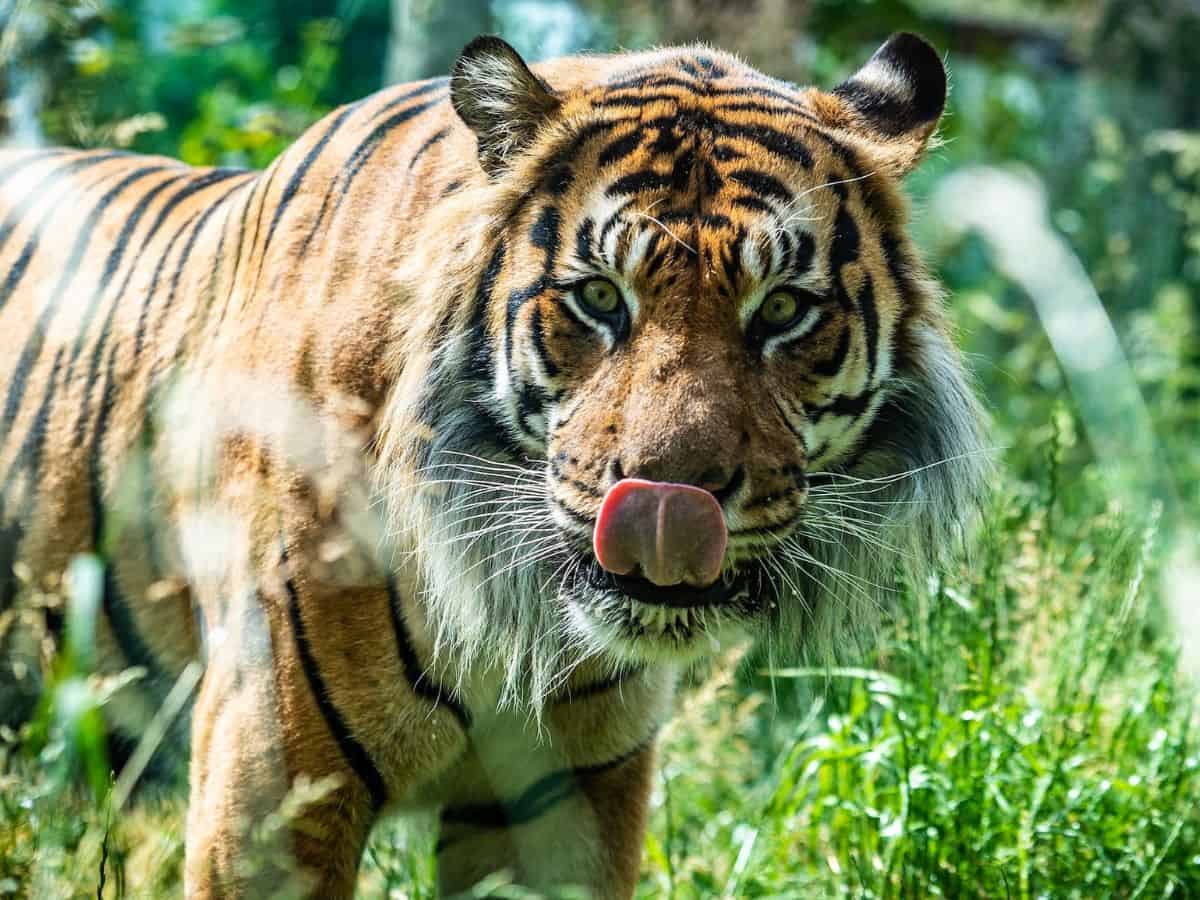 The London Zoo, south of Primrose Hill and Regent's Canal, offers an enchanting day out for both the young and young at heart.
As one of the world's oldest zoos (opened on April 27, 1828), it houses many animals, from majestic lions to vibrant flamingos.
With a focus on conservation and education, every visit becomes a great way to learn and connect with wildlife from all over the globe. Marvel at the Land of the Lions or walk through the Butterfly Paradise.
Horseback Riding
Horse riding is a unique and exhilarating option for those looking to experience London from a different perspective.
From the gentle trots across the vast, verdant expanses of Wimbledon Common to more structured lessons offered at specialized equestrian centers throughout the city, London brims with diverse horseback riding opportunities.
It's an unforgettable experience, tailor-made for those seeking adventure, tranquility, and a touch of the countryside in England's largest city.
More Outdoor Activities London Offers
While our main list has covered some fantastic London adventures, the city's treasure trove of outdoor activities runs deep.
Exploring East London, for instance, introduces you to the architectural marvel of the Queen Elizabeth Olympic Park.
Its vastness provides a haven for adrenaline-seekers and those looking for a leisurely day out. Nearby in Hackney Wick, a fusion of live music and vibrant street art awaits, making it a hub for artsy souls.
Venturing to South London, London's Longest Nature Reserve is a hidden gem, offering tranquil paths lined with indigenous flora and fauna.
For those looking to tap into their inner detective or channel a spy, the outdoor escape rooms in and around the city are immersive games that offer brain-teasing adventures.
Fancy a relaxing soak with a twist? Floating hot tubs, especially in the cooler months, are a unique way to unwind on the water.
Roof East, an urban park in Stratford, provides fun activities from mini golf to rooftop cinema, all while enjoying panoramic city views.
Thorpe Park remains one of the best outdoor activities for thrill-seekers, boasting some of the country's most exhilarating roller coasters.
A stone's throw away in Finsbury Park, you can indulge in water sports or enjoy a guided tour around its historic grounds.
In the heart of the city, Trafalgar Square is more than just a tourist hotspot; its spacious steps and surrounding areas often host live events, making it a dynamic outdoor hub.
As for nature enthusiasts, the verdant stretches of Castle Wood and Parliament Hill provide ample space for pony rides, kite flying, and picnics.
And for those looking to mix outdoor fun with cultural vibes, London Fields often hosts events, from farmer's markets to outdoor cinema nights.
Finally, for a taste of London's eclectic culinary scene, Nanny Bill's offers some of the city's best street food. It's the perfect place for an al fresco dining experience.
The great outdoors in London offers an incredibly diverse array of activities. From serene nature spots to people-filled urban parks, there's always something to discover in this incredible city.
Steve is an adventurous outdoor blogger, who feels most alive atop a mountain or cruising on a paddleboard. On his personal blog, Steve shares practical gear reviews and insightful guides, encouraging others to embrace the wild and explore the great outdoors. For a visual journey of his adventures, follow him on Instagram.
Planning a trip? Go Backpacking recommends: