My adventures in Peru began up North, as I took a 2-day overland journey from Vilcabamba, Ecuador to Chachapoyas last October.
At the time, it was exhilarating to be on the move.
A series of buses, rickshaws and share taxis got me from one destination to another in a fairly efficient manner.
I'll always prefer arriving in a new country by land, as it draws out the experience.
Flights are more comfortable, and save time and energy, but are inevitably anti-climactic.
They lack the slow build of anticipation and anxiety as you approach a border crossing.
Highlights of Peru
In Chachapoyas, I visited Kuelap, an ancient stone fortress built upon a mountaintop, and the Gocta Cataracts, which are purported to be the 3rd tallest waterfalls in the world.
I then boarded one of Peru's clean and comfortable long-distance buses for the ride to Trujillo.
I enjoyed the Huaca de la Luna ruins, but was bored by the better known Chan Chan complex.
I escaped the city noise for a few nights at the beach in nearby Huanchaco.
After a week on the coast, I boarded another bus and went back into the mountains, the Cordillera Blanca to be exact.
Huaraz is a sizeable city of about 100,000 people which acts as the main hub for the region.
From Huaraz, I visited Pastoruri Glacier, which is situated 5,000 meters above sea level, and I visited Huascaran Mountain (Peru's tallest) on the Day of the Dead.
I arrived just as the low season was starting, and regrettably, talked myself out of going on the 4-day Santa Cruz trek.
From Huaraz, it was a scenic, but a surprisingly short journey to Lima.
Arriving just as Summer was getting underway, I quickly settled into life in the big city again.
I explored Peruvian cuisine via Astrid & Gaston, sampled the nightlife, and caught up with some blogging friends (Gareth at Tourist 2 Townie, Benny of Fluent in 3 Months, Barbara of Hole in the Donut).
Later on, I'd also meet Lainie and her son Miro (Raising Miro) and Erica and Shawn of Overyonderlust.com.
I flew to Cusco to do the 5-day Salkantay Trek to Machu Picchu before flying to Florida for Christmas with the family.
New Year's was celebrated back in Lima, where I enjoyed a few trips to the beach and continued to live through February.
Likes
Low cost of living, even in Lima
Cuisine
Girls :)
Friendly people
Summer weather in Lima
Big mountains
Comfortable inter-city buses
Major roads are surprisingly well-paved (smooth rides)
Pet Peeves
Drivers honking their horns incessantly in Lima (Buenos Aires is much quieter in that respect)
Lack of green in Lima (By comparison, Buenos Aires is like the jungle — lush, tree-lined streets, and lots of green)
Earthquakes — I experienced 4 in 3 months. Even the small ones are unsettling.
Favorite Foods
Aji de Gallina
Alpaca
Arroz con Pollo
Causa Limena
Club Sandwiches (in Lima)
Palta Rellena (con Pollo)
Sushi (and most seafood for that matter)
If you like ceviche (cebiche) it's awesome too. I'm not a fan, the typical lime/citric juice is too strong.
I like that Peruvians use more spices and aji (pepper) than Ecuador and Colombia.
Why I'm Going Back
There are still some major highlights to see in the Southern part of the country, including:
Amazon rainforest near Puerto Maldonado
Sandboarding at a desert oasis
Scenic flight over the Nazca Lines
Good food in Arequipa
3-day hike in Colca Canyon
Puno and Lake Titicaca
I'd say the cost of travel in Peru is a little higher than in Ecuador, but less than Colombia.
It's definitely one of the cheaper destinations in South America.
____________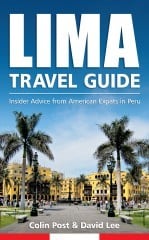 Dave's 160-page, all-original Lima Travel Guide is available for Kindle.
Dave is the Founder and Editor in Chief of Go Backpacking and Feastio. He's been to 66 countries and lived in Colombia and Peru. Read the full story of how he became a travel blogger.
Planning a trip? Go Backpacking recommends: