This is a guest post by Michael Lynch. If you want to guest post on Go Backpacking, please read more here.
The weather not being especially great for landscape photography the past few months convinced my shooting partner, Doc and I that we ought to drive around and find some interesting things to take pictures of indoors. I'm an outdoors type person and not really thrilled about going to museums or shopping centers to use my camera. I'd rather be using my digital film on the beach or in the jungles.
We live on the island of Okinawa, in Japan. Sunday is the day, once a week we get a chance to pack up all our camera gear and drive to remote locations, get pictures of wildlife, castles, or scenery and get off the beaten path. Most importantly, we get to speak our native language, English with someone who understands every word we say. I guess the talking without teaching is just as important as the time spent with the camera. Our wives are Japanese and so is everyone else we see all week long.
So, Doc shows up at my house one morning in December (He lives 40 miles north of me) and asks, " Where should we go today?"? My usual response is " Anywhere, just follow the sun."? But, as it turned out, there was no sun; it was a windy, cloudy day.
Doc asked me if I'd ever seen the biggest Buddha statue on the island; it's indoors. So, I said, " Sounds like a plan to me. Let's go."?
Located about half an hour's drive south of Naha International Airport, is Peace Memorial Park. Located on Mabuni hill and cliffs are several stone monuments and shrines dedicated to peace. Many people, during the Battle of Okinawa, during World War II were either killed or committed suicide during the war in and around this location, civilians and military alike.
On previous visits, I had seen all the stone monuments and the black walls inscribed with over 200,000 names of those who died during the battle. I didn't want to see them again. The visit and chance to photograph the humongous statue of Buddha, indoors, was what I came to do. Doc had been there before on a guided tour. This time, however, he was going to get a chance to use his camera skills he'd developed over the past 10 years and get some professional photos.
The statue is located inside what looks like a white tower. It reminds me of a New England Lighthouse, only as you get close to it, you see it's not round. It has seven columns. They represent the seven seas of the world.
Inside, at the entrance, you pay 450 yen (about $5.00) and are handed a pamphlet which describes what you are about to see. This was quickly stuffed in my camera bag while I started setting up equipment to compose my photos. The place was nearly deserted and I wanted to use my tripod before a busload of tourists arrived.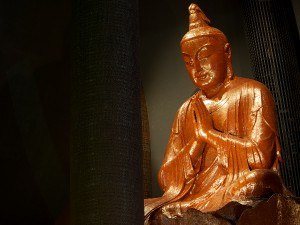 Over 36 feet tall and 24 feet in diameter, the statue appears to be bronze and it is illuminated by spotlights from above. As I tried to move around composing the picture and focusing on the face, something dawned on me. This didn't look like any Buddha I'd ever seen before.
That's when I decided I'd better check the literature they gave me at the door. It wasn't Buddha. The artist who created this statue was a man named Shinzan Yamada. During the war, he lost two sons in the battle. He wanted to create a statue dedicated to peace, world peace.
The materials used in creating this monument, were imported from China, three and a half tons of lacquer ware. The artist was 72 years old when he started the project. He worked by himself. Twice, during the construction of his masterpiece, he fell from the scaffolding, injuring himself. The project took 18 years; Shinzan was 90 years old when he put the final touches on it.
The Peace Prayer Statue is simply a symbol of an Okinawan man praying for world peace. A single photo of it from one angle cannot do justice to this work of art, nor can my words accurately describe it. It radiates the artist's determination and hopes for a better world to live in. Not just for the people of this Pacific island. It's for everyone around the world. It'd be worth your while to come and see.
__________
About the Author: Michael Lynch is a wildlife photographer and travel writer living in Okinawa, Japan. He has been published in several online magazines and writes Camera Talk for In The Know Traveler.
More of his work may be seen at http://www.mikesryukyugalley.com
This post was written by a guest contributor. Please reference the author's byline in the post above for more information. If you would like to guest post on Go Backpacking, please read our submission guidelines. For information on advertising opportunities, go here.
Planning a trip? Go Backpacking recommends: