Have you ever had to leave gear or other crucial items at home simply because there was no more room in your vehicle? This is especially true with kids or friends who can take up much-needed space in the vehicle. A Prinsu roof rack is your all-in-one solution for mounting gear, adding accessories, and enhancing your next adventure.
In this post, we'll explore various Prinsu roof racks, learn how to secure gear, discuss must-have accessories, and provide an overview of the installation process. Let's get ready for adventure!
Discovering Prinsu Roof Racks
A Prinsu rack is a must-have for adventurers and those who find themselves off the beaten path, offering a fully modular design to fit a range of vehicles, including the Toyota 4Runner, Toyota Tacoma, Chevy Colorado, most Subaru vehicles, and many more.
These racks are designed to hold rooftop tents, kayaks, and other gear, allowing you to effortlessly explore without worrying about what you can and can't bring.
All Prinsu racks are proudly made in the USA, and each rack comes with the following:
Two laser-cut aluminum side rails
2×1 inch extruded aluminum crossbars with built-in drop points
Wind deflector
Noise-reducing edge trim
Black powder coat finish
All necessary hardware
Lifetime warranty
Prinsu Rack for Toyota 4Runner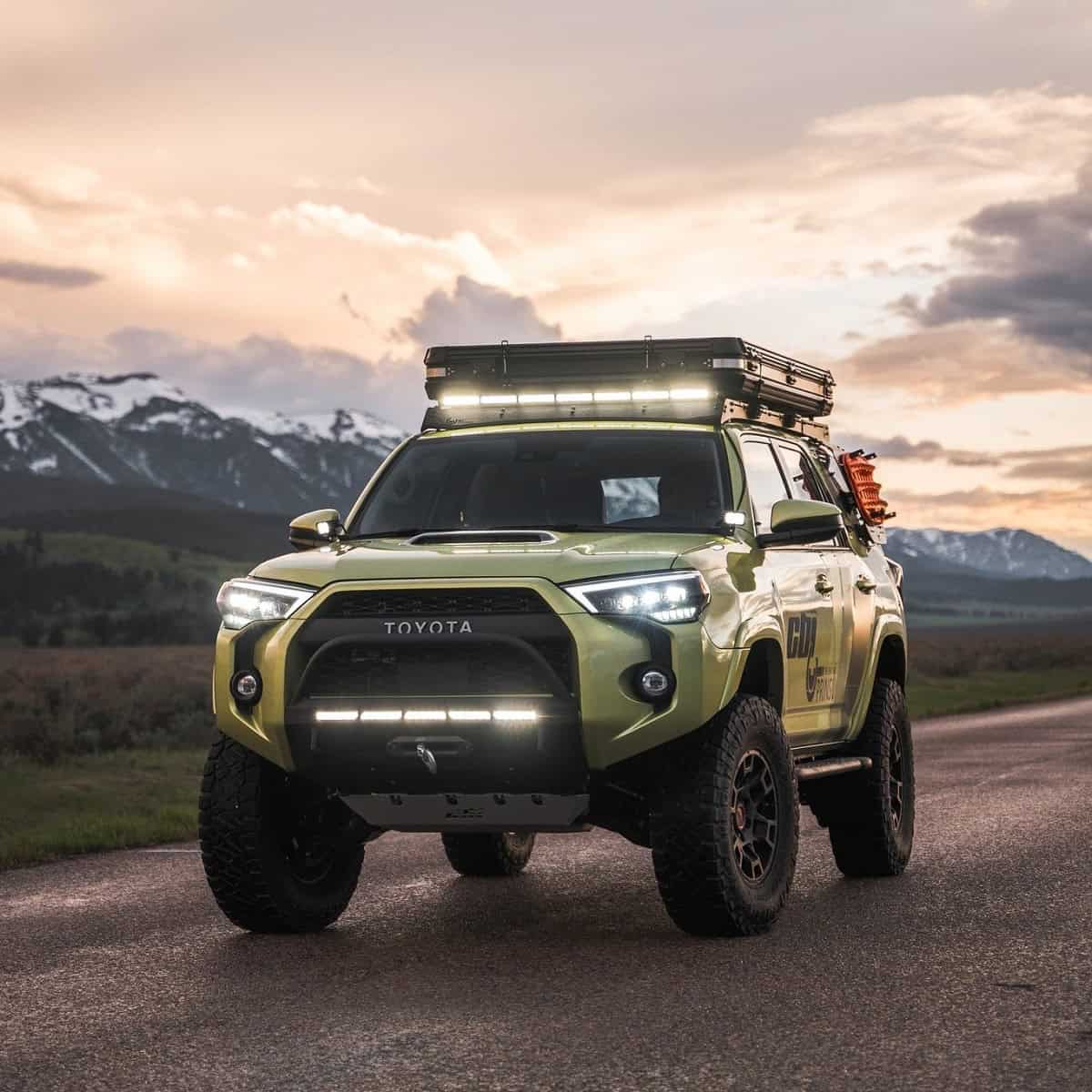 The market is being transformed by the Prinsu Full Length Roof Rack for Toyota 4Runner, a fully adjustable, bolt-on modular rack that only adds 1.75 inches overall to your vehicle.
Don't let its low profile design fool you; it is extremely strong and has an impressive weight capacity. It can easily support 600 lbs. of dynamic load and 1,000 lbs. of static load.
Whether you're mounting a rooftop tent, carrying kayaks, or mounting an awning off the side, the Prinsu roof rack 4Runner can accommodate your needs and more.
The best part? You won't need to worry about drilling or modifications to install the rack, making it a hassle-free upgrade for your vehicle.
Prinsu Rack for Toyota Tacoma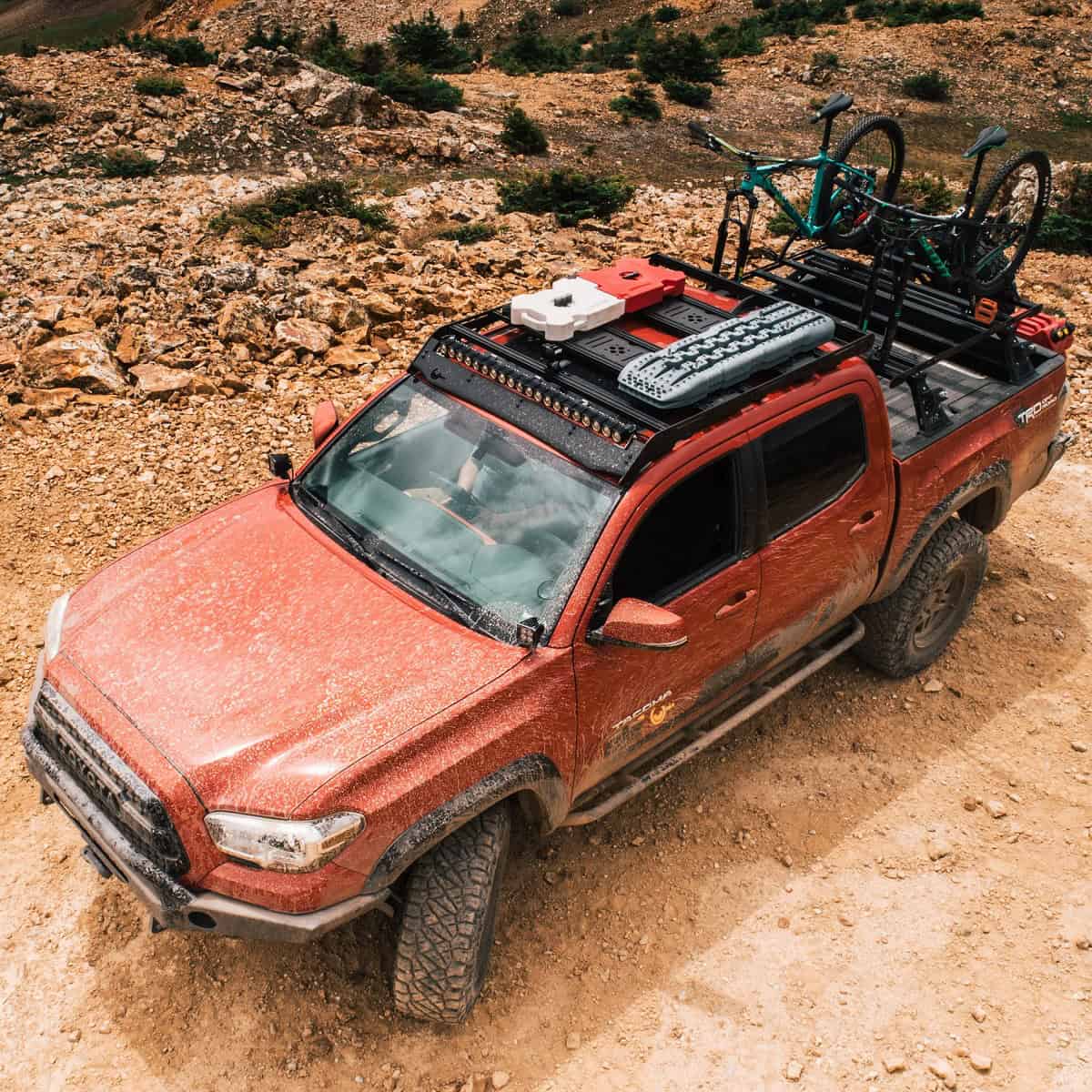 The Toyota Tacoma is the perfect exploration companion. But I think we can all agree that despite being ultra-capable, there isn't a lot of room to bring all you want on your trip.
Enter the Prinsu roof rack Tacoma. This fully adjustable rack features a modular design and can be configured to your specific needs to maximize your experience.
It comes standard with two laser-cut side rails constructed out of aluminum, six adjustable aluminum crossbars, a wind deflector, and noise-reducing edge trim.
Right out of the box, the Prinsu Tacoma rack is ready to be put to work. Easily carry extra fuel, water, mountain bikes, skis, snowboards, and more.
The options are endless, but what is for sure is you will be better off with a Prinsu rack on your Tacoma. Like the 4Runner variation, no drilling is required.
Prinsu Rack for Toyota Tundra
The Toyota Tundra, fortunately, provides a bit more in terms of storage capacity for all the must-have gear, but that is not to say you still can benefit from having the ability to easily store some of those more oversized items such as a surfboard or kayak.
The Prinsu roof rack Tundra provides an excellent platform for your gear and will accept all Prinsu accessories, allowing you to configure your rack the way you like.
Other Roof Racks
Prinsu roof racks are not only available for Toyota vehicles. In fact, Prinsu manufactures roof racks for many different vehicles, including Subaru, Nissan, Chevy, RAM, Ford, and more.
All rack systems feature the same great benefits outlined above and are sure to impress.
Regardless of your off-road vehicle, Prinsu offers a roof rack built to endure the rigors of your adventures, ensuring each journey is unforgettable.
Securing Gear
Securing cargo and gear to your Prinsu rack is effortless. There is no "textbook" way to mount your equipment correctly, but since the system features a fully modular design, the rack can be configured to best support your specific gear.
Prinsu crossbars are adjustable, meaning you can move them forward or backward to where you need more support.
They also feature built-in drop points that easily accept Prinsu accessories, including Prinsu Tie Down Rings, which act as an easily accessible point for your bungee or tie-down.
However, you can also easily tie down to anywhere on the rack, and your gear will be secure.
Must-Have Accessories
We don't have any complaints about the Prinsu rack out of the box. But that is not to say adding Prinsu accessories won't make it that much better.
In fact, Prinsu offers many different accessories depending on the specific need or situation.
For example, Prinsu offers light bar mounts for easily attaching a light bar to the front of your Prinsu rack and even offers a bottle opener attachment for those wanting to pop open a refreshment after a long hike.
These accessories allow you to tailor your Prinsu roof rack to your individual requirements and trip at hand, improve functionality, and make your rack more user-friendly. Below are some must-have Prinsu accessories you should consider.
MAXTRAX Mounts
We don't leave the house without recovery boards. They can be a crucial item year-round but also are awkward to secure in a vehicle.
Prinsu MAXTRAX Mounts are engineered to secure recovery boards directly to your roof rack, guaranteeing you're forever ready for unforeseen events.
These mounts offer a dependable and secure method for mounting your recovery boards, making them easily accessible when needed.
RotoPaX Mounts
It is always a good idea to carry extra fuel and water. If you haven't realized that yet, take our word for it.
RotoPaX mounts are a convenient way to carry extra fuel and water, and the Prinsu RotoPaX mounts allow you to easily attach RotoPaX containers directly to the Prinsu rack, keeping them secure and easily accessible.
The RotoPaX mounts come with a powder-coated black finish and bolt to the Prinsu crossbars using the crossbar drop-in points.
Prinsu offers both a single and dual option. We recommend the dual option as it attaches to two crossbars, making it a bit stronger.
Ridgeline Handles
You might be wondering how to access the gear on your roof rack, especially on taller vehicles. Accessing equipment on top of the Prinsu rack has never been easier with the Prinsu Ridgeline Handles.
The Ridgeline Handles make accessing gear on your roof rack easier and provide a handy mounting point for camp lights (Baja Designs Rock Lights), ensuring you have all the conveniences you need for an epic off-road adventure.
Awning Mounts
We have all experienced unrelenting sunlight with no shade in sight. An off-road adventure isn't complete without a dependable source of shade and shelter, and that's where Prinsu Awning Mounts come into play.
These universal brackets securely attach awnings to your Prinsu roof rack using a unique design that firmly attaches to both the crossbars and side plates of the rack.
Now, you can be ready for anything with an easy and secure way to mount an awning.
Installing a Prinsu Rack
Installing a Prinsu rack is not complicated, and most models feature a complete bolt-on design and mount to factory holes using the supplied hardware.
In under a few hours, using basic hand tools, you can have your Prinsu rack installed and ready for action. While some Prinsu racks require minor drilling, many do not necessitate any drilling or modifications.
Before beginning the installation process, reviewing an installation guide or helpful videos is highly recommended. If you do not feel comfortable installing the rack, there are shops throughout the U.S. that can complete the job.
Summary
There is no doubt that Prinsu racks are rugged and, more importantly, designed to carry gear, allowing you to make your next trip that much more enjoyable.
They can also be adapted to fit your specific needs with the help of Prinsu roof rack accessories, and racks are available for most vehicles. Truck Brigade is the leading dealer offering all Prinsu products and accessories at the best prices. It is time to hit the trails and embrace the Prinsu lifestyle!
_____
This story is brought to you in partnership with Truck Brigade.
Ryan is the founder of Truck Brigade and Bronco Brigade. His home base is in the Black Hills of South Dakota, and he is an avid adventurist and outdoorsman.
Planning a trip? Go Backpacking recommends: