Recently fellow backpacker and friend of mine Clayton Gaar told me about how he's become involved in an organization called Project Nuevo Mundo, which seeks to travel through Mexico and Central America, helping local villagers in various ways through sustainable projects.
I was moved by the project and managed to catch up with him this week to ask him a couple of questions about what Project Nuevo Mundo is and the incredible trip his team is planning for the near future, which they are currently raising money for.
1. What is Project Nuevo Mundo
Project Nuevo Mundo (PNM) is an emergent organization with the mission to build an on-the-ground permaculture network through providing regenerative technology, skills, labor, and professional media to festivals, impact centers, and communities within the United States, Mexico, and Central America.
Imagine an Earth Odyssey on each continent, building self-sufficient homesteads and villages from the ground up while training and empowering passionate individuals to make their own sustainability dreams come true.
2. How did you get involved in Project Nuevo Mundo? What made you decide to want to take this epic trip?
About a month ago, as fate would have it, my friend shared with me the announcement that PNM was accepting applications for econauts to comprise its inaugural "Earth Odyssey," so I applied, interviewed, and was elated when they asked me to be a part of the trip!
I've backpacked independently and with friends through Central America several times in the past few years and have absolutely fallen in love with the region, so when I saw this opportunity to explore the region with a mobile village of like-minded sustainability experts doing amazing work projects, I knew it was an opportunity of a lifetime.
3. Why Mexico and Central America?
One of the goals of PNM is to work together with indigenous tribes and visit villages where we can learn from these cultures, and perhaps teach them some helpful things that our team has picked up along the way.
And finally, there are so many communities and centers that have amazing life-serving initiatives in that region. Still, they could use resources to help get their projects off the ground or give them the extra publicity or support in other ways to take it to the next level of effectiveness.
4. Why did you choose to become involved in sustainable building and living?
I chose to become involved in permaculture and regenerative design because I was tired of observing our wildly disconnected world and hoping someone else would fix it.
I spent the last five years of my privileged life, traveling, partying, and consuming, and my soul was aching for something deeper and rooted.
I moved to Asheville, North Carolina, and dove deep into the most connected, hopeful work I have found thus far on the planet – Permaculture.
Now, my life has more meaning and inspiration in each day because I am practicing and sharing skills that are growing a new paradigm from the ground up.
It's exciting life-giving work that is continually evolving and fractaling into discoveries, and that's something I can do for the rest of my life!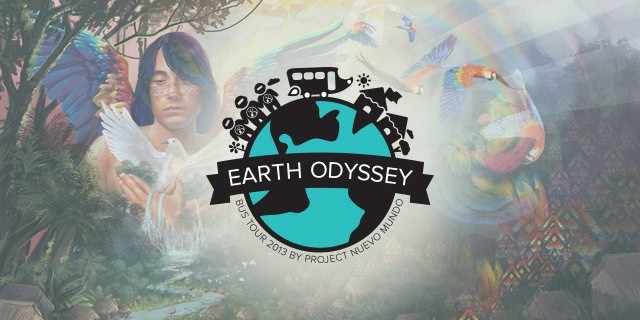 5. Tell us more about your fund-raising efforts for Project Nuevo Mundo on Indigogo (e.g., how can we donate, etc.)
The Earth Odyssey trip is relying on crowdsourcing to make it happen. The entire team of Econaut experts is donating their time for the cause.
We are in the final week of our campaign, so we'd be eternally grateful for any sized donation. Every dollar helps pay for the travel costs to do this work.
And if you are interested in becoming a future econaut, be sure to contact us:
Project Nuevo Mundo has so far raised nearly $10,000 of the $22,000 they need to make this epic trip happen.
You can check out their Indigogo project here: http://www.indiegogo.com/projects/project-nuevo-mundo-s-earth-odyssey
________
About the Author: Freddy Lansky wrote this post.
This post was written by a guest contributor. Please reference the author's byline in the post above for more information. If you would like to guest post on Go Backpacking, please read our submission guidelines. For information on advertising opportunities, go here.
Planning a trip? Go Backpacking recommends: