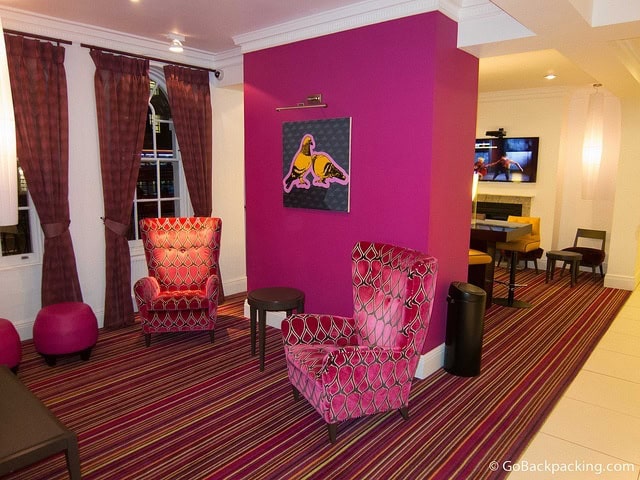 Large, boutique-style hostels are emerging as a tour de force in Europe's major cities.
My first experience with this new class of hostels, catering to backpackers with modern designs and facilities, was in Wombat's Hostel in Vienna.
I enjoyed the experience so much I immediately booked a few nights at the newer Wombat's Hostel in Budapest.
Around the same time, I, along with several other bloggers, was offered the chance to stay at Safestay Hostel in London while attending the annual World Travel Market expo.
When Marcello, who was coordinating things, mentioned Kash listed Safestay as one of Europe's top luxury hostels, I agreed immediately.
I'd met Kash at TBEX in Costa Brava and trusted his opinion, as well as Marcello's.
If they said it was a top-notch place, I had to check it out for myself.
Location
London is a humongous city, and one can find hostels scattered in the various neighborhoods.
Interestingly, Safestay occupies a building south of the Thames River, within a five-minute walk of the Elephant & Castle underground station.
When I later departed, I could catch a bus on the same block, straight to Victoria Coach Station (for my Megabus to Cardiff).
This isn't an area I'd usually have chosen, but the hostel was easy to find.
The underground station had direct access to the Northern and Bakerloo lines, so getting to major tourist sites, such as Trafalgar Square and the London Bridge, and my favorite part of the city, Picadilly Circus, was relatively easy.
The neighborhood itself felt very working-class and very diverse.
For example, when I met up with a Colombian friend, she mentioned going there specifically to get arepas, traditional food from Colombia.
I grabbed lunch in one of the Thai restaurants one day and noticed Caribbean ones.
Dorm Rooms
My stay was in an 8-person dorm made up of 4 bunk beds. Each of the beds featured a privacy curtain, which I've grown to appreciate.
While it's nice to have a little privacy, I've found their ability to block out light allows me to get a better night's sleep.
The mattresses were comfortable, as were the duvets.
Underneath the lower bunks were two metal cages, which you could roll out and use to lock up all your belongings.
There was an ensuite shower and toilet, both with sinks, in separate rooms.
The showers were of the push-button variety, though they were timed to allow about 20-30 seconds of water, which wasn't bad.
For a hostel as big as Safestay, I can understand the need to conserve water and keep the utility bill under control.
Common Areas
The first thing you notice upon walking into Safestay's lobby is the purple color scheme.
The reception desk looks more like that of a hotel than a hostel.
Off to the right are computers where you can pay for internet access, as well as a small sitting room with a flat-screen TV.
To the left are two additional sitting rooms, and another TV, with a wall partitioning them
. A few vending machines offer chips, candy, and drinks.
Going downstairs to the basement level brings you to the hostel's main common area.
This is the only area in the hostel where you can reliably access Wi-Fi.
It also features a small bar serving alcoholic drinks and simple sandwiches, a foosball table, and a pool table.
Unlike the Wombat's hostels, it was clear by Safestay's small bar that they were not trying to re-create a discotheque in the basement but instead offer a way for guests to order drinks and beers casually.
The décor is modern, comfortable, and colorful, like a scene out of Charlie and The Chocolate Factory.
Several large, flat-screen TVs play music or news throughout the day.
There's also a big outdoor patio, perfect for smokers and enjoying a few beers in the warmer months.
Internet
The Wi-Fi Internet access is the one area where I think the hostel could stand to improve.
Upon a long travel day from Venice, the only thing I wanted to do was sit down in the common room and get some work done. Unfortunately, I couldn't get a connection.
I asked another traveler with a laptop, and he mentioned that sometimes it's hard to connect, especially if many other people are already online.
Looking around, the common room had no more than a dozen people. I gave up on it that night.
The next day, when I ran into Marcello, he suggested that the staff reset one of the wireless routers hanging from the ceiling.
This worked, but I'd continue to experience slow connection speeds throughout my stay.
My advice to Safestay is to upgrade their Wi-Fi to better handle the load created by a more significant number of people accessing the internet at once.
I can understand why they don't have Wi-Fi access in the rooms, as that was the case in the other large hostels I've used, but it makes it all the more critical that the area where Wi-Fi is available can handle everyone who wants to access it.
Traveling around Europe, I've noticed almost everyone has Wi-Fi-enabled devices, whether a smartphone, iPad, Kindle, or laptop.
Making it as easy as possible for travelers to get a reliable internet connection can make a big difference in their experience at a hostel, especially those who work as they travel.
Breakfast
Breakfast is included, and I was pleased with what was on offer.
Every morning, I grabbed two croissants, a yogurt, milk and cereal, an orange juice, and either a coffee or hot chocolate.
Croissants are way better than regular bread, which most hostels rely on when offering free breakfasts.
On the weekend, the line at the coffee machine grew quite large, and a few of us wondered why they didn't turn on the second coffee machine to alleviate the wait.
Final Thoughts
After five nights, I left Safestay and London for Cardiff.
On my way from Cardiff to France, I spent an extra night in London and decided to stay at one of the more centrally located hostels for comparison's sake.
The one I picked was in the heart of Picadilly Circus. The location was excellent, but the interior décor was akin to a psychiatric ward in a horror movie.
Orange-painted walls and large, prison-style black numbers were painted on the doors.
It was one of the most depressing hostel environments I'd ever seen.
Breakfast wasn't included, and there was no Wi-Fi (I was told to visit one of the local cafes).
The showers were small, and I had to hang my clothes on hooks outside the curtain (requiring brief nudity to get dressed after drying off).
I didn't visit the upper-level lounge, but it gave me a glimpse of the older hostels that still operate in the city.
By comparison, Safestay Hostel was a Ritz Carlton, and any minor inconveniences I experienced were far outweighed by the colorful décor, friendly staff, and clean facilities.
Would I stay there again?
Definitely.
________
I was provided with a complimentary stay at Safestay to share my experience.
Dave is the Founder and Editor in Chief of Go Backpacking and Feastio. He's been to 66 countries and lived in Colombia and Peru. Read the full story of how he became a travel blogger.
Planning a trip? Go Backpacking recommends: