[T]he advice still rings in my head when I think about Huacachina.
"Make sure you go there and not Ica. Ica is ugly."
It was the reaction I got when I told some friends one of my destinations on my Peruvian vacation would be Ica, when I actually meant Huacachina, I just said Ica because it's the bigger city next door, just a 10-minute drive away, where you arrive and leave from the region.
I had already read about Huacachina, how it's a little town built around an oasis in the desert at the foothills of the sand dunes, that it's known for tourists taking a shot at sandboarding, and that was the reason I went.
Sandboarding in Huacachina made me think of snowboarding in the Sierra Nevada, a hobby of mine when I lived in Reno, to attend the University of Nevada. Lake Tahoe and its snow-capped mountains are only 45 minutes away from campus and we struck gold while we were in school.
Mount Rose began offering a promotion we couldn't refuse: a season pass for $199. For just a day of boarding or skiing, it cost $45. Go five times and get more than your money's worth.
We went, naturally, a lot more as the snow usually started to fall in early November and the lifts would start running shortly thereafter. I got pretty good on that board but after graduating in 2001, I never rode again.
Huacachina is my chance, I thought, to relive something great from my college days.
It wasn't the same — nothing can top those snowboarding days — but it was still fun.
I paid 40 soles (about $14) at my hostel and a dune buggy took us out to the dunes, each of us with a bright orange board that would be impossible to lose in the sandy surroundings of the town.
Here's where this experience was different: riding the board standing up was nearly impossible.
The boards had no bindings, the strong plastic fasteners that keep your feet and ankles secured to the board. They just had Velcro straps, and not very good ones.
They were worn from so much use.
You probably deduced immediately after reading that we had to find another way to ride.
What we did was lie flat on the board, on our stomachs, facing forward, holding the strong strap tightly. Then one of the guides would give you a little nudge and down you would go, building speed until you reached a flat area and inertia brought you to a stop.
I loved the feeling in your stomach as you gained speed, and soon enough, I wanted to faster, longer. Everyone did.
Everyone in the buggy — a couple from France, another from Sweden, an Irishman and his Peruvian girlfriend, and a couple of Colombians — made a competition out of it.
The first person to go would wait where they stopped, and each person who followed would try to beat their mark. I finished second on one dune, I think.
We didn't really care about winning, just about laughing, and the feeling you got in your stomach each time you raced down those dunes.
You got that seem feeling in the buggy, sometimes, because the driver would zoom over a dune and accelerate as we descended, and you felt like you were riding a third-world roller coaster, and you hoped it would never stop.
After two hours, with the sun beginning to slide behind the sand, we headed back to the town. We stopped at the dunes overlooking the oasis and the surrounding development, to take some pictures.
You could see Ica in the distance, but only the best cameras could depict it as a part of the pictures of the oasis and I suppose that's ok.
It doesn't seem like anyone intends Ica to be in their photo albums.
________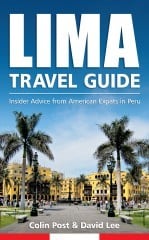 Dave's 160-page, all-original Lima Travel Guide is now available for Kindle and PDF.
Planning a trip? Go Backpacking recommends: