November 21, 1961 – Michael C. Rockefeller disappears off the coast of southwest New Guinea after his small catamaran capsized in rough waters.
Twenty-four hours later, he decides to leave the vessel and try and swim for shore.
His last words were, "I think I can make it."
He was never seen alive again.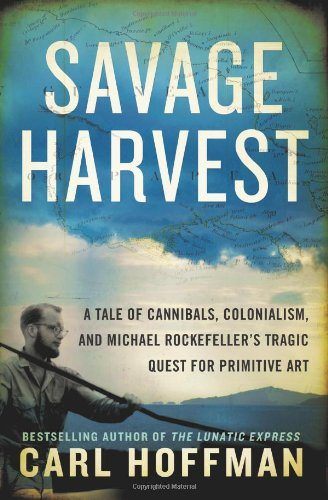 The official cause of death was drowning, and that's the explanation the family accepted, but there were rumors he met a much more gruesome fate at the hands of local Asmat tribesmen.
Not only that they killed him, but they cut him up and ate him too.
The detailed account of how this would be done kicks off the Savage Harvest.
But is this really what happened?
Carl Hoffman, the bestselling author of The Lunatic Express, embarks on an incredible journey through Dutch archival records and visits to the same villages Michael Rockefeller visited in his search for primitive art.
Along the way, he unravels the Asmat's spiritual beliefs, learns Indonesian, and befriends critical witnesses.
It's a fascinating story of how colonialism and religious missionaries began to change an indigenous people's way of life, slowly steering them away from their own ancient beliefs and toward The Bible.
The author tells parallel stories, alternating chapters from the late 1950s and early 1960s for historical context, with his modern-day journey to New Guinea in 2012.
As taboo as headhunting and cannibalism may be to us, when Hoffman puts these activities into the context of the Asmat's spiritual world, a world driven by cyclical violence and the need to create balance, they begin to make sense.
I had the chance to read an advance copy for this review and couldn't put it down once I got started. Read the first page, and I guarantee you'll be hooked too.
Savage Harvest goes on sale today, March 18, and is available on Amazon.
Dave is the Founder and Editor in Chief of Go Backpacking and Feastio. He's been to 66 countries and lived in Colombia and Peru. Read the full story of how he became a travel blogger.
Planning a trip? Go Backpacking recommends: