On my first visit to Cartagena in early 2009, I invited my new Peruvian friends to join me for lunch at La Cevicheria, the restaurant featured in Anthony Bourdain's "Colombia" episode of No Reservations.
Despite an address I found on the Travel Channel website and the company of two fluent Spanish speakers, we could not locate the restaurant on our own or by asking around.
Fast forward to mid-2010, and I have all the time in the world to the right this tragic foodie wrong.
Seeing how I'd already eaten at Brasarepa, the Envigado restaurant featured in the same episode, it was now a matter of pride that I tracked down La Cevicheria too.
This time, I got the address from the comfort of my hostel room, thanks to my laptop and solid Wi-Fi signal. Then, I identified the location via Google Maps on my BlackBerry Curve.
The restaurant is in the upscale San Diego neighborhood at the north end of old Cartagena. It was surprisingly easy to walk there from the iconic clock tower.
La Cevicheria is situated on a quiet little cobblestone side street. Three tables, taking up the combined width of a single parking space, are set up for al fresco dining each afternoon.
I took a seat at the middle table and began to decipher the menu, which was all in Spanish. A photo of Anthony Bourdain and the owner was featured on the back.
A Thai-American woman named Tania, and her Colombian boyfriend Daniel, who had seated themselves inside before I had arrived, came out to keep me company.
They were doctors working in the USA and spoke perfect English so that I could enjoy their conversation and the fresh seafood.
I went with the Peruvian ceviche of fish and shrimp, served alongside crispy plantains smothered in guacamole, a fresh salad of lime and tomato, and a small piece of corn on the cob.
The presentation showed attention to detail, and I dug right in.
I've had a bite of ceviche here and there before; however, this was the first time I ordered it as a main course.
The shrimp and whitefish were coated in lime-based juice.
As with sushi, I find eating raw seafood to be a unique experience that is often more about the pretty presentations and textures of the food than the actual flavors.
The portion size could easily have fed 2-3 people.
The price was about $20 based on the current exchange rate; including a glass of fresh orange juice, tip, and tax, the total bill was $27.
Satiated by my first authentic ceviche experience, I uploaded photos back at the hostel, only to find that my new 4-gigabyte SD card wasn't working.
As I wasn't about to write of this meal without photos (the photo of the Peruvian dish was taken with my BlackBerry), I deemed it necessary to return a few days later.
I took the same middle table outside. However, dark clouds were rolling over old Cartagena this time, and I knew my time outdoors would be limited.
I ordered the Mexican ceviche with shrimp, avocado, corn, and sour cream, served in a thick and tangy barbecue sauce accompanied by tortilla chips.
The dish might not look like much from the photo; however, there must've been 100 shrimp.
As a light rain began to fall, I held steady at my outdoor table, loading the tortillas with the sauce-coated shrimp.
Again, the serving size could satisfy 2-3 people, and despite my best efforts, I left a lot of good shrimp behind that rainy afternoon.
I love avocado, and it's a big part of why I chose the Mexican-style ceviche, so I was surprised that the dish was so rich in shrimp and severely lacking in avocado.
The small pieces were about the size of the corn kernels, meaning the sauce and shrimp greatly overshadowed them.
I also ordered a regional favorite, arroz con coco (rice with coconut). It, too, was delicious, and I only wish I'd eaten more of it while I was in Cartagena.
Eventually, the rain turned from a light sprinkle to a torrential downpour, and I escaped to La Cevicheria's interior dining area, which included an open kitchen and three small tables.
A framed photo of Anthony Bourdain and the owner hung on the wall, along with various seafood-oriented decorations.
I asked for more chips, as the shrimp ceviche was too rich to eat without them.
They weren't quite what I expected, tasting more like a light version of Doritos than a Mexican-style corn tortilla chip.
And I waited, and waited, for the rain to let up. By then, fully satisfied, I dreamt of sleeping off my second divine ceviche experience.
PS – I like to make jokes about Colombia's food being the one downside to living here; however, after enjoying several meals at La Cevicheria, I realized the cuisine is much more varied than the typical set lunches of soup, chicken/meat, and salads.
______
La Cevicheria – Calle Stuart #7 – 14, San Diego, Cartagena (in the north of the Old City, Calle 39, between Carrera 7 + 8. Landline phone: 5-664-5255. Cellular: 315-655-4120.
____________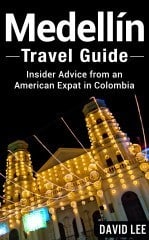 My 138-page, all-original Medellín Travel Guide is available for Kindle and PDF.
.
Dave is the Founder and Editor in Chief of Go Backpacking and Feastio. He's been to 66 countries and lived in Colombia and Peru. Read the full story of how he became a travel blogger.
Planning a trip? Go Backpacking recommends: