Thank you, Columbia, for sponsoring this post. While this was a sponsored opportunity from Columbia, all content and opinions expressed here are my own.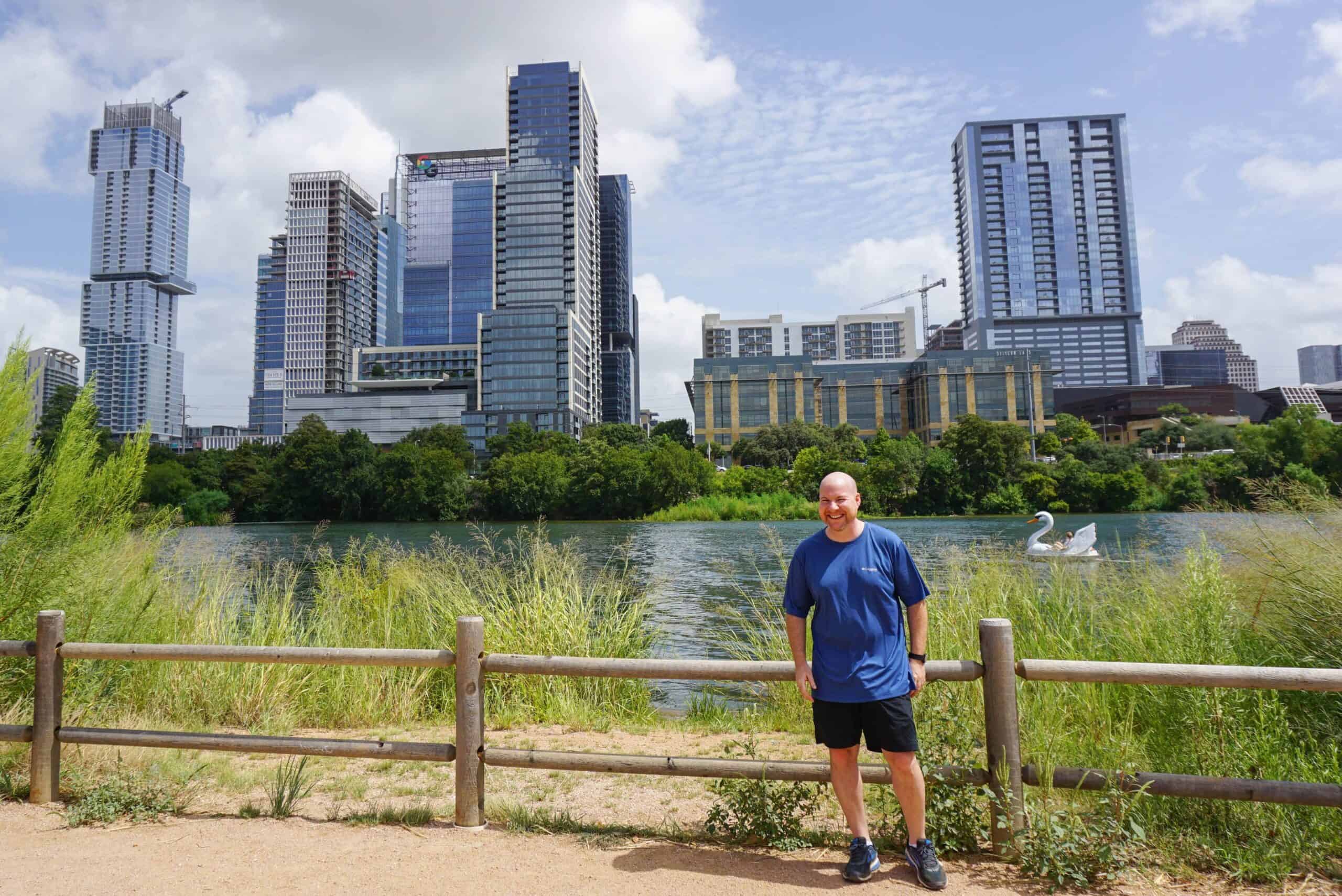 Since moving to downtown Austin, Texas, one of my greatest pleasures in 2016 is my walks around Ladybird Lake.
The hike and bike trail encircling the lake (technically a tributary of the Colorado River) is well-used by locals looking to get outdoors and exercise (or send their dogs jumping into the water to play fetch).
That summer in Austin starts early and ends late is an understatement.
Austin feels like it has little room for Spring or Fall, jumping straight to daily temps of 90+ degrees as early as May and lasting through September.
Heatwaves lasting a week or more with 100+ degree temps are typical.
August is peak heat in the Texas capital, so I welcomed it when Columbia offered me the opportunity to try some of their clothes to help me stay cool on the trail.
Columbia Sportswear
Performance Shirts
Columbia's website is easy to navigate, which allowed me to quickly hone in on what I was looking for — short sleeve athletic shirts that would keep me as cool as possible while offering protection from the intense Texas sun.
There were plenty of positive customer reviews for each item I ordered, giving me greater confidence that I made good choices.
My first pick was the Men's PFG Zero™ Rules Short Sleeve Shirt in vivid blue ($40, pictured above). Soft, lightweight, and with some stretch to it, I barely felt like I was wearing a shirt at all.
This shirt features Omni-Freeze™ ZERO, with little circles stitched into the fabric that works to wick moisture (i.e., sweat) away from your body.
That it's designed for fishing wasn't something that registered until I received it and saw "PFG (Performance Fishing Gear)" on the back.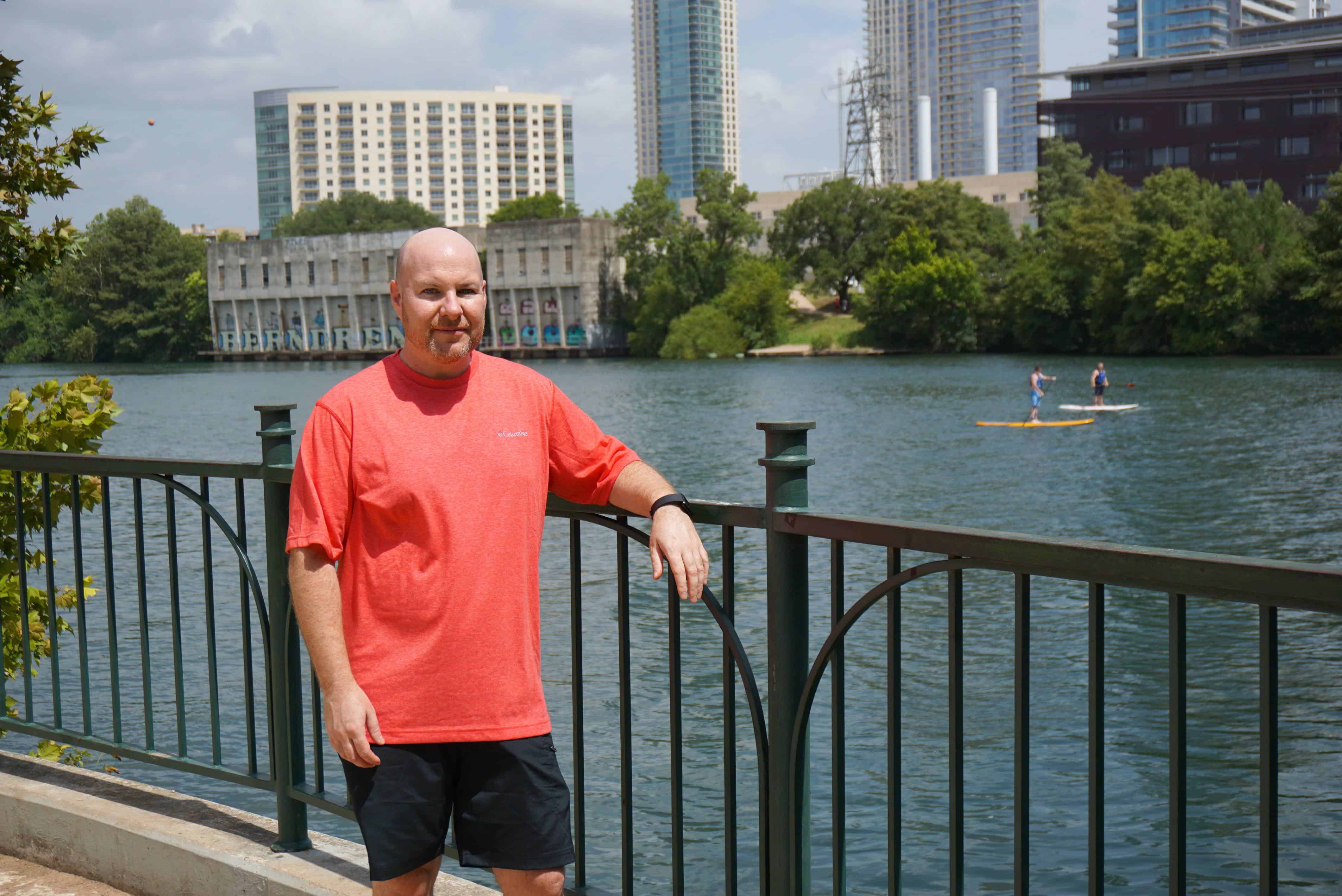 I also tried the Thistletown Park™ Crew ($19.99, pictured above) in a more bold color — red spark heather.
Unlike the PFG Zero™ Rules shirt, which is 100% polyester, the Thistletown crew is 67% polyester and 33% cotton.
It feels heavier, although not by much, and still features moisture-wicking and sun protection.
Both shirts feel plenty comfortable in the 90-degree heat.
One mistake I made in ordering was choosing large. I'm 5'8″ and 175lbs, and both shirts were too big on me. Medium would fit me better.
Lightweight Hiking Shorts
Thankfully I got the correct size for the shorts I picked, the Silver Ridge Stretch™ Short ($50, black, 34″ waist, 8″ inseam).
Working from home, I don't always want to wear regular street clothes if I'm not planning to leave my apartment, so I wore these at home for a few days before taking them outdoors.
They're incredibly lightweight and comfortable.
On the trail around Ladybird Lake, in peak Austin heat, they were just as enjoyable.
They look great, and the fit is perfect. The shorts have some stretch to them, allowing freedom of movement.
There are two front pockets and two rear pockets, with a fifth on the left leg that has a zipper closure.
This is a feature I'd use if I were hiking or climbing and wanted to make sure my wallet or keys didn't slip out.
Plus, they've got a water-repellant tech (which I have yet to test in a rainstorm) and UPF 50 sun protection.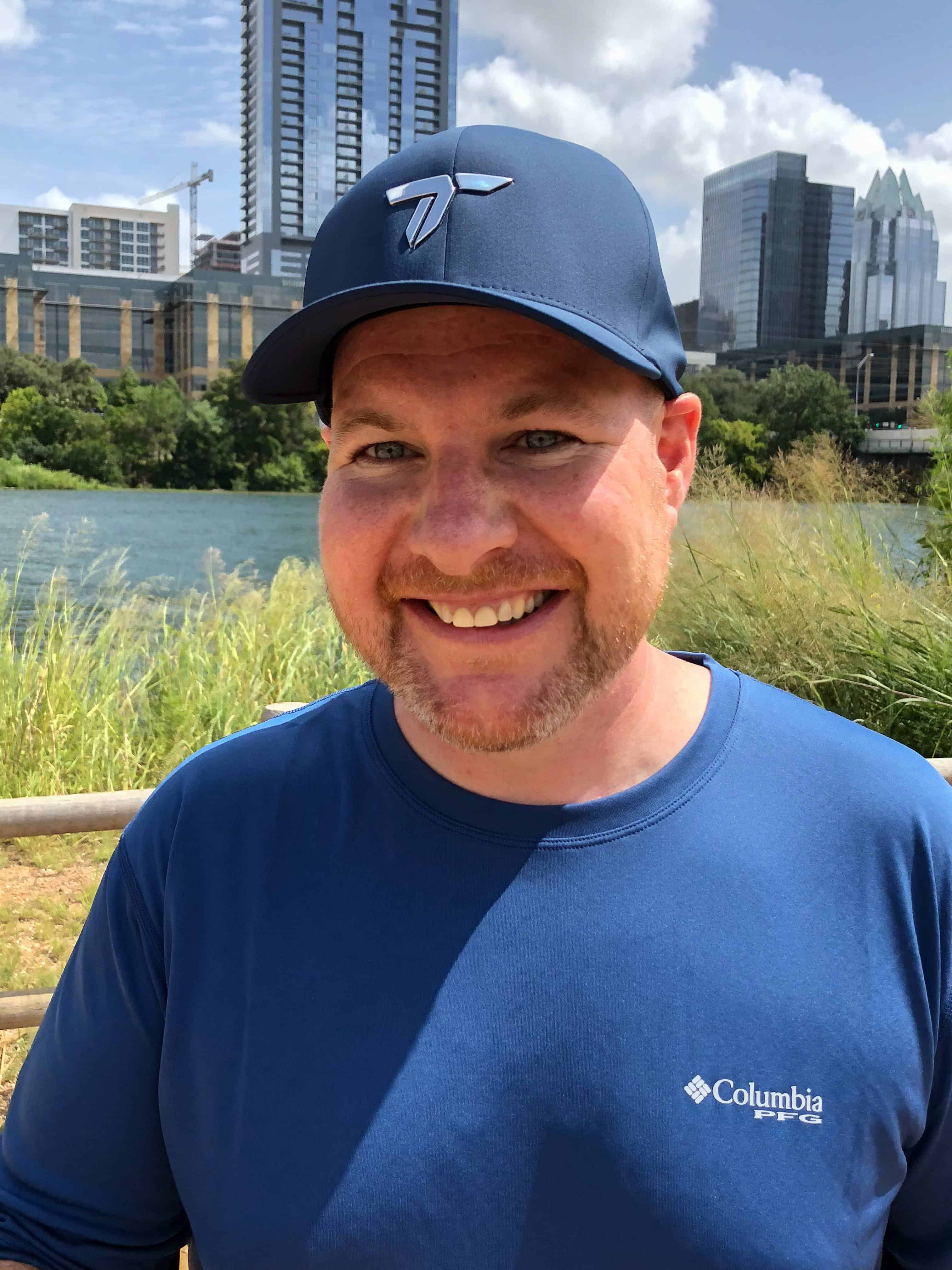 Hat and Socks
To round out my order, I picked up a Titan Peak™ Ball Cap ($24.90, size large, color: carbon) and a 3-pack of no-show white socks ($10.99).
For the last few years, I've worn traditional baseball caps on my walks, and they inevitably get sweat stains pretty quickly, leading to discoloring and generally making the hats look rather ugly in a short time.
The heavier material they're made of also makes me feel hotter when my goal is the opposite.
What attracted me to the Titan Peak hat, precisely, was the stain block technology that is supposed to diffuse sweat through the underside of the visor, thereby preventing stains on top.
I haven't used the hat long enough to say for sure whether this works as it should. However, we still have a few more months of summer in Austin, so I'll find out soon enough.
One minor design change I'd like to see is a change to the glossy "T" logo on the hat, as it doesn't hold any significance to me or anyone who'd see me in the hat.
If anything, I'd rather have a small, simple "Columbia" logo in the same color fabric as the rest of the hat. But that's a minor thing.
Summary
I've adopted the PFG Zero™ Rules Shirt, Silver Ridge Stretch™ Shorts, and Titan Peak™ as my new walking outfit as they're noticeably more comfortable than what I'd been using before.
Plus, they'd work just as well for kayaking on the lake.
As they're all lightweight and easily packable, I wouldn't hesitate to take any or all three items on my next trip abroad either.
Like what you see? It's easy to save with Columbia as they offer free shipping all the time.
Sign up with the Columbia Greater Rewards loyalty program to earn points for every purchase, receive free shipping on every order, and benefit from member-only offers.
And don't forget to check out what's on sale now! And, receive even deeper discounts on select Columbia styles here with code: COLBACK2SCHOOL through 8/28/2018.
___
*This article includes affiliate links. If you click and make a purchase, we may receive a small commission, which allows us to continue providing helpful travel stories.
Dave is the Founder and Editor in Chief of Go Backpacking and Feastio. He's been to 66 countries and lived in Colombia and Peru. Read the full story of how he became a travel blogger.
Planning a trip? Go Backpacking recommends: