Chengdu, capital of the Sichuan province and home to over 10 million people, offers visitors a wealth of things to do.
From visiting big, cuddly panda bears to watching fire-breathing performers at the Sichuan Opera and wandering the grounds of ancient monasteries and temples, there's something for everyone.
While I flew to Chengdu from Shenzhen, near the coast, on my own, it's also possible to book China tours from Hong Kong if you'd like extra support.
Below are my top five things to do in Chengdu, based on my two weeks in the city.
1. Chengdu Research Base of Giant Panda Breeding
The #1 ranked activity on TripAdvisor, and a perennial favorite amongst all travelers to Chengdu, is a visit to the Giant Panda Research Base.
Founded in 1987 with a mere six giant pandas rescued from the wild, the successful breeding program produced 124 panda births within the first 20 years, and it's still going strong.
Our goals are to be a world-class research facility, conservation education center, and international educational tourism destination. — Chengdu Research Base
The Research Base is open all year, from 8 am to 6 pm daily.
The best time to visit is in the morning, between 8:30 am to 10 am when the pandas are fed.
This is when they're most active. You'll be able to see adults, adolescents, and cute little panda cubs too.
2. Sichuan Opera
My friend Charlie, with whom I stayed in Chengdu, insisted I go to the Sichuan Opera.
On my last night in the city, I attended a performance and was blown away.
It's not an opera in the traditional sense, but a variety show which exposes those in the audience to a series of performances, from the musical and acrobatic to comedy and a climactic fire-breathing finale.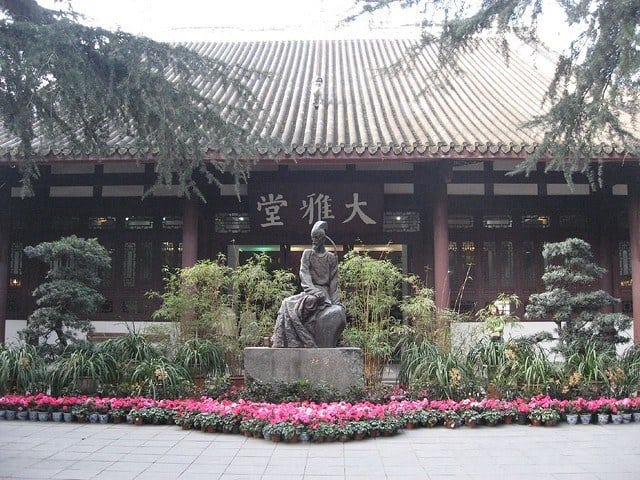 3. Du Fu's Cottage
Du Fu was an ancient Chinese poet who moved to Chengdu in the mid-8th Century to escape the An-Shi Rebellion.
He set up a thatched cottage and proceeded to produce over 240 poems during the following four years.
Today, the cottage and associated museum stand as a testament to his spirit and contributions to Chinese literature.
My experience walking around the grounds on my own was a pleasant and relaxing one.
The grounds are beautifully manicured, and the pathways are filled with bonsai trees.
4. Jinli Pedestrian Street
The Jinli Pedestrian Street is lined with tea shops, souvenir stalls, and places to fill your belly with traditional Sichuan foods.
On my visit one early evening, I stopped at a restaurant to sample two exotic dishes: pig's tail served with spicy ground pepper and chicken gizzards.
I was a fan of the first, but not the second.
Despite the design attempts to make the street look like an ancient alleyway, there was no escaping the glow of a green and white Starbucks coffee sign.
5. People's Park
The People's Park is a massive urban park where locals go about their daily life.
For foreign visitors, it offers a fascinating glimpse into a different way of life.
Large groups of locals can be seen doing group aerobics classes. Performers sing and dance to large crowds.
And then there's the beauty of the gardens and flowers.
I arrived at the start of Spring, as cherry blossoms and other flowers were slowly starting to bloom and bring bright natural colors back to the park.
I also found a tea stall on the edge of a pond and treated myself to a green tea with flower blossoms.
Served along with a giant thermos of hot water, it felt like I had all the time in the world to sit back, relax, and observe everyone around me.
Honorable Mentions
These were my favorite experiences, but there was much more to my visit.
Other highlights included:
Eating late night "Hot Pot"
Shopping for tea, and experiencing the tea tasting ceremonies
Visiting the Little Tibet neighborhood
China has so much to offer, and I realize my two weeks in Chengdu were the tip of a monumental iceberg.
For those unsure about visiting on their own, consider China tour packages to get you the support you need to make your visit a reality.
_______
This post was brought to you by China Tours Tailor.
Dave is the Founder and Editor in Chief of Go Backpacking and Feastio. He's been to 66 countries and lived in Colombia and Peru. Read the full story of how he became a travel blogger.
Planning a trip? Go Backpacking recommends: