If you want to maximize your time in San Francisco and visit three iconic Northern California places in one day, consider the Alcatraz with Muir Woods and Sausalito tour Viator offers. On a recent trip to San Francisco, I took this tour and found it to be an excellent use of my limited time.
The adventure begins with a quick stop for photos at the Golden Gate Bridge, a marvel of engineering and a symbol of the city. From there, you'll continue to Muir Woods National Monument to walk among some of the oldest and tallest redwood trees, experiencing the natural beauty of this protected forest.
Lunch is spent in Sausalito, a charming coastal town offering casual dining options. The tour concludes with an epic visit to Alcatraz Island, accessible by a short ferry ride from the city. The self-guided tours of this former prison offer a fascinating and immersive experience.
Now that I've shared the highlights, I'd like to share more about each activity on Viator's tour.
San Francisco Bay Area Tour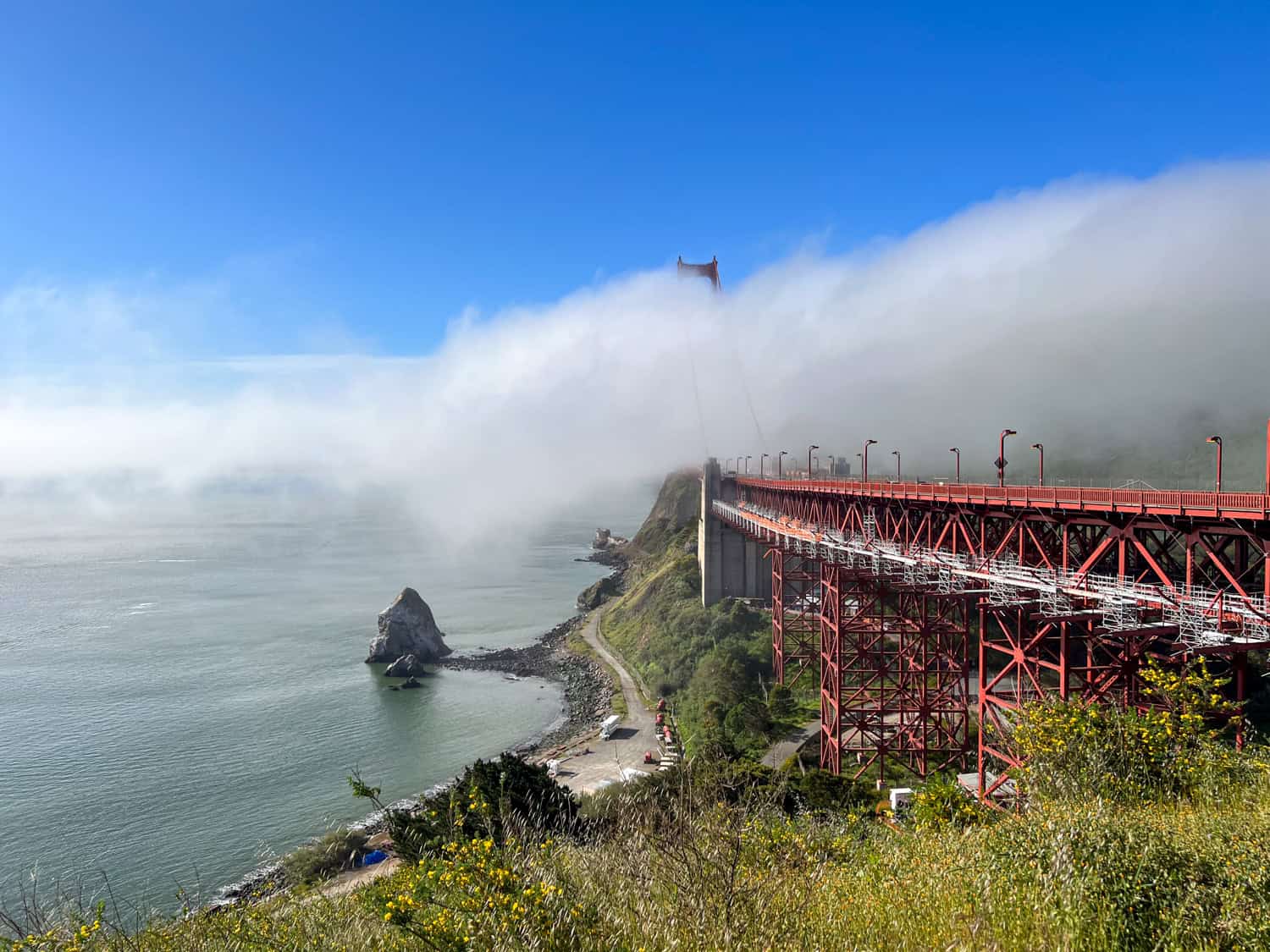 The small group tour began around 8:15 a.m. when we checked in with our guide and van driver at the meeting point in the Union Square area in downtown San Francisco. Departure time was 8:30 a.m. sharp.
After quick introductions, we drove northwest to the Golden Gate Bridge. Our first stop was the Palace of Fine Arts for a photo. The Greco-Roman palace is visually attractive, and I'm glad we got out of the luxury tour van there, even if we didn't have time to walk around it.
We continued across the fog-covered Golden Gate Bridge to the H. Dana Bowers Rest Area & Vista Point. A few years earlier, I visited San Francisco briefly before a vacation in Oahu and saw the bridge from the south side. This was my first time seeing it from the north.
It was about a 20-minute drive from the Golden Gate Bridge to the parking lot at Muir Woods.
Muir Woods National Monument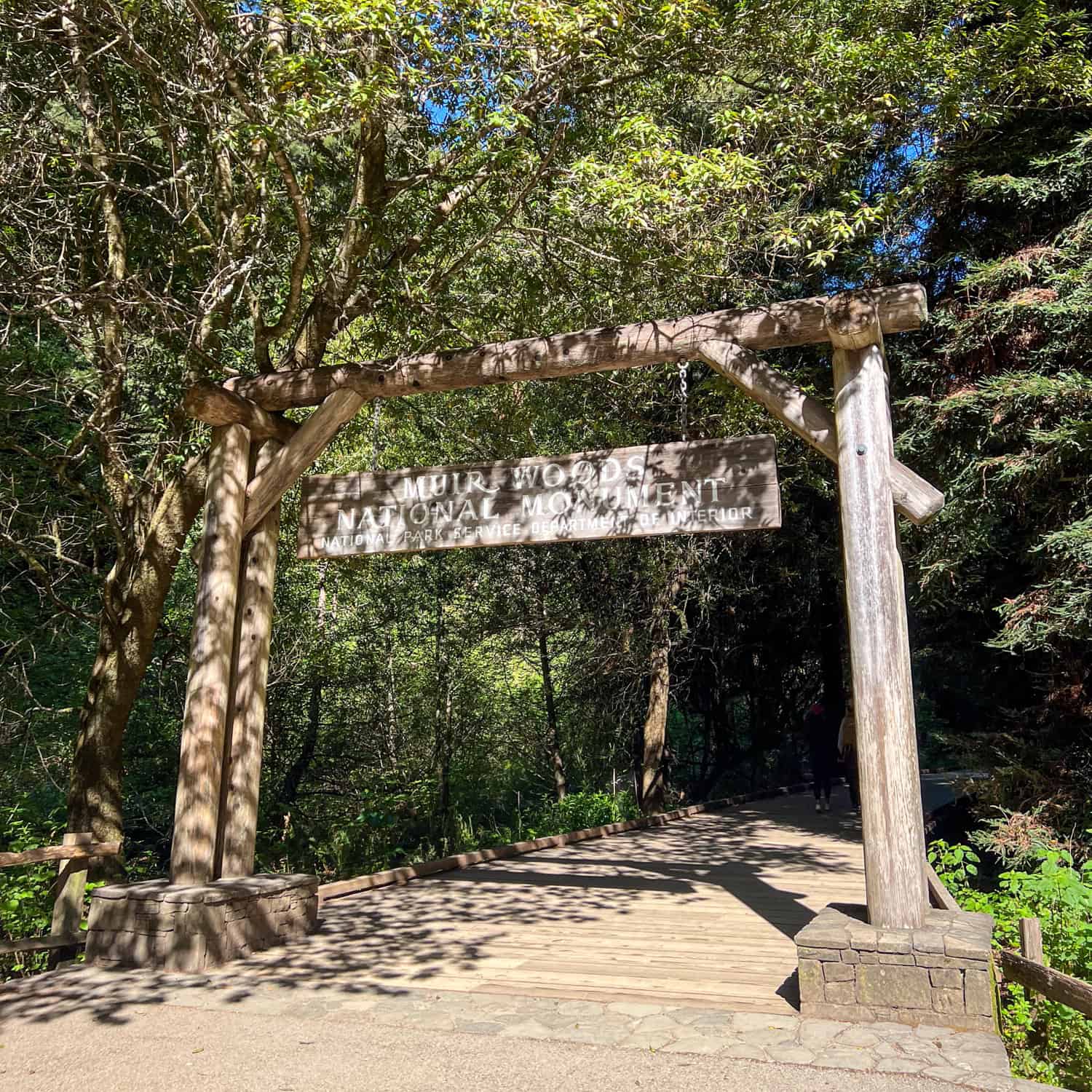 Muir Woods National Monument, located about 12 miles north of San Francisco, is a stunning forest reserve home to towering coast redwood trees. President Theodore Roosevelt designated the area as a national monument on January 9, 1908.
The name pays homage to John Muir, a naturalist and environmental philosopher who was instrumental in establishing the National Parks system in the United States.
Walking among California's redwoods has been high on my agenda for years. Seeing these grand, centuries-old trees increasingly threatened by the intense wildfires brought on by global warming turned this activity from "wouldn't it be nice" to "I must see this natural wonder before it's gone."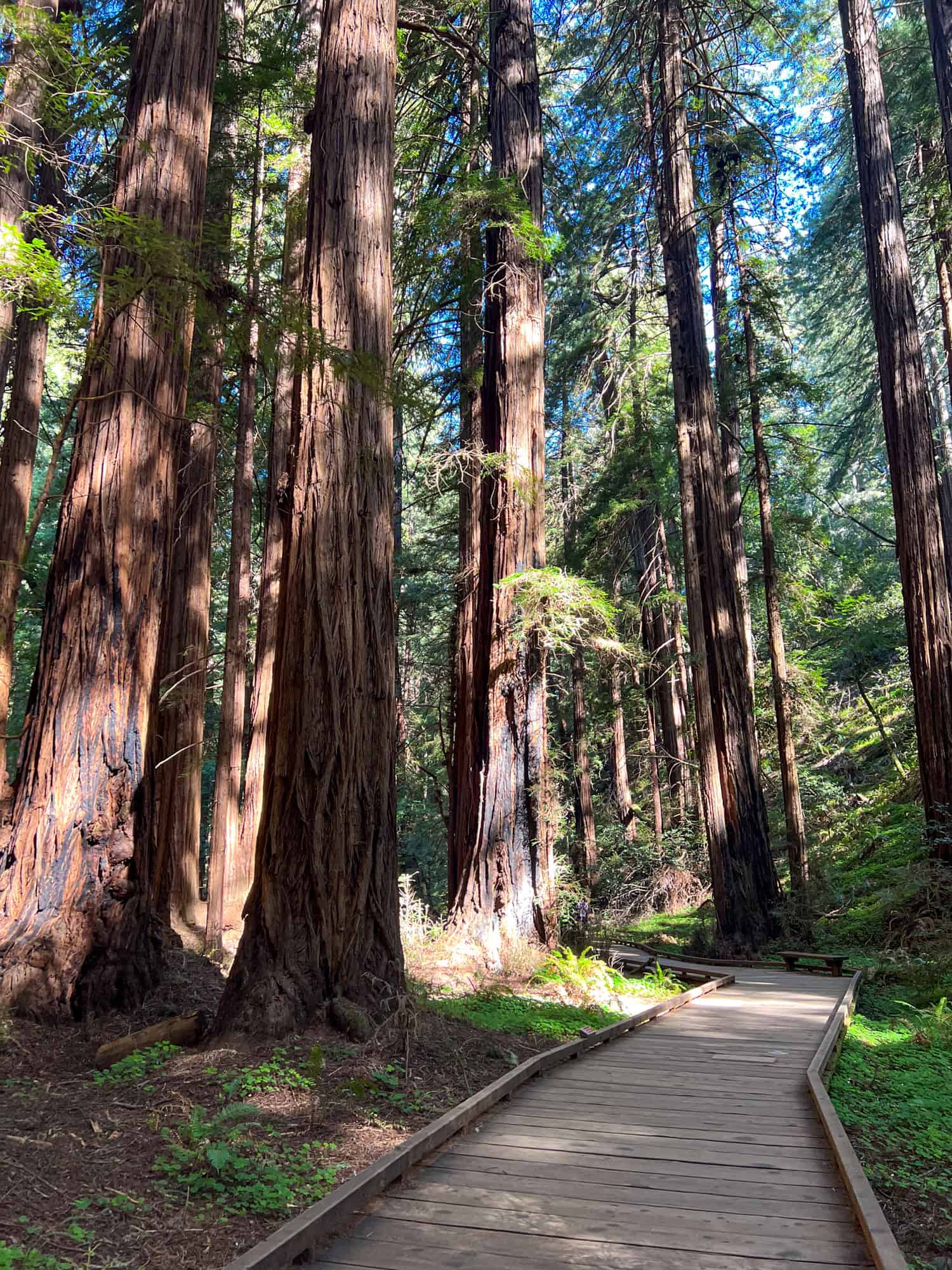 My Experience
So it was with that sense of urgency that I walked through the entrance gate to Muir Woods National Monument with another gentleman I'd been chatting with on the van. We were given 60 minutes of free time to wander the park's trails at our own pace.
The hour afforded us enough time to walk the Redwood Creek Trail to Bridge 4 and return along the Hillside Trail and Bohemian Trail. According to a National Park Service map, this route is two miles long and takes about 90 minutes.
Along the way north to Bridge 4, we walked through the soaring redwoods of the Founders Grove and Cathedral Grove. It was my first time being among these giants, and I was awe-struck by their enormity.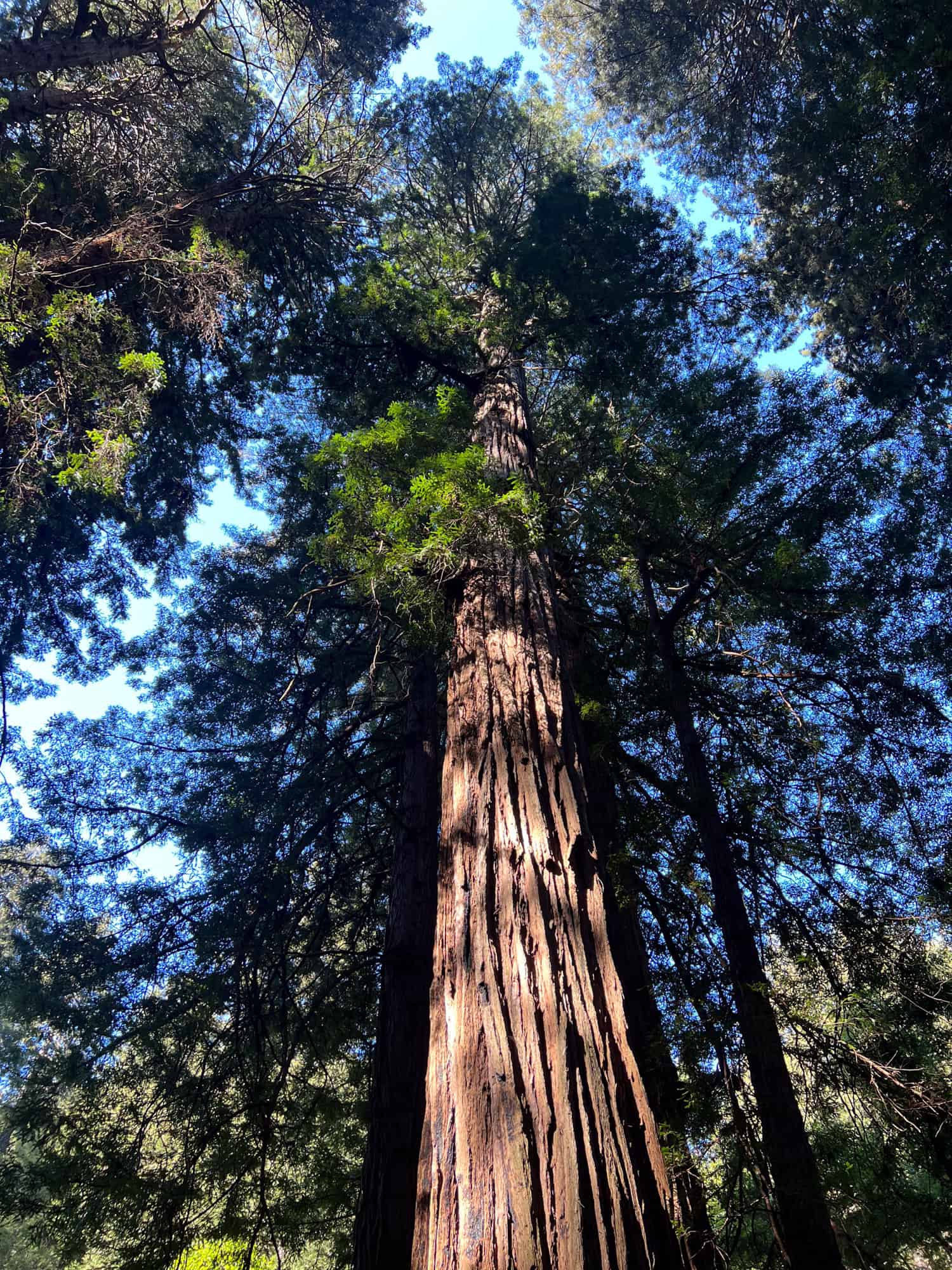 These giants are not just tall but ancient—some are over 800 years old. Interestingly, coast redwoods can grow over 370 feet tall, making them the tallest trees on Earth. But they also have a shallow root system, often only 6 to 12 feet deep.
These trees are incredibly resilient and can live for more than 2,000 years. Their bark contains tannic acids, which make them resistant to fire, insects, and disease.
Unfortunately for the redwoods, the increasing intensity of the wildfires burning in the 21st century put them at greater risk than wildfires of the past.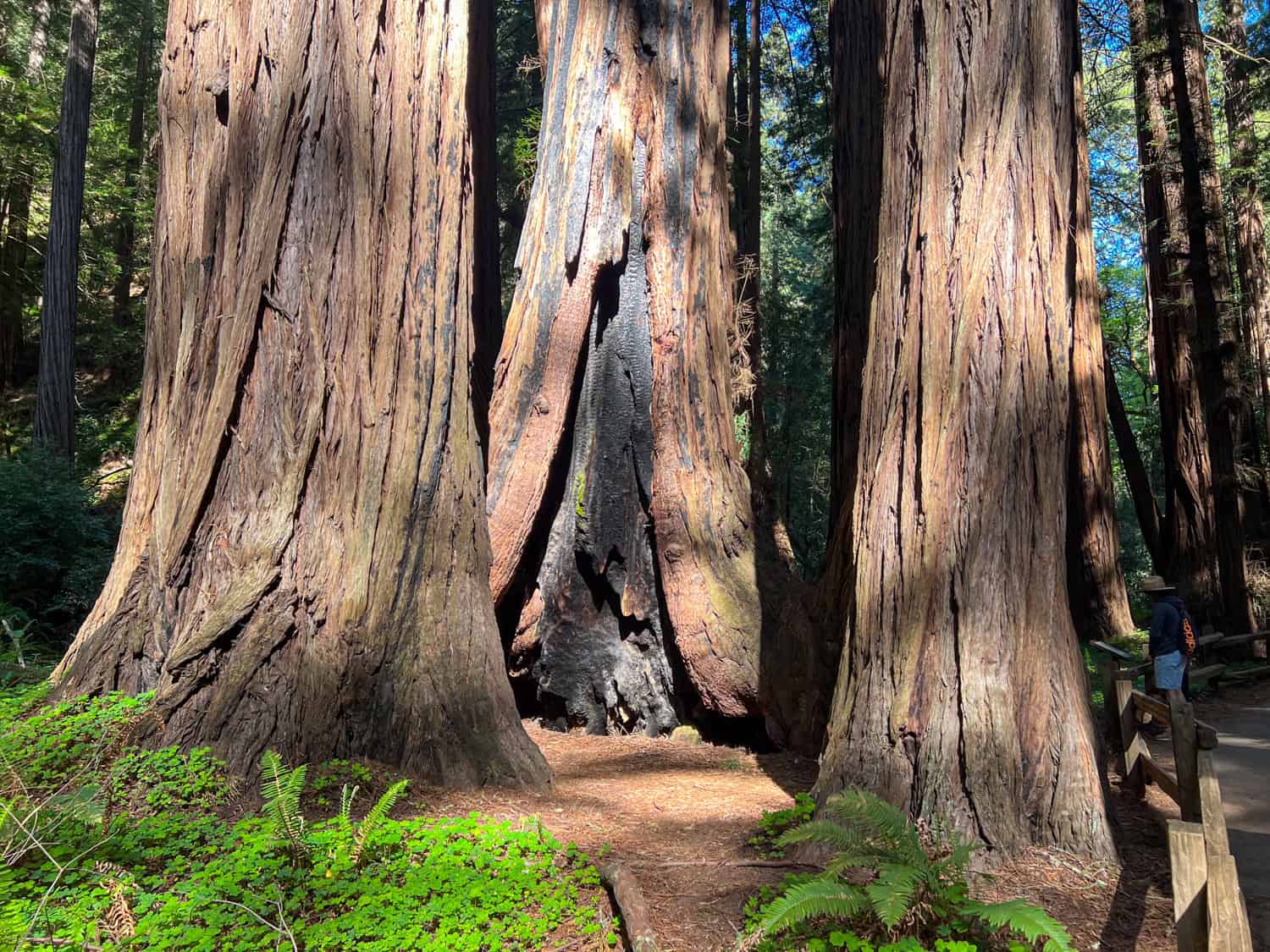 Reaching Maturity
The term "mature" can be relative when discussing coast redwoods, given that these trees can live for over 2,000 years. However, coast redwoods are generally considered mature when they reach about 50 to 100 years old.
By this age, they have typically achieved a substantial height and have a well-developed root system that allows them to access the water and nutrients they need for growth. They also begin to produce cones that contain seeds for reproduction around this age.
It's worth noting that these trees can grow quite rapidly under the right conditions. In optimal environments, coast redwoods have been known to grow up to two feet per year, especially during their earlier years.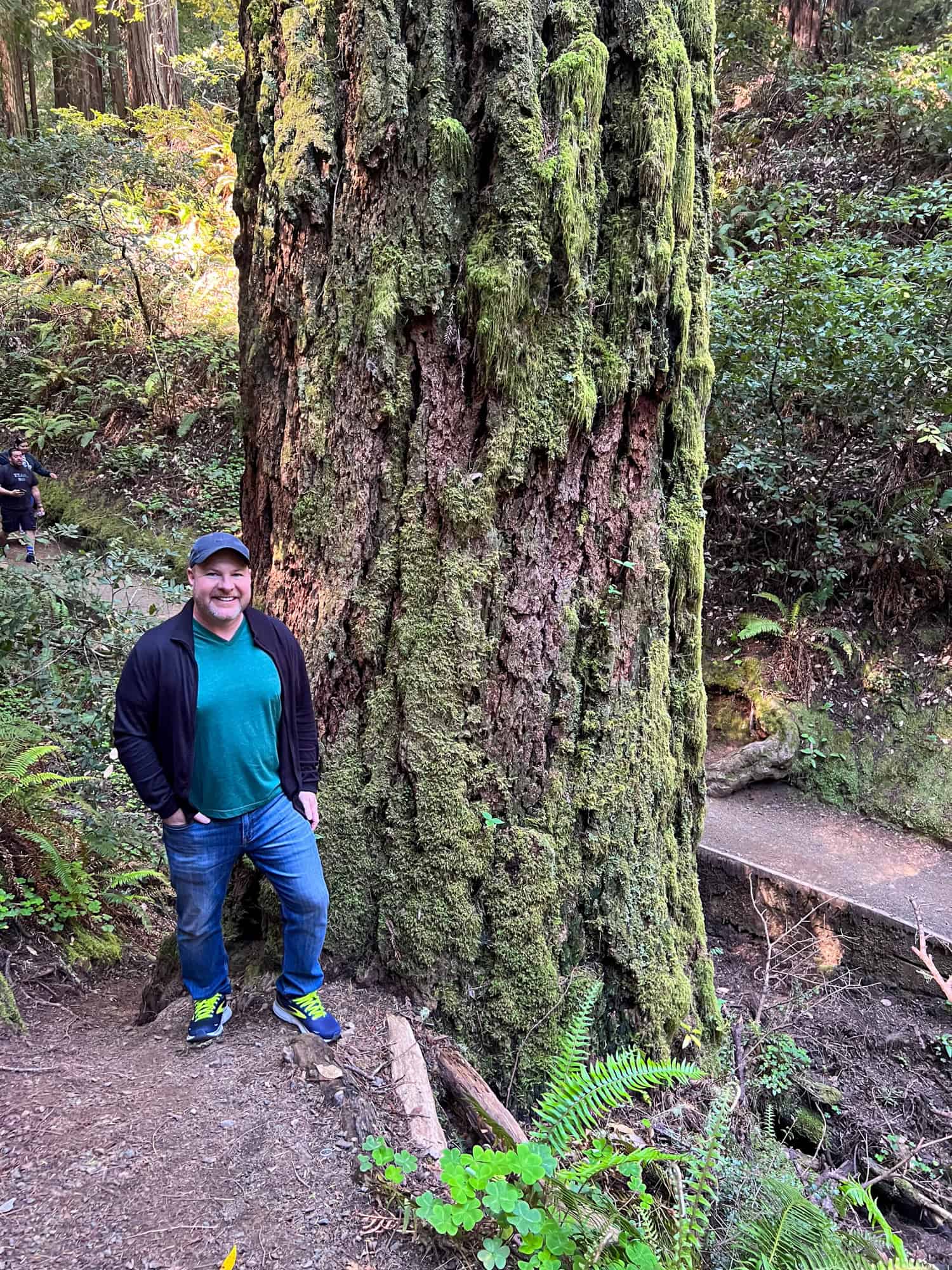 So, while they may take many decades to mature fully, their impressive height can be achieved relatively quickly in their life span.
I hope everyone who reads this story can experience the serenity offered by a walk through Muir Woods in the presence of these remarkable trees.
The 8-mile drive south to Sausalito for lunch took about 25 minutes.
Sausalito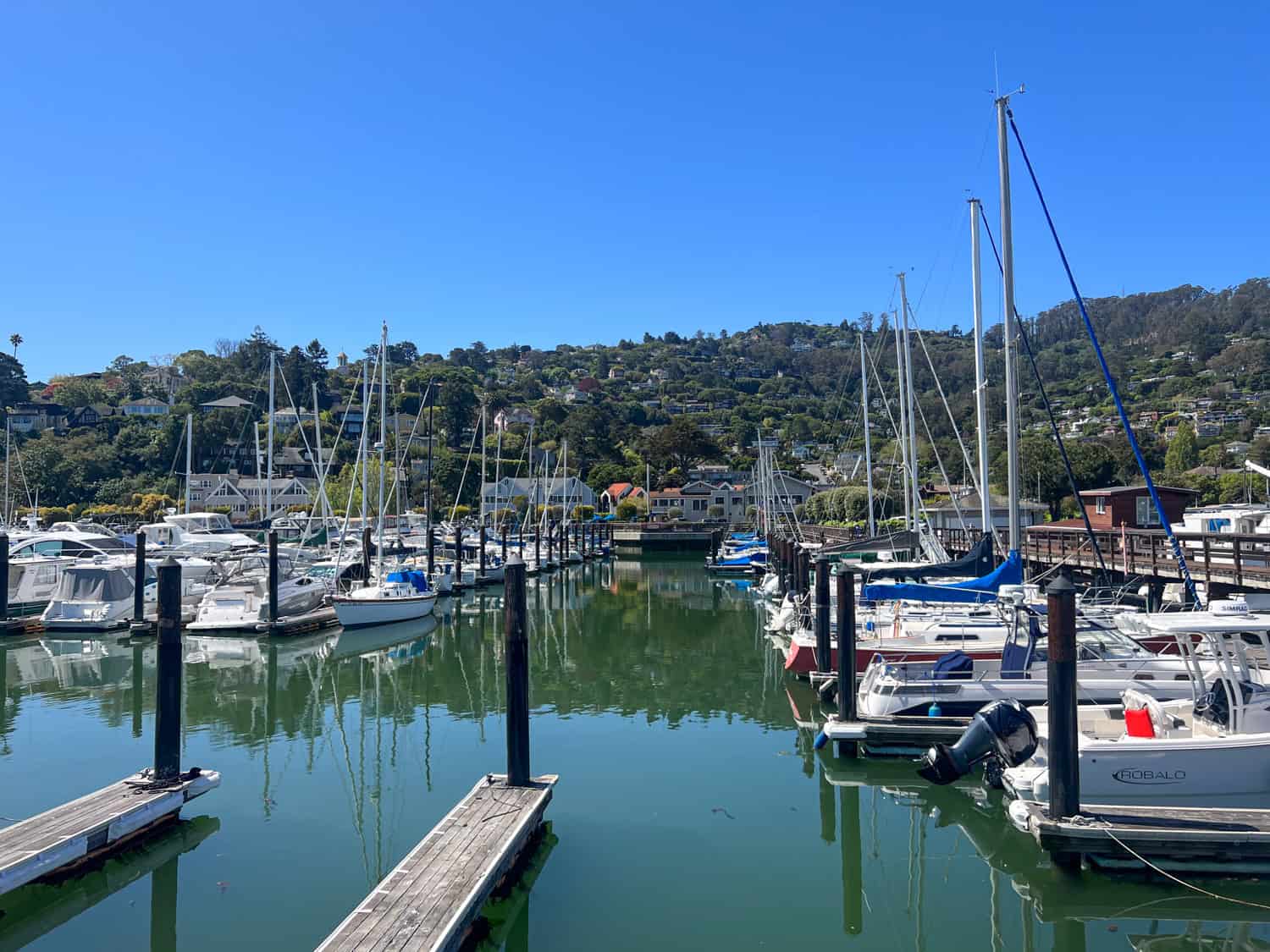 Sausalito is a picturesque seaside town in Marin County, across the Golden Gate Strait from San Francisco. Known for its Mediterranean-like climate and laid-back atmosphere, the town offers a charming respite from big city life.
Nestled between steep, rolling hills and the calm waters of Richardson Bay, Sausalito has long been a refuge for artists, sailors, and those looking to escape the urban grind.
Houseboats are particularly popular here, though the costs to own and maintain them have risen sharply in the last decade. Today, they're more likely to be owned by tech entrepreneurs than artists.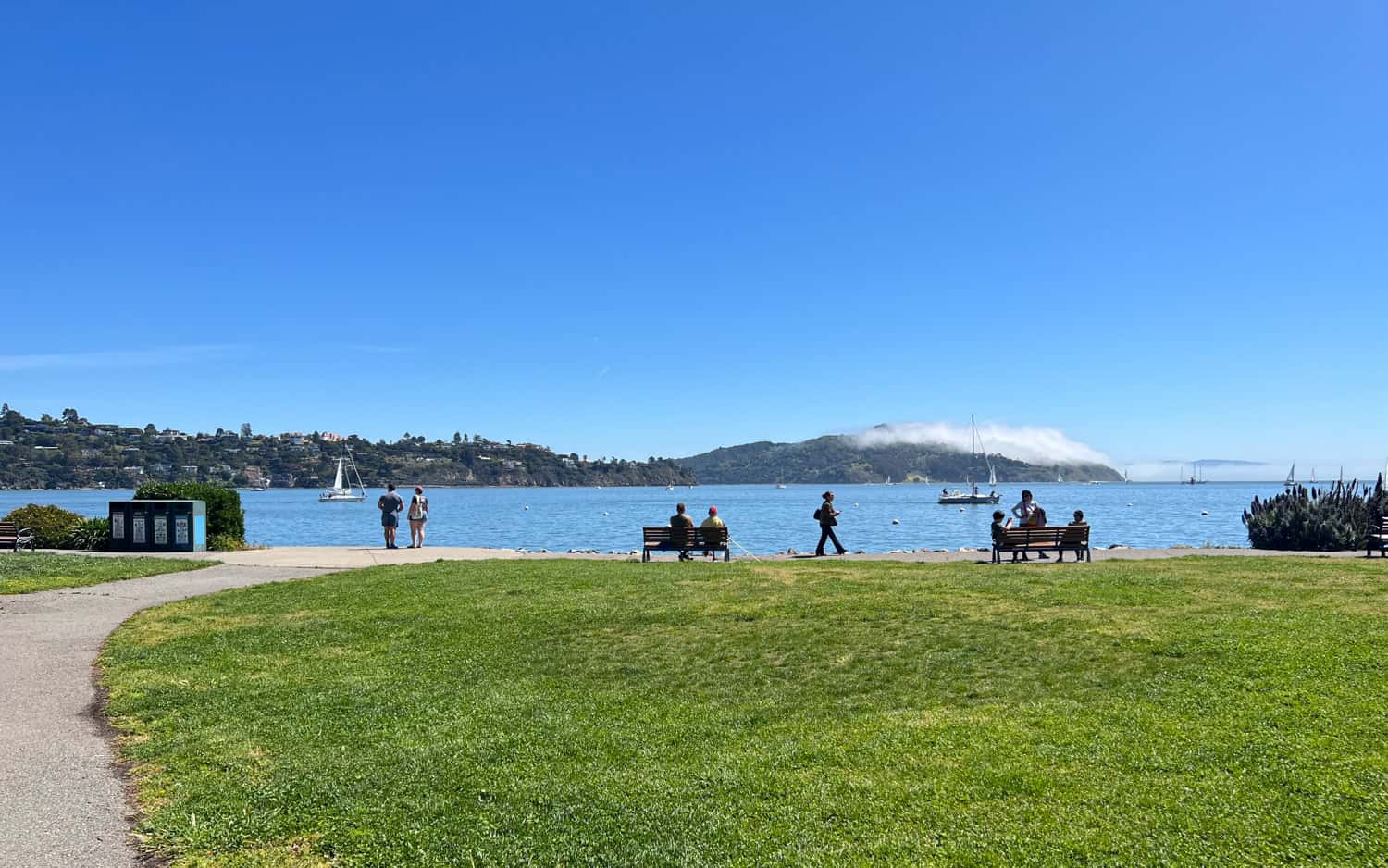 The waterfront is lined with boutique shops, art galleries, and various dining options ranging from casual eateries to upscale restaurants.
The Apple TV+ series The Last Thing He Told Me, starring Jennifer Garner, was set and partially filmed in Sausalito.
After quickly walking along the Boardwalk to look at the sailboats, I returned to the town center to find food. The itinerary for the Alcatraz with Muir Woods and Sausalito tour afforded us one hour for lunch at our own leisure, but it's less than that if you want to have time to walk around as well.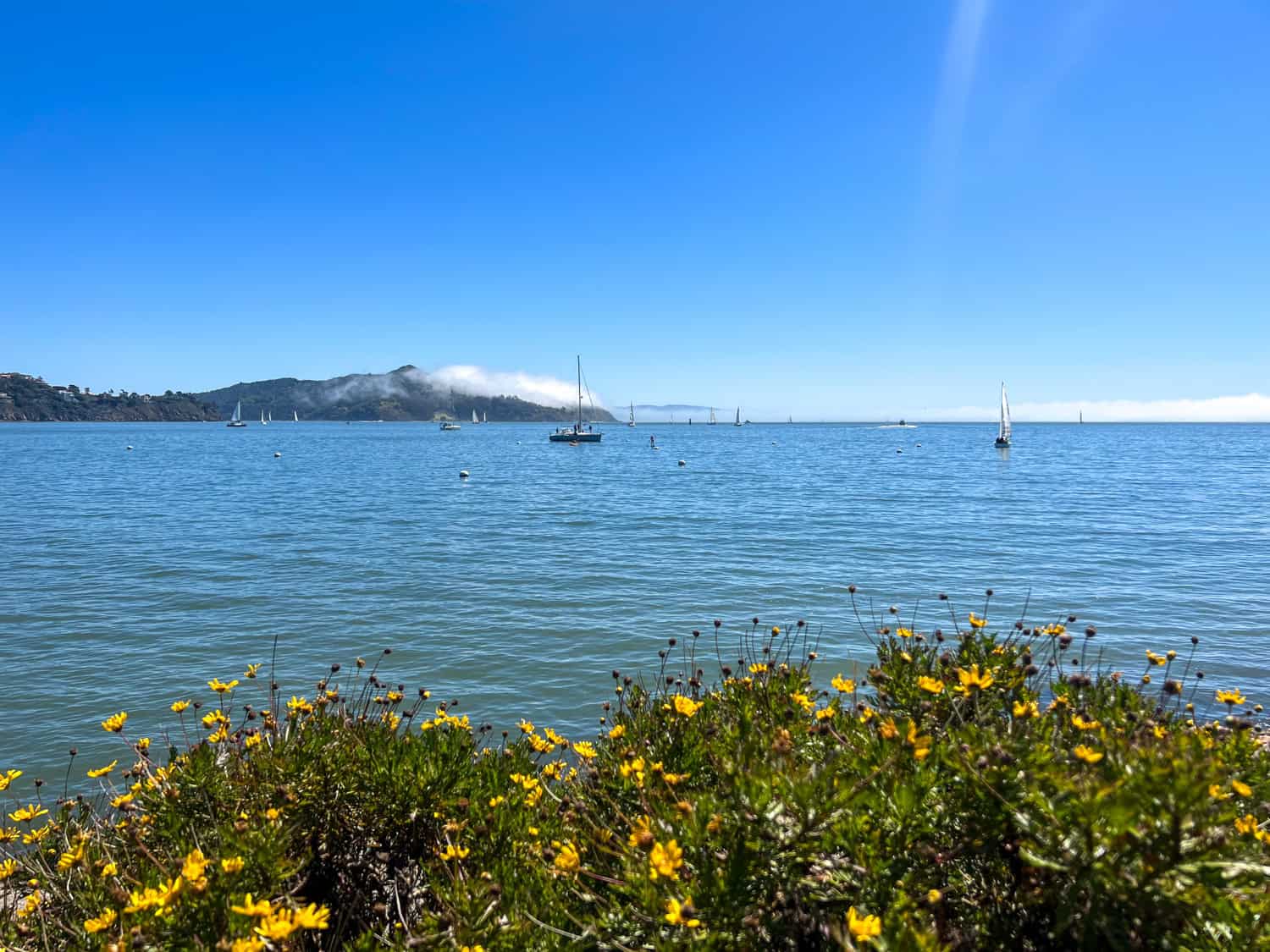 I settled on the Napa Valley Burger Company, which served me a delicious burger in less than 20 minutes. The total cost, including tax and tip, was about $25.
Afterward, I walked across the street to Lappert's Ice Cream for a scoop of creamy mocha chocolate chip ice cream.
It took us about 30 minutes to drive the nine miles from the quaint town of Sausalito to Pier 33 for our afternoon adventure.
Alcatraz Island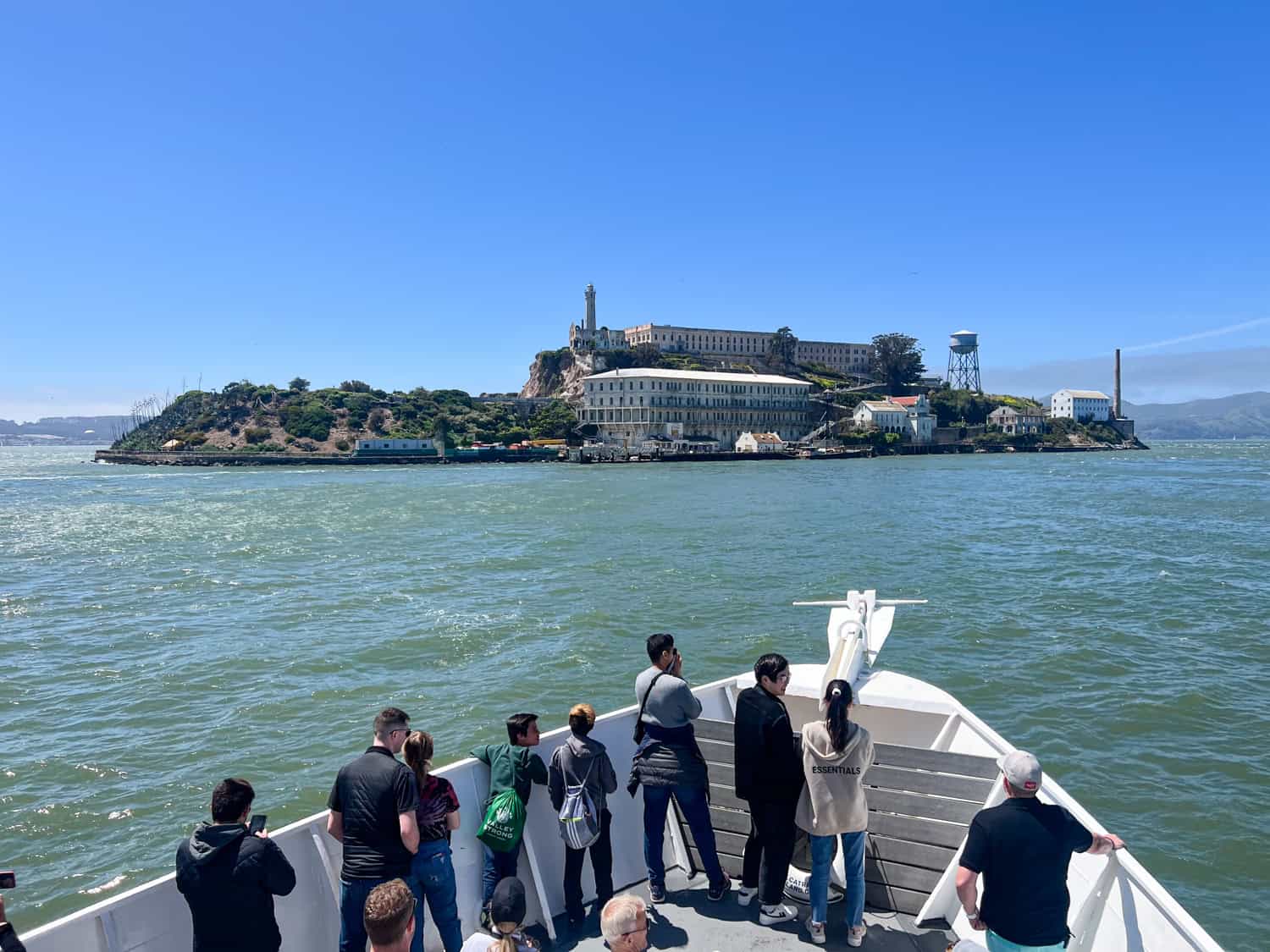 Once our tour guide/van driver dropped us off at Pier 33 on the Embarcadero with instructions on boarding the 1:05 p.m. ferry to Alcatraz Island using our electronic Alcatraz tickets, we were on our own.
Our third and final experience of the tour was also the longest. I spent 2.5 hours total; however, you could choose your return ferry, so those who wanted to spend more time on the island had that option.
Alcatraz Island, located in San Francisco Bay, is an American landmark steeped in history. Often referred to simply as "The Rock," the island is most notorious for its federal prison, which operated from 1934 to 1963.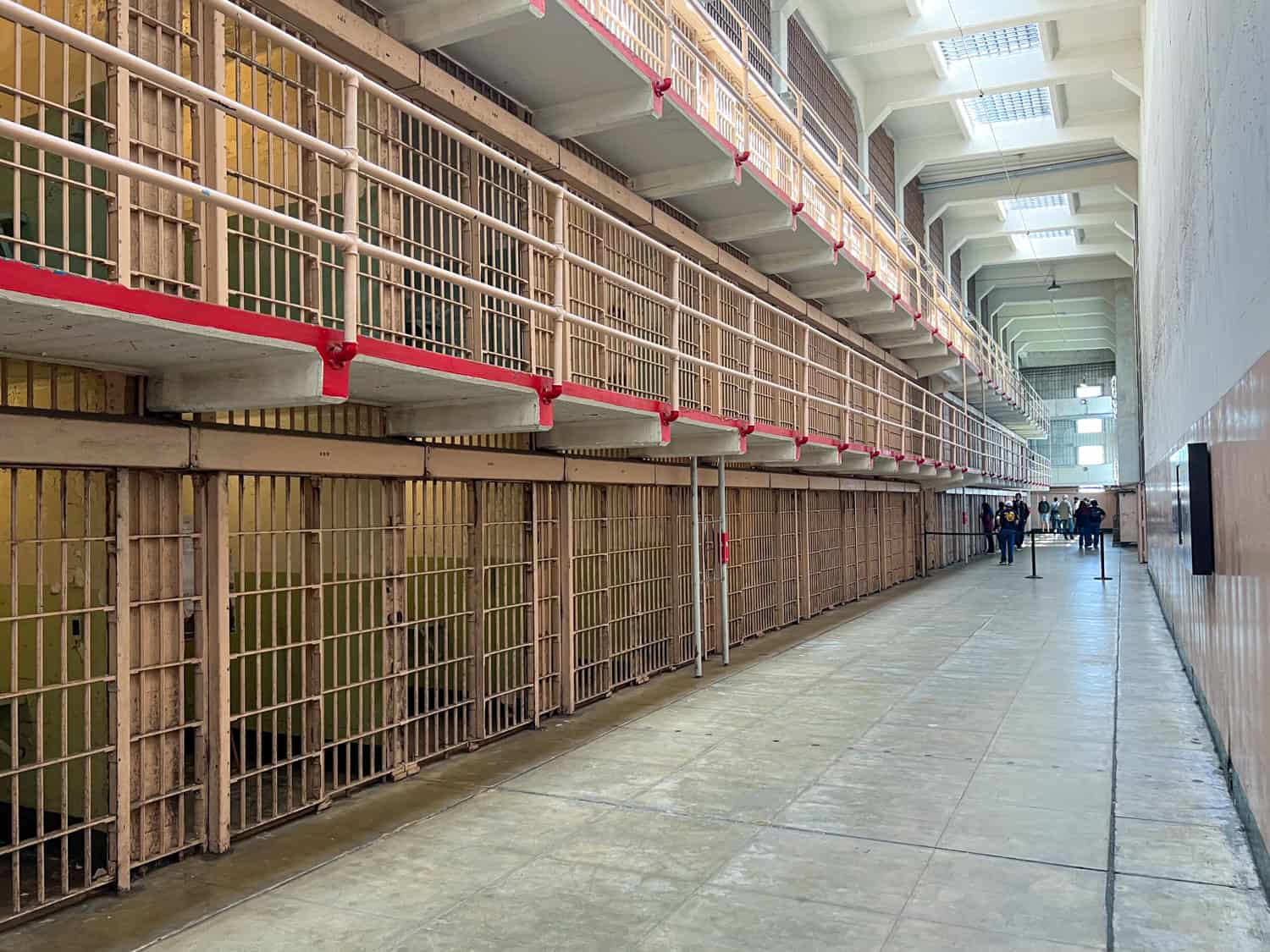 Alcatraz was designed to house America's most dangerous criminals. It became infamous as a place from which escape was considered impossible due to the treacherous currents and cold waters surrounding it.
Among its most well-known former inmates were Al Capone, Robert Stroud (the "Birdman of Alcatraz"), and George "Machine Gun" Kelly.
Though the prison has long been closed, its mystique endures. Today, the island is a tourist attraction where visitors can explore the old prison facilities and learn about its fascinating history, including its earlier use as a military fortification and its occupation by Native American activists in the late 1960s.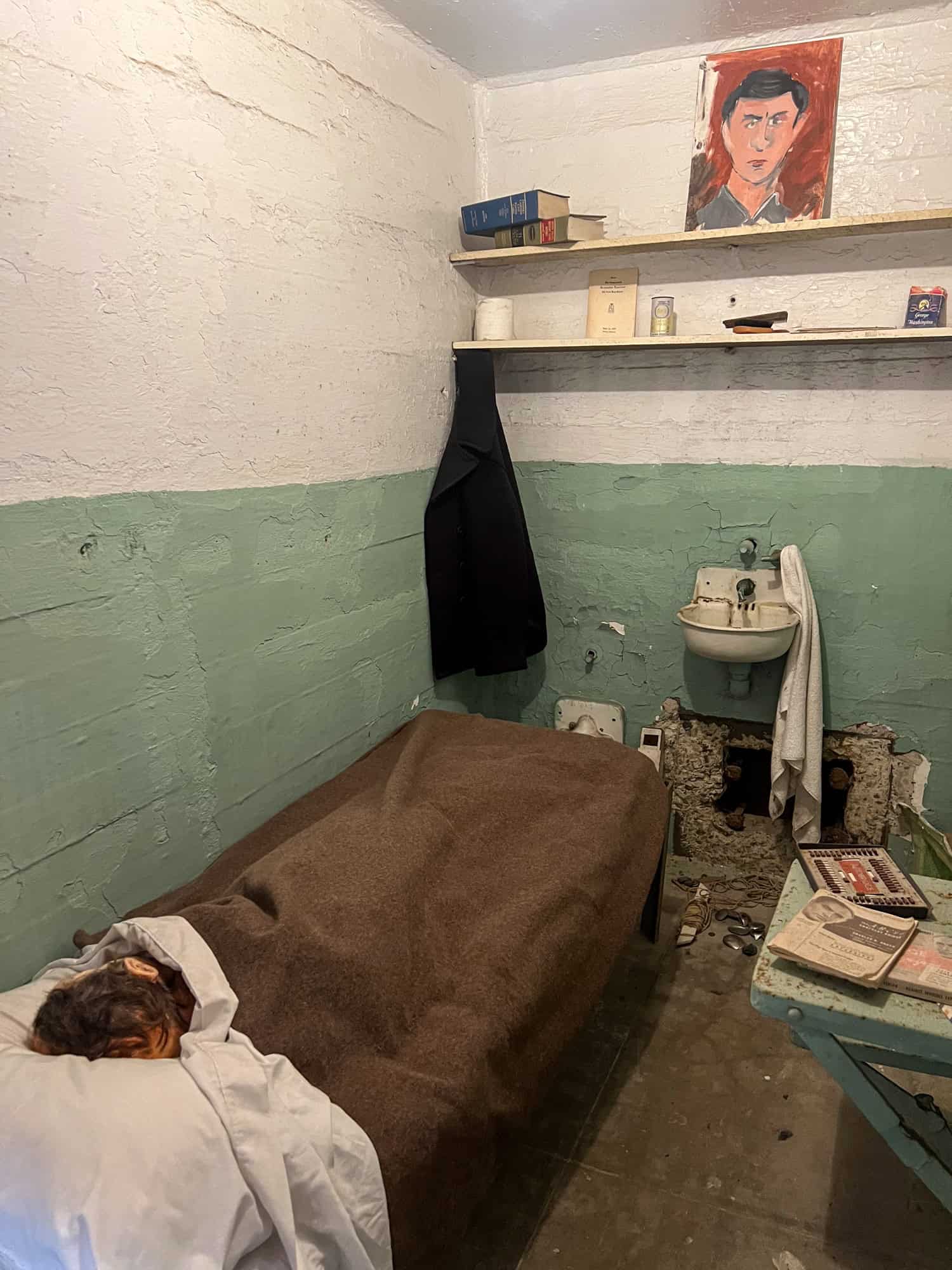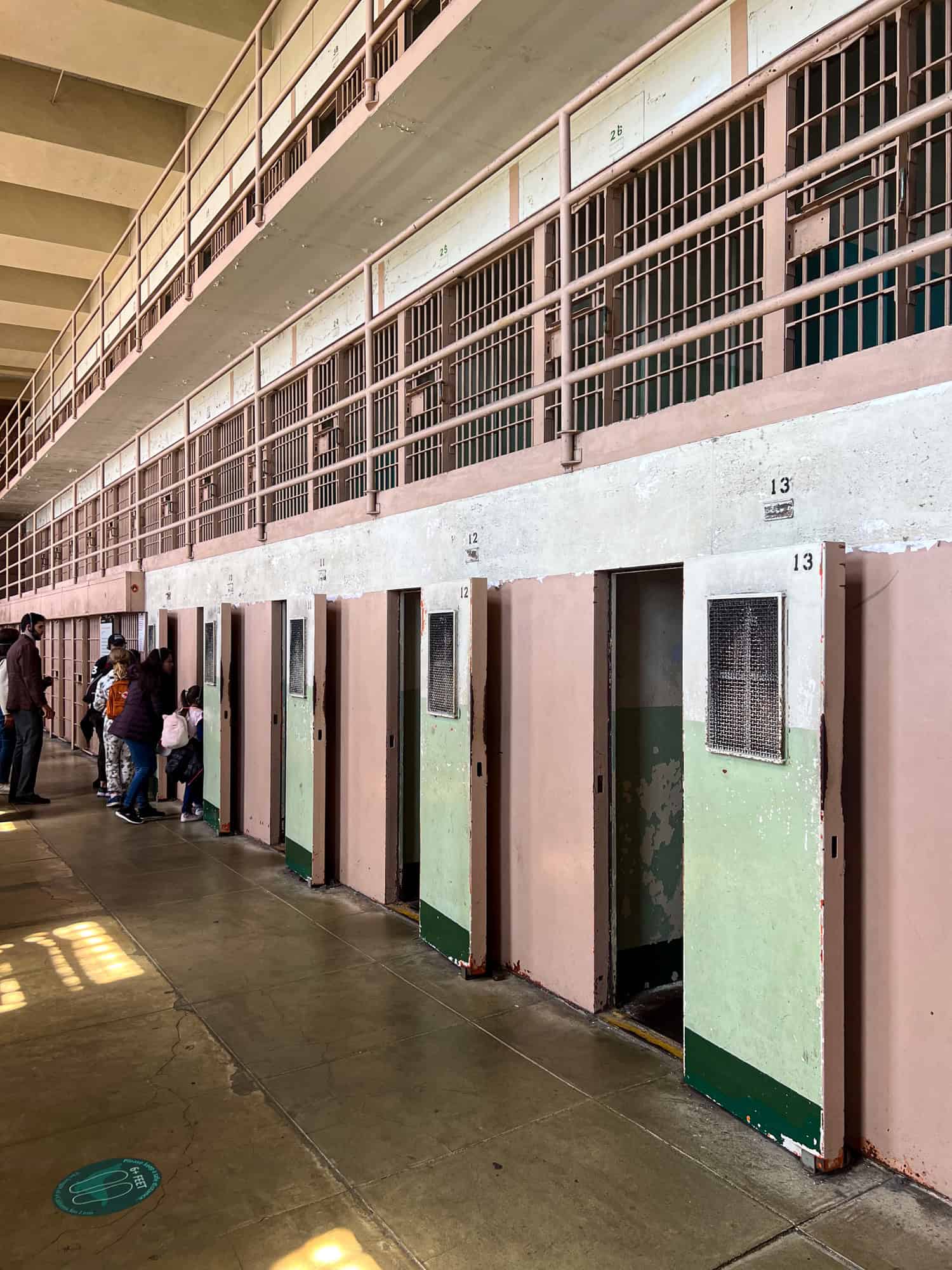 My Experience
The ferry ride took about 20 minutes each way. Upon arrival on the island, I picked up the "Doing Time" self-guided audio tour (no extra cost). I'm not usually a big fan of audio guides, but I found this Alcatraz tour compelling.
The narration of the cellhouse audio tours is provided by a handful of former convicts, each of whom guides you through the former federal prison while sharing what it was like to be incarcerated there.
You'll learn of escape attempts and notable characters among the prison population and staff. Aside from the tiny cells, one of the most intriguing aspects of the complex was the yard, where prisoners could get fresh air and exercise.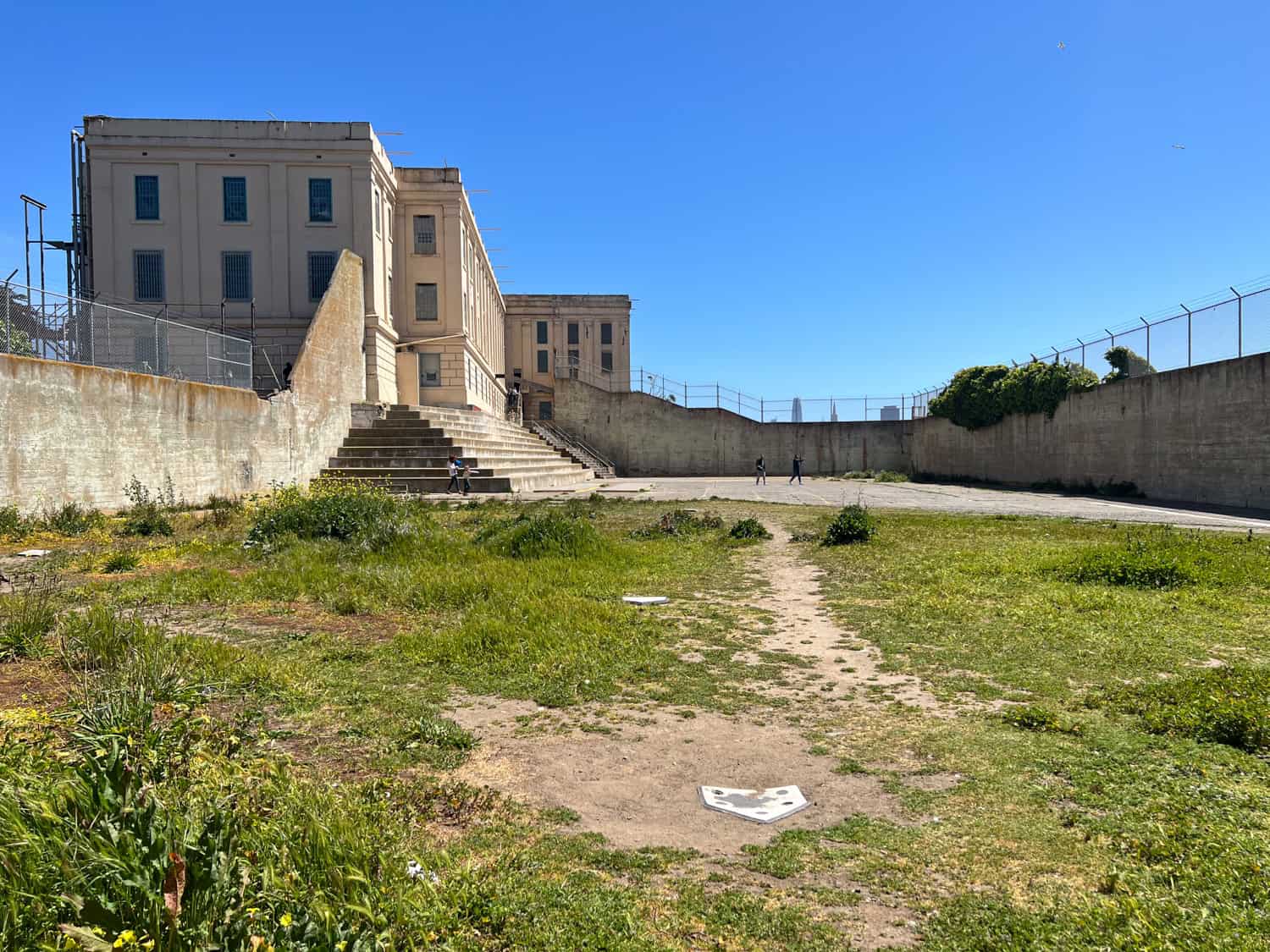 At first glance, when you walk out, it looks foreboding with the high walls and barbed wire fencing designed to keep people in. But walk down to the grassy area where there's still a home plate, and you get a little distance from the building, and it feels a bit different.
There's a home plate in the dirt, and it's not hard to picture prisoners playing baseball to pass the time. I was there on a clear, near-perfect day, so I knew I was seeing Alcatraz at its best.
Ferries depart Alcatraz Island for Pier 33 on the mainland every 30 minutes, so it's easy to catch a return ride. I took the 3:10 p.m. ferry back and was treated to excellent views of the San Francisco skyline.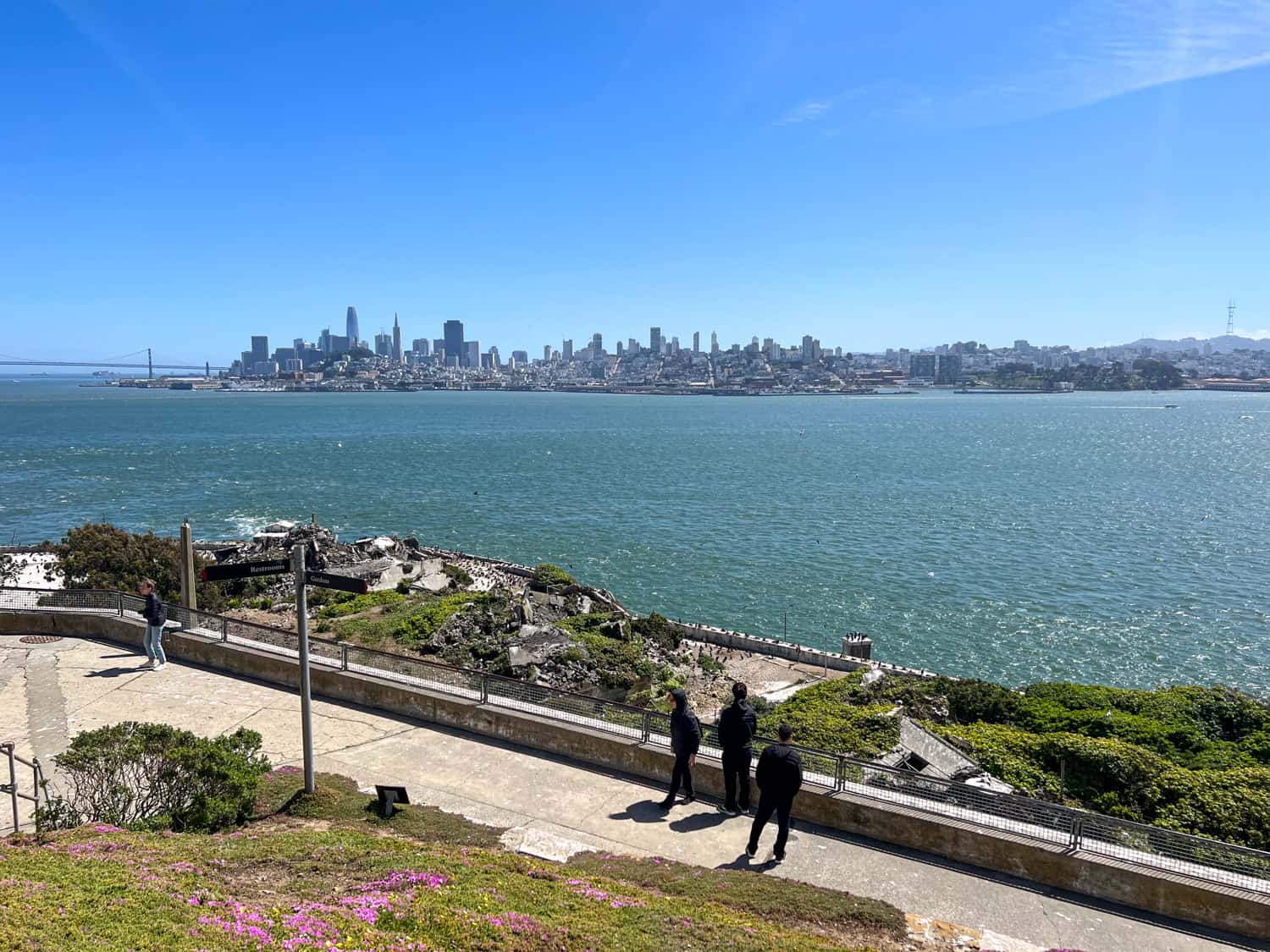 The tour lasted about nine hours, from 8:30 a.m. to 5:30 p.m., and is well-suited for independent travelers.
I toasted the conclusion of a fantastic day with an Irish coffee at The Buena Vista, the first place in the United States to serve the warm whiskey drink.
Book This Tour
From the iconic Golden Gate Bridge to the quiet giants in Muir Woods, the cozy charm of Sausalito, and the eerie allure of Alcatraz, the country's most famous prison—this single tour seriously packs a punch.
If you're short on time but big on experiences, I can't recommend the Alcatraz with Muir Woods and Sausalito tour by Viator enough. You get a diverse taste of what the San Francisco Bay Area offers, all wrapped up in a single day.
Dave is the Founder and Editor in Chief of Go Backpacking and Feastio. He's been to 66 countries and lived in Colombia and Peru. Read the full story of how he became a travel blogger.
Planning a trip? Go Backpacking recommends: