Visiting Hong Kong on my trip around the world was a no-brainer.
One of the world's great cities, alongside the likes of New York and London, it was my first foray into an Asian megalopolis.
For a guy whose travel mainly was limited to the USA and Western Europe by that point, it was overwhelming.
In terms of accommodations, there are enough Hong Kong hotels to suit any budget.
Without further ado, here are my top 10 things to do in Hong Kong, based on my week in the city.
1. The Skyline, Tsim Sha Tsui Promenade, and the Avenue of Stars
Hong Kong's skyline was the biggest reason for my visit. I'm a New Yorker, so I feel a tad guilty saying this, but I think it beats New York City.
Let's chalk that up to the simple fact that it's newer.
The best place to view the skyline on Hong Kong Island is from the Tsim Sha Tsui Promenade, which also features the Avenue of Stars.
The Avenue of the Stars is Hong Kong's version of the Hollywood Walk of Fame.
One of the most popular features is the statue of Bruce Lee. I challenge you to walk by it and not pose for a picture. Impossible!
2. Symphony of Lights Show
The Tsim Sha Tsui Promenade is also the place to be at 8 PM when the nightly Symphony of Lights show kicks off.
Set to music, the lights and lasers across the bay on Hong Kong Island come alive and put on quite a show.
I wish New York City would do something like this for their skyline.
It was truly a fantastic experience and completely free to watch.
3. Central Mid-Levels Escalator
Constructed in 1993, the Central Mid-Levels Escalators on Hong Kong Island are the longest series of covered escalators in the world.
The system covers a length of 800 meters and rises 135 meters in elevation from bottom to top.
It takes about 20 minutes to ride the full length of the escalators, and like the laser light show, it's completely free.
Many shops, restaurants, and bars have opened up along the route.
If you plan to visit and want to add a little fun to the experience, make a bar crawl out of it, or at least stop for lunch at along the way up.
4. Victoria Peak
The top of Victoria Peak is another excellent vantage point for checking out the Hong Kong skyline.
Due to smog, it can be hard to see the city even from up there, which is why it might make more sense to visit at dusk or in the early evening when you'll benefit from the colorful lights below.
There are plenty of bars and restaurants at the top of the mountain but expect to pay higher than normal prices due to the view.
When I went with a British friend, Adam, we grabbed a beer at Bubba Gumps.
5. Tian Tan Buddha on Lantau Island
The Mid-Levels Escalator wasn't the only monumental project completed in 1993.
That year, work was also completed on the Tian Tan Buddha, the world's largest outdoor seated bronze Buddha.
Located atop a mountain near Po Lin Monastery on Lantau Island, the complex is accessed via an aerial gondola, conveniently accessible from the metro system.
Tian Tan Buddha is 34 meters tall, weighs 250 tons, and it's possible to walk right up to the base of it for a closer look.
6. Chungking and Mirador Mansions
The Chungking and Mirador Mansions are two buildings in Kowloon known for hosting the cheapest accommodations in Hong Kong.
Built in the mid 20th century, these two buildings originally housed Chinese people, however over the decades, they began to see a great influx of foreigners from around the world.
These buildings are now a tourist destination in their own right, on account of the diverse mix of ethnic minorities and businesses operating out of them.
7. Temple Street Night Market
Foodies will want to check out the Temple Street Night Market, which takes place daily in the Jordan and Yau Ma Tei parts of Kowloon.
Here, you can sample cheap food as the locals like it.
Plus, there are plenty of other stalls selling everything from clothing and electronics to souvenirs.
8. Eating Out
Speaking of food, Hong Kong has one of the world's top restaurant scenes.
In 2012, it featured 62 Michelin-starred restaurants, a number beaten by only four other cities in the world (Tokyo, Paris, Kyoto, and NYC).
But you don't need to have deep pockets to appreciate the Asian cuisine on offer in the city.
One of my first desires upon landing in Hong Kong was to order duck at a local restaurant, which incidentally was my first time trying to eat duck breast with chopsticks!
Hong Kong was also the first city where I sat down at a conveyor belt to serve myself sushi.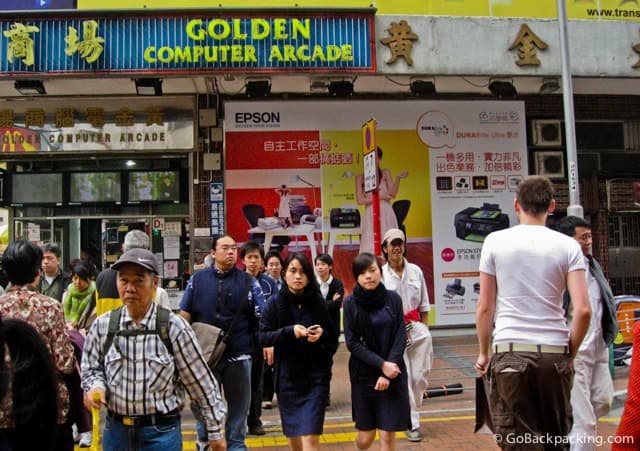 9. Shopping
Hong Kong also happens to be one of the great shopping cities in the world.
Whether you're looking for luxury alligator bags from Louis Vuitton, a cheap laptop, or an obscure video game, Hong Kong's shops and malls have you covered.
When I met Adam, my British friend, I was enamored with his ASUS netbook.
At about 16 ounces, it was exactly the kind of laptop I needed for my travels.
Together, we went to the Golden Computer Arcade, a colossal electronics mall, to find me one for the lowest price possible. Coming from the USA, I'd never seen a mall quite like it.
While I perused laptops, Adam couldn't take his eyes off all the video games, many of which dated back to the era of the original Nintendo Entertainment System.
10. Arcades
Speaking of video games, I can't tell you how much fun I had dropping coins in the arcades around Kowloon's waterfront district.
Growing up in the US, I loved playing arcade games as a kid, but it was an experience I left behind as I got older.
Until that is, I found myself entering Asia, where arcades feature the latest games.
Whether it was tapping away on a plastic guitar to keep up with the beat, or drumming, dancing, and generally jumping around, hanging out in Hong Kong's arcades made me feel like a kid again.
_______
This post was brought to you by SLH, a great online source for finding hotels in Hong Kong.
Dave is the Founder and Editor in Chief of Go Backpacking and Feastio. He's been to 66 countries and lived in Colombia and Peru. Read the full story of how he became a travel blogger.
Planning a trip? Go Backpacking recommends: