[I]f you've ever travelled to Tunisia before, you'll know it can be quite expensive. Although if you fly with Gatwick, and take on Gatwick Parking. This way you'll save a bunch, which can be spent on their delicious food.
For those unfamiliar with doing so, eating in Tunisia can seem like a very strange and exotic experience.
Commonly served dishes may seem unfamiliar or to be made with ingredients not commonly served together in other countries. Of course, specialties may differ between regions, but there are certain dishes which are considered staples of the Tunisian diet.
Though not a universal truth, many Tunisian dishes are spicy. The cuisine in Tunisia is a mixture of Mediterranean cuisine and that of desert dwellers.
A particular Tunisian spice mix, known is tabil, is used in many dishes. Tabil is made of garlic, cayenne or red pepper, coriander and caraway seeds.
The ingredients are often mixed in a mortar and dried beneath the rays of the sun. Beef, veal and game are the most common dishes to be flavoured using tabil.
Visiting Tunisia soon? Book your hostel here
Appetizers
Harissa is a very common Tunisian appetizer, and will often be found as a part of every meal. The dish is a compote made of garlic, cumin, olive oil and dried chilli peppers.
Many restaurants serve it as a dip for bread, and it is often free and each restaurant or family has their own harissa recipe. One common variation of Harissa involves sprinkling tuna on top of the dish.
Brik is one of the most common appetizers served in Tunisia.These are essentially fried triangle pastries filled with olive oil, parley, egg and tuna and often served with lemon to be squeezed on top. This is often a favorite appetizer among tourists.
Main Courses
Famous the world over, couscous is a staple in Tunisian meals and is considered the country's most famous meal.
Tunisian couscous is made of finer grains than many other forms of couscous and often harissa is added. It is commonly served with various meats, peppers, chick peas, potatoes and carrots. The most common meat is lamb, but some restaurants and dishes use chicken or fish.
The best couscous is served in private homes on Sunday.
Ojja is a spicy stew made of meat, olive oil, garlic, peppers, tomatoes, harissa and egg. It is often served in fast food restaurants, normally in a double serving meant for two people.
The most common type of ojja is made with small sausages, but variations include lamb, beef or seafood. In some places, vegetarian ojja can be ordered.
Desserts
Fruit is heavily consumed in Tunisia as a dessert but there are a variety of honey, nut and pastry sweets that are also considered Tunisian traditional deserts.
Makroudh has a date filling. Balkawa, also known as Baklava in Greece, is filled with chopped nuts.
A New World of Tastes
Tunisia has a variety of new tastes to try out. If extremely lucky, a visitor will be invited to a private home to partake of a meal with a family.
If this happens, especially on a Sunday, it is considered a great honor and will certainly be a treat for the visitor's taste buds.
_________
This post was provided and brought to you by Gatwick Parking.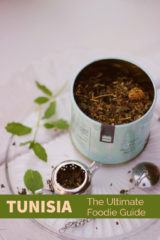 This post was written by a guest contributor. Please reference the author's byline in the post above for more information. If you would like to guest post on Go Backpacking, please read our submission guidelines. For information on advertising opportunities, go here.
Planning a trip? Go Backpacking recommends: