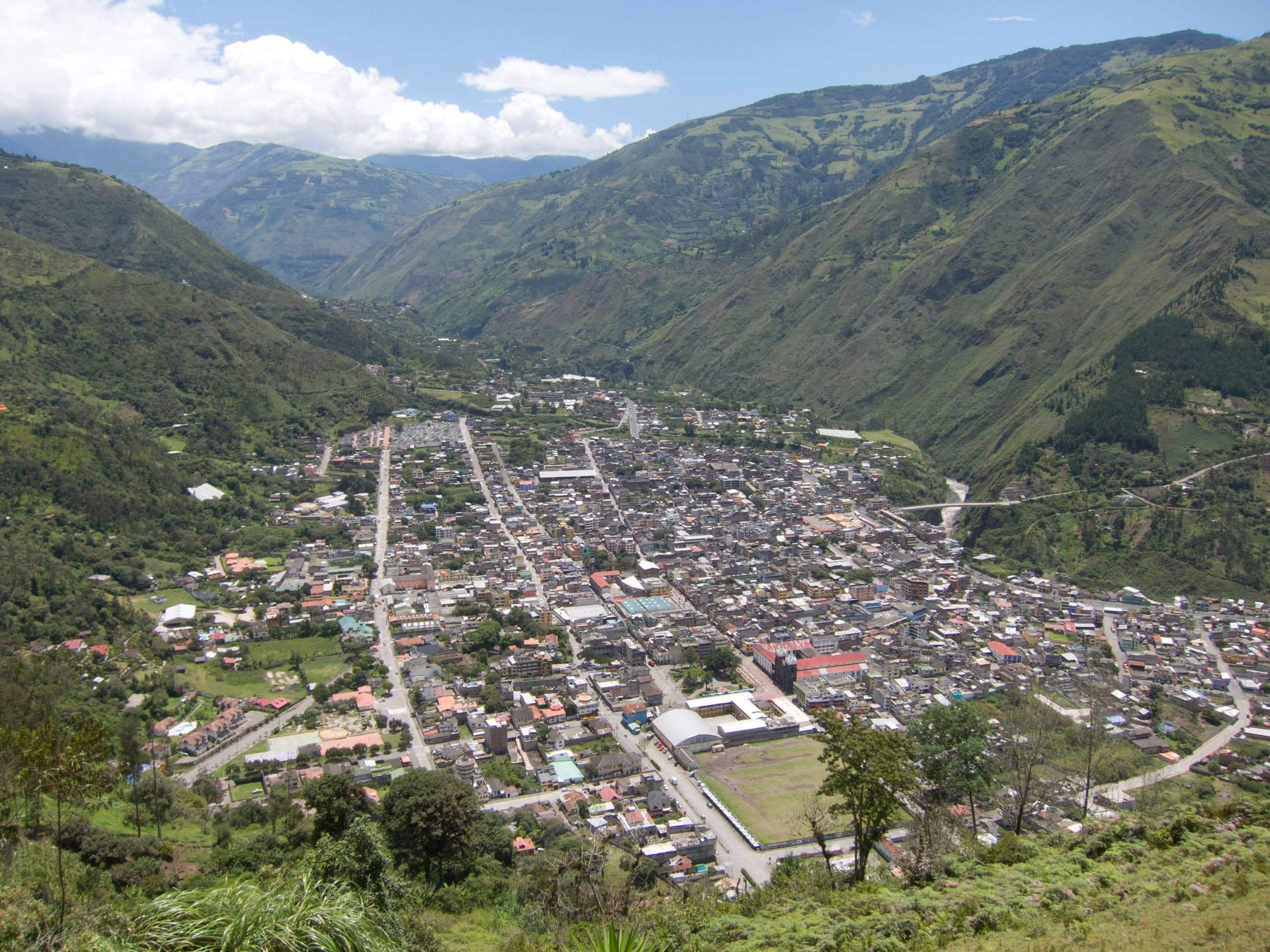 Over the years, the small town of Banos in central Ecuador has grown into one of the country's most popular stops for backpackers.
Local business owners have taken note, and the best hostels in Banos have adapted to accommodate the influx.
With its forested mountain trails, waterfalls, thermal springs, proximity to the Amazon basin, and, of course, the once lively Tungurahua Volcano, Banos has plenty to offer backpackers in Ecuador.
Here, we'll guide you to some of the best hostels in Banos.
Quick Recommendations
See also: Cost of Travel in Ecuador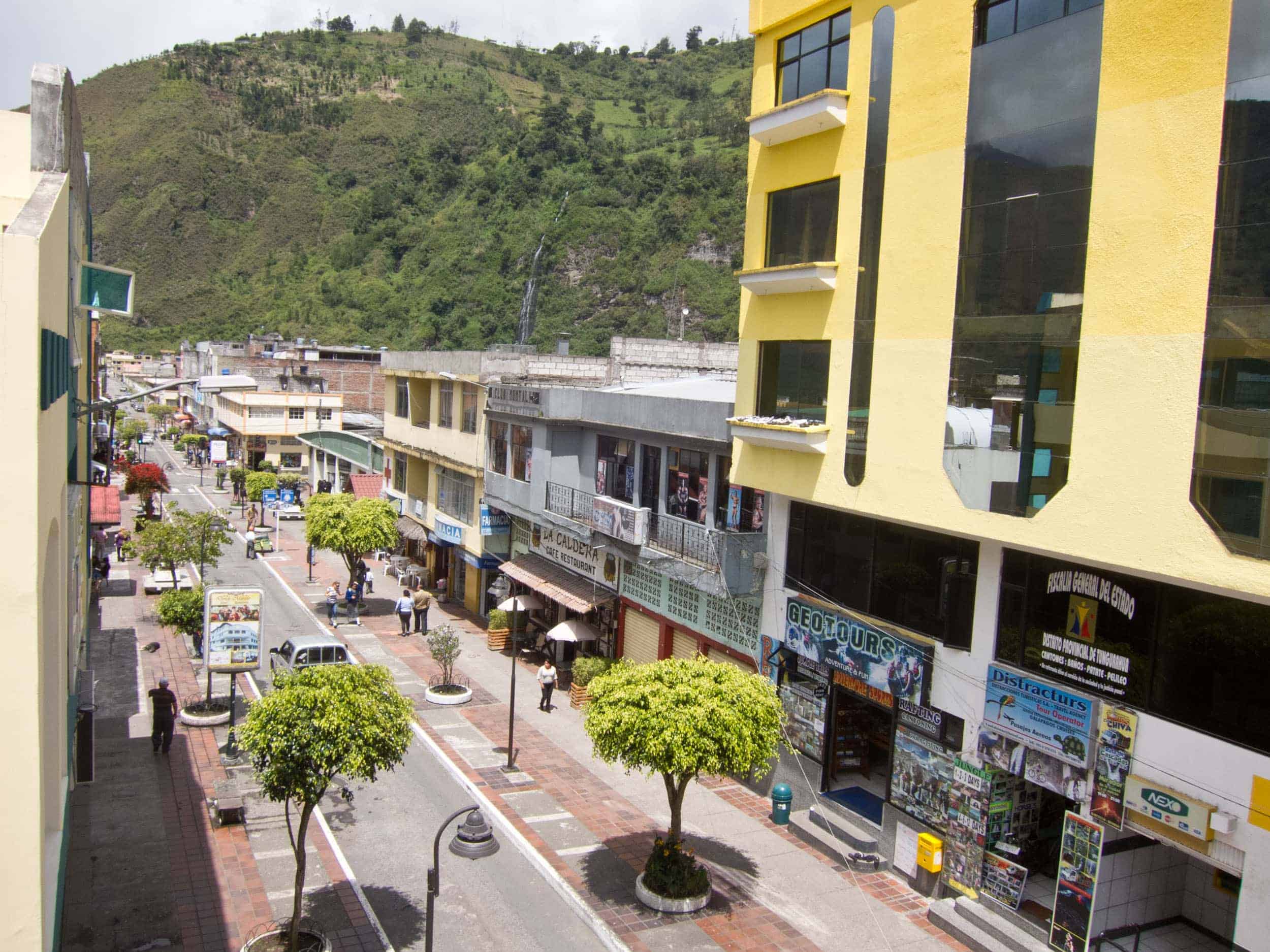 Best Hostels in Banos
Let's get on with the search. Below we have highlighted some of the best hostels in Banos, Ecuador, based on what you may be looking for.
Best Hostel for a Quiet Night — Hostal Athene Moon in Banos
From $9 for a dorm (12 beds)
Located only two blocks from the main square, Hostal Athene Moon in Banos is right in the thick of all the action.
However, despite being located in a busy place, the hostel itself remains an excellent place for a good night's rest.
The owners, Freddy and Dario, are kind people, always willing to help you plan and book the rest of your trip in Banos and beyond.
Hostal Athene Moon is a unique hostel because it doubles as an art gallery. It is filled with local and international works in various forms, such as paintings and sculptures.
It is close to everything, the hostel is clean and quiet, and great people run it. What more could you ask?
Check availability: Hostelworld
Best Hostel for Social Atmosphere — Papachos Hostel
From $8 for a dorm (6 beds)
Papachos Hostel is one of our favorites in Banos. Not only does it have an astounding view of the mountains, waterfalls, and city from its rooftop terrace and restaurant, they also offer top-notch service.
With a fully equipped kitchen, ping pong table, movie and BBQ nights, bike rentals, and more, you can't go wrong at Papachos. Plus, breakfast is included every morning at no extra charge.
They have a friendly social atmosphere, whether you're there long-term learning Spanish or just passing through. They make everyone feel at home!
Check availability: Hostelworld
Best Hostel for Partying — Erupcion Backpackers
From $7 for a dorm (7 beds)
Located just two blocks away from the most popular bars and clubs in Banos, Erupcion Backpackers is the place to be for partiers visiting Banos.
With a lounge and courtyard open 24/7 and fun nightly activities planned for guests, this is a great hostel to share a few beers (or more) with fellow backpackers before hitting the town together.
Not only does it offer an outdoor patio and common area for socializing, but Erupcion also has an in-house theater (with Netflix) for your viewing pleasures. Rest up at the end of a long day with a movie night!
There are also hammocks scattered throughout the hostel. So, grab a good book and kick back!
Erupcion can help you book your next tour, boasting the lowest prices in town, and offering bike rentals, too.
Check availability: Hostelworld
See also: Ecuador Nightlife – Bars, Clubs, and Dating Tips
Best Hostel for Amenities — Selina Banos
From $9 for a dorm (12 beds)
Claiming to be a haven for backpackers and nomads, Selina Banos has redefined what an Ecuadorian hostel is.
Not only is it a place to rest your head at night, but it is a place to call home for as long as you stay.
We have chosen it as the best for its amenities, including co-working space, daily classes (Spanish lessons), a touring agency for everyday adventures, a pool table, rooftop terrace with spectacular views, bar, cafe, and more!
The hostel is organized, and the staff is extra friendly — from the tour desk to the bar. Selina Banos is more than just a hostel, and we love it!
Check availability: Hostelworld
Best Hostel for City Entertainment — Erupcion Art Hotel & Hostel
From $8 for a dorm (6 beds)
Erupcion Art Hotel & Hostel gets our pick for best in entertainment because of the multitude of things going on there.
If you aren't on the rooftop socializing under the sun or stars, perhaps you're dining at the traditional Ecuadorian restaurant, which is a part of the hostel.
Get a local taste not only in the restaurant but also in your room, where local paintings and photographs by residents of Banos hang on every wall.
Build your itinerary from a wide selection of tours and day trips offered at reception. Recover at the end of a long day exploring with a good book or board games, which are also available to you.
And if the in-house entertainment isn't enough, Erupcion Art Hotel & Hostel also faces the main square in Banos with plenty of bars around the corner.
Check availability: Hostelworld
Best Cheap Hostel — Community Hostel
From $9 for a dorm (6 beds)
You have probably heard about Community Hostel in other cities around Ecuador. It is one of the most (if not the most) popular hostel chains in the country.
It is known for its service and high standards to its customers and, in Banos, you should expect no difference.
It is always good to know there is an affordable place to stay with such a good name among the backpacking community in Ecuador.
You might end up staying here longer than expected while preparing for your mountain/jungle treks and adventures.
Check availability: Hostelworld
Conclusion
Are you looking for the best mountain hiking, biking, rafting, and partying all in one town? Banos is your place.
The best hostels in Banos make it easy to meet other travelers, go on daytime adventures with them, and party it up by nightfall.
More Ecuador Hostels
Last Updated on October 5, 2021 by Dave Lee