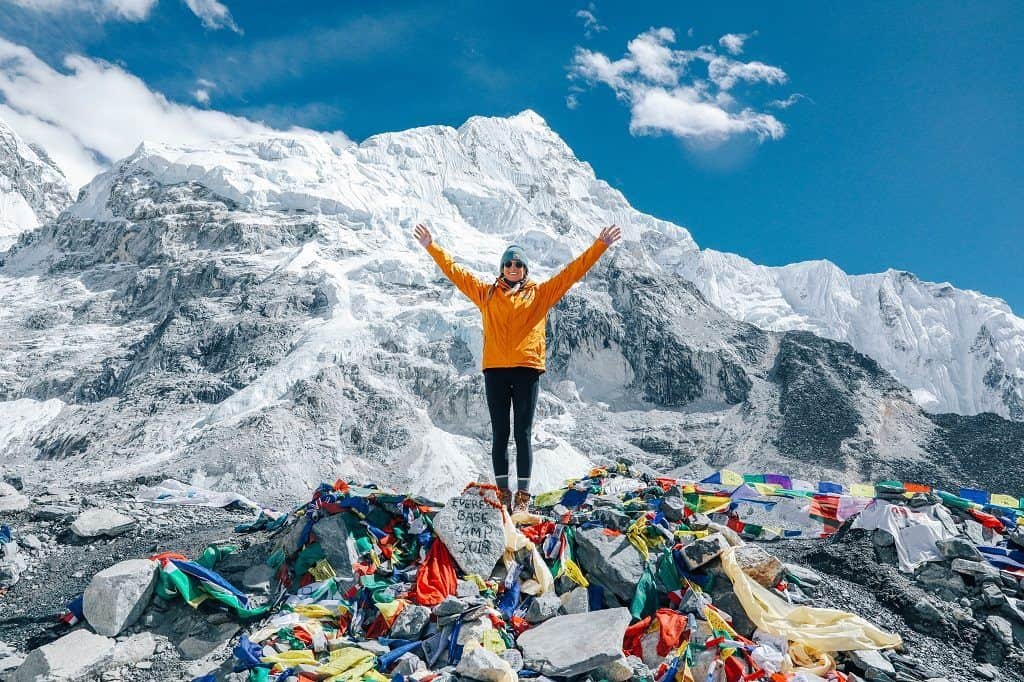 The Everest region in Nepal is a trekker's paradise. When trekking in the Everest region, you will be walking on the lap of Mt. Everest, the world's tallest mountain, enjoying the eye-catching views of the majestic Himalayas.
You'll get to photograph mountain landscapes and lush alpine forests during a trek.
Plus, it allows you to have close encounters with the Sherpa people and Buddhist culture.
Lukla is the gateway to the Everest region and the most popular trek of Nepal, the Everest Base Camp Trek. Once you reach Lukla, you'll have an option to choose among many trekking routes.
As you move further into the Khumbu region, you'll be able to learn and explore more of the regional culture.
To reach the trek head, Lukla, you have two different options.
You can either take a direct 45-minute flight from Kathmandu to Lukla Airport. Or, you can trek from Jiri to Lukla after a 6-7 hours bus ride from Kathmandu to Jiri.
If you're looking for more adventure along with the treks, then you can plan to climb one or more mountain peaks as well. Options include Island Peak Climbing, Mera Peak climbing, and Lobuche Peak climbing.
Or you can do these climbs as joint trips like Island and Mera Peak climbing.
This exotic land has numerous trekking routes, each offering unique experiences.
The three most popular and adventurous treks in the Everest region are as follows.
Everest Base Camp Kala Patthar Trek
This is among the most popular trekking trails in Nepal. Trek to Everest Base Camp and Kala Patthar is a bucket-list adventure for trekking enthusiasts all over the world.
This ideal trekking route in the Everest region passes through the popular Sherpa settlements, including Phakding, Namche Bazaar, Tengboche, and others.
Walking these routes, you're guaranteed to have unique cultural experiences and interactions with the locals.
Following the trekking trail, you will start getting the best views of Mt. Everest and other towering peaks from Namche Bazaar.
You will start from Lukla and walk to Namche Bazaar. Then ascend to Tengboche and continue the trail to Dingboche village. From there, you proceed through Lobuche village to Gorakshep.
This is the final stop before you reach Everest Base Camp and Kala Patthar.
On this trek, you will typically spend around 14 days in the Everest region. During this time, you'll befriend the mountains, Sherpa people, and alpine vegetation.
The local Spring (March, April, May) and Autumn (September, October, November) months are the peak seasons for Everest Base Camp treks.
Highlights
Explore one of the biggest and oldest monasteries of the Khumbu region, Tengboche monastery
Stop at Kala Patthar and get the stunning views of Mt. Everest and other snow-covered peaks in the Everest region
Visit the stone memorial at Lobuche built in the memory of the dead mountaineers
Explore the diverse flora and fauna of the Sagarmatha National Park
Feel the joy of standing at Everest Base Camp, the base of the world's highest peak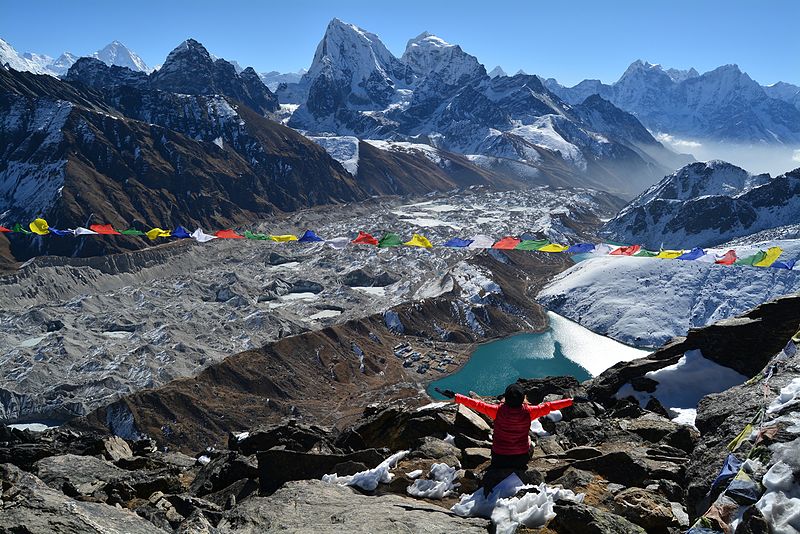 Gokyo Lake Trek
The trekking route to Gokyo Lake takes you to the least crowded and exotic trails of the Everest region.
For many trekkers who plan to explore the other face of the Everest region, the Gokyo Lake trek is the best option.
Gokyo Lake trek takes you to the highest point at Gokyo Ri (5,357 meters), which offers the unseen views of Mt. Everest, Nuptse, Lhotse, Thamserku, and other neighboring peaks.
Gokyo Ri also displays the stunning views of Ngozumpa glacier, which rests calmly on the head of Gokyo Valley.
Gokyo valley is famous for five different glacial lakes. These glistening lakes turn golden during the sunset and sunrise. This is a fantastic sight to behold.
On this trek, you will first walk on the ideal route of the Everest Base Camp trek up to Namche Bazaar.
From Namche Bazaar, you will follow the route to Khumjung village and then walk to Dole village.
Peeking into the lives of the locals in patches of settlements, you proceed further to Machhermo.
From the village, you reach the final destination of the trek- Gokyo Valley.
Once you reach the Gokyo Valley, you will feel stunned by the alluring views of the crisp landscape.
Highlights
Hike to Gokyo Ri (5,357 meters) – catch the stunning views of Gokyo Valley and Mt Everest from a different viewpoint
Explore Ngozumpa glacier, among the biggest glaciers in Nepal
Walk through the traffic-free exotic trails in the Everest region
Witness five glistening glacial lakes in Gokyo Valley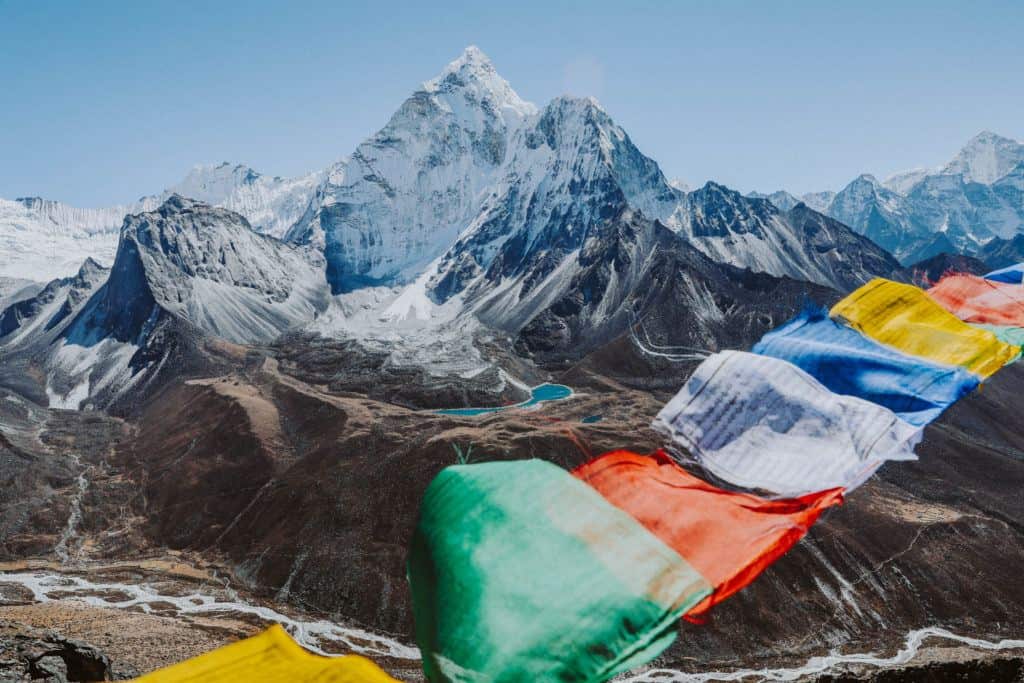 Everest Three High Pass Trek
On this trip, you explore the three big and challenging passes of the Everest region.
They are Kongma La Pass (5,335 meters), Cho La Pass (5,420 meters), and Renjo La Pass (5,340 meters).
You will follow the ideal EBC trek route up to Dingboche and then leave the pathway towards Base Camp to walk towards Chhukung village.
From there, you will trek to Kongma La Pass and walk towards Gorak Shep, followed by Lobuche.
From there, you proceed to Dzongla to cross Cho La Pass.
You will further proceed through the Renjo La Pass to Gokyo Valley before you reach Namche Bazaar.
And, finally, follow the EBC trekking trail back to Lukla.
On this trek, you'll walk through the most adventurous passes of the Everest and Gokyo Valley.
This trek is quite challenging. You will be crossing high altitude passes covered in snow and ice.
However, if you walk cautiously, follow your guide's instruction, and pack your backpack correctly, then the trek is doable.
You can do this trek all year except in the winter months (December, January, February).
In winter, the passes are densely covered by snow and often closed due for safety reasons.
Highlights
Explore the three popular high altitude passes – Kongma La Pass (5,335 meters), Cho La Pass (5,420 meters), and Renjo La Pass (5,340 meters) in the Everest region
Explore both the Khumbu and Gokyo region on the same trip
Visit the typical Sherpa villages of Thame, Marlung, Nangpa La Valley
Catch the stunning views of Ama Dablam glaciers
Walk through the ancient salt trade route up to Thame
Tips to Travel in the Everest Region
Everest is a high altitude mountainous region where the weather change is quite frequent. So, you must be physically as well as mentally prepared for any type of weather change.
Many varieties of food options are available at teahouses during the trek. Do not forget to try the Nepali staple dish Dal-Bhat with seasonal vegetables. It'll be the most fulfilling dish during your trek.
Nepal is a safe place for travelers. However, if you are touring around the bustling streets of Thamel, then it is a good idea to carry an anti-theft backpack to keep safe your belongings from pickpocketers.
This is a high altitude trekking region, so altitude sickness is widespread. To prevent the risks from altitudes, you must walk cautiously and maintain body hydration.
As you leave for the Everest region from Kathmandu, you may find ATMs are less available. For this reason, it is a good idea to carry enough cash to last your entire trek.
If you do not want to overspend on trekking gear, you can rent some things in Kathmandu.
If this is your first time trekking in the Everest region, it's a good idea to hire an experienced guide and porters. This will make your trek a little easier.
Final Words
Besides these trekking options, you can also join several other treks in the region.
If you are in Nepal for a limited time, then you can go for short treks like the Everest Panorama Trek or Everest Base Camp Helicopter Trek.
If you want to spend a long time in the Everest region, then you can do the classic Jiri to Everest Base Camp trek.
Whichever tour or route you choose, you will have a fantastic time traversing through these well-trodden pathways.
Also, you can join the trips to the Everest region at any time of the year.
And, with proper preparation and appropriate packing, you can opt for solo travel as well.
But, if you are trekking solo, do not forget to pack a reliable trekking map.
So, when are you coming to the Everest region to see its grandeur?
___
This story was brought to you in partnership with Mosaic Adventure.
Planning a trip? Go Backpacking recommends: