A few days before my Ancient Civilizations tour with G Adventures was set to begin, I arrived in Mexico City from Guadalajara by plane.
To see and do as much as possible, I prioritized my activities, choosing to see a few off-the-beaten-track sites before the historic city center.
After a good night's sleep in a hostel dorm I had to myself, I began my first day with a subway ride to the Central University City Campus of the Universidad Nacional Autónoma de México (UNAM).
I know, it's a mouthful.
Why spend my first morning in Mexico City visiting a university campus?
Here's how UNESCO summarizes the importance of the architecture at UNAM:
The ensemble of buildings, sports facilities and open spaces of the Central University City Campus of the Universidad Nacional Autónoma de México (UNAM), was built from 1949 to 1952 by more than 60 architects, engineers and artists who were involved in the project.

As a result, the campus constitutes a unique example of 20th-century modernism integrating urbanism, architecture, engineering, landscape design and fine arts with references to local traditions, especially to Mexico's pre-Hispanic past.

The ensemble embodies social and cultural values of universal significance and is one of the most significant icons of modernity in Latin America.
Looking at the campus on Google Maps, I was intimidated. It looked like a city within a city. I decided to figure it out once I got there.
I took Line 3 of the metro heading south to the aptly named Universidad station at the southeast end of campus.
Alternatively, the northeast area of campus is accessible from the Copilco station.
Still unsure of what the heck I was doing, I exited the station along with crowds of students and walked through a small maze of Mexican stands selling food and drinks.
It felt like unchartered territory, if only because I was still utterly clueless about where I was going.
I saw a bus stop and a map with concentric rings of bus routes.
It didn't look very easy. I decided to walk, but I didn't make it far before remembering this wasn't like my small college campus in New York.
I hailed a taxi and asked him to take me to the Museo Universitario Arte Contemporaneo (Contemporary Art Museum), or MUAC for short. It was as good a starting point as any.
He dropped me off in front of a large, near-empty plaza, with the museum to my left. The sun was already bearing down, and it was only mid-morning.
I bought a ticket for $3.30 but found the architecture of the building more fascinating than the art within it.
Before leaving, my eyes drew me down to the basement level, where the museum restaurant, Nube Siete, is located.
I ate a quick brunch of huevos rancheros over a glass floor covering volcanic rocks.
In the separate smoking section, the rocks were exposed and overflowing into the space.
Sophisticated and unique setting aside, the restaurant was also reasonably priced, and I'd recommend visitors grab at least a coffee.
After brunch, I poked around the campus buildings in the immediate vicinity before hopping on one of the free shuttle buses to the sculpture park around the corner.
It was a much shorter distance than I expected, and I could've walked in five to ten minutes, but at least I learned the campus buses were free for everyone.
The sculpture park is located within an ecological reserve. Remember, this is all still well within the university's campus.
The road bisects the park. The direction I went first led me to a monumental sculpture installation.
Large concrete blocks were situated around an open circle of exposed volcanic rock.
Of course, I did what anyone would do upon seeing such a sight. I ran up one of the blocks to get a better view.
Look for the students sitting on top of the blocks in the photo above to get a sense of scale.
Going up was easy, but looking back down at the ground from what appeared to be a 45-degree angle was another story.
I hurried down the top section like a crab and then stood up and hit the ground running.
On the other side of the road were smaller sculptures and a bunch of academic buildings.
I hailed another taxi north to the Biblioteca Central (Central Library) for my third and final stop.
With over 400,000 books, it's one of the largest libraries in the country. It's also the most popular building for curious tourists.
One look at the scale of the mosaics designed by Juan O'Gorman adorning all four sides, and it's easy to see why.
Each wall depicts a different period in Mexican history.
_______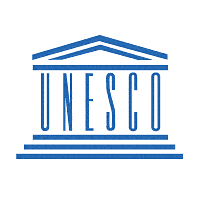 The Central University City Campus of the Universidad Nacional Autónoma de México (UNAM) became a World Heritage Site in 2007.
Click here for the complete list of UNESCO sites Dave has visited during his travels.
Dave is the Founder and Editor in Chief of Go Backpacking and Feastio. He's been to 66 countries and lived in Colombia and Peru. Read the full story of how he became a travel blogger.
Planning a trip? Go Backpacking recommends: