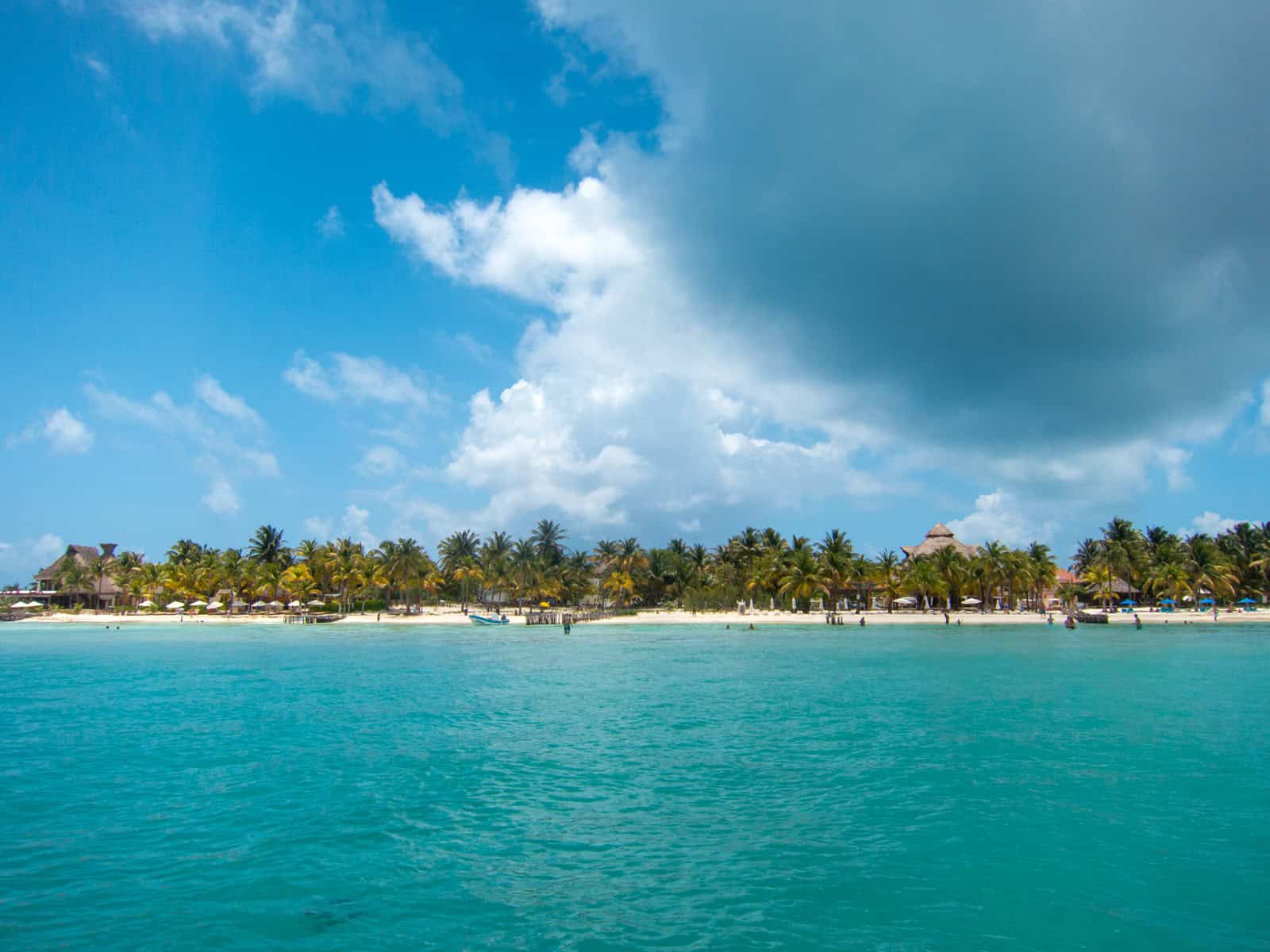 Every year, the best beaches in Riviera Maya on Mexico's Yucatan Peninsula attract travelers worldwide.
Whether you're looking for comfort and convenience, the prettiest shades of water, or privacy, there's a beach for you.
Mexico's Riviera Maya runs from Cancun in the north to Tulum in the south and includes the island of Cozumel.
The stretch of the Caribbean coastline is easily accessible by car, bus, or motorbike. Since it's flat, let's add a bicycle, too!
This list of some of the best beaches in Riviera Maya is based on my time in the region.
When you're ready to plan a trip, be sure and check out the various visa types for Mexico to ensure you're following the rules based on your reason for going and citizenship.
Riviera Maya Beaches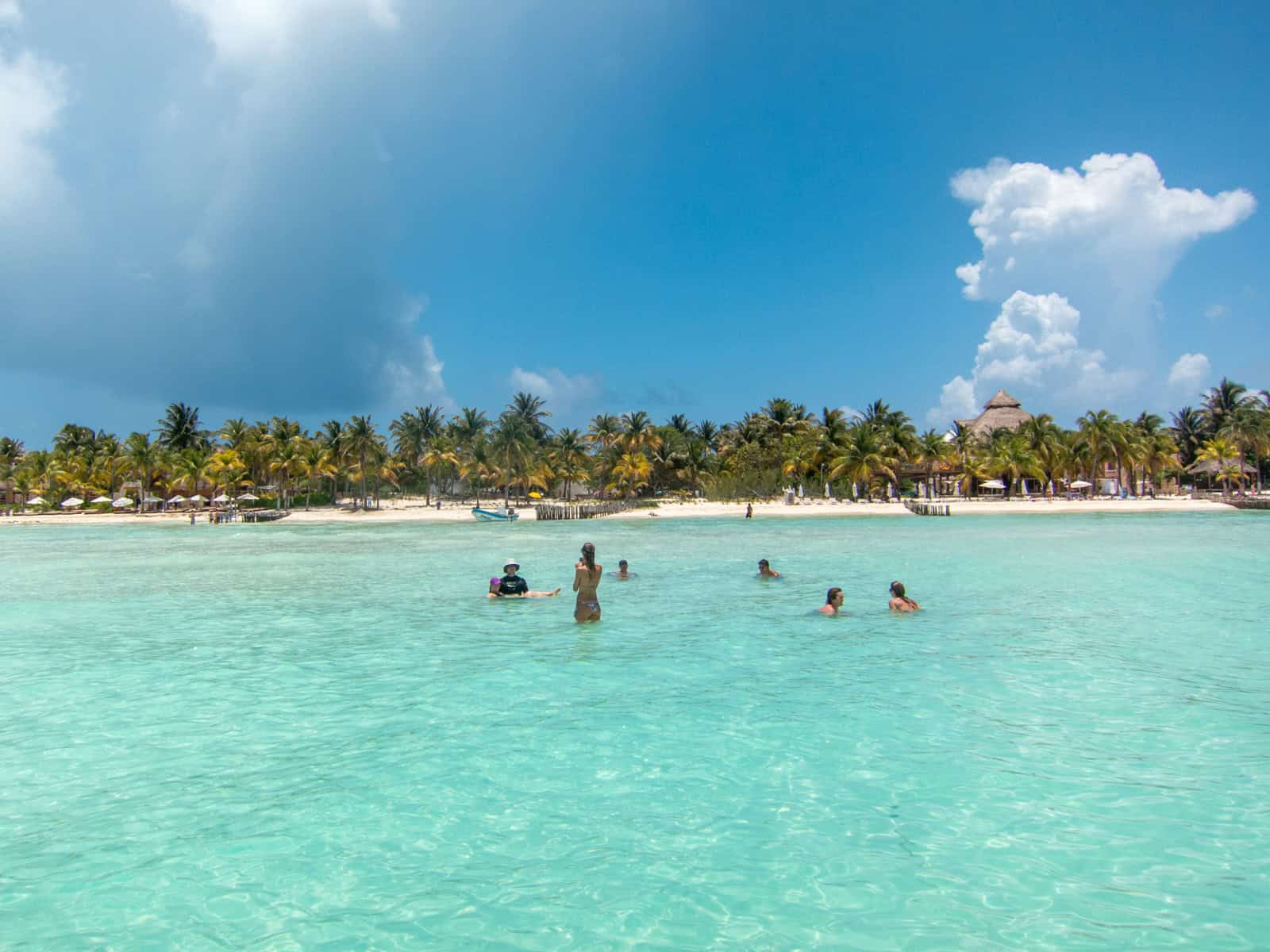 Playa Norte, Islas Mujeres
Let's get this party started in Playa Norte ("North Beach") on Isla Mujeres, an island eight miles (13 kilometers) east of Cancun.
When I went snorkeling with whale sharks, our boat stopped at Isla Mujeres on the way back to Cancun.
The captain dropped anchor, and we were afforded time to snorkel, swim, and hang out in whatever way felt fit.
The water was calm and shallow; it was pretty relaxing.
Boats from other tours were also in the area, so there was a bit of a scene.
It wasn't a full-on party, but I could see how it could get that way in the high season.
Playa Norte is easily accessible as a day trip by ferry from Cancun, or you can stay longer on one of the island's hotels or resorts.
There are plenty of bars and restaurants to keep you fed and feeling fine.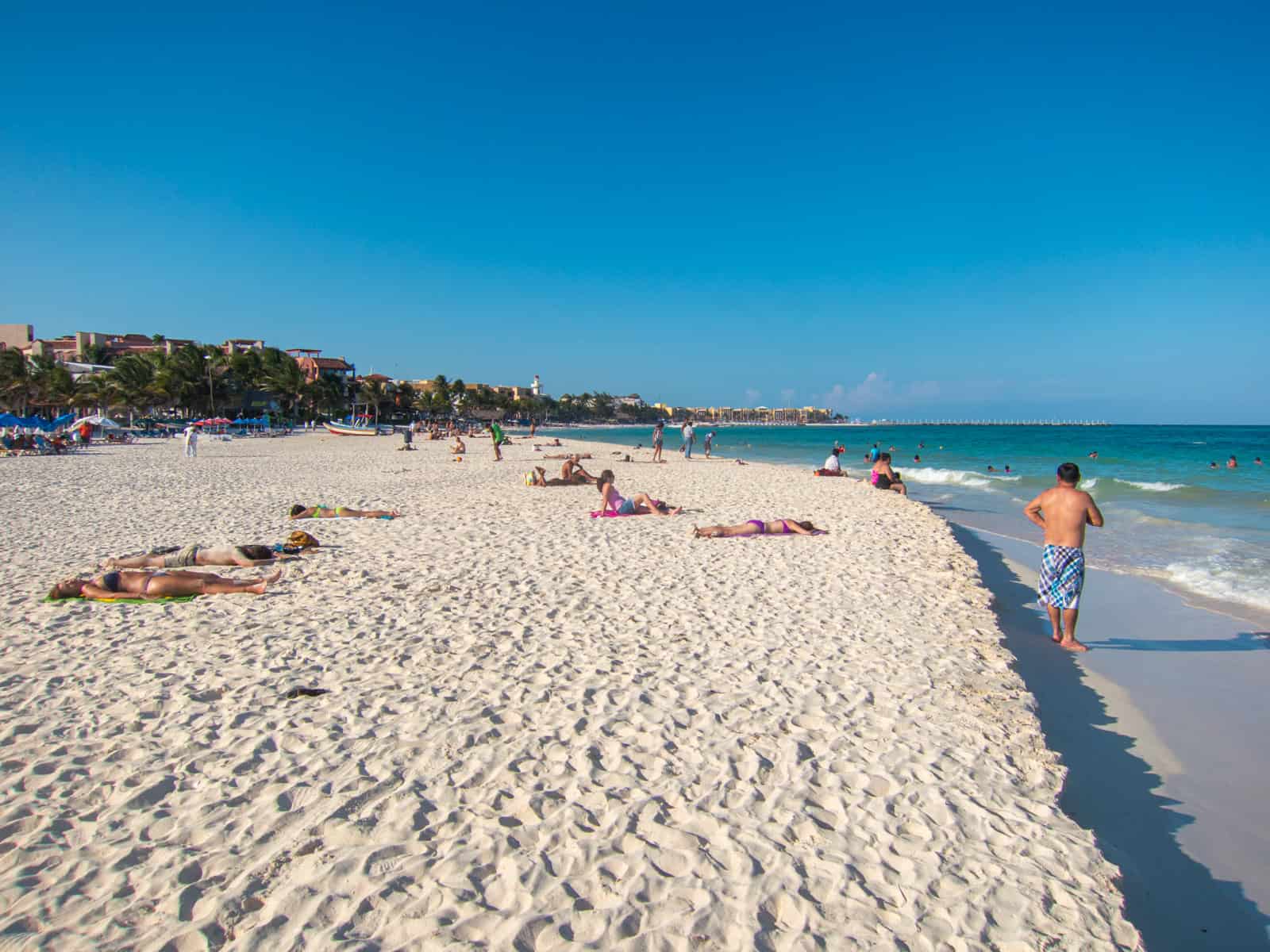 Playa del Carmen
My favorite place in Riviera Maya is Playa del Carmen, an hour south of Cancun by bus or car.
Here, you'll find white sandy beaches of varying depths.
The beach adjacent to the town center is narrower; however, the convenience can't be beaten.
Further south, past the pier for ferries to Cozumel, the beach widens; you'll find a mix of resorts, condos, and casas (small houses) for rent.
I like Playa del Carmen because it's full of budget-friendly accommodation, a block or two from the beach, and there are plenty of rooftop restaurants for enjoying the Caribbean breeze.
If dancing late into the night is your style, there are loads of nightclubs catering to partiers.
Playa del Carmen is relatively safe, too. Whether you're on vacation or looking to live in Mexico, it's worthy of your consideration.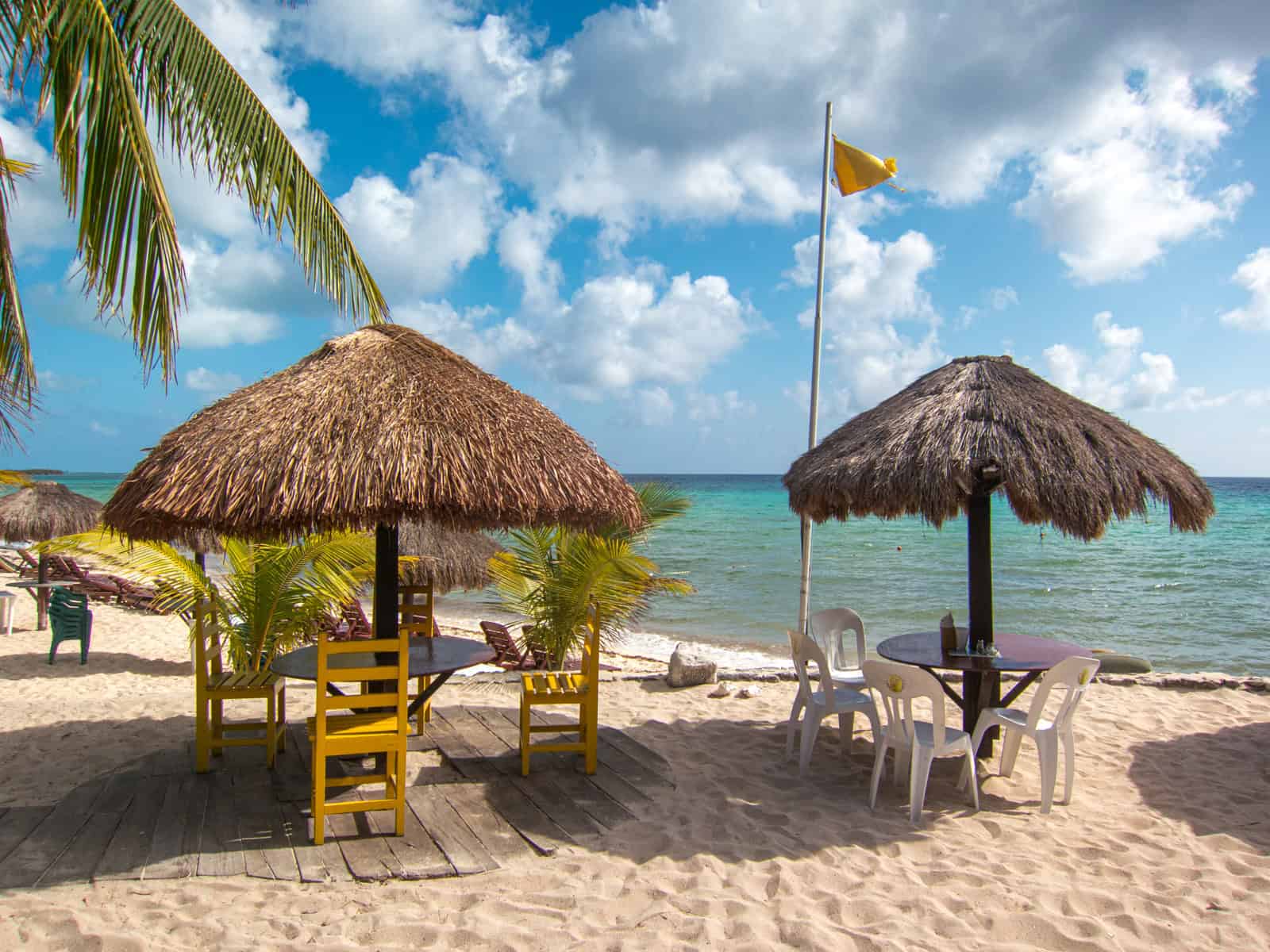 Playa Palancar, Cozumel
During my first visit to Playa del Carmen, I took a day trip to Cozumel, connected via a ferry that runs throughout the day.
To make life easy, I booked a ticket that included the roundtrip ferry ride and transportation to Playa Palancar, where we were able to hang out on a sandy beach, eat lunch, and order drinks.
This is a small, unpretentious beach. Further south along this section of coast is the larger Playa "El Cielo" ("The Sky"), which offers a broader expanse of turquoise waters as it's got more of the reef.
Cozumel has an international airport with flights from the United States, in case you want to skip over Cancun completely.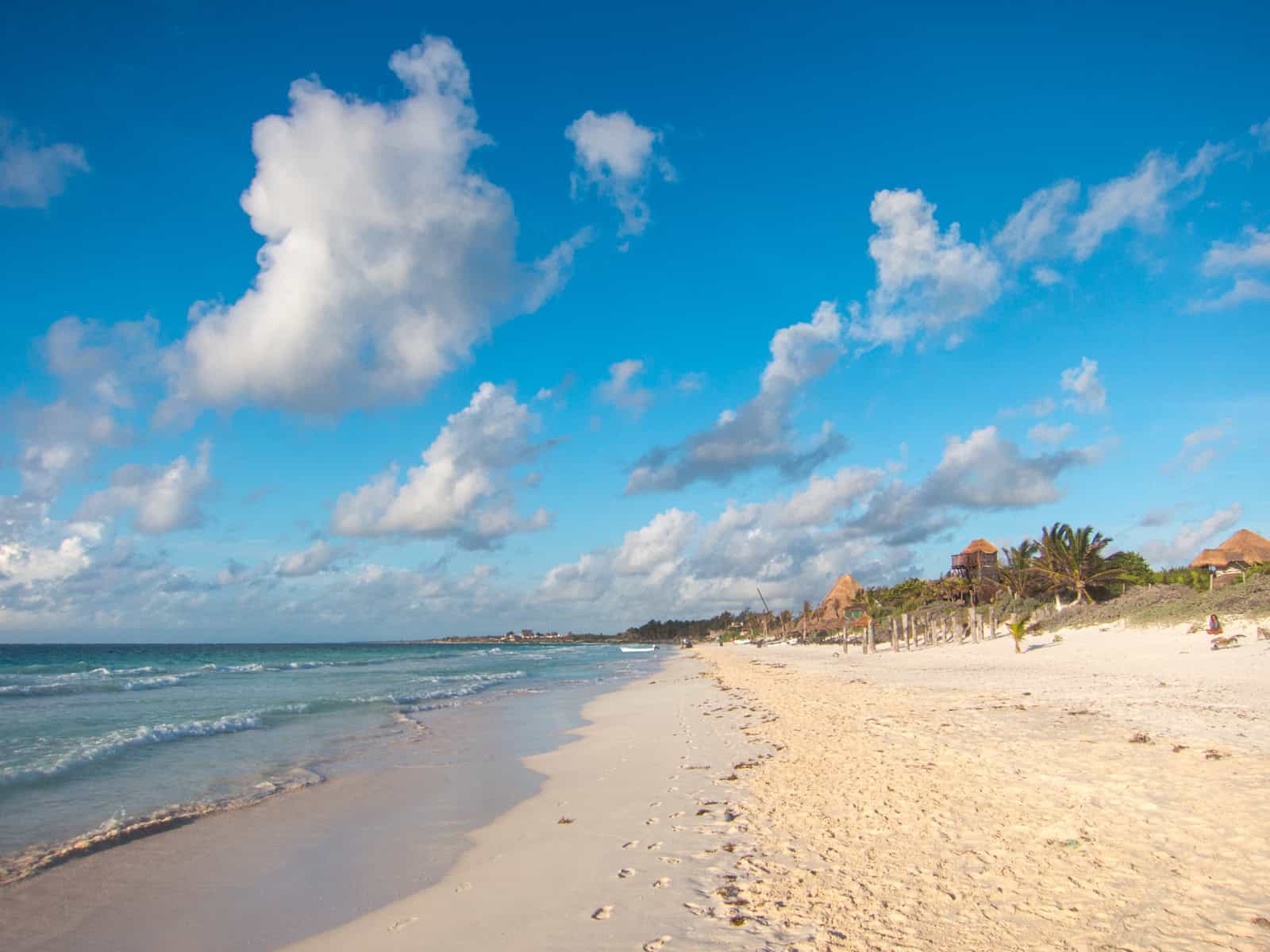 Tulum
If Playa del Carmen is too much city for you, continue south for another hour by bus or car to Tulum.
Tighter rules around development in Tulum National Park have helped to protect the environment and beach from over-development. That's the upside.
As a result, the downside is that accommodation is more expensive and primarily consists of small luxury eco-hotels.
However, don't let that scare you away. Bargains can be found during shoulder seasons, and there's always the option to sleep in the town of Tulum, a 15-minute bike ride inland from the beach.
I was able to find a $29 bed for a night when I visited Tulum, as the hotel was located on a rocky outcropping.
The water color was gorgeous; I just had to walk a minute to the north or south to reach the sand.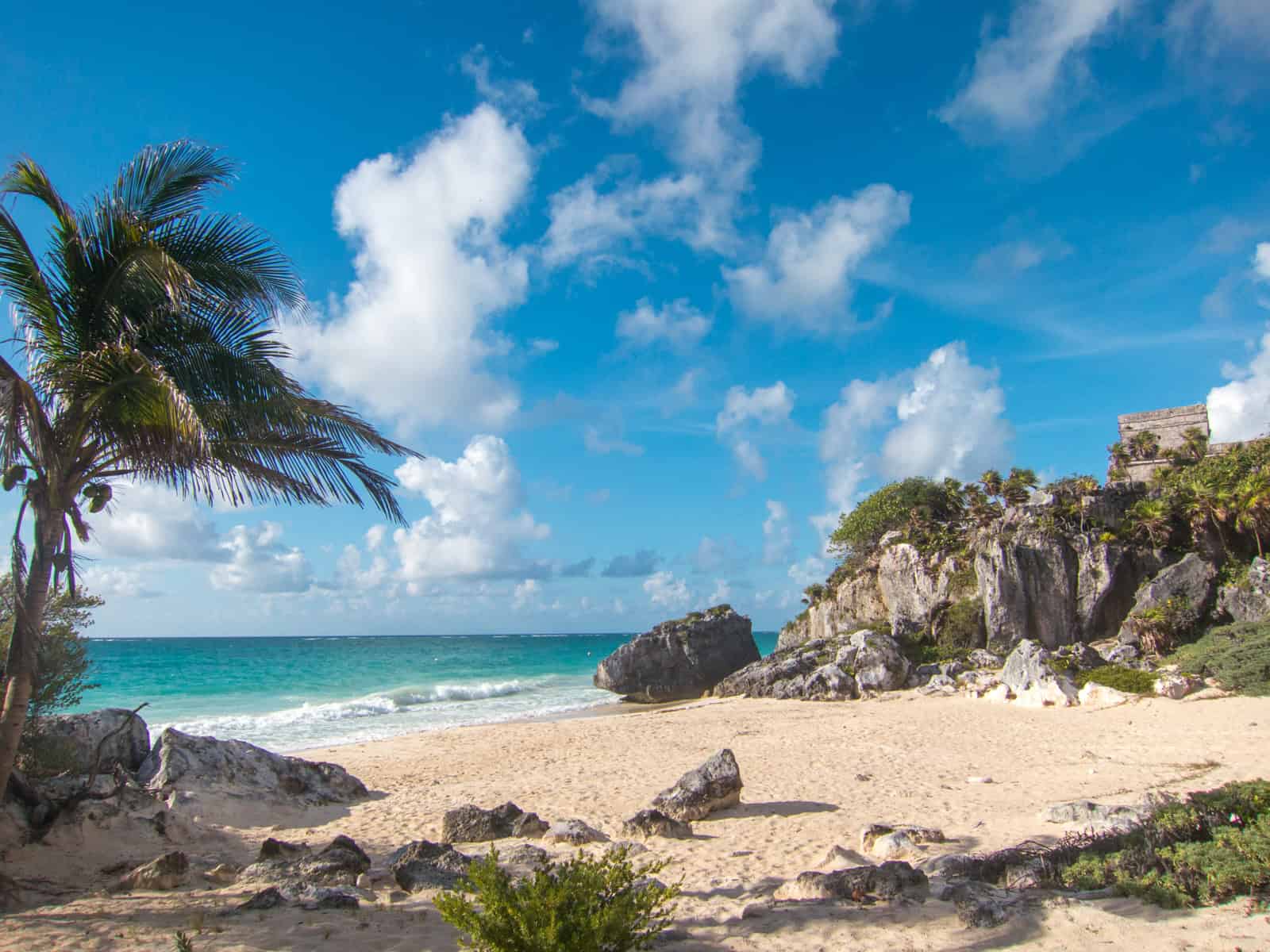 I was up before dawn the morning after my arrival and walked along the beach to the Tulum ruins as the sun rose.
I had the beach to myself, and it was terrific.
I was also one of the first visitors inside the Tulum archaeological site that day.
This former walled city was constructed between 1200 to 1450 AD and was one of the last cities inhabited by the Maya people.
Staircases have been built into the 40-foot cliffs to allow visitors access to some of the beaches below.
Access to Playita Tortuga ("Turtle Beach"), pictured above, doesn't require stairs.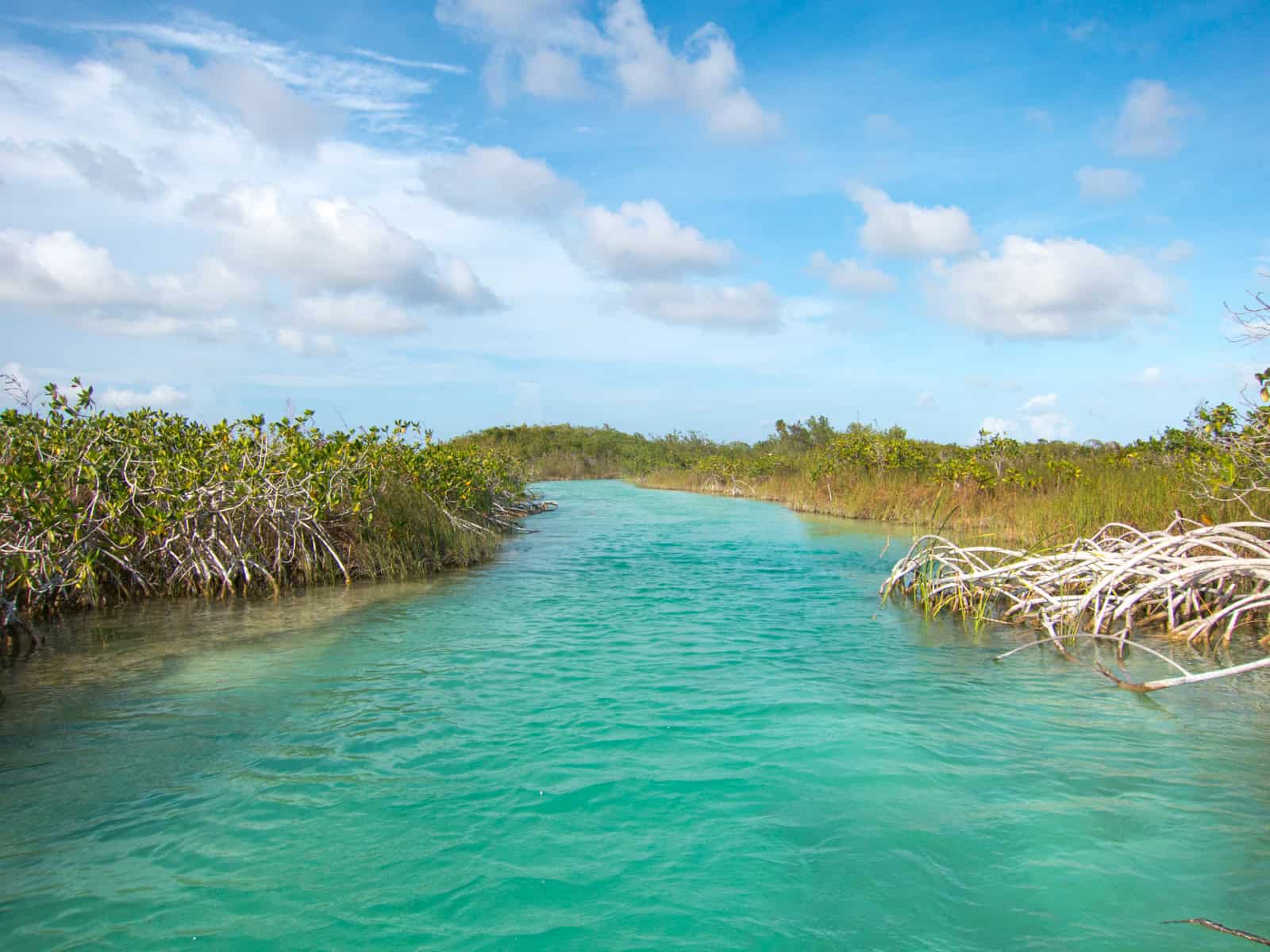 Sian Ka'an Biosphere Reserve
Okay, so this last one on my list isn't as much a beach as a biosphere reserve with tropical forests, mangroves, and marshes.
Sian Ka'an ("Origin of the Sky") is a UNESCO World Heritage Site located south of Tulum.
It's a short trip by taxi or tour. I went independently and negotiated with a boat driver for a ride through the reserve.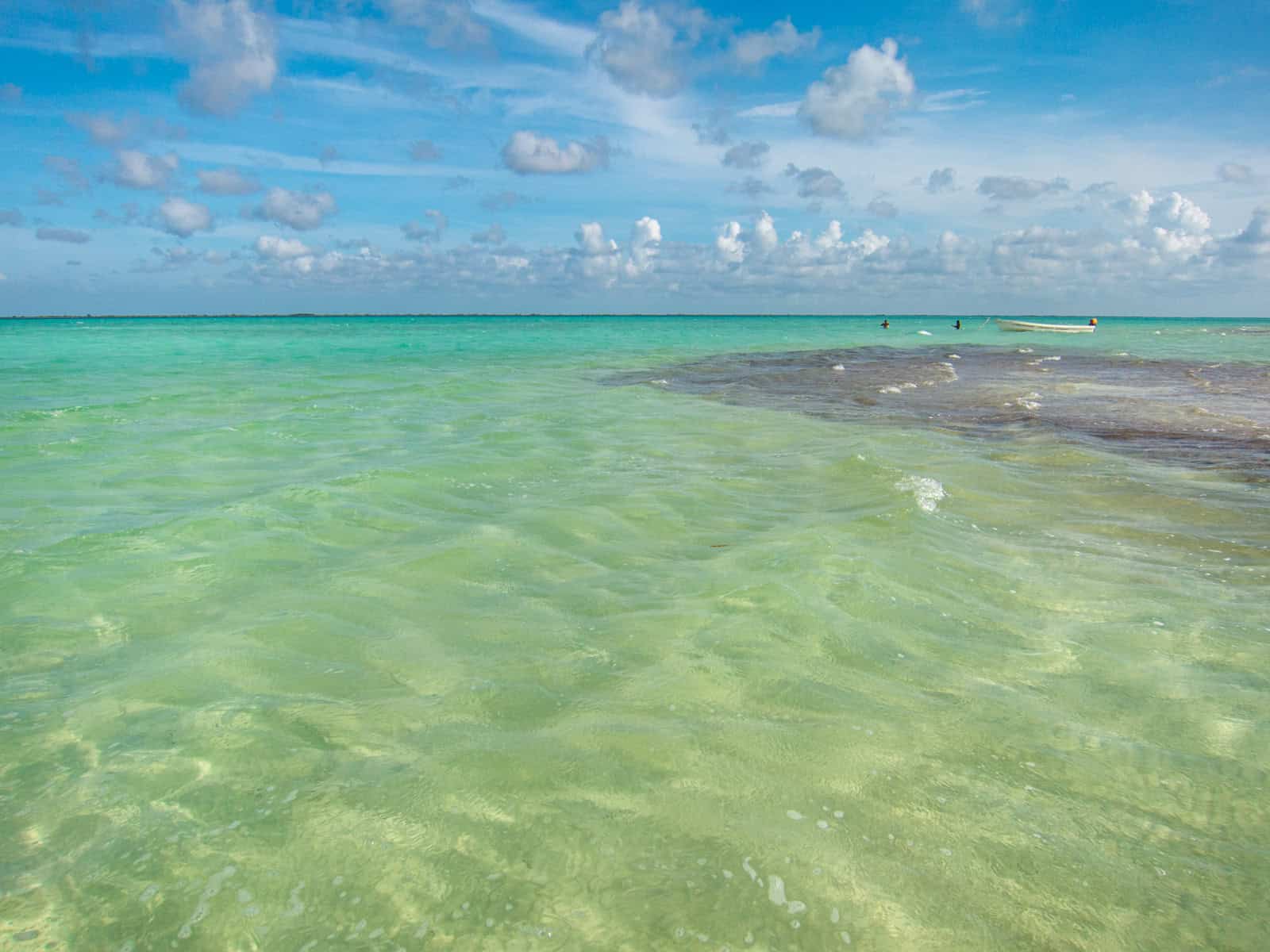 We began in Laguna de Muyil and passed through marshland to reach the more expansive Laguna Chunyaxché.
My guide pointed out the ruins of some tiny Maya buildings along the way. They sure knew how to live well back then.
The colors of the water were spectacular. For a bit of inspiration, check out the satellite view of Sian Ka'an on Google Maps.
The reserve includes a marine area with a reef. A road runs along the coast, and there are a handful of small hotels.
So, it is possible to visit or stay at the beach in Sian Ka'an if you want to get away from civilization.
_____
This story is brought to you in partnership with Visas Mexico.
Dave is the Founder and Editor in Chief of Go Backpacking and Feastio. He's been to 66 countries and lived in Colombia and Peru. Read the full story of how he became a travel blogger.
Planning a trip? Go Backpacking recommends: