The wonderful country of Israel offers visitors many important historical and religious sites, the Dead Sea, vibrant nightlife, and one of the world's best cuisines.
But, there's more to Israel than these mainstream experiences.
Here, we have curated seven unusual places to visit on a trip to Israel.
You may not have heard about them, but they can help provide a more fulfilling experience of visiting Israel.
Pool of Arches
Visiting the Pool of Arches is a truly remarkable experience.
It was built 1,200 years ago as an underground reservoir to supply water to residents located in Ramla.
As goats used this reservoir for drinking water, it is also known as the Pool of Goats.
It is famous for its picturesque arches and massive stone pillars with a lofty ceiling.
To enter, you need to descend a steep staircase to the shores of the calm waters. There you'll find rowboats for personal use.
The Pool of Arches has a stretch of 15 stone pillars where you can see ancient inscriptions.
When you finally complete the journey, there is a small exhibit describing its history.
Shrine of the Book
Constructed in 1965, The Shrine of the Book is a museum in Jerusalem that houses the ancient biblical parchments known as the Dead Sea Scrolls.
Its architecture is astounding, with a white exterior with sculpted striations across its body up to the rounded peak. The structure is both beautiful and enchanting.
The Dead Sea Scrolls are on display throughout the year.
Due to their fragility, the documents are displayed inside a glass case in a spinning lit ring.
The pages are cycled in and out so that every section has an opportunity to be displayed.
Gan HaGat
Gan HaGat is a 2,000-year-old wine press garden in Tel Aviv, Israel.
It is accessible via a public garden and often visited by families as there is a specific area just for kids. The wine press is tall enough to require the use of a small staircase for better views.
It consists of three parts: a flat surface for the grapes to get tramped, a shallow silo to filter out the waste, and a deep silo for the collection of juice.
Historically, the same location served as a transportation base for the British Army and was later inherited by the Israeli Defense Forces when they received independence in 1948.
The municipality further developed the site by planting trees and exotic plants, making it available as a public garden by 1971.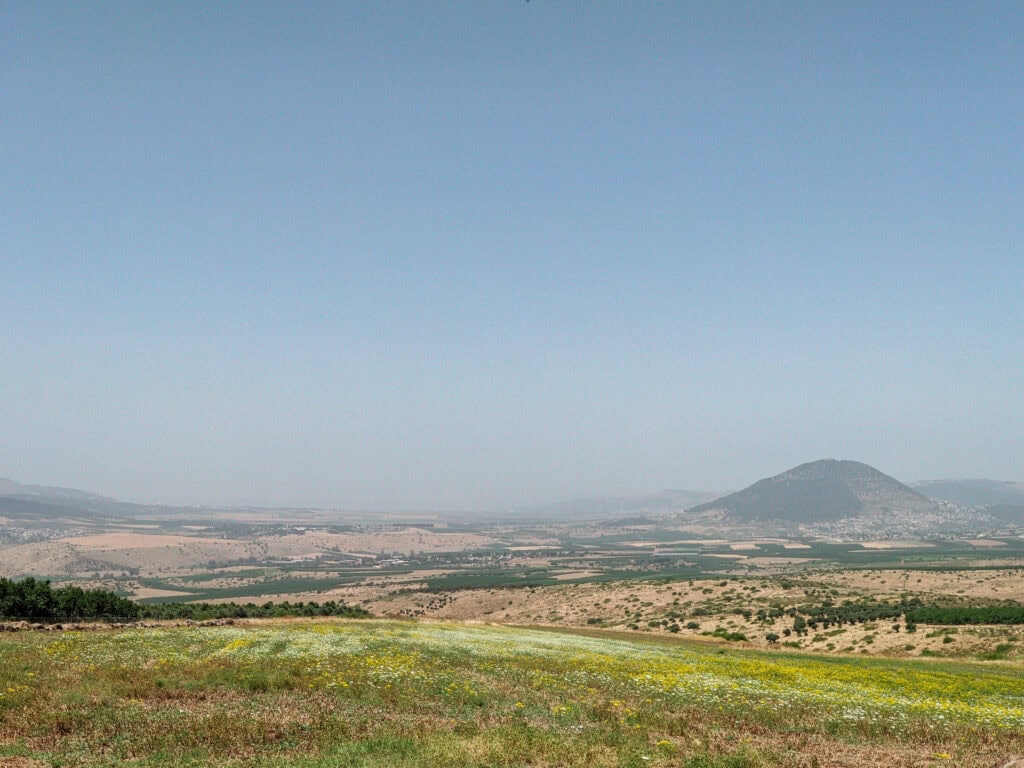 Mount Tabor
Mount Tabor is a beautiful dome-shaped mountain at the northeast end of the Jezreel Valley in the Lower Galilee region.
Since it is the sole mountain amongst the surrounding lower valleys, it can easily be seen from different observation points.
In addition to its unique features, it also harbors historical significance.
It witnessed the most significant battle between the Israelis against the Canaanite Forces. It is mentioned at least seven times in the Old Testament.
Due to its religious significance, many churches were built on its summit over the years.
Two of them are still present — the Franciscan Transfiguration Church and the Greek-Orthodox Church of St. Elias.
Both were built at the beginning of the 20th century. The latter one is unfortunately closed to the public.
There is also a hiking trail on the summit, roughly 1.2 miles long, which encircles the churchyard.
Avshalom Cave
Discovered in 1968 and dating back 300,000 years, Avshalom Cave was kept hidden from the public due to fears the ancient formations would be damaged if opened to tourists.
Seven years later, in 1975, it opened to visitors.
It is also known as the Soreq Cave and is one of Israel's most awe-inspiring natural wonders.
Stalactites, some of which are as long as 13 feet, hang from the roof. The slow dripping of water formed them through the ceiling.
Tall stalagmites rise from the floor. Some join together with stalactites to form pillars.
Many other bizarre formations can be compared to objects like elephant ears, ice cream cones, etc.
A modern lighting system makes some structures look even more glamorous.
Due to algae formation via photosynthesis, it's necessary to use a lighting system with a limited part of the color spectrum.
Avshalom Cave is on the western side of Mt. Ye'ela in the Judean Hills, approximately 12 miles west of Jerusalem.
Opening hours change between summer and winter and vary for holidays.
The Carmelit
The Carmelit is an underground funicular known for being one of the world's smallest subways.
Located in Haifa, it is Israel's only underground metro. It ascends from the Mediterranean shore to the top of Mount Carmel.
It serves as a quick and easy transportation link between commercial districts along Haifa's waterfront and the city's residential center situated atop Mount Carmel.
The train serves six stations from Paris Square at sea level to Gan Em at the mountain's peak, covering a 1.1-mile stretch.
It is a truly wonderful experience to make the eight-minute journey up and down the mountain every day.
David Waterfall
David Waterfall is near the Judean Desert, which is not far from the Dead Sea's edge.
It drops 120 feet into a shallow pool. However, entry to the pool is forbidden.
You have to walk from the Ein Gedi Nature Reserve about a mile away.
There are several waterfalls, cascades, and pools along the walk, all flowing from the David River.
The waterfall and river were named after the biblical figure King David. There is an interesting story behind this.
In the first book of Samuel, a narrative describes King Saul with 3,000 soldiers chasing King David.
The king confronted them using a piece of cloth, proving that he could have killed Saul but instead chose to spare his life.
Although the spot is of historical importance, it also stands out as a spectacular place that contrasts with its barren desert surroundings.
Choose the Best When Booking Your Trip
Currently, travel opportunities and restrictions vary by country due to the pandemic: safety and public health efforts of the utmost importance.
If you want to have the best experience in travel booking, you can certainly rely on Cleartrip.
Cleartrip provides travel trends, safety protocols, and airline advisories to help you make an informed decision about traveling because we need to be cautious now more than ever.
Many other features allow you to book your travel without any trouble.
One such feature is setting travel alerts. Suppose you are booking a flight from Dubai to Kochi and find the rates too high, you can set alerts for a price drop.
By doing this, you will receive an inbox notification for the same so that you can book right away!
However, you need to plan; this feature may not work for you if you're booking last minute.
You can also find the best travel deals on hotels and other accommodation.
Cleartrip has Arabic language support, making it widely accessible.
Travel booking to Israel can be made in an efficient, time-saving manner with Cleartrip.
______
This story is brought to you in partnership with Cleartrip.
This post was written by a guest contributor. Please reference the author's byline in the post above for more information. If you would like to guest post on Go Backpacking, please read our submission guidelines. For information on advertising opportunities, go here.
Planning a trip? Go Backpacking recommends: