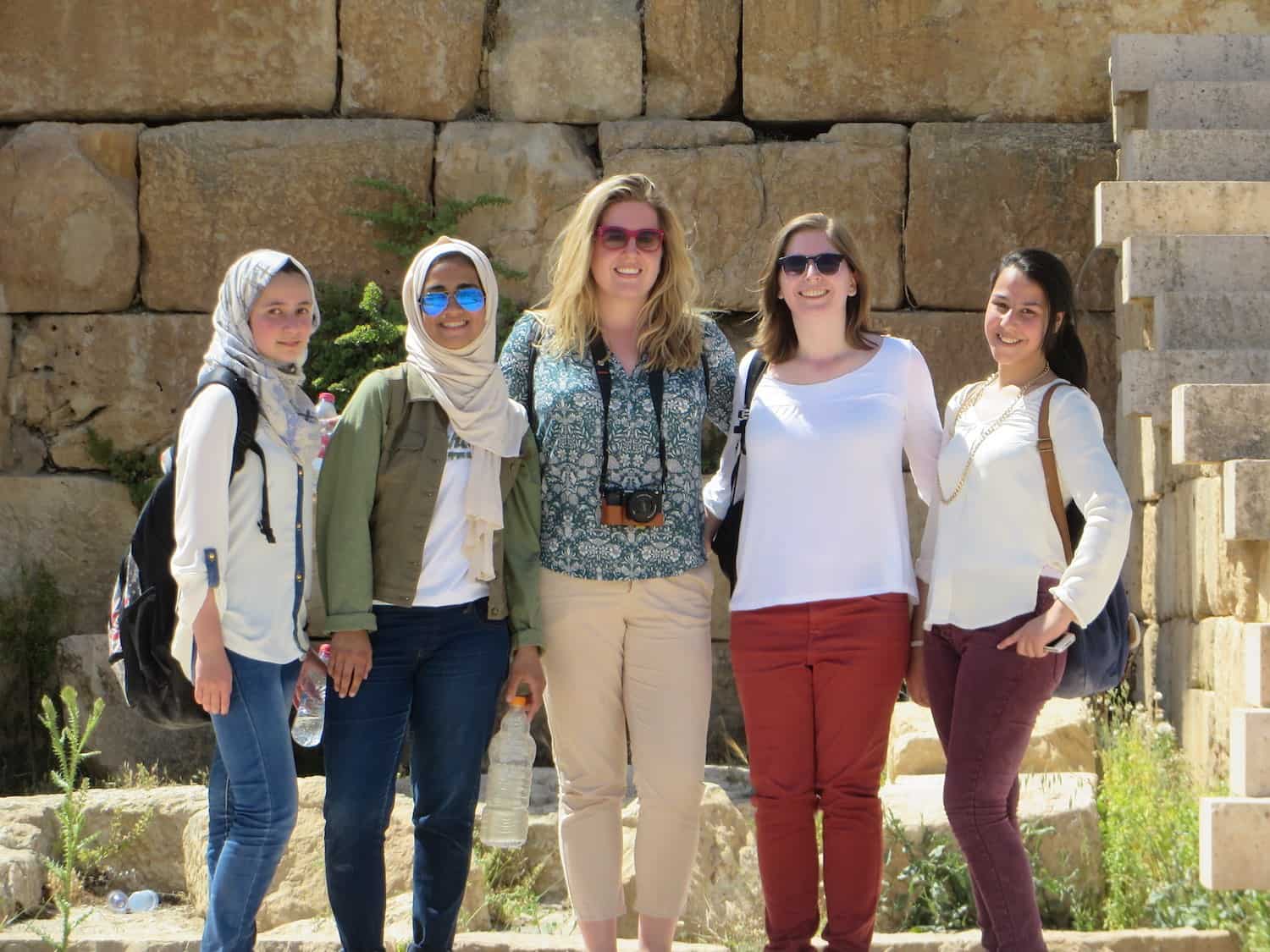 The entrance to Jerash is packed with Jordanian vendors, schoolchildren, and families. As a tall, blonde woman, I received lots of stares.
A girl, smiling as her friends giggled, approached me and asked to take a photo. I was confused before saying no thanks, thinking they might be making fun of me.
As we ventured into the Greco-Roman ruins, the groups of schoolgirls continued to approach us and ask for photos.
They would yell, "selfie" and run over in groups with their iPhones to take a photo together, followed by: "I love you!" and "You are beautiful!" and "Welcome to Jordan!"
When I heard that, my anxiety settled. They just wanted to connect. I told them the same things back.
Along with selfies, I noticed that Jordanians seem to take sharing meals very seriously.
Families spend all day together in preparation for the afternoon feast, taking time to visit and relax, welcoming anyone who can join.
One girl who came up to me in Jerash invited us over to eat at her family's home, and a group of construction workers breaking for lunch offered me a taste of their homemade soup.
But you don't need to go to someone's house or befriend a local to feel the graciousness of the people and eat authentic meals. Here are some recommendations to get you started.
Breakfast at Hashem's Downtown
The only thing on the menu at Hashem's is falafel and an assortment of sides. And you'll be amazed by the price of the fresh, filling meal.
It's in downtown Amman, right in the heart of the shopping district.
The place is always packed with locals, and the kitchen is open so you can watch them folding the steamy, soft pitas and tossing the chickpeas into the fryer.
Picnics in Wadi Rum
If you have time to venture out to the desert, stay overnight at Khaled's Camp.
After climbing the various rock formations and sweeping red dunes, your guide will cook a picnic for you in the desert complete with fresh vegetables, bread, and dessert.
At the end of the day, you're treated to a full Bedouin feast.
They pull layers of food out from being cooked underground – the bottom layer is all the meats, followed by the rice and vegetables.
You feast on that in the tent with the Bedouins, along with hot mint tea and shisha, if you so choose. Breakfast is served outside.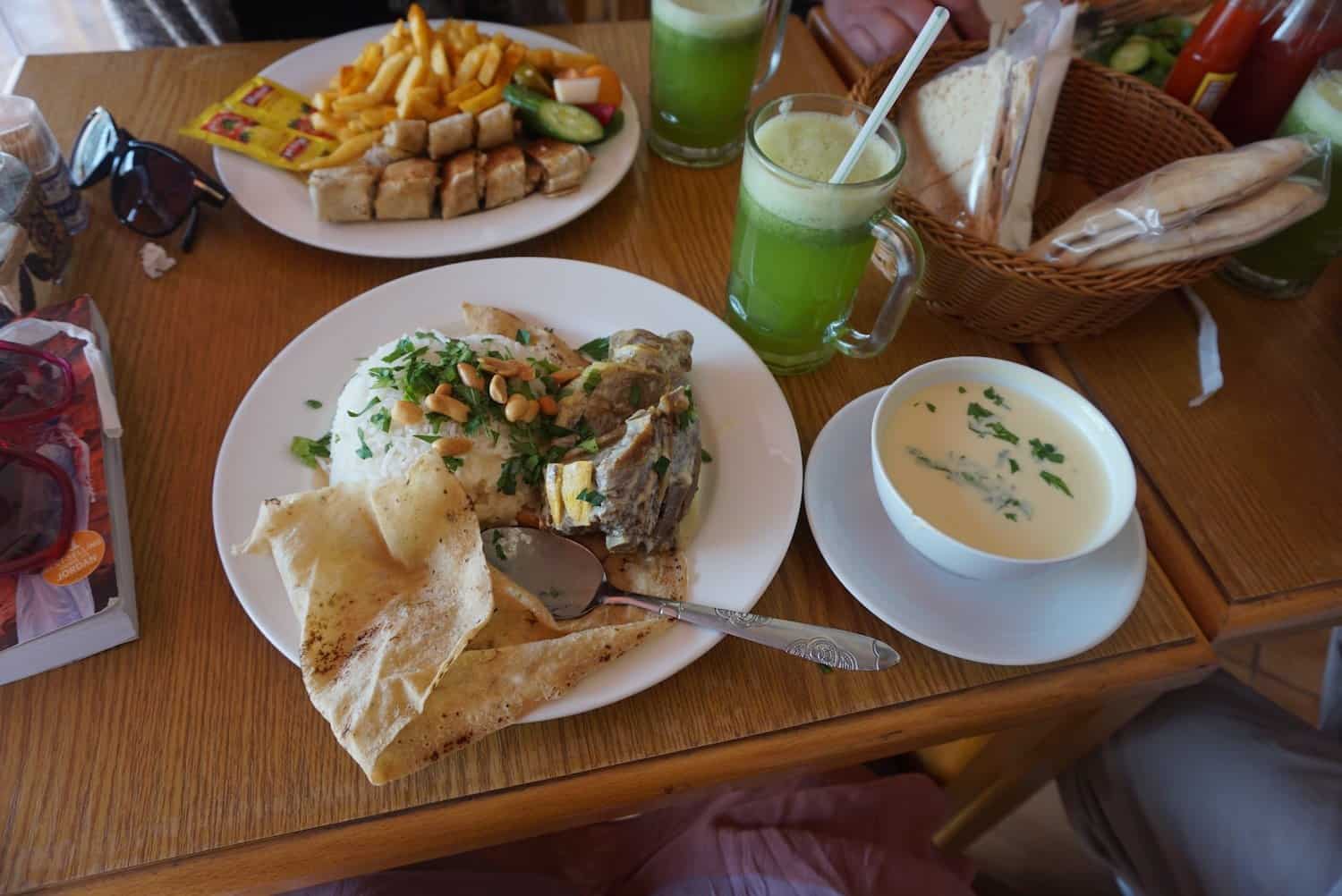 Traditional Meals Outside of Petra
The restaurants on the side of the road leading to Petra are small, but that makes them even more inviting.
I tried mansaf for the first time there, the national dish of Jordan. We sat by the window, people watching and talking with the waiter.
With our American sense of time, we were hoping to eat quickly to get a full day of hiking in. But the waiters told us to take it easy. Relax, have some tea.
We politely declined, and they said to come back later. The tea would be waiting for us.
It's hard to miss local dining experiences in Jordan.
Everyone wants to connect, from the schoolgirls to the taxi drivers and the men selling spices on the street. Sharing a meal is the perfect way to do just that.
Elaine lives in Washington, D.C. where she works in international education, manages her blog, Travelaine.com; and runs a community group, Cultures in DC. She is passionate about facilitating cross-cultural understanding and is intrigued by worldviews different than her own. She was brought out of her comfort zone for the first time while studying abroad in Barcelona, Spain; and has since lived in Dublin, Ireland; eaten grasshoppers in Oaxaca, Mexico; and learned about Islam in Tunisia, among other adventures. Follow her blog for travel inspiration in the United States and abroad, and check out her cross-cultural events if you're ever in Washington, D.C.
Planning a trip? Go Backpacking recommends: