The jeep ride to Tsomgo Lake took a little less than two hours thanks to our fast driver who thought nothing of overtaking other jeeps along the precipitous mountain roads. As we gained altitude, we began to literally drive through clouds. The air temperature became noticeably colder.
We passed landslide zones, stopped at a big waterfall (where I bought a cowboy hat for the yak ride), and soon arrived at the holy high-altitude Tsomgo Lake.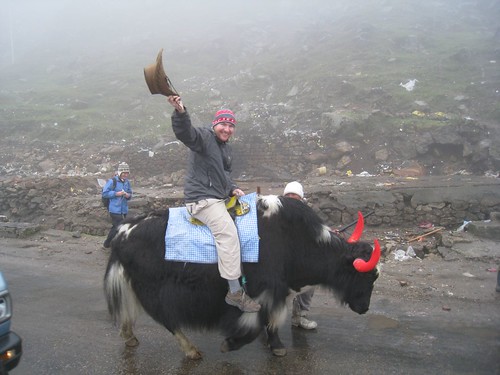 My first order of business was a yak ride.
I had gone on about it so much in the preceding days, I think Cameron was going to get a bigger kick out of watching me on one then seeing the lake itself.
Natalie joined me for the 10-minute plod along the barely visible lake's shore.
I found the ride to be quite comfortable.
It helped that there was a saddle I'm sure.
Every now and then the handler would whack the yak with a wooden stick, which seemed unnecessary.
After the yak rides, our guide let us hike up a steep, muddy hill opposite the lake.
The fog had begun to clear, exposing the little lake (1km in length) and snow along the opposite bank.
When it began to rain steadily, we headed down to a small restaurant where Tibetan momos (dumplings), instant noodles, and small cups of chai (tea) were consumed.
I used some of the freshly made green chili sauce and felt a burn on my tongue equivalent to anything I felt in Sichuan (except the hot pot).
Before I knew it, we were heading back down to Gangtok.
Halfway down, and once the rain was behind us, we took a rest break so the driver could pour water on the tires and brakes to cool them down.
We dined at a popular Indian restaurant along the pedestrian mall before packing up for our multi-day tour of two northern valleys.
Bonus Video
Dave is the Founder and Editor in Chief of Go Backpacking and Feastio. He's been to 66 countries and lived in Colombia and Peru. Read the full story of how he became a travel blogger.
Planning a trip? Go Backpacking recommends: