In addition to interviewing Troy and me for their video documentary about location independent professionals, Christine, and Drew wanted to capture moments from our daily lives, as well as scenes from around Medellin.
Early on in her visit, before the events of the Feria de Las Flores got underway, I recall Christine mentioning that the city was overwhelming.
Clearly, she was still trying to get her bearings after having become familiar with Bogota.
Two big benefits of working for yourself are the ability to set your own priorities and create your own schedule.
Assisting with the filming of a documentary in which I had the chance to be featured was priority #1 at the time.
Well, in addition to enjoying my first Feria de las Flores!
Luckily, the two priorities overlapped often, and what follows are the adventures of 3 travel bloggers and a baby.
Medellin is a wonderful city, however, it lacks a singular icon to represent it, such as the Empire State Building in New York City, Opera House in Sydney, or Big Ben in London.
My best recommendation was Botero Plaza, which features a large collection of statues from Colombia's (and Medellin's) most famous artist, Fernando Botero.
One afternoon, after wrapping up an interview with Troy, we headed to the downtown area known as Centro to get photos and footage of the plaza.
The commercial hub of the city can be very crowded, and usually, I put myself on high alert for pickpockets and other unsavory characters when I go down there.
Drew was clearly anxious about taking the expensive video camera out, and I couldn't blame him.
The three of us walking around with a baby and giant video camera with furry boom mic was anything but incognito.
People are robbed for a lot less every day.
Fortunately, Christine got the shots she wanted and we didn't run into any trouble.
Trying to film the Feria de las Flores was another challenge.
I met up with Christine and Drew for the antique car parade on a sunny Saturday afternoon, however, crowds had gathered along the parade route long before we arrived.
I'm sure Drew would be off scrambling for a good angle, while I kept Christine and the baby company in the shade, sipping a Pilsen beer and trying to snap my own photos without getting my pocket picked again.
The next day at the flower parade, it was even more crowded, and we had an even more difficult time finding a vantage point from which to get clear shots of the procession.
When we had all but given up, Troy noticed a television camera crew on an unfinished bridge over the parade route.
The next thing I knew, we were waving thousands of dollars in photography and video gear in front of a young soldier in an effort to convince him that we should be allowed on the bridge as well.
If the soldier wasn't fully convinced, the Colombians around him were, and he relented.
The result was an opportunity for Drew to get clear shots of Medellin's biggest annual parade, and festival, as it came to a conclusion.
Our last great adventure together was a paragliding trip in the mountains north of the city.
It was Christine's idea to have Drew run off the side of a mountain, and given the inexpensive cost of 25-minute tandem flights (80,000 pesos, or $45), Troy and I were happy to go along for the ride.
We met on a weekday morning at the northern bus terminal and took a short but steep ride up out of the valley.
The weather looked perfect, and Troy connected us with our pilots for the day — two Colombian brothers with 10+ years of experience, and thousands of flights under their belts.
Given the last time I went paragliding in Medellin the thermal energy wasn't very strong and I didn't get too high, I was hoping for a better outcome this time around. And I got it.
Drew suggested I could go first, so Troy and I took off with the two brothers.
Unlike the last time I went paragliding there, I didn't almost fall off the mountainside due to a lousy takeoff.
This time, I only needed to walk a few steps and I could feel the canopy pull us up off the ground.
Then, it was as simple as sitting back in the fabric seat and letting the pilot take control.
Of the three times I've been paragliding, this flight was by far the best.
I wasn't wearing my watch with altimeter, however, I was high enough off the ground to be fully satisfied with the flight.
Toward the end, we did have a little trouble gaining altitude to hit the landing zone, however, I eventually landed gently…on my butt.
Other memorable experiences include devouring massive amounts of sushi for dinner, a lackadaisical afternoon lunch at Brasarepa (an Envigado restaurant featured on No Reservations), and having long, opinionated conversations about all that was going on in the world of travel blogging.
____________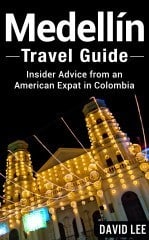 My 138-page, all-original Medellín Travel Guide is now available for Kindle and PDF.
.
Dave is the Founder and Editor in Chief of Go Backpacking and Feastio. He's been to 66 countries and lived in Colombia and Peru. Read the full story of how he became a travel blogger.
Planning a trip? Go Backpacking recommends: