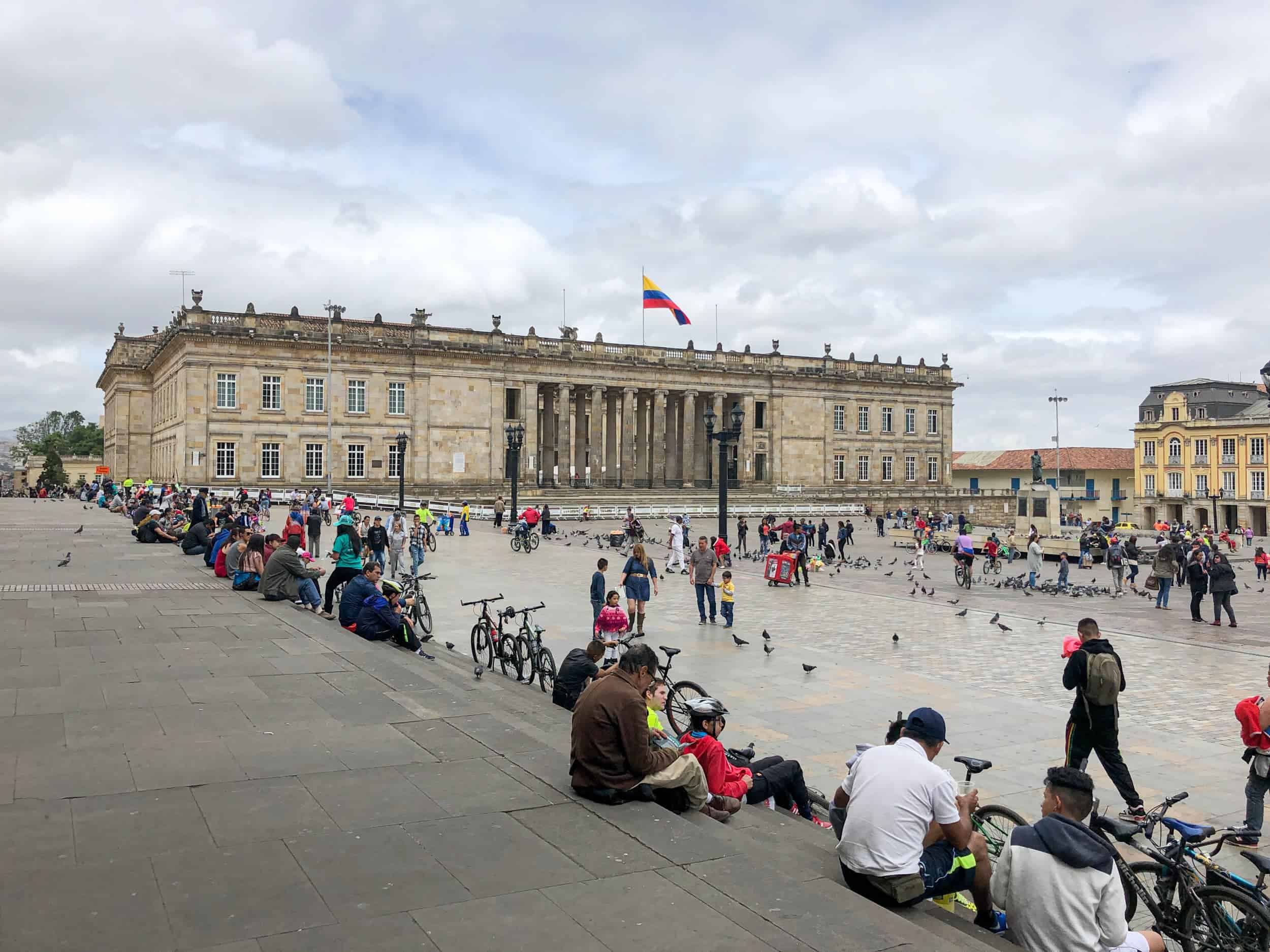 Bogota is the sprawling capital of Colombia and the country's largest city by a landslide.
Home to over 8 million people, the city sits at an elevation of 2,640 meters, ensuring chilly temperatures year-round.
On account of its sheer size, Bogota is also the most cosmopolitan city in the country.
The majority of travelers visiting Colombia will either enter or exit through Bogota, so it's worth taking a few days to experience what the city has to offer.
Getting There & Away
By Plane
Flights arrive from around the country, and the world, via El Dorado International Airport (BOG).
Avianca is the largest Colombian airline, with low-cost Viva Air providing stiff competition for domestic routes and prices.
To get to your accommodation from the airport, it's best to use one of the regulated taxis.
Exit the baggage area and look for a booth where you can give the attendant the address of your destination.
They will print a small slip of paper out with the price of the ride. Then head for the next available taxi in the queue, and give him the slip.
Do not pay more than the rate on the slip of paper. Tipping is not expected; however, the drivers always appreciate rounding up to the nearest thousand pesos.
Alternatively, Uber is also available.
Internet Access: Free wi-fi is available.
By Bus
El Terminal de Transporte is Bogota's central bus station. Buses arrive and depart 24/7 for destinations around the country.
As with the airport, regulated taxis can connect you with wherever you're staying in Bogota upon arrival.
Try to avoid arriving in Bogota (or any city) by bus late at night or early in the morning, as fewer people are around, and it can be more dangerous.
When leaving the city, you can usually show up and find a bus departing within a few hours for wherever you're headed, especially if it's another major city such as Medellin or Cali.
The exception is national holidays when a larger volume of Colombians are traveling around the country.
Internet Access: Communications shop with internet access; however, it may not be open at night.
Getting Around Bogota
By Taxi
Taxis are an easy and inexpensive way to get around the city.
You can hail them from the street; however, it's safer to call a taxi service to have one pick you up.
Upon calling, they will give you a code (clave) to confirm with the driver, thereby ensuring you're getting in the right taxi.
Be forewarned. Sometimes the taxis don't show up, so leave yourself extra time if you're meeting someone at a specific time.
Make sure the taxi's meter is on once you get started. The numbers on the meter correspond to a rate chart in the back seat.
For safety purposes, it's better to sit in the back seat, with the windows rolled up. Do not take valuable possessions out of your pocket, purse, or bags while in the taxi.
Smartphones are an especially popular target for thieves. Some taxi drivers work together with the thieves and garner a share of what is stolen from you.
By Transmilenio
The Transmilenio is the city's answer to mass transit and is meant to help ease congestion on the busy streets.
These select bus routes have their lanes on major roads, and you'll see the metal and glass stations throughout the city.
The Transmilenio buses, while big, can also get very crowded, especially at rush hour.
As a result, thieves now target riders. When possible, avoid riding these buses during busy hours. The cost is 1,600 pesos (about $1) per ride.
By Bus
Many private buses ply the city streets and can take you just about anywhere you need to go.
The bus routes are posted in the front windows and feature major landmarks, universities, and shopping centers to help you get your bearings.
Flagging a bus is as easy as holding your hand out as it approaches.
To get off the bus, look for a red button on the inside to push, or if you can't find one or it's not working, alert the driver that you want to get off. The average cost of a ride is 1,300 pesos ($0.75).
Where to Stay
Hostels
The majority of hostels are located in the historic La Candelaria district.
This neighborhood is worth walking in and features many funky shops, bars, and quality restaurants; however, it can also be dangerous, especially at night.
From 2010 to 2011, there was a wave of robberies targeting hostels and their guests in the area.
If you prefer to stay in a different part of the city, there are plenty of other hostels. Some, like La Pinta, have even popped up in the safer, upscale Chapinero neighborhood to the north.
Quick Recommendations
See also: Best Hostels in Bogota
Couchsurfing
Couchsurfing in Bogota is another option that can help you save money and give you a chance to see the city from a resident's perspective.
Things to See & Do
Despite Bogota's grandeur, the most popular tourist sites are all within walking distance of each other. If all you have is a day, you should be able to see most of them, albeit in a rushed manner.
La Candelaria – La Candelaria is a historic district in Bogota. It can be enjoyed by simply walking around the streets during the daytime, taking in the colorful buildings and street art.
Eventually, you'll find yourself in the vast Plaza de Bolivar, a popular people-watching spot surrounded by government buildings and the picturesque Catedral Primada.
El Museo del Oro (Gold Museum) – Every major city in Colombia has a gold museum; however, Bogota's is the largest and best. The entrance fee is nominal, about $2, and photos are allowed without flash.
Donacion Botero & Museo Botero – Fernando Botero is Colombia's most famous artist, and his sculptures are on display around the world.
Originally from Medellin, he has donated many pieces to several museums in the country, including the Donacion Botero in Bogota.
The Museo Botero is more extensive and features a broader array of Latin artists. Additional works by Picasso, Renoir, and Dali are also on display. The entrance is free, and photos are allowed without a flash.
Cerro de Monserrate – On a clear day, you can take the small tram up Cerro de Monserrate for sweeping views of the capital. A church is situated atop the mountain, as are a bunch of souvenir shops.
Catedral de Sal de Zipaquira (Salt Cathedral) – About an hour outside of the city, in the town of Zipaquira, a cathedral was carved within a salt mine.
Colorful lighting helps to brighten the interior, and guided tours are available for about 15,000 pesos ($8). No flash photography is allowed.
Food & Drink
Regional Dish
Ajiaco – a hearty soup of shredded chicken, potatoes, corn on the cob, capers, and cream.
It is usually served with a side of avocado, which should be sliced up and thrown in, and some rice.
If you're only visiting Bogota, be sure to try other common Colombian foods such as arepas, empanadas, and chorizo.
Restaurants
Andres Carne de Res – a frequently recommended restaurant with a new location on Calle 82 #11 – 57.
Antigua Santafe – the best Ajiaco in Bogota. Calle 11 #6 – 20, just off Plaza Bolivar in La Candelaria.
Nightlife
Bogota's nightlife offers something for everyone, from weekly poker matches with expats (if you can find them) to salsa dancing until the early morning hours with Colombians.
The city's main nightlife area is referred to as the Zona Rosa. Take a taxi here, and you can get out and walk around until you find a bar or discoteca that looks good.
Bars & Clubs
Bogota Beer Company – sample the city's popular microbrews. Multiple locations throughout the city, including the charming Usaquen neighborhood at Carrera 6 #119 – 24.
Kukaramakara – a chain of clubs by the same name is in all the major Colombian cities, plus Miami. Cover bands rock the house with Latin covers on Friday and Saturday nights. Between sets, DJ's play crossover music, including plenty of reggaeton. Carrera 15 #93 – 57.
____________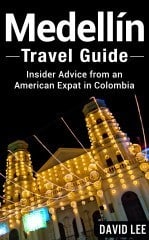 The 138-page, all-original Medellín Travel Guide by David Lee is available for Kindle and PDF.
.
Last Updated on September 24, 2021 by Dave Lee
Dave is the Founder and Editor in Chief of Go Backpacking and Feastio. He's been to 66 countries and lived in Colombia and Peru. Read the full story of how he became a travel blogger.