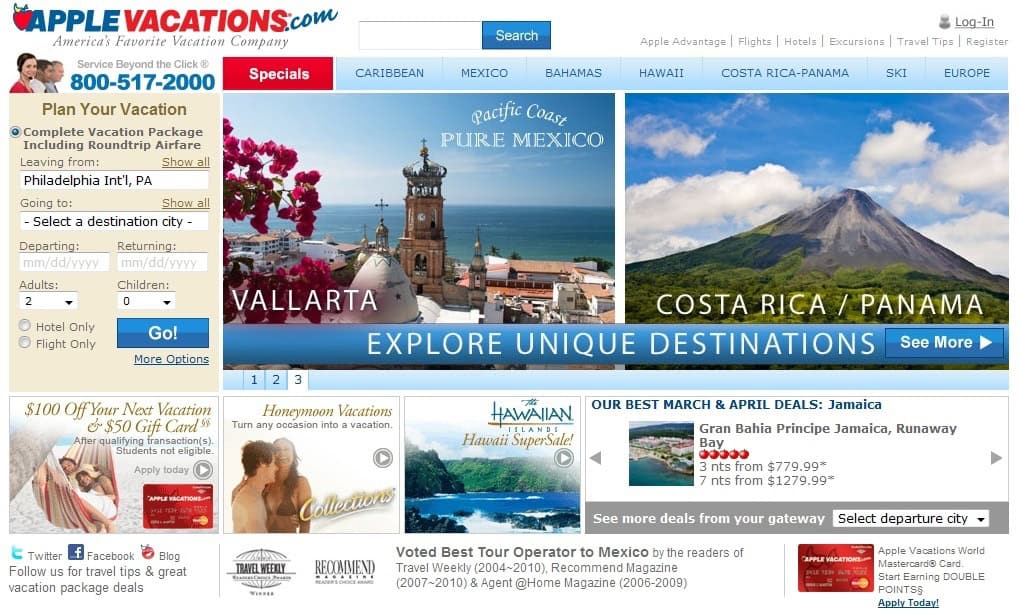 For all the traveling I've done in the last three years, I can still remember my first international trip like it was yesterday.
I was no more than 10 or 11 years old, and my parents took my brother and me on a package trip to Ixtapa, Mexico.
I remember the intense sun, pretty beaches, giant resort pool, and managing to find respite from the heat in an air-conditioned computer room where kids gathered to play games.
When I was invited to check out the Apple Vacations website recently, it brought back those childhood memories.
Founded in 1969, Apple Vacations is an American company specializing in all-inclusive vacation packages to some of the hottest (literally and figuratively) tropical destinations, including the Caribbean, Mexico, Bahamas, Hawaii, and Costa Rica.
Voted Best Tour Operator to Mexico for six straight years by the readers of Travel Weekly, Apple Vacations has built a business out of giving consumers exactly what they desire in a hassle-free travel experience.
By 1997, they were celebrating their one-millionth passenger arrival in Cancun.
They've also built a reputation for trips to Punta Cana on the Dominican Republic's east coast.
One of their website's interesting features is the Apple rating system, which relies solely on customer feedback to create hotel ratings.
The more red apples you see, the better the accommodation.
To give you an idea of the bargains to be had, I put myself in the shoes of many a weary New Yorker and checked the options for a package trip from New York City to Oahu, Hawaii.
Including roundtrip airfare and a 6-night stay at the Hilton Waikiki Beach, the cost is $979.
If you don't want to deal with the jetlag, sticking to a similar time zone makes sense, especially for shorter weekend getaways.
By looking for last minute vacations, you can get even cheaper deals. Head for Cancun's Riviera Maya for three nights accommodation with food and drinks, plus roundtrip airfare for $470.
While a lot is happening on the Apple website, I found the trip search features easy to use and the requisite fine print easy to find and understand.
In addition to the tropical destinations, you can also browse ski packages to Colorado, Utah, and Wyoming and a wide range of trips to popular European cities such as London, Paris, and Barcelona.
If you're overdue for a spontaneous vacation, the kind that requires no planning on your part, check out the deals at Apple Vacations.
________
This story was brought to you in partnership with Apple Vacations.
Dave is the Founder and Editor in Chief of Go Backpacking and Feastio. He's been to 66 countries and lived in Colombia and Peru. Read the full story of how he became a travel blogger.
Planning a trip? Go Backpacking recommends: