Barcelona is truly one of the jewels of the Mediterranean.
Nestled between the Collserola mountain range and the Mediterranean Sea, it's not hard to see why Barcelona is one of Europe's most visited cities.
There's plenty of well-known tourist sites for you to choose from, including the legendary Casa Milà & still under construction Sagrada Familia, but Barcelona is much more than that.
In this story, I'll provide insider tips and tricks on how you can beat the crowds and get off the beaten track in Barcelona.
First, a quick breakdown of the districts of Barcelona.
What people think of as one place, is actually around eight different barrios (neighborhoods), each with their own distinct culture and festivals.
Neighborhoods in Barcelona
Gracia – An old bohemian part of the city, with tight, narrow streets. The barrio's festival runs from August 15-21 and is legendary across the city.
Sarria – One of the wealthiest areas of the city, known for its wider streets and small-town atmosphere; previously, it used to be a distinct village.
Eixample – If you ever see Barcelona from the air, this is the first neighborhood you'd notice. It features a grid structure extending from one side to the other. The area is known as the king of tapas. You'll also find the Sagrada Familia here.
Poble Sec- A compact district running east/west between the harbor and Paca d'Espanya. Known for having excellent taps places.
Ciutat Vella – The old town, made up of three barrios called Gotico, Ravel & Born. These are the busiest and liveliest areas of the city.
Poblenou – What was once the industrial heart of Barcelona has slowly been turned into a bustling residential district, with probably the best Rambla (a broad street) in the city.
Clot – Mainly a residential district, contains one of the biggest flea markets in Europe.
Horta / Guinardo – Built during the 60s & 70s, this is mainly one big residential area, except of course for the magnificent bunkers.
If you're looking at apartments in Barcelona, be sure and keep these distinct neighborhoods in mind.
How to Get Off the Beaten Track in Barcelona
Hang Out with Locals in Gracia
If you head out for a drink, or a night in the city center, especially down around the Rambla, your chance of meeting locals is pretty much zero.
My recommendation is to head up to the top of Passeig de Gracia and join the hip young folks in the trendy suburb of Gracia.
Once a distinct town, before being absorbed into Barcelona in the late 18th century, it still maintains a unique Bohemian vibe.
There's a local Spanish tradition here called 'Botellón' where young and old gather in the pedestrianized squares on warm summer nights to drink beer and chat.
The most popular is in the Plaza del Sol in Gracia. Keep the noise to a minimum after 1 am, though.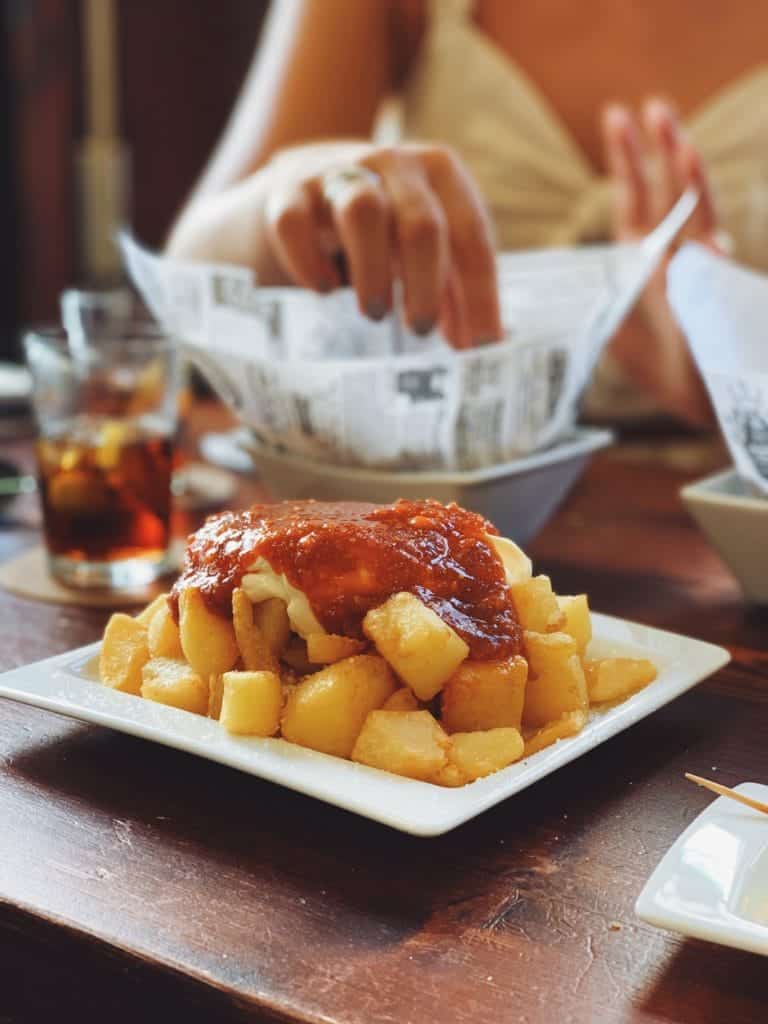 Eat Tapas in Eixample
For a country synonymous with food, you're probably surprised I haven't mentioned it yet. Don't worry, though, here it is.
Barcelona is packed full of restaurants, but so many tourists head to the same ones on the Rambla or Passeig de Catalunya.
I recommend heading up into Eixample, that large neighborhood organized in a grid system, which was designed and built in the late 19th/early 20th century by Ildefons Cerdà.
You will find plenty of small Catalan restaurants around here, especially on Carrer d'Enric Granados.
Don't bother using TripAdvisor or anything; just see which places are busy and head inside.
Pro tip: try not to eat dinner before 9 pm, as the locals eat later in the evening.
Ramble Down The Rambla de Poblenou
Now, as we all know the main attraction in Barcelona is the Rambla, a pedestrianized road that runs from the Plaza de Catalunya to the port.
It's usually packed full of people though, so I recommend if you're in the area, heading across to the Rambla de Poblenou.
It's as picturesque as the main Rambla and much less crowded. You'll be able to walk in a straight line!
Relax in the Parc de Montjuic at Poble Sec
Most people have heard of the famous Parc de Ciutadella, situated close to the Arc de Triomf, a favorite amongst selfie stick wavers.
But for my money, the Parc de Montjuic is better and a much less busy place to spend your time.
Situated on a small hill overlooking the city, it is easily accessible by two cable cars and a funicular.
The park contains plenty of interesting sights, from one of the world's most picturesque swimming pools used in the 1992 Olympics to an old fortress and at the base of the park, the fantastic Museu Nacional d'Art de Catalunya.
There's also plenty of little hidden little quiet green spots for you to explore as well.
See also: How to Enjoy Barcelona on a Budget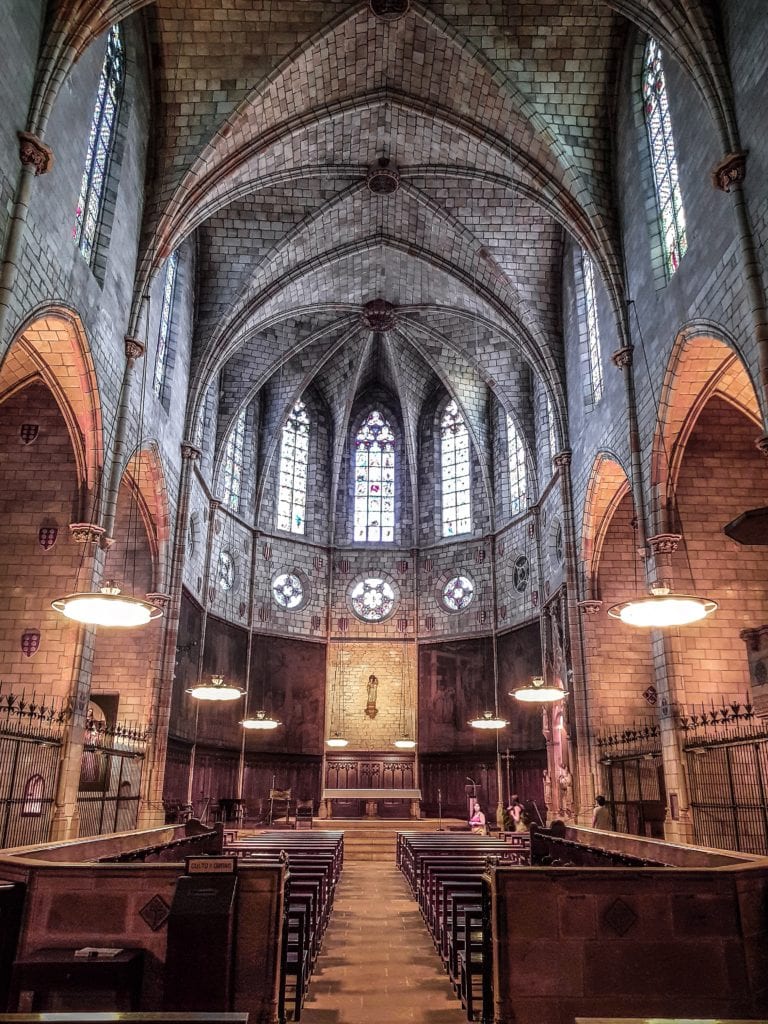 History at the Monestir de Pedralbes in Sarria
Nestled towards the top of the city, far away from the hustle and bustle of the center, the Monestir de Pedralbes is a historic monastery worth your time.
Founded in 1326, it's still fulfilling its original purpose with a small community of nuns living in an attached building.
It's the perfect place to spend a quiet afternoon marveling at the historical architecture and fabulous old paintings.
One more thing you can do here is a walk to Sarria. This is one of the wealthiest parts of Barcelona and retains a sort of village feel to it.
You'll find some of the best tapas in Barcelona here, second only to Example.
Pro tip: head there on a Sunday afternoon after 3 pm, as it is free!
Grab A Bargain at the Mercat dels Encants in Clot
You'll probably be told Mercat dels Encants is one of the oldest flea markets in Europe. I am not too sure if that's precisely true, but it's undoubtedly one of the biggest.
Open four days a week, Monday, Wednesday, Friday, and Saturday from 9 am to 8 pm; this is one of the best places to grab a bargain in the whole of Barcelona.
Just remember you can't take a sofa home with you on the plane!
See also: Andalusia on a Budget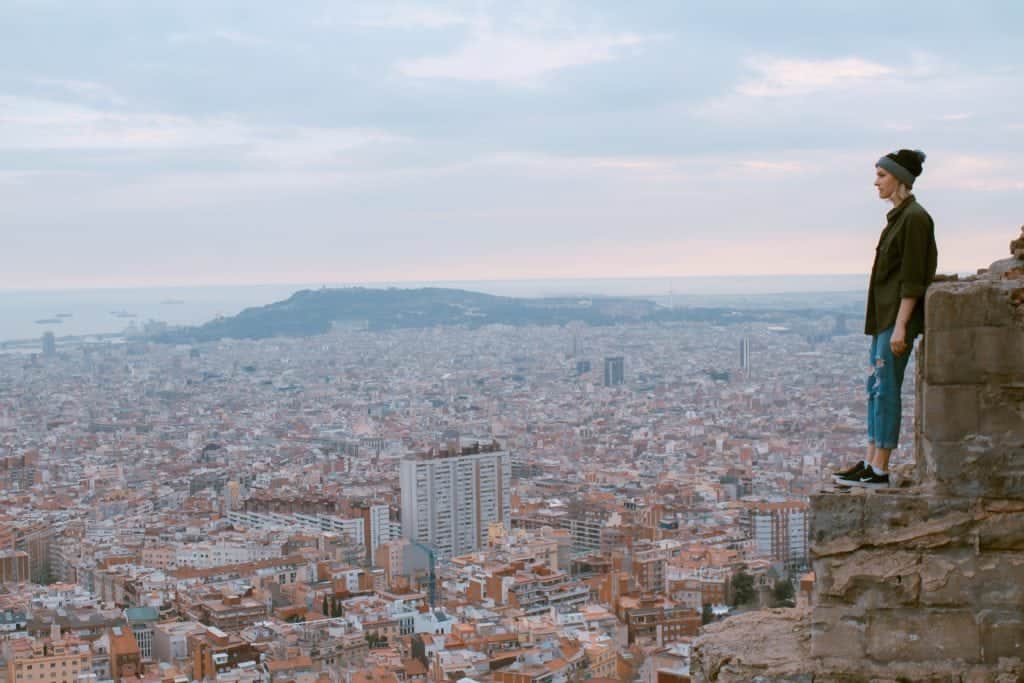 Soak in the Sunset/Sunrise from the Bunkers of Carmel in Guinardó
The military Bunkers of Carmel offer some of the best views in the city, as long as you don't mind a little bit of hiking.
Access is completely free, but watch your step as it can be a little bit dangerous at times.
The views from up there are absolutely stunning. You can see across the entire city, including once in a lifetime views of La Sagrada Familia.
Head up there for the sunset/sunrise which dazzles the city in bright orange light.
It's sometimes a bit busy, but mainly with locals and the occasional well-informed tourist.
Find the Perfect Beach in Castelldefels
It's an open secret amongst the residents of the city that the main Barcelona beach is pretty rubbish.
The sand is horrible, and you won't get a moment of peace.
But, if you head just 25 minutes down the coast by train, you'll find one of the most magnificent beaches in all of Spain.
This golden sand beach stretches for over 10km from the airport to the mountains.
It's not hard to see why this is the home of many of Barcelona football (soccer) stars.
Even Leonel Messi has a mansion here, tucked away high up in the hills.
Skateboard around MACBA in Ravel
Situated in the heart of the (at times) rough-and-ready neighborhood of Ravel is the Museu d'Art Contemporani de Barcelona.
This museum hosts some fantastic events, including my favorite from 2018, a Stanley Kubrick exhibit.
Outside MACBA is a large park that is famous for skateboarders and hipsters alike, who come to practice their tricks and hang out during the long warm summer nights.
Grab a beer from the local shop and join in on the fun.
Everyone here is very welcoming, and someone always brings a speaker. Chill out and enjoy the evening.
See also: Paradiso – Barcelona's Hidden Bar Behind a Pastrami Shop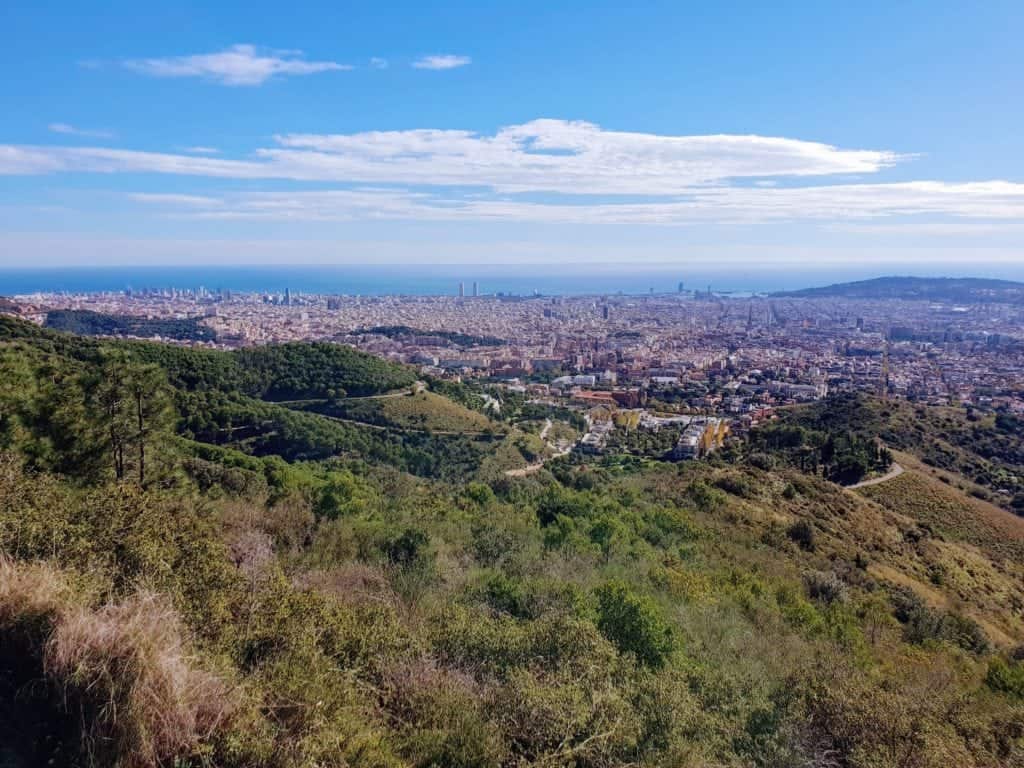 Hike in The Park De Collserola
From wherever you stand in Barcelona, you can't help but see this impressive mountain range looking down on you.
With a peak of over 500m above sea level, this is the perfect place to stretch your legs.
During the weekends, the Carretera de Les Aigües, a 9km long dirt path that runs along the side of the park offering great views of the city, is packed with people.
Runners, bikers, and families head up for a picnic — escaping the city for the park is practically a Catalan tradition.
Expats in Barcelona may also make their way up The Park de Collserola.
Getting Around Barcelona
Don't Buy A Single Metro Ticket
To visit a few of the places I've mentioned, you'll probably have to use public transport.
Here's a very important tip — don't buy a single ticket on the metro.
What you need to do is buy a T-10. Costing just €10,20 it offers you ten trips, up to 90 minutes each.
You can use it with multiple people, passing the ticket through the machines one after each other.
This is a lot cheaper and much more environmentally friendly than using taxis.
Staying Safe
In terms of staying safe, it's essential to know that Barcelona has a well-deserved reputation for pickpockets.
I suggest you keep your mobile phone and wallet in your front pants pockets. Leave all the rest of your valuables at your hotel.
If you go to the beach, don't take anything valuable with you at all.
This way, you can enjoy the city without having to worry about having your prized possessions stolen.
So, there you go. My top tips for exploring Barcelona and getting away from the tourist trail.
Though, of course, do make time to visit the Sagrada Familia. It truly is a fantastic structure.
It turns out some things are on the tourist trail for a reason.
Callum is a travel writer at AlongTheWindingTrail.com, where he tries to look on the lighter side of life on the road.
Planning a trip? Go Backpacking recommends: