When people ask me what there is to do in Kyrgyzstan, besides talking about the unique cultural aspect, I often mention adventure activities, which are made possible by the mountainous landscape.
Did you know that Kyrgyzstan is comprised of nearly 94% mountains? Yeah, that's a lot of mountains.
These mountains are why the country has become known as the "Switzerland of Central Asia" and why many trekking-related companies have been popping up in Bishkek, such as the Trekking Union.
Mountaineering
Fancy yourself an expert climber, or at least a strong enthusiast? Because of the mountains, Kyrgyzstan is a prime location for mountain climbing with several coveted peaks.
Choose from the likes of Lenin Peak (7,134 m) or the Khan-Tengri Peak (6,995 m) in Kyrgyzstan, or try peaks that reach across to neighboring countries like Mustag Ata Peak (7,546 m), which involves crossing into China.
The Kyrgyz Alpine Club has an extensive amount of information for visitors interested in climbing these areas.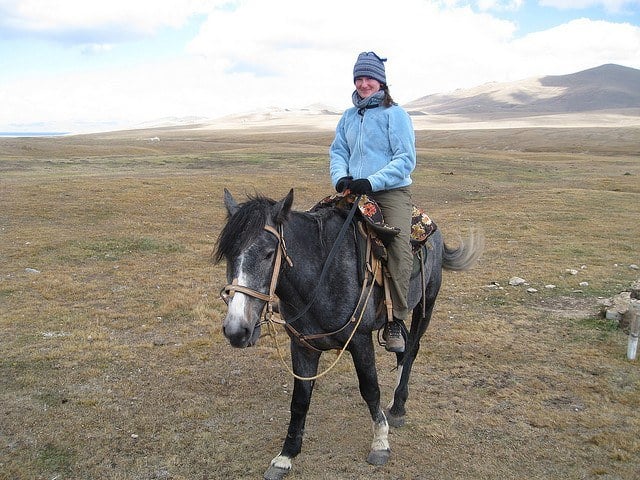 Horseback Riding
Just step inside a CBT office for a few minutes, and you'll be met with countless horseback riding opportunities across the country.
There is a special love for the horse in the countryside of Kyrgyzstan.
Not only do they provide the Kyrgyz national drink – Kumyz (fermented horse milk) – they also are a primary mode of transport in the nomadic areas and used for herding animals.
And because of the landscape, if you want to get access to some of the country's most gorgeous hot spots, sometimes it can only be reached by an animal (or foot).
Trekking
Trekking is probably the most popular adventure activity for visitors behind horseback riding. The most likely regions for trekking are Karakol, Naryn, Kochkor, and Arslanbob.
With the help of groups like the Trekking Union of Kyrgyzstan, guides and supplies can be rented, and mountain huts can be used.
Although trekking permits are generally unnecessary, there will be certain regions where they may be required: the Khan Tengri, Karavshin, and Inylchek glacier area.
Related: What to Expect When Backpacking Kyrgyzstan
Rafting
Several river locations across Kyrgyzstan are ripe for rafting during a few summer months of the year.
According to the Silk Road Water Center, the Chu River (Grades II to IV), Chong Kemin (Grades II to IV), Kekemeren River (Grades II to IV), and Naryn River (Grades II to IV) are optimal locations to take the plunge.
Only, don't forget the wetsuit as the water, often coming from mountains and glacial melt can be freezing.
Skiing
Skiing may not be the industry that it could be in a mountainous country, but a few locations near both Bishkek and Karakol would suffice for enthusiasts.
However, more adventurous souls can opt to take a helicopter up to 5,000m peaks and get dropped off for Heliskiing and Heliboarding tours.
The peaks in question can be from 1 to 5 kilometers in length with fresh, powdery snow. If interested in this sort of adventure, then check out Heli Ski Tours in Kyrgyzstan.
Brooke lives a thrifty lifestyle so that she can travel the world at every possible opportunity. Find more of her writing on her website: Her Packing List. Or follow her on Twitter.
Planning a trip? Go Backpacking recommends: