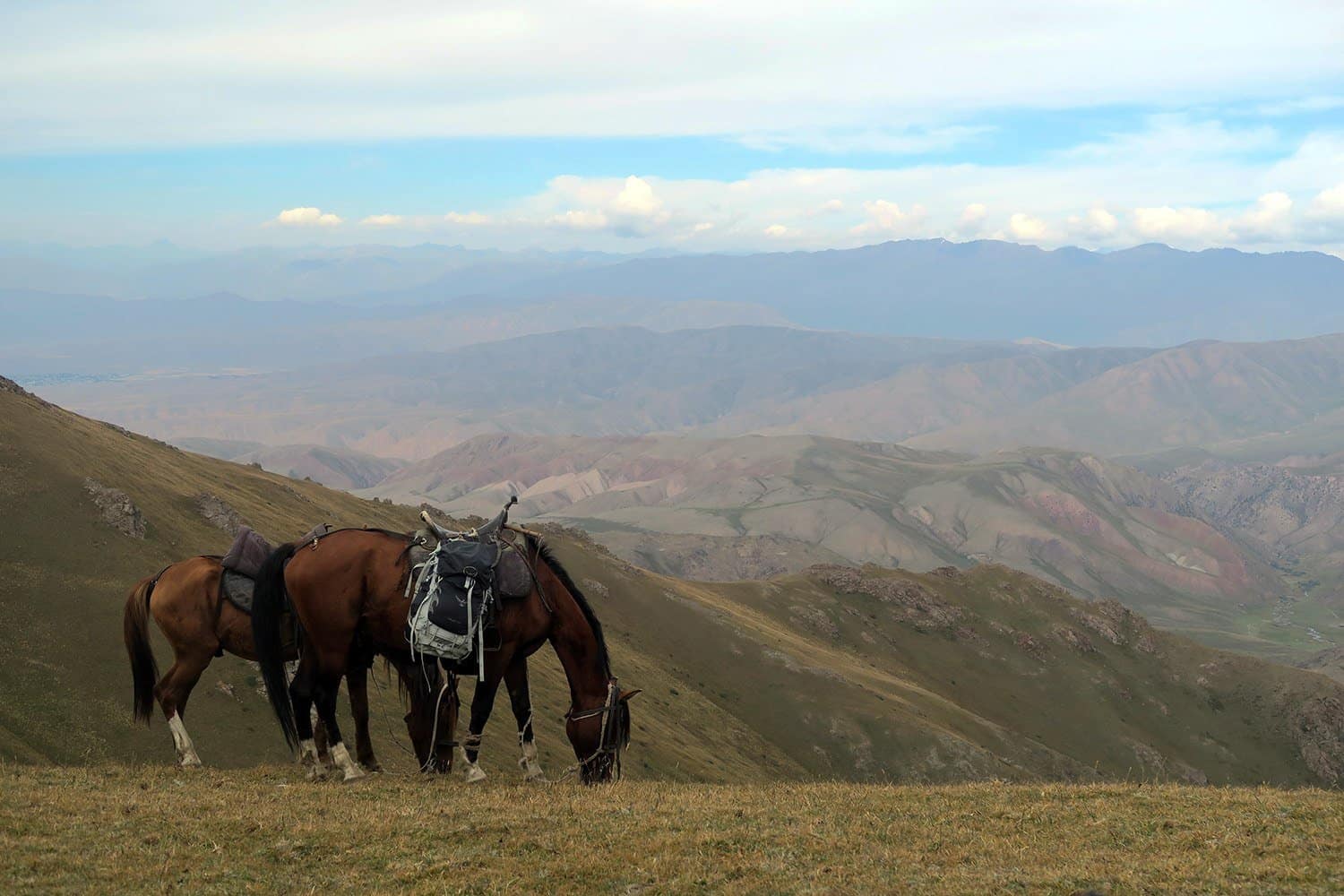 Two days spent horse trekking through the northern Naryn Region of Kyrgyzstan (from Kochkor to Song Kol Lake) in Central Asia was a significant highlight of my time there.
I'd gone to cover the World Nomad Games for Go Backpacking and see some of the country.
Day 1
The journey started and ended in a yurt (a portable round tent used for shelter by nomads).
We'd traveled out to the town of Kochkor by bus, then further still into the mountains, stopping at a remote yurt camp.
As per Kyrgyz tradition, we slipped off our shoes and entered the first yurt.
Before us lay a spread of food – bread, jams, cream, chocolates, and lollies. These were only the appetizers.
Soon steaming plates of plov were brought out – rice with beef, carrots, garlic, and onions, served spicily.
Kyrgyz food is severely underrated and is particularly pleasing if you're a fan of fresh meat and carbs.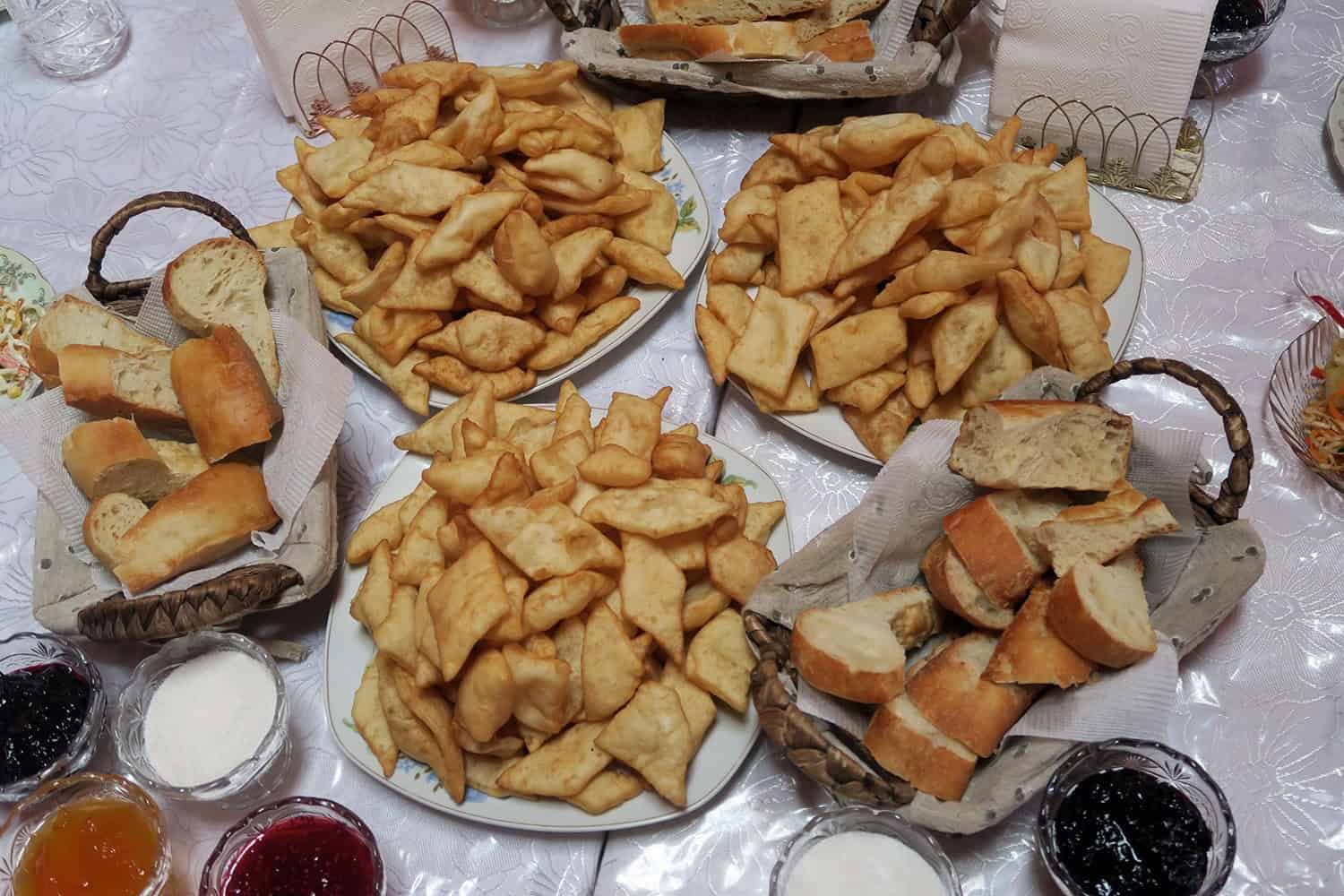 Choosing My Horse
Our belly's full, we exited the yurt. It was time to choose our horses and ride off into the distant horizon.
I picked a pretty buckskin gelding, who I later christened "Tortoise" due to his extremely (and sometimes frustratingly) slow and steady gait.
Strapping a helmet firmly onto my head (safety is sexy), I mounted Tortoise with the help of our guide, Daniyar.
That done, I just had to manage to stay on my horse for the next ten hours, and I could call the ride a success.
Once everyone in our group was ready, we waved farewell to the camp members and started on what would be five hour's worth of riding for that day.
We spent the morning riding across open paddocks.
These were peppered with livestock and the occasional yurt or renovated train carriage, used by the local shepherds as their home for the summer seasons. From there, we crossed into mountainous terrain.
We were to put complete faith in our horses, who knew the path well and picked their way across the sides of the mountains with precision.
Being nervous of heights, I lost myself in my thoughts and did my best not to look down any more than I had to.
After riding for the better part of the day, we made it to our camp for the night – a collection of three yurts tucked into the hills.
I dismounted, stumbled about on my legs until they stopped feeling like jelly, and entered the yurt to tuck into our second feast for the day.
Dinner and Kumys
It was here that we first tried kumys – a Kyrgyz drink made from fermented mare's milk. I was told that the drink was an acquired taste, but I took to it immediately.
I could have drunk more of the stuff had I not already been full from our lavish dinner.
Related: What to Expect When Backpacking Kyrgyzstan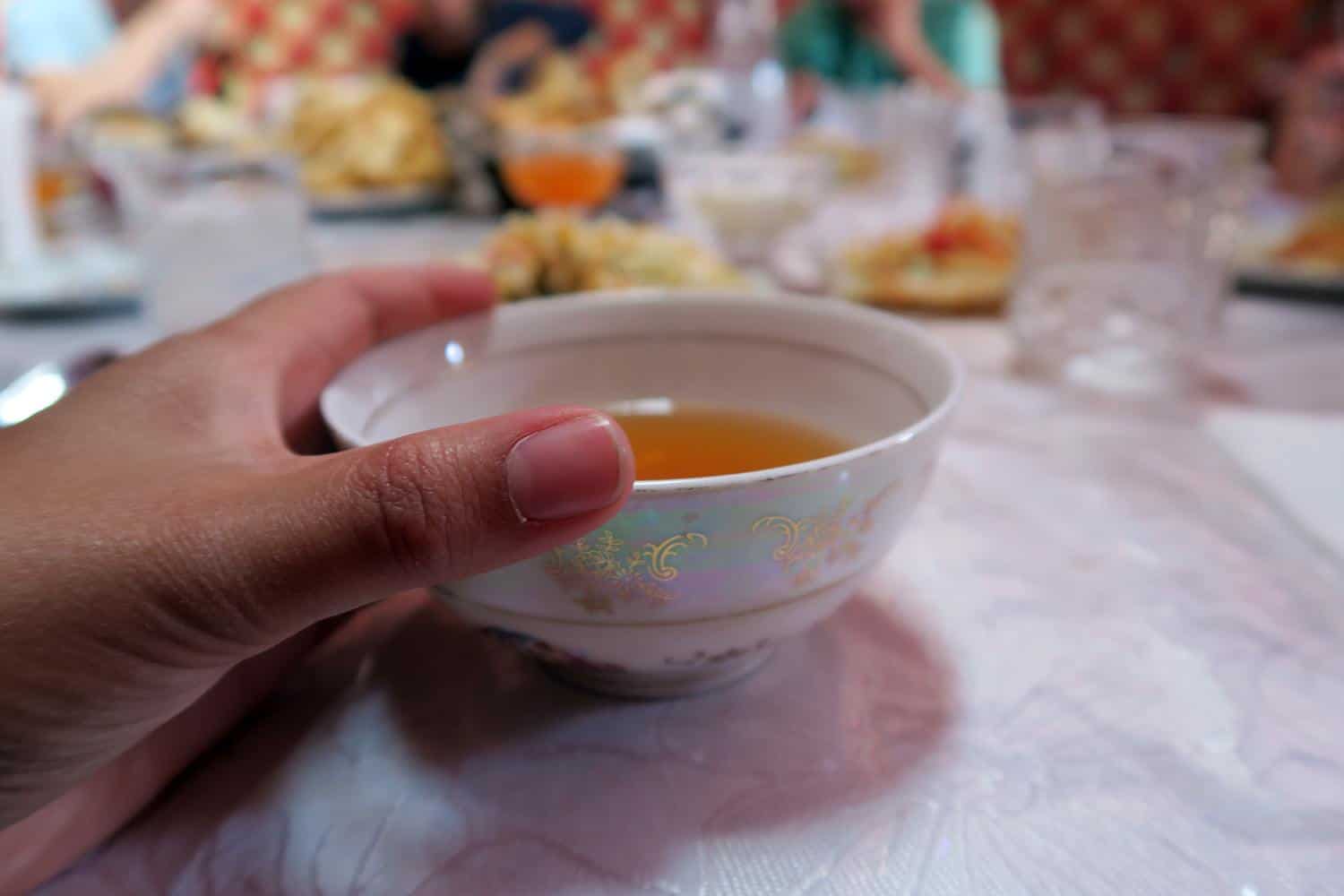 Living in one of the biggest and most exciting cities in the world comes with its costs. On an average night in London, I'm lucky to see maybe five to eight stars.
We were blessed with clear skies this particular night. The absence of light pollution made for a perfect night sky – the kind where you can see the arms of the Milky Way with a naked eye.
The rest of our party had crawled into bed, exhausted. For some reason, I was revved (possibly due to the kumys and the five cups of tea I'd had during dinner).
I caught a few extra precious minutes outside, staring up at the sky. It was a humbling experience.
Sleeping in a Yurt
I wasn't sure of what to expect when sleeping in a yurt for the night. It was far cozier than I anticipated.
The Kyrgyz are traditionally nomadic, and it's not uncommon for families to pack up their lives and spend the summer months camping remotely in the nearby countryside.
Here, they allow their animals to graze, fattening them up for the harsh winter.
This particular family possessed three yurts. One for their own and two guest "houses" set up for travelers like ourselves.
The eight of us were grouped by gender, and as it were, I snuggled down next to the girls under layers and layers of blankets for one of the most peaceful periods of sleep I'd had in a long time.
Day 2
We were up bright and early the following day, ready for our second and final day of riding. After a very satisfying breakfast, I hopped back on Tortoise.
We waved farewell to our host family and continued onwards to reach Song Kol Lake before dark.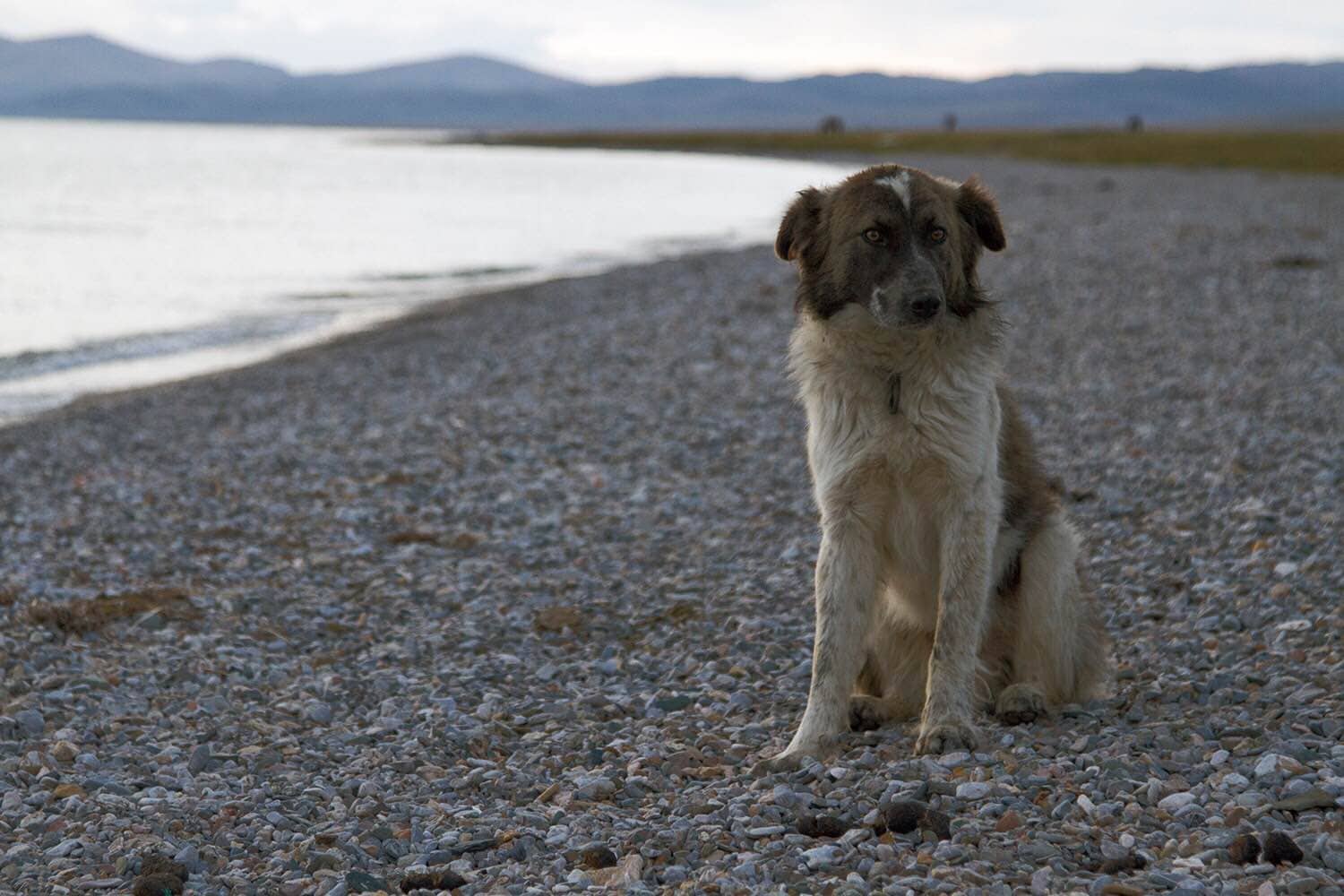 We'd spent the previous day riding uphill into the mountains. As Isaac Newton had famously noted: "What goes up must come down."
Walking down the mountains turned out to be more strenuous than climbing them.
A few of our party opted to hop off their horses and walk instead. By this time, I had well and truly found my horse legs and felt at home in the saddle.
Lunch Break
We arrived at Song Kol Lake by lunchtime, where we were greeted with another delicious feast.
After stuffing myself full of bread and freshly made cream, I went outside to play with an amiable local dog.
He and a friend ended up accompanying us on our last leg of the trip – a two-hour trek around the lake.
It was during this time that we saw our first Golden Eagle. It would perch in the grass for a while, watching us.
As soon as we got close, it would take off again, only to repeat the process.
Related: 7 Reasons to Visit Kyrgyzstan in Central Asia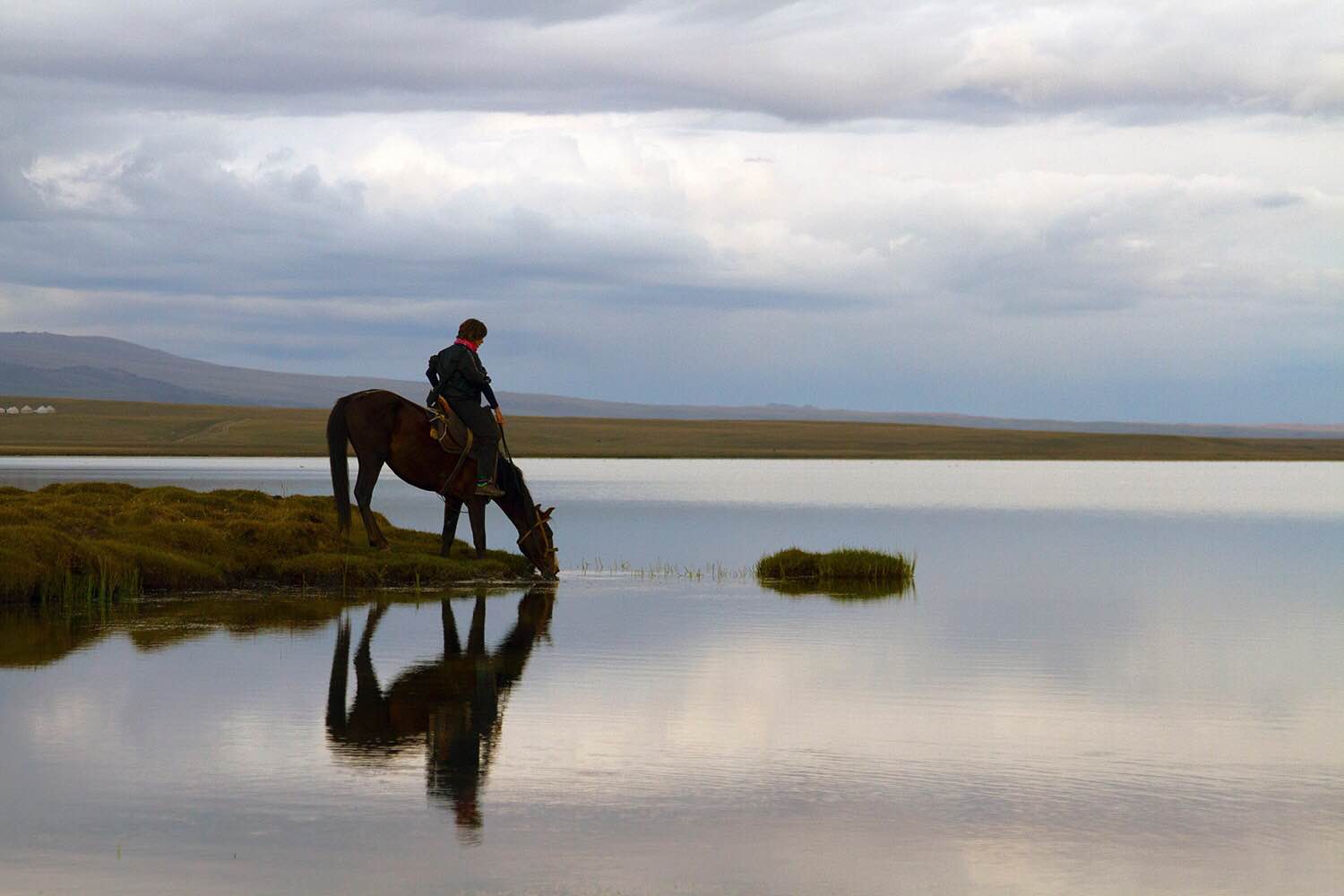 Song Kol Lake
We arrived at our destination in the late afternoon. A storm had brewed for some time by this point, dark clouds gathering over the lake. We made it just before the rain hit.
My first impression of Song Kol Lake was as if it were a caravan park for yurts.
Imagine a giant, still lake, surrounded by snow-capped mountains, with a collection of white yurts nestled by the water's edge.
What excited me most was the prolific amount of animals who were calling the camp home.
Along with our dogs and horses, there were cows, turkeys, and a trio of donkeys – including a baby. He was incredibly friendly, following us around until we gave in and scratched his forehead.
I even found a tiny puppy who couldn't have been more than a few weeks old.
It broke my heart to leave him behind, but admittedly it would have been difficult logistically to take him home.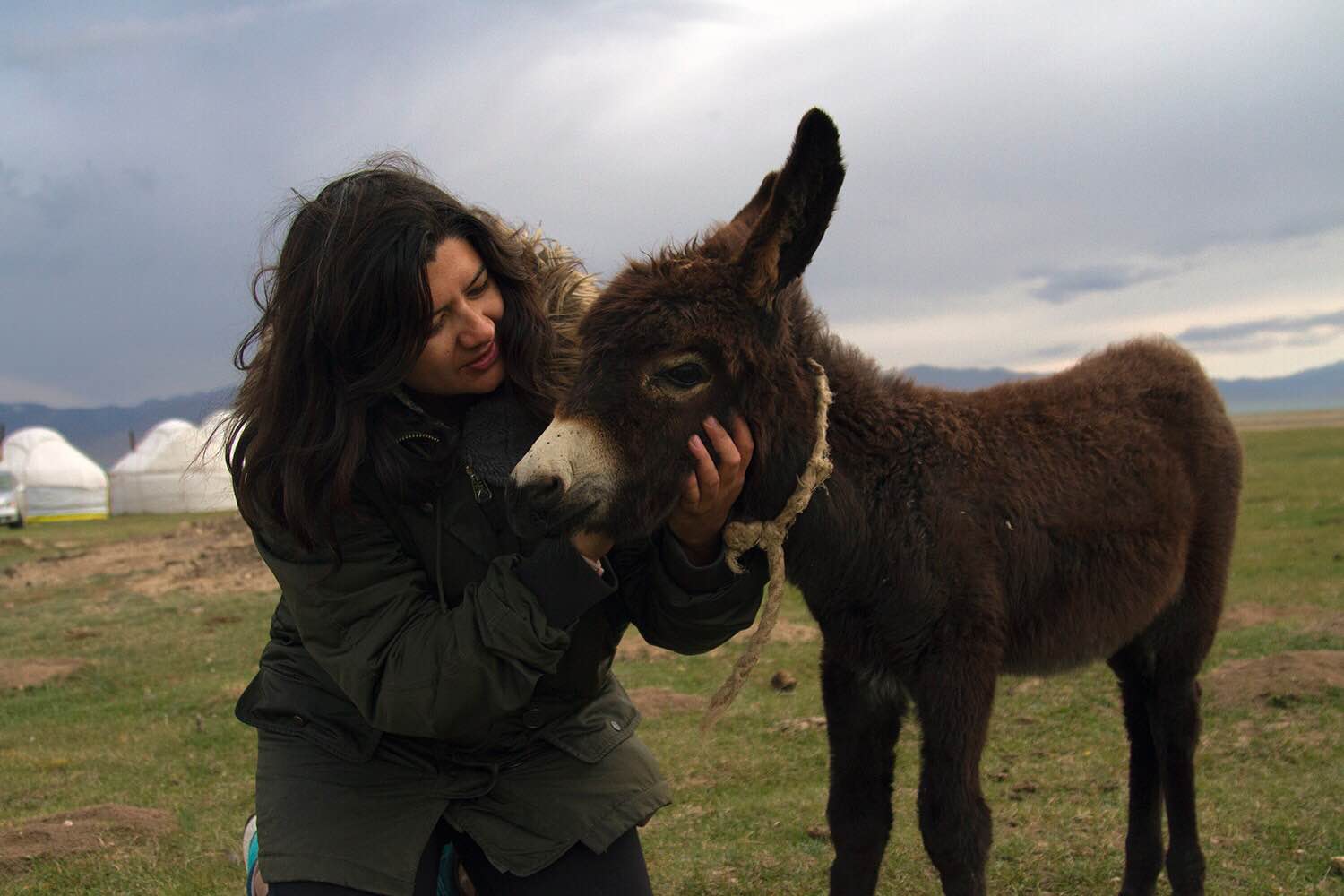 Final Supper
The storm had passed over, and the sun started setting, casting a golden glow over the camp. We hung out, taking photos and just generally enjoying the view.
That night we gathered in the main yurt for one last feast, finishing with vodka shots and stories around the table.
By this point, I could barely keep my eyes open (which was possibly the vodka's fault).
It wasn't long before I was wrapped within three layers of blankets in a yurt that came with a stove fireplace.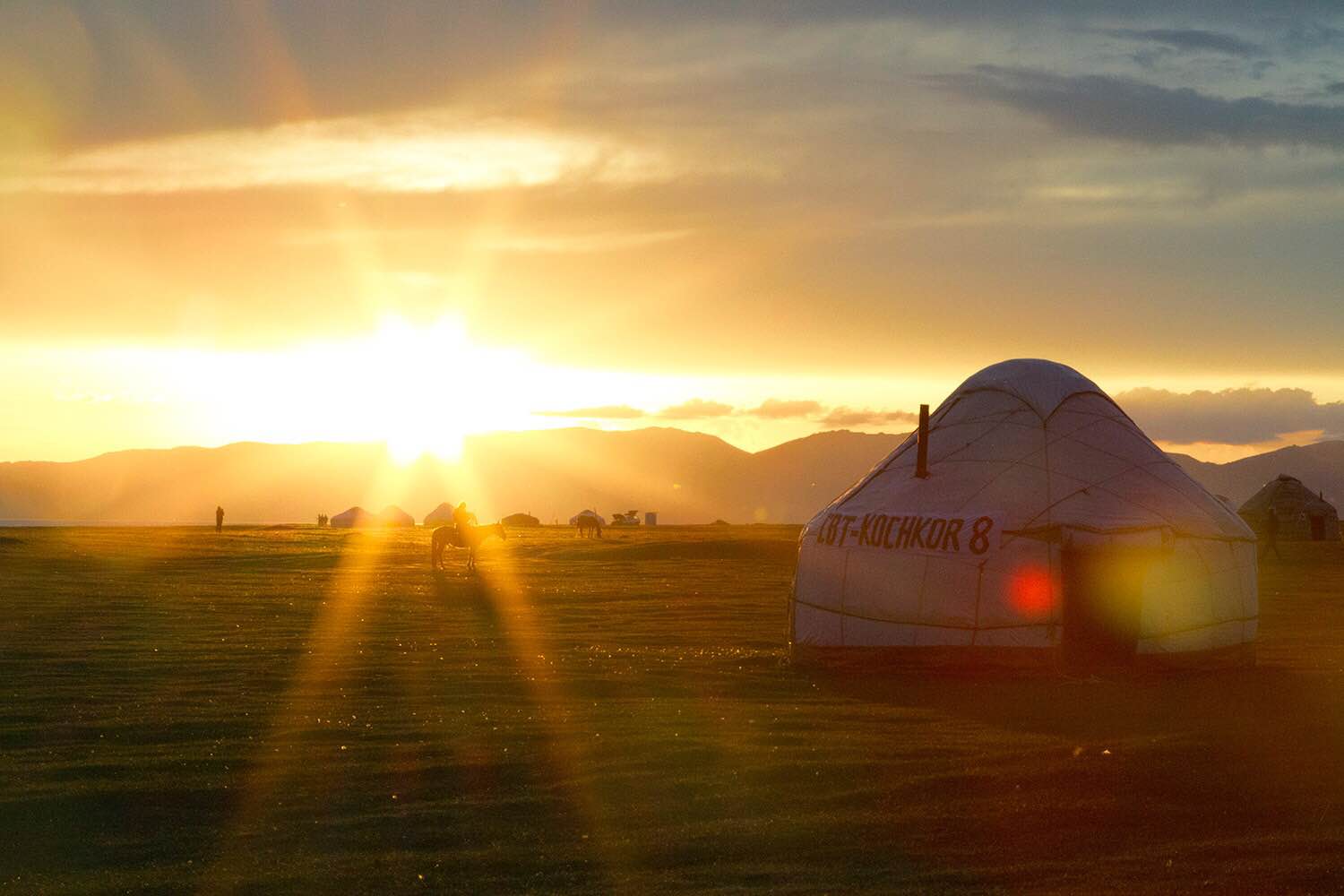 I could have easily scrambled back onto Tortoise for another five hours the next day. However, the trek was over.
We had breakfast, said farewell to the dogs, horses, and donkeys, and boarded the bus, heading to our next destination – Cholpon Ata, for the second World Nomad Games!
_______
Our trip was organized in cooperation with Discover Kyrgyzstan, and made possible by the support of the American people through the United States Agency for International Development (USAID). The contents are the sole responsibility of the author and do not necessarily reflect the views of USAID or the United States Government.
LC is an ex-expat who is currently re-exploring her home country of Australia. Follow her adventures at home and abroad via her blog Birdgehls, where she writes about travel, expat life, gushes on about various animals and bemoans her often futile attempts to go completely green. Or, you can look her up on Facebook.
Planning a trip? Go Backpacking recommends: