A is for Alpaca. The most versatile, delicious, and nutritious creature in Peru.
I became enamored with these soft and friendly, llama-like creatures during my stay in Cusco.
For thousands of years, alpacas have been raised in Peru for two primary purposes: fiber and meat.
Alpaca Fibers
Alpaca fiber is used for knitting blankets and clothes.
The finest fibers are referred to as baby alpaca, which come from the back of the animal.
The term has nothing to do with the age of the alpaca.
Baby alpaca is akin to other luxury fibers, such as cashmere and pashmina (from goats).
Very few visitors leave Cusco, let alone Peru, without buying either an alpaca scarf or sweater as a souvenir.
Alpaca scarves, gloves, sweaters, and hats are widely available in shops around the country. However, just because an item is labeled as baby alpaca doesn't mean it's woven of 100% baby alpaca fibers.
In fact, on one scarf I checked, these fine fibers only made up 15% of the garment.
If you're on a budget, you'll be able to pick up hats and gloves for about $3 each, a scarf for $5, and a sweater for $10 (depending on your bargaining skills).
If you're willing to pay Western prices, step into a boutique store like Kuna and pick up a 100% baby alpaca scarf for about $45. You'll feel the difference.
Alpaca Meat
Alpacas would be just another cute animal like llamas and goats, except that they also happen to be delicious.
During my second night in Cusco, I noticed a sign outside the Macondo Restaurant advertising alpaca.
I thought this restaurant was offering something unique, as it was the first time I'd seen the animal on a menu.
Out of curiosity, I stepped inside the artsy place and ordered their most popular dish, the Alpaca Mignon a la Parisienne.
I had no idea what to expect and could barely see my food in the dimly lit restaurant, but it tasted wonderful.
The creamy white wine sauce may have provided all the flavor, but I could tell the meat was lean, and I'd be trying it again.
As I began eating at more restaurants the next day, I noticed alpaca was on almost every menu in some shape or form.
My infatuation with the animal only increased with each new preparation.
Alpaca with red wine sauce.
Rosemary grilled alpaca.
In Cusco, the possibilities were endless, and I made the most of them.
____________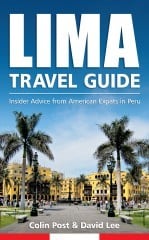 Dave's 160-page, all-original Lima Travel Guide is now available for Kindle.
Dave is the Founder and Editor in Chief of Go Backpacking and Feastio. He's been to 66 countries and lived in Colombia and Peru. Read the full story of how he became a travel blogger.
Planning a trip? Go Backpacking recommends: