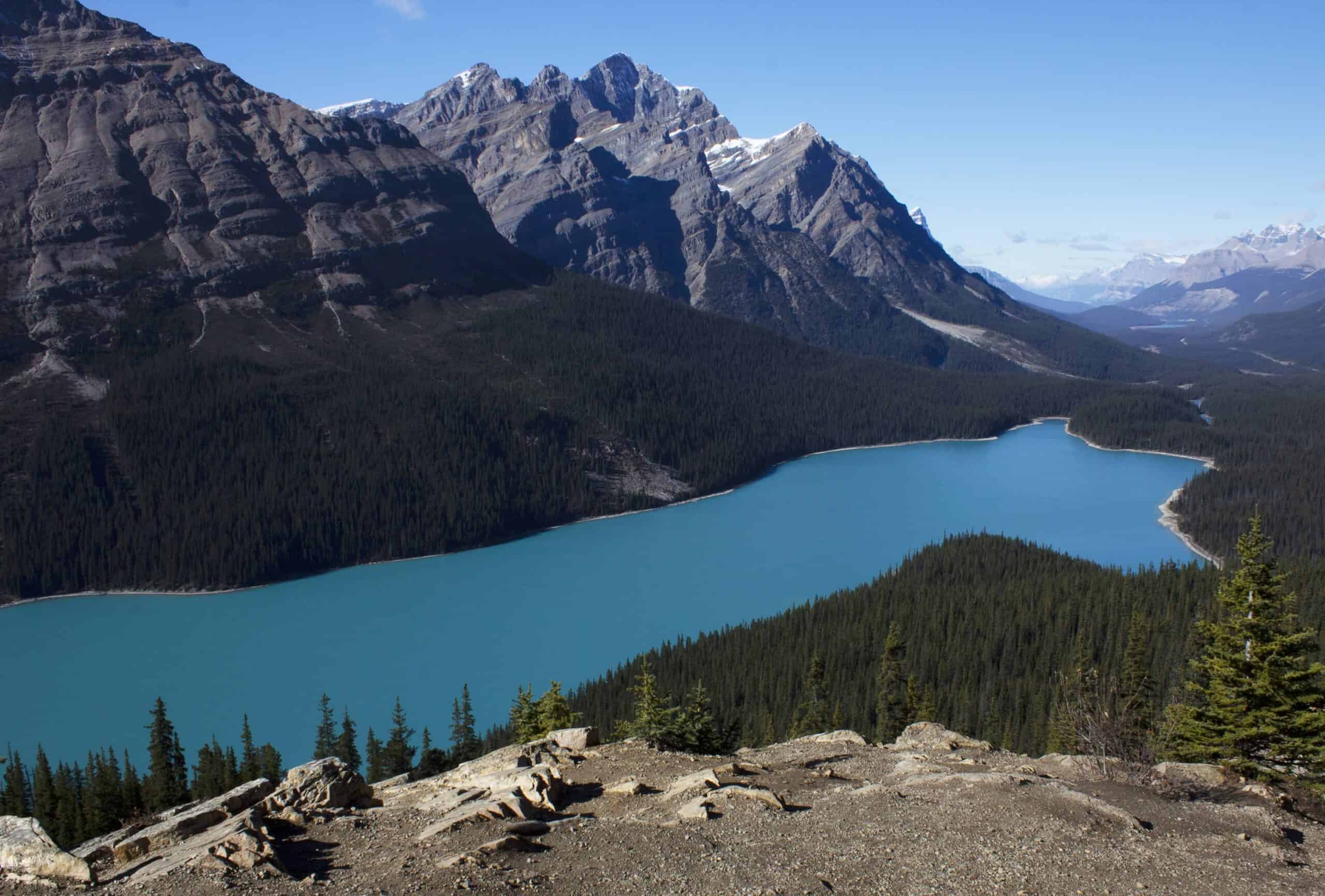 From the flat plains where fruitful crops are grown to desert badlands where the remains of dinosaurs can be found, and to the majestic Rocky mountains where you will find some of the best hiking in the world – all of these things can be found in one single province in Canada: Alberta.
Alberta is a big province. Jetting around from one spot to another is possible, but taking it all in via four wheels is the best way to ensure nothing spectacular is missed.
While just about every highway has something interesting to offer, we've narrowed it down to these five best Alberta road trips so that you can have a sample of everything.
1. Icefields Parkway
Where: Highway 93 between Lake Louise and Jasper
Whether you live in Alberta or plan to visit, it is an absolute travesty if you don't take the time to travel the Icefields Parkway.
Named one of the top road trips in the world by National Geographic, this adventure takes you on a 144 mile stretch of highway that serves up jaw-dropping scenery that includes ancient glaciers, cascading waterfalls, turquoise lakes, and stunning peaks and valleys.
The easiest part will be deciding that this is a must-do trip; the most challenging part will be figuring out where to stop along the way!
Below are a few well-known stops to get you started, or read this Banff to Jasper post for an extensive guide on this popular trip.
Popular Points of Interest
Peyto Lake
If you have done any research on the area, chances are you have come across photos of this famous body of water.
The brilliant turquoise color is thanks to a nearby glacier that feeds into the lake.
Glacier Skywalk
Take the Glacier Skywalk and stand upon a glass floor observation deck over almost a thousand-foot drop into the Sunwapta Valley below.
This view is not for the faint of heart.
Columbia Icefield
Take a guided tour and travel onto the Athabasca Glacier in a giant Ice Explorer.
Also, visit the Columbia Icefield Centre and its natural history museum or take a short walk up from the parking lot to come face to face with the impressive glacier.
This is a once-in-a-lifetime experience!
For the avid hiker, there are many more adventures to be had by accessing the trailheads to short walks or day hikes.
To make the most out of this experience, we recommend that you take in the Icefields Parkway during the warmer months.
Because of the higher elevation, this area can see large amounts of snow, making travel more treacherous.
Snow tires are mandatory from November 1 to April 1.
2. Cowboy Trail
Where: Highway 22 between Lundbreck Falls and Mayerthorpe
You don't need to wear a cowboy hat or boots to enjoy this 363 mile stretch of scenic highway!
Take a drive through the foothills on this secondary road nestled between the Rocky Mountains and the Alberta prairies in the heart of ranching territory.
Experience the western culture and the richness of the land by following in the footsteps of those who originated here!
Along the way, you can take a horseback trail ride, experience a rodeo, festival, or pow-wow.
You can even plan a stay at a guest ranch – the number of activities and sites to be seen are plentiful!
Here are a few well-known stops to get you started, or you can visit here for a more extensive list of popular points of interest.
Popular Points of Interest
Marv's Classic Soda Shop and Diner
Take a stop in Black Diamond to enjoy an old-fashioned milkshake and homemade burger at this world-famous '50s inspired Diner.
Put some money in the Jukebox and transport yourself back in time!
Bar U Ranch
Have you ever wanted to experience the life of a cowboy?
Celebrate Canada's ranching heritage by visiting this National Historic Site near Longview.
Bar U Ranch was once one of the leading ranching operations in Canada but has since been preserved and opened to the public.
Ride a wagon, try roping a steer, visit the cookhouse, or explore 100-year-old barns and other preserved buildings to get a sense of what it was like being a rancher back when the ranch was established in 1882.
Rocky Mountain House National Historic Site
Follow in the footsteps of Alberta's Indigenous Peoples, fur traders, and the most significant land geographer of his time, David Thompson.
Explore the nature trails or play in a small fort. Stay the night in a Métis trappers tent, or create your own drum, dream-catcher, or traditional craft!
There's plenty to see and do at this National Historic Site!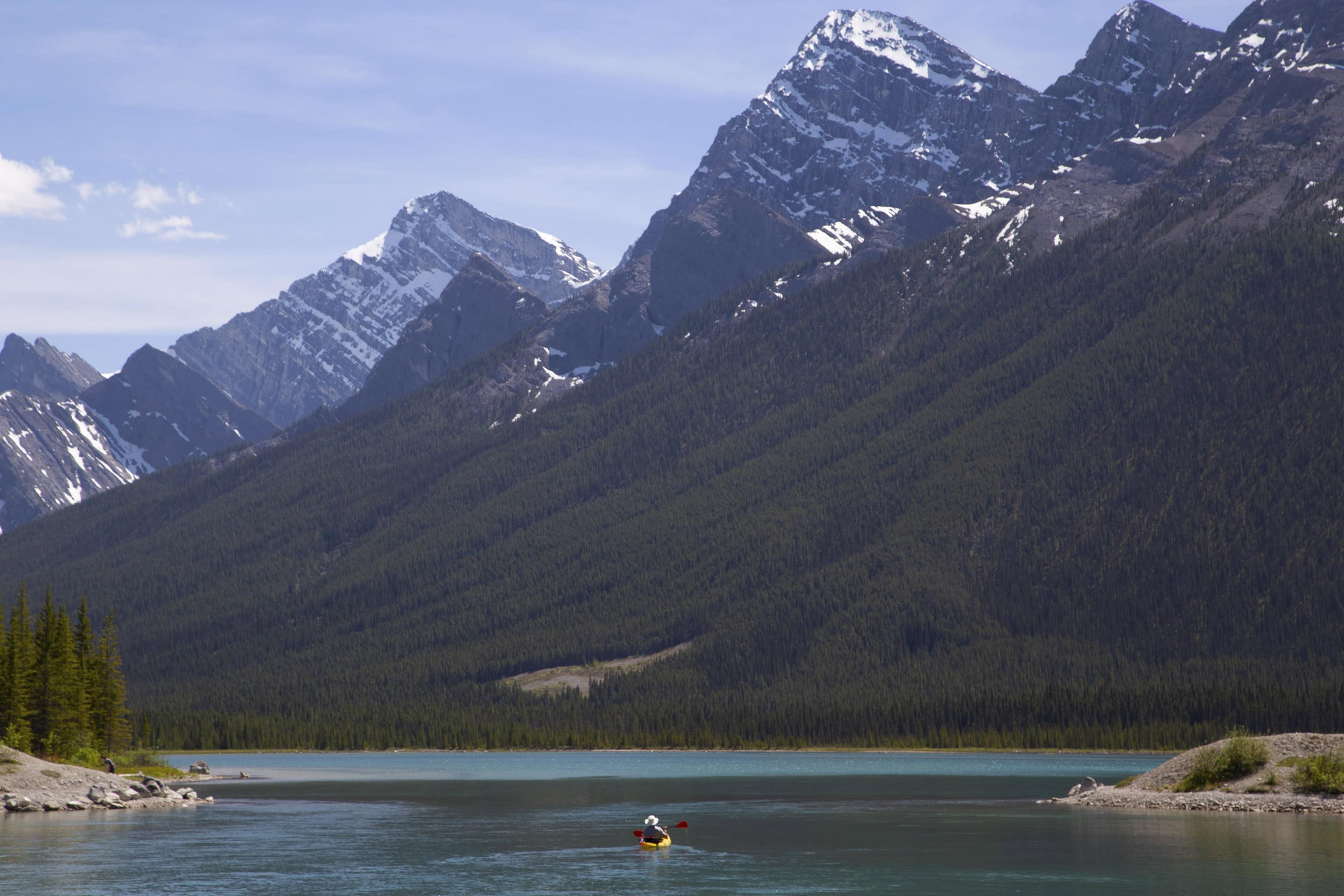 3. Smith Dorrien Spray Trail
Where: Highway 742 between Canmore and Peter Lougheed Provincial Park
If you are looking for an adventure that is off the beaten path and a little less congested with tourists, this 56-mile drive is for you!
This lovely scenic trip through Kananaskis country will take you through the Smith-Dorrien Valley.
Though there is no need for an off-road vehicle, it is recommended that you don't take your beloved sports car as you will be traveling exclusively on a gravel road.
Don't forget to bring your camera, a pair of hiking boots, and a picnic lunch to enjoy beside one of the many beautiful mountain lakes that are easily accessible.
Popular Points of Interest
Hiking
It is said that some of the best hikes in the Canadian Rockies are along the Smith Dorrien Spray Trail.
Make sure to check out the current trail conditions and the weather forecast before embarking.
Because the Smith Dorrien Spray Trail is located at such a high altitude (6,250 ft above sea level, in fact), the weather can change quickly and dramatically!
Wildlife
Because this stretch of road is the epitome of backcountry, chances are you are going to be able to witness some of the many animals that call the Rocky Mountains their home.
It's not unusual to come across some rocky mountain sheep on the road, but also keep an eye out for bear, deer, elk, and moose.
Fishing
Because of the many lakes, big and small, seen from this trail, there is access to an abundance of fish.
To name a few – Cutthroat, Rainbow, Bull, Brook Trout, as well as Mountain Whitefish and Arctic Grayling, are some of the fish you will find in these pristine mountain lakes.
There are some rules for fishing in Alberta, so make sure you bring your fishing license and brush up on the current rules and regulations.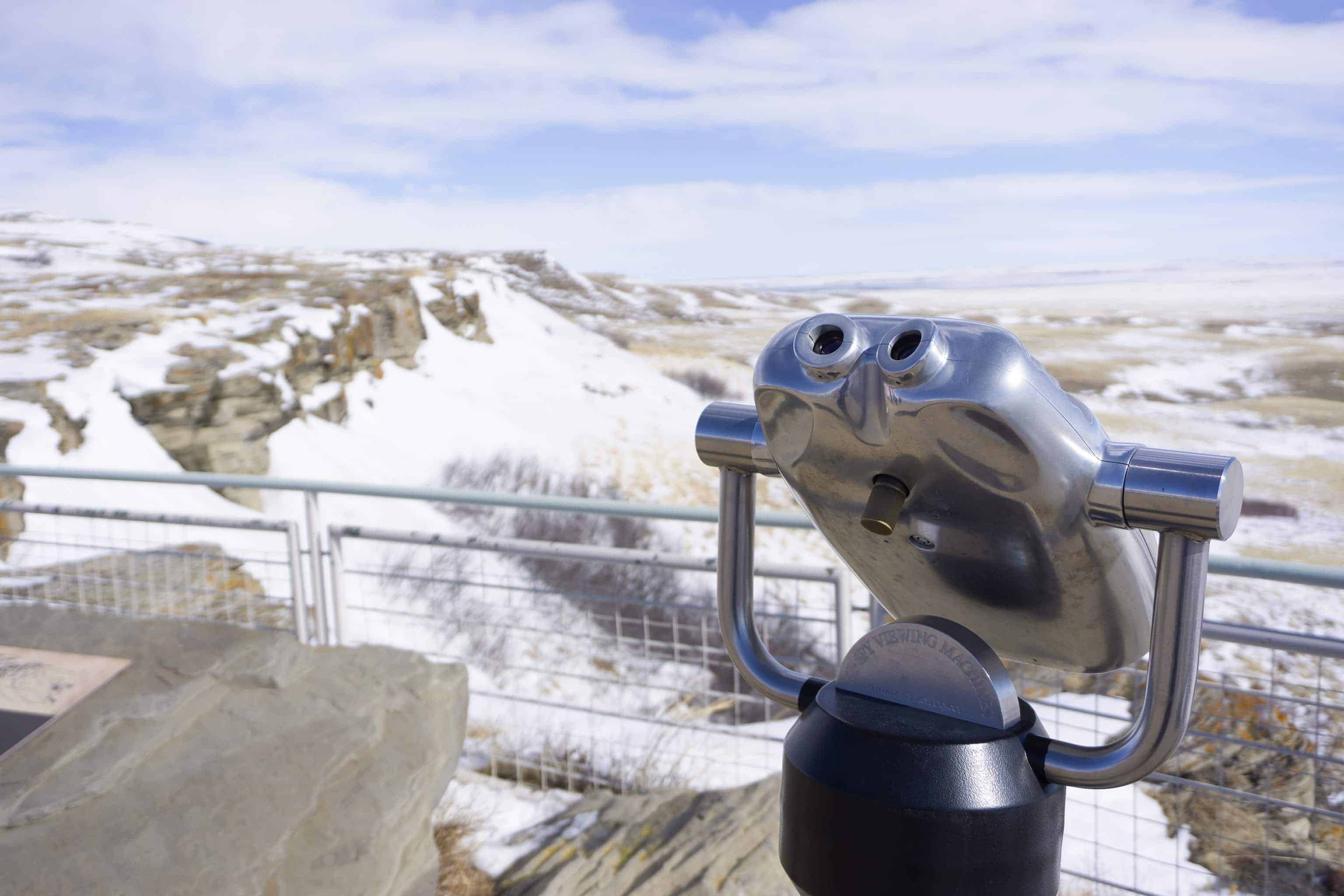 4. Crowsnest Highway
Where: Highway 3 spanning across southern Alberta from Medicine Hat to the British Columbia border.
The Crowsnest Highway, otherwise known as "The Crow," stretches along southern Alberta and connects the Rocky Mountains to the plains.
On this 190 mile stretch of highway, you will be sure to experience what makes southern Alberta so unique.
Most notably, tour the five historic mining communities that make up the Crowsnest Pass and learn about the rich history of one of Canada's underground coal mines.
Witness the world's largest teepee or stop at Lundbreck Falls Provincial Recreation Area. The Crowsnest Highway is full of adventure and history!
Popular Points of Interest
Frank Slide Interpretive Centre
Back in 1903, a large portion of Turtle Mountain gave way and buried part of the town below, killing ninety people in a matter of minutes.
Take a tour of the many galleries inside of the center to learn about the slide and the history of the Crowsnest Pass, or take a hike between the large pieces of rock that have been left behind that mark this historic day.
Head-Smashed-In-Buffalo-Jump
Named a UNESCO World Heritage Site, this interpretive center is home to the location where thousands of years ago, First Nations peoples drove buffalo off of the sides of cliffs to kill them for their survival.
Many archeological artifacts like arrowheads and tools can still be found in the area.
Head just north of The Crow to explore the indoor and outdoor exhibits or take a short interpretive hike beneath the cliffs.
The Fort
Museum of the North West Mounted Police and First Nations Interpretive Centre
Located in Fort MacLeod, take the opportunity to learn about the history of the North West Mounted Police and the First Nations people of southern Alberta.
Explore the buildings and archives that contain documents, photographs, and maps relevant to the history of the NWMP.
You can also groom a horse or enjoy a scavenger hunt! If you happen to stop by in July or August, make sure to take in the world-famous NWMP Musical Ride.
Related: 9 Canadian National Parks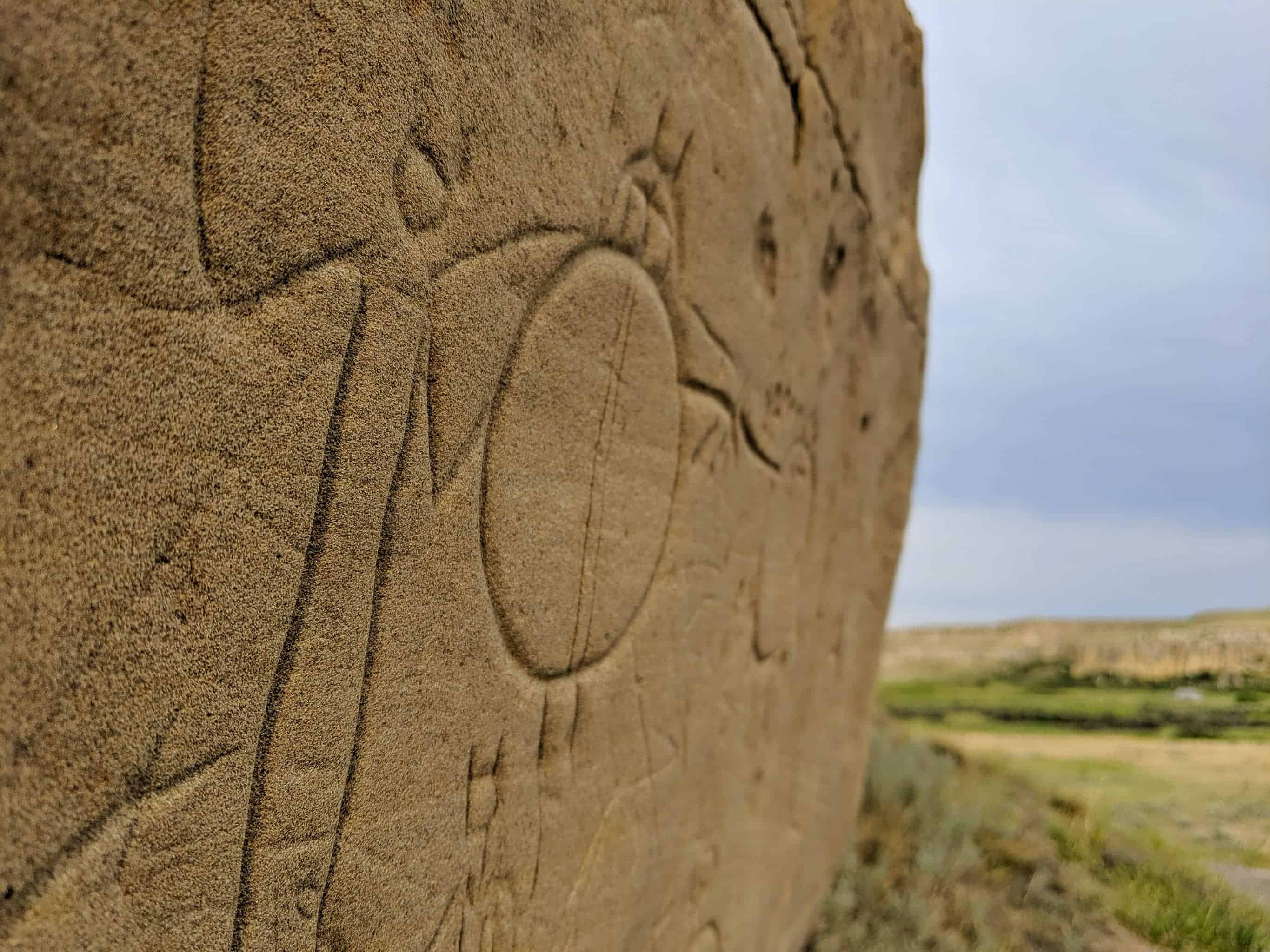 5. Canadian Badlands
Where: Land spanning east from Drumheller to the Saskatchewan border and south to the United States. (You can view a Canadian Badlands Regional Map here.)
The name of this region, the "Badlands," was coined by the French explorers who termed their steep-sloped mesas (flat-topped mountains) and deep, winding gullies as "bad lands" to cross.
Transport yourself back in time to the prehistoric era, where you will find unusual rock formations, glacial valleys, and fossil beds.
This region of land was once home to the dinosaurs who roamed the earth.
A popular area for locals and tourists alike, the number of activities available is plentiful!
Take a ride on a vintage steam train, hike through the hoodoos, dig for fossils, or see some dinosaur artifacts up close in person.
Here are a few well-known stops to get you started, or you can read this entire Drumheller guide for a more extensive list of popular points of interest.
Popular Points of Interest
Royal Tyrrell Museum
Have you ever wondered what dinosaur bones look like up close?
Located near Drumheller, the Royal Tyrrell Museum is home to more than 130,000 fossils and displays one of the world's largest collections of dinosaurs.
With many programs and exhibits available, you will be well on your way to being an expert in paleontology!
Dinosaur Provincial Park
This popular park is a UNESCO World Heritage Site and home to one of the top 15 hikes in Canada, according to Canadian Geographic.
Take a trip on a fossil-hunting safari, or comfort camp in one of the most unique places in the world. Dinosaur Provincial Park is full of adventure!
Writing-on-Stone Provincial Park
Located just north of the Alberta-US border near Milk River, explore ancient carvings and paintings left by the First Nations people that first lived in the area.
Explore yourself or take a guided tour as you view the amazing artifacts left on the sides of sandstone cliffs and in between the unique rock formations.
Writing-on-Stone was named a National Historic Site in 2004, and a UNESCO World Heritage Site in 2019.
Dalene Heck is a co-founder of RoadTripAlberta.com, a site dedicated to providing the best information on traveling around the most scenic province in Canada.
Planning a trip? Go Backpacking recommends: