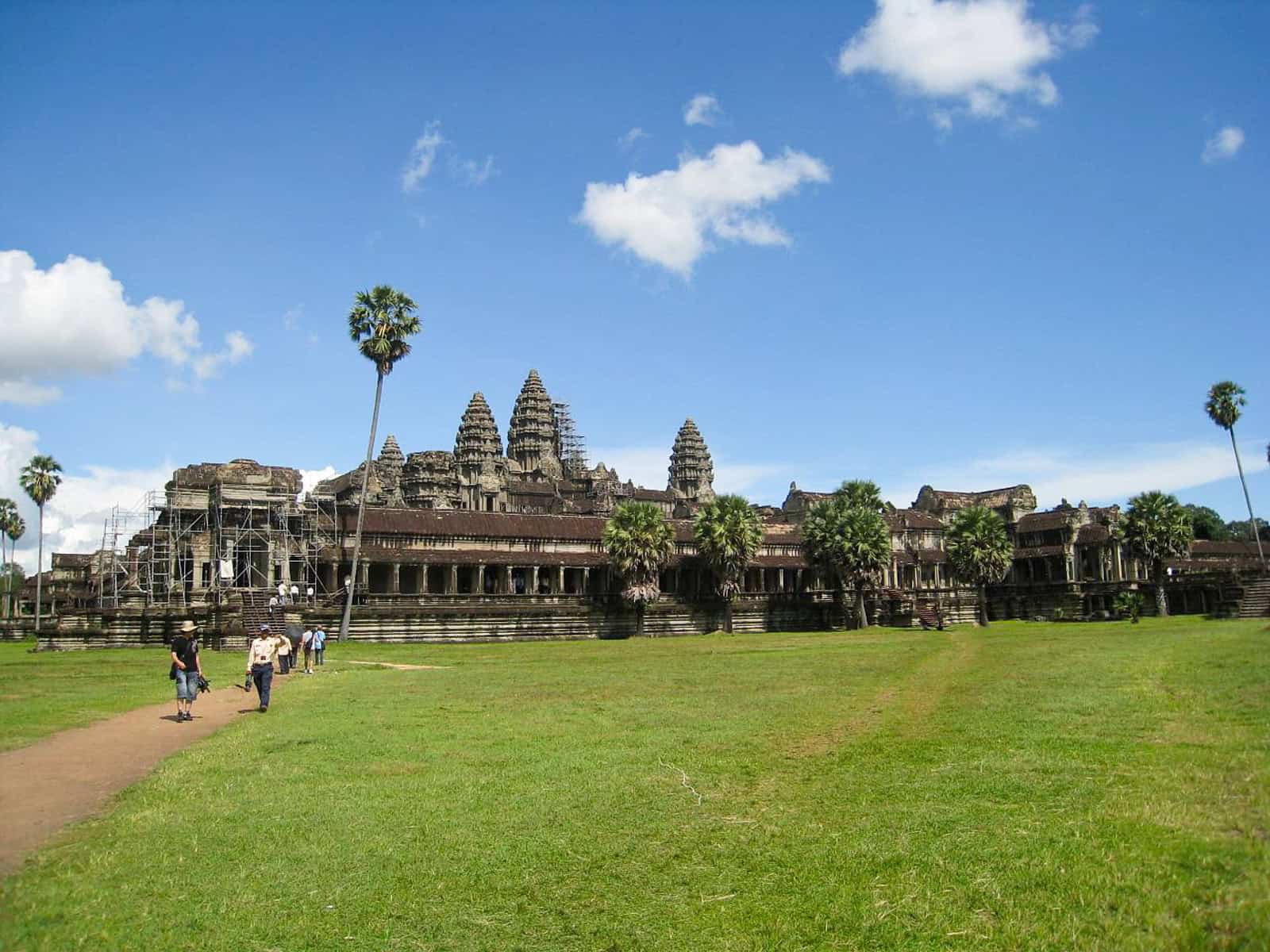 Although Cambodia has famous neighbors such as Thailand and Vietnam, it is still very much an off-the-beaten-path destination.
The country is often associated with beautiful pagodas, buzzing night markets, delicious food, and stunning nature, and there is so much more to it! Let's take a look at what Cambodia is best known for — I'm sure by the end of this post, you'll want to apply for your Cambodia visa for US citizens immediately!
Angkor Wat
Angkor Wat is probably the first thing that you'll think of when it comes to Cambodia.
With its famous towers and intricate architecture, this enormous temple complex is the world's largest religious structure by land area.
Angkor Wat is one of the most famous attractions in Cambodia, and many even call it "the eighth wonder of the world," so it's no wonder that its silhouette is depicted on the country's flag.
Interestingly enough, Angkor Wat was abandoned in the 14th century and was only discovered back in 1860.
You can spend a few days exploring Angkor Wat (most guidebooks recommend at least three days).
Travelers and photographers come here to see and experience the incredible sunrises and sunsets, second to none.
If you want to experience the true spirit of adventure, surrounded by jungles and ancient temples, there is no better place than Angkor Wat.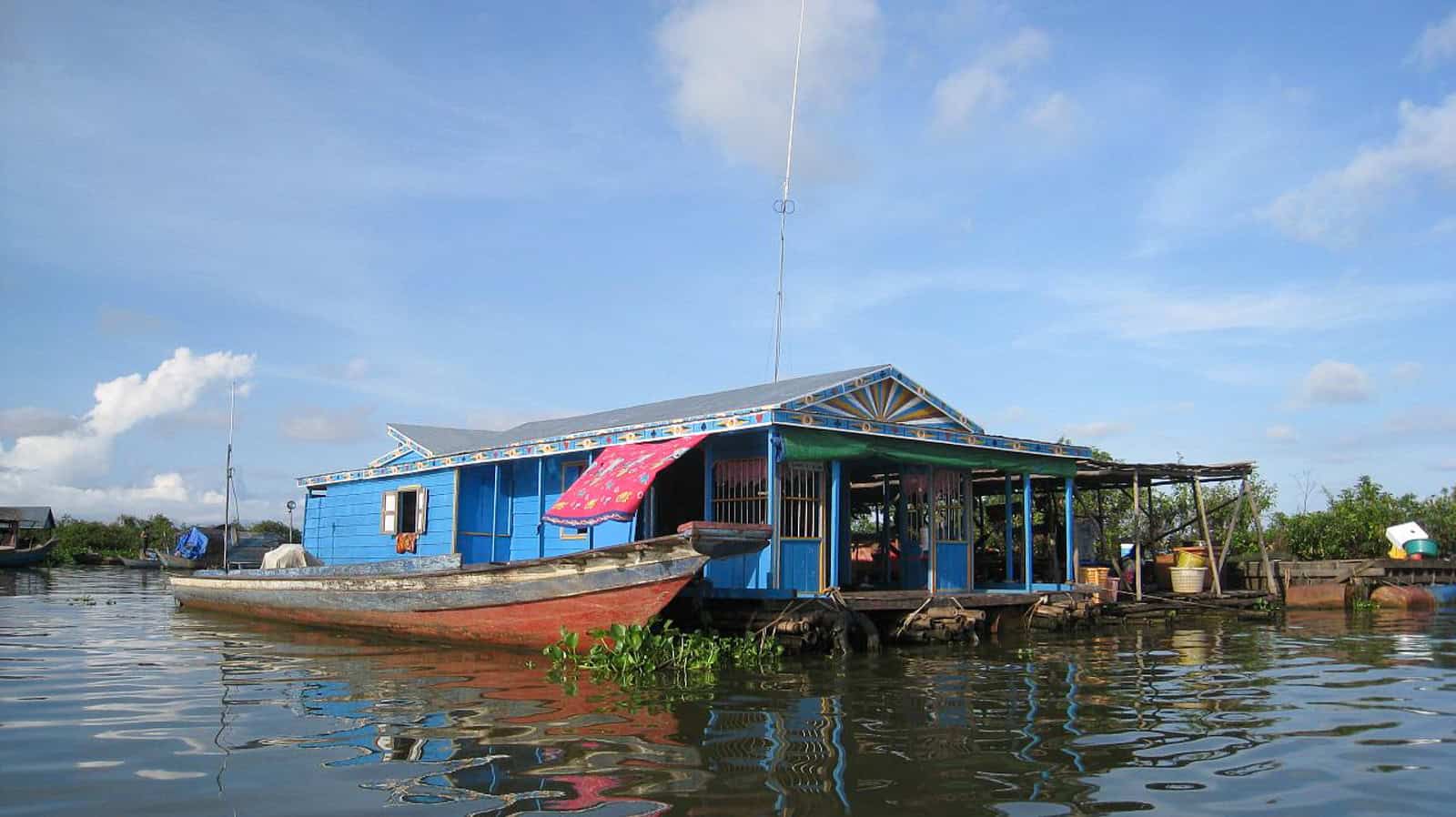 Floating Villages
Imagine that instead of roads, there are rivers. Instead of shops, floating kiosks take their place. An ordinary walk to a friend's house would be an entire journey to get there.
Yes, it sounds like a fantasy film plot, but you can see this traditional way of life with your own eyes in Cambodia.
One of the largest floating villages is Kampong Phluk, located on Tonle Sap Lake, just a few kilometers away from Siem Reap.
Interestingly enough, the floating village houses are built on very tall stilts and only 'float' between May to October, when Cambodia's rainy season begins and the Tonle Sap Lake rises up to 10 meters.
Of course, locals can walk the village streets on foot during the dry season and make their way to their houses via long stairs.
Night Markets
Similar to its Southeast Asian neighbors, night markets are a common sight in Cambodia.
Unlike ordinary bazaars or shops, the night market vendors start putting their goods on display as soon as the sun sets — and then it's time to begin!
This 'schedule' is perfect for travelers who spend their daylight hours relaxing on the beach, exploring historic sights, or nursing their jetlag.
Most night markets can be found in Siem Reap and Phnom Penh and feature everything from clothing to artisanal handicrafts, food and snacks, art, souvenirs, and more.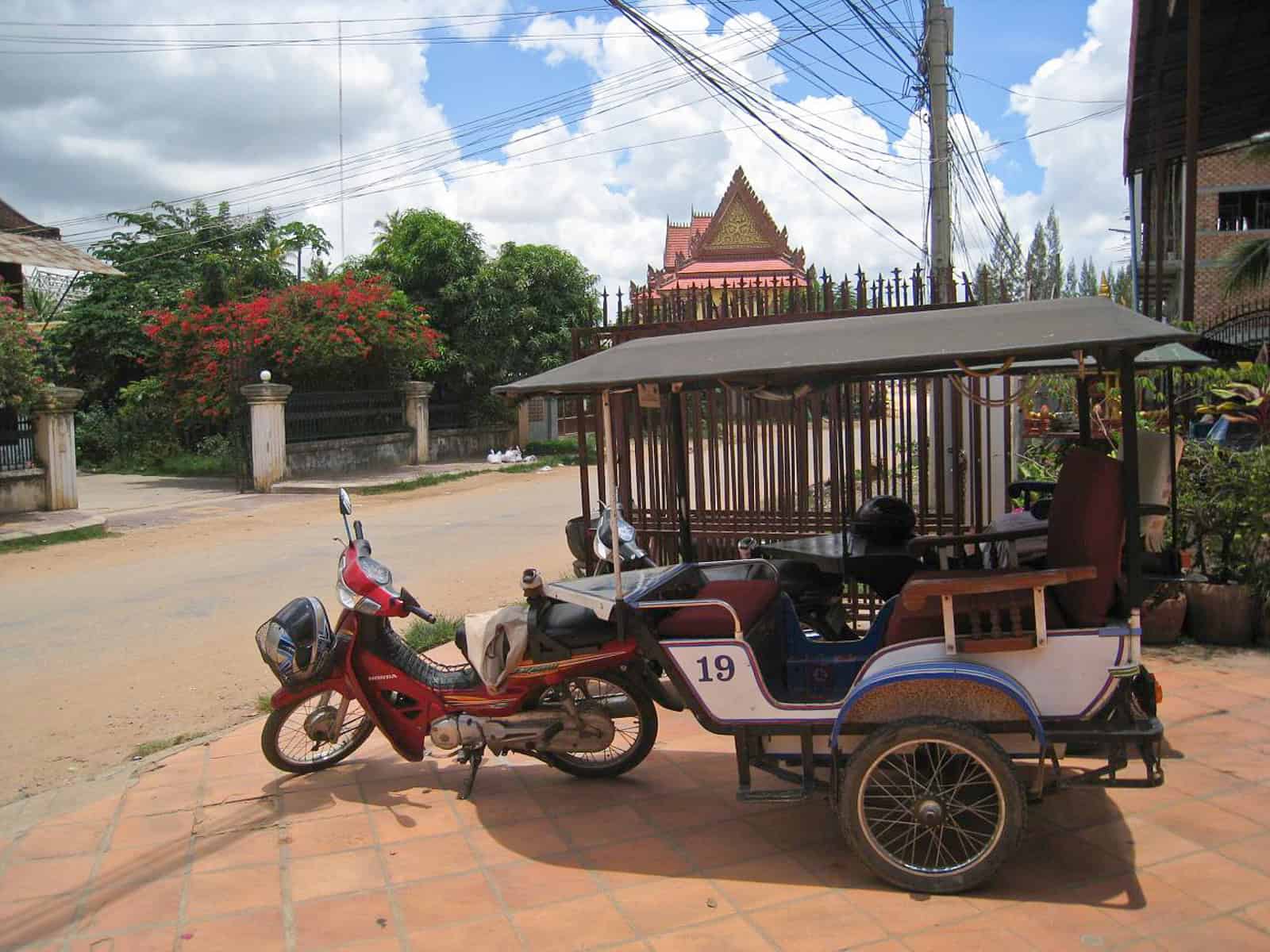 The Tuk-Tuk
Tuk-tuks are one of the primary means of transport for locals and tourists in Cambodia and have become something of a pop-culture symbol.
Just like yellow taxis in New York or black cabs in London, Cambodia's tuk-tuks are so popular that you can even order one via the Grab app (similar to Uber or Lyft)!
Every tuk-tuk trip a little adventure through Cambodia's art and culture: many drivers customize their tuk-tuks with colorful designs both inside and outside their vehicles.
You'll see two types of tuk-tuks roaming the streets: the classic 'remorque' (a motorbike attached to a two-wheel trailer) and a three-wheeled auto rickshaw that is commonly seen in India.
Apsara Dance
Cambodia is a country rich in history and fascinating traditions, including the classical 'Cambodian ballet' dance called Apsara.
This dance is of such great significance that it was inscribed on the List of the Intangible Cultural Heritage by UNESCO in 2008.
Historical references of this graceful dance can be seen on ancient temples' walls and even depicted on a 49-meter bas-relief carved into Angkor Wat's walls.
The main features of the Apsara dance are intricate costumes, headdresses, and hand gestures.
There are more than 1,500 hand gestures, each with its own meaning, from worshipping the spirits of nature to symbolizing a blooming flower or even referencing hundreds of Buddhist and Hindu legends.
_____
This story is brought to you in partnership with Cambodia Online Visa.
Planning a trip? Go Backpacking recommends: