Whether you're traveling through or a seasoned expat, you'll always crave places that give your taste buds a workout, a place to unwind after work, or merely a good place to get your groove on.
Thankfully, Phnom Penh is full of all of those and more. Thai, Vietnamese, North Korean, Italian, French, Mexican, and Lebanese, each is an experience in itself.
Eating
There is no shortage of great places to eat on any budget, dollar plates of noodles in the Russian Market, and $50 boats of sushi next to Wat Bottom Park; you're in great hands.
Pyongyang II
A little further up from where Monivong and Mao Tse Toung connect, North Korea waits for you.
Moral quandaries aside, you will not find an experience quite like this anywhere else in Phnom Penh.
Owned and operated by the government of North Korea, the immaculate presentation of their finest female exports is nothing to be sniffed at.
Not only are they waitresses, but entertainers also.
They answer any questions you may have about their homeland with grace (unsurprisingly, Pyongyang sounds like quite the paradise!), responding to my curiosities with "Oh yes, it's very beautiful" and beaming smiles where appropriate.
My suggestion is to arrive around 7 pm and order before half-past.
Come 8 pm, and those ever-friendly waitresses don various costumes and outfits for the stunning renditions of traditional North Korean music and dance.
To say they're proficient would be a criminal understatement.
Pirouettes that would leave me dizzy and sick on the floor; drum solos that could be from any of your classic rock bands; perfect synchronization between them all. It's certainly a sight to behold as you munch down on the dog and cold noodles you ordered for a laugh.
Barn Barn Singapore Fried Rice
The best budget eatery in Toul Tom Pung!
The chalkboard menu with mains for only $2, how can you go wrong? Each main comes with tea and soup.
Chicken rice (Hainan style)
Khmer paste with rice
Fried noodle
Fried rice
Rice noodle soup
Stir-fried vegetables and rice
Beef lok lak with tomato rice ($3)
Also up for grabs are homemade sweets, soy milk, ice lime tea, fried yam, mushrooms, fries, nuggets, and spring rolls, all for a dollar or less!
Just a couple of blocks down from the southeast corner of the Russian Market (P' sar Toul Tom Pung), a nice respite from shopping.
See also: Cost of Travel in Cambodia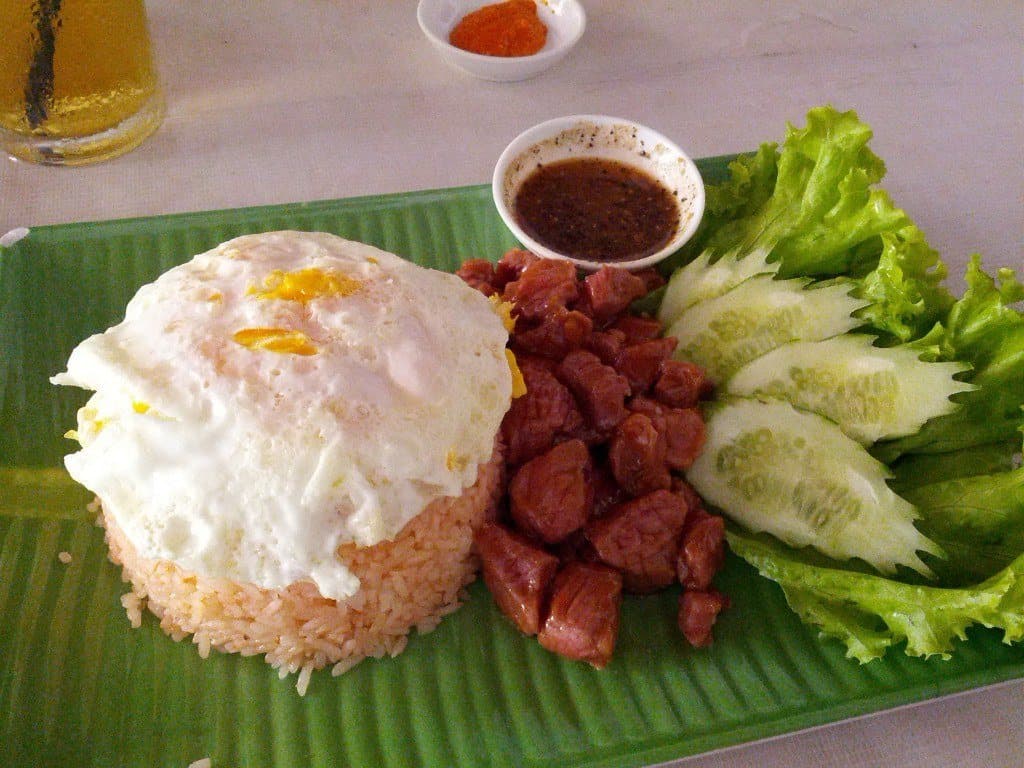 Russian Market Best Ice Coffee
Head to the middle of the market, where all the little food stalls sell noodles, spring rolls, and assorted fried goodies.
Then, you need to look out for the Best Iced Coffee In Phnom Penh sign, as well as one of those incredibly wide and welcoming smiles you'll get used to here.
The owner of this little cafe/stall hybrid will take great delight in serving up robust and sugary coffee – and when you think you've finished it, he'll give you another — all for the princely sum of 4,000 Riel ($1).
If you're sitting there getting coffee, there's a stall directly behind where you're sitting that does Vietnamese noodles with a bit of chili and fried spring rolls.
Next to that is a place with fried thick noodles with beef and egg for 5,000 Riel ($1.25).
Ngon Restaurant:
Vietnamese food done exceptionally well at reasonable prices.
Mains from 10,000 Riel ($2.50), substantial outdoor seating area with lots of greenery, and views of the North Korean embassy.
Beirut Resto-Cafe:
The best Middle-Eastern food in the capital.
Not one thing I've tried has disappointed me; everything is fresh and authentic, right down to the quality of the tobacco!
Their mezze (side-dish) selection is ideal for sharing, and to top it all off, they have the ridiculously unhealthy – and utterly gorgeous – baklava (sweet pastry with chopped nuts and honey/syrup).
Wraps (beef, chicken, lamb, fish) for $3-$4 are just like the ones in Beirut itself. Free delivery with orders over $10 makes this a great lunch choice.
They also have a restaurant inside Golden Sorya Mall (next to Heart of Darkness, Pontoon, and the other bars and clubs on Street 51).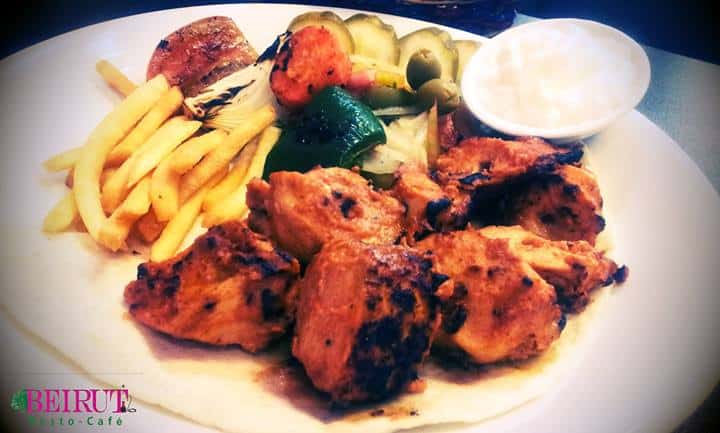 Comme a la Maison
Upmarket but reasonable French restaurant just around the corner from the bars on Street 278.
Great specials (around the $10 mark) and lovely ambiance, they have indoor and outdoor dining.
My recommendation (aside from the excellent espresso selection!) is the Médaillons d'Agneau Grillés.
Grilled lamb medallions in olive oil and rosemary, absolutely divine.
They also have a fantastic delicatessen, a must for foodies across the city, serving up fresh-baked French pastries and cakes, cooked meats and terrine, yogurt, and wine.
Luna Restaurant and Bar
Perhaps the best Italian choice in Phnom Penh, just ahead of Dolce Italia.
Indoor and outdoor (both are good choices), excellent wine selection, and utterly gorgeous pizzas.
The kinds of pasta aren't the best, but you can make them at home, pizza, on the other hand, it is not so easy!
Mosquito repellent is recommended if you're sitting in the outdoor garden area.
Warung Bali
Are you feeling that need for rich, sweet, and spicy Indonesian food? Look no further; Warung Bali will leave you satisfied every time.
My favorite dish here is the beef rendang, less than $3, incredibly juicy and mouth-watering. Service is quick, and the juices and shakes are tasty.
Their menu has something for everyone, vegetarians included.
Located just one block in from Riverside and the Royal Palace, great to top yourself up with energy for the day.
Origami
Sushi is almost as good as any I've had (and I've been to Japan), fresh and plentiful.
Set back from the main street, it's a quiet retreat from the city's bustle.
Boats of sushi, bowls of ramen, and plates of tempura, it's genuine to a tee, the chef included. Expect to pay $30+ per head.
Spring Vale
Curious Japanese lunch spot that's only open for four hours in the middle of the day, Monday to Friday.
Okonomiyaki, gyoza, tofu, Japanese curry, passion fruit shakes, and a few other options. Japanese lunch for $5 is always something I'm up for.
ARTillery
One of the quaintest streets in Phnom Penh (Street 240 1/2), one that you'd never think to look down yet, has a couple of delights you should be sure to check out.
ARTillery Café is one of those – a regular fixture of mine for a leisurely Sunday lunch with a health-orientated menu including lots of smoothies, sandwiches, breakfasts, and raw foods you never thought possible.
The regular menu is full of exciting and delicious delights, my go-to choice being the Supreme Sandwich ($5.50) with sweet potato and taro crisps (chips): a pork sausage sandwich with mustard mayonnaise, gherkins, salad and (my favorite part) an onion reduction.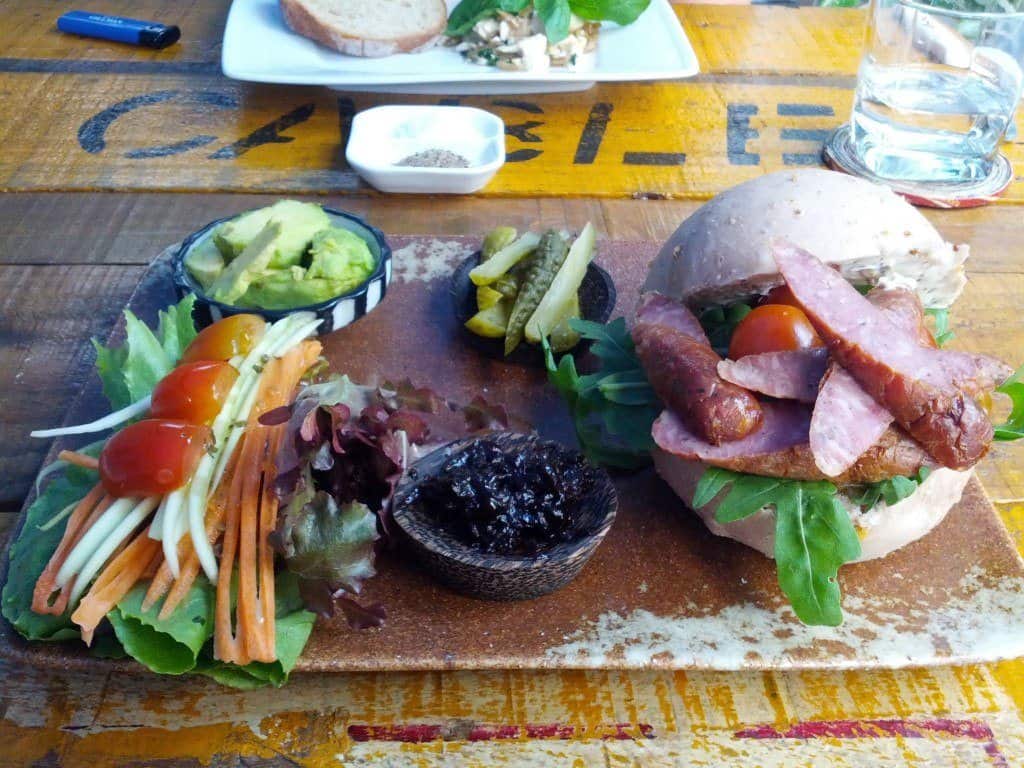 The Italia ($5, cured peppered pancetta ham with olives) is another I'd put my name to, along with the Pumpkin Soup ($3.50, made with whole-grain mustard, served with bread) and Fresh Pancakes ($4, with mango, banana and passion fruit) for breakfast. Also on the menu are lots of smoothies, shakes, and juices to suit any taste.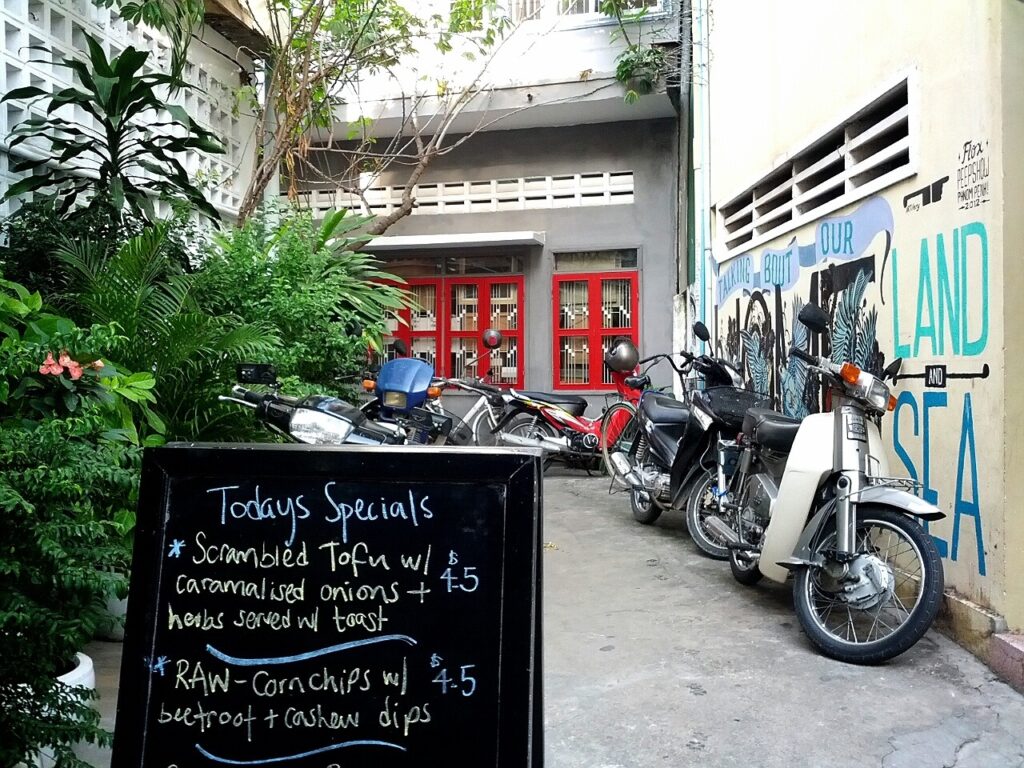 Drinking
Much like the food and restaurant options, there is such a variety on offer.
Cozy, with some of the comfiest couches in Phnom and the friendliest servers.
Decent food and drink menu, as well as a free pool table and lively music. A regular after-work fixture for me.
Cambodian Beer Gardens
Across Cambodia, there are many outdoor beer gardens, with jugs of beer for around 6,000 Riel ($1.50), towers of beer for 20,000 ($5), usually with a great selection of authentic Khmer food.
The most adventurous thing I managed was bull penis – once was enough.
Mekong River Bar
Perhaps the cheapest beer on Riverside, with $2.50 cocktails upstairs.
The balcony is great for people-watching, usually with synchronized groups of old ladies dancing around sunset.
Food isn't great, but there are plenty of other options around.
By all definitions, this is the only place to be for the big games.
All popular sports covered, they have three bars, four pool tables, two projectors, a multitude of flat-screen televisions, and the atmosphere to match.
Drinks and food aren't cheap compared to most places, but the quality and choice are good.
They do a Sunday Roast for around $10 if you're hankering for a taste of home.
There are other places to watch the games depending on where you are in the city: Paddy Rice on Riverside, Gym Bar on 178, and many other local places that have the odd TV.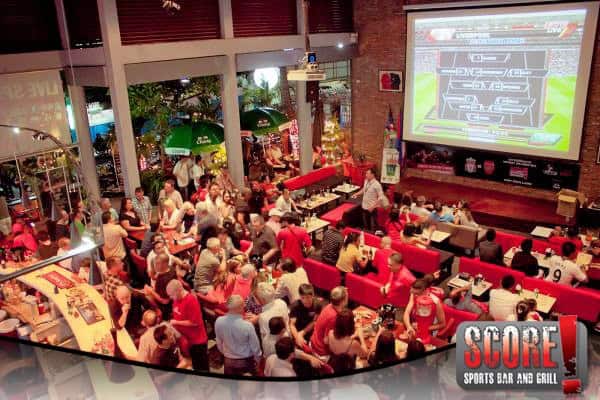 Zeppelin Bar
The best rock 'n' roll bar in Phnom Penh.
I mean, when you're only competing against one other place, that's not so hard, but it's a great place to meet like-minded people, knock back some 50 cent drinks, and request some classic rock tracks.
The owner never smiles but has one of the most significant record collections I've ever seen. Read a little about him here.
Phnom Penh is host to hundreds of eateries and drinking establishments; these are just a few of the regular places that shape the area for me.
Going Out
There are a couple of western-style clubs in the center of Phnom Penh, as well as lots of cool spots for live music, art, and the like.
Regular house DJs, the music varies in quality but is typically an excellent place to laugh with friends.
As with all clubs, beer is on the pricey side ($3+ a bottle) compared to the beer gardens, but most eat and drink beforehand in the connecting Golden Sorya Mall (an open area with lots of bars and restaurants and seating on Street 51).
Entry fees are required after certain times. Understand that this isn't Europe or South America. The Cambodian girls there are generally 'working' and expect remuneration the morning after.
Heart of Darkness
One-minute walk from Pontoon, Heart has no entry fee and is generally a good laugh.
Renowned for being gay-friendly, Heart and Blue Chilli (on Street 178) are excellent choices for the LGBT crowd.
Heart is cozy, has a small but decent dance floor, a good seating area downstairs, and an upstairs bar and pool table, winner stays on.
DJ Club
Two minutes from Ponton and Heart of Darkness, DJ Club is a local club, usually only Cambodians.
Foreigners are more than welcome, but there are few women after midnight due to cultural reasons (unmarried people tend to live with their parents and are expected home).
Music is hit and miss, drinks are the usual affair, but Cambodian clubs have their charm, with the occasional dancing performance to break up the night.
The German Cambodian cultural center has so much to offer. Music, film screenings (usually free), a gallery, DJs, German lessons, craft fairs, and more.
Check their website for listings to see what's going on. There'll be something you're interested in!
Equinox
On one of my favorite drinking streets (278), Equinox is a staple of the weekend crowd.
Live music is regular and good. Plenty of local and traveling artists make their way through their doors, as well as comedy and quiz nights.
Decent stock of drinks, a rooftop smoking area, and a (barely passable) pool table on the ground floor.
Keep an eye on their website or Facebook page for new announcements.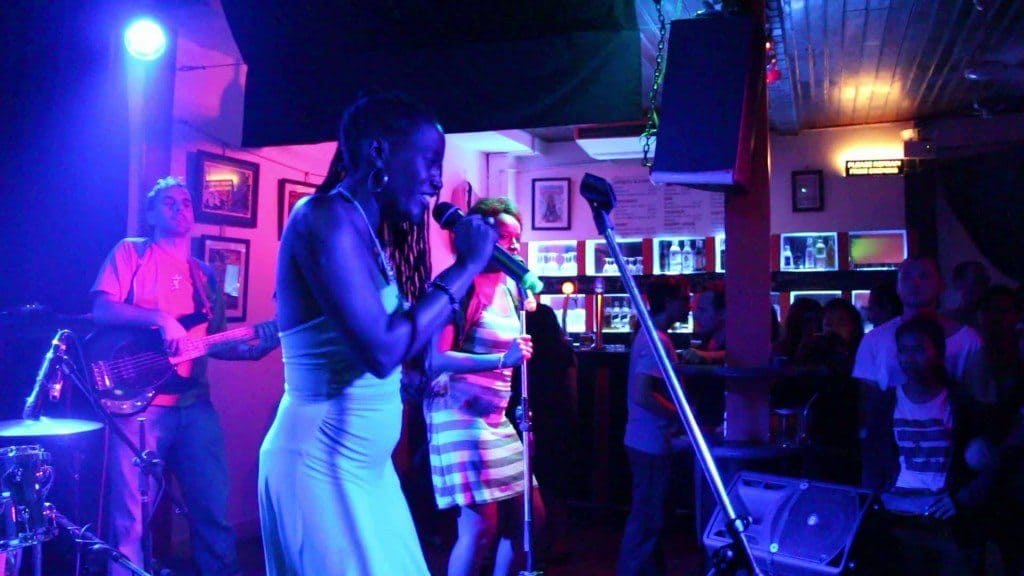 Among all these places, you'll come across so many others when discovering the place for the first time, some even on the same street.
Street 278, Riverside, Street 51, and the surrounding areas are favorite hangouts for expats and locals alike.
Just around the corner from Liquid and Equinox is Dosa Corner, for example, a small Indian restaurant serving up cheap dosas with various curries and bottles of beer.
Around the corner from there is the tallest sky bar.
There's so much to enjoy in my adopted home, music, drinking, dancing, eating, and go-karting. What more could anyone want?
Dipped his feet in 2008 and couldn't stop. From Cagliari to Phnom Penh, Tehran to New York, Adam has now settled in Medellín, Colombia, using teaching as a method of indefinite travel.
Planning a trip? Go Backpacking recommends: