Thwaaaack! The force of my hard plastic helmet smacking against a wooden crossbeam in the dimly lit Potosí silver mine tunnel left me momentarily stunned.
Only seconds earlier, Julio, a former miner, and our tour guide had warned us to look up, not down, as we entered a working mine in Cerro de Potosí, better known as Cerro Rico ("Rich Hill").
GO, GO, GO!
I had no more than a few seconds to regain my composure and appreciate the fact that I wasn't gushing blood from my forehead before I was urged to continue jogging deeper into the mine.
One-ton steel carts full of rock and ore could come screaming down the rails running through the narrow tunnel at any moment.
Julio had warned us if you're not in a safe place when they do, you're in grave physical danger.
I continued jogging but quickly found myself out of breath.
At 4,090 meters (13,420 feet), Potosí is the world's highest major city.
The mine we were entering was even higher, at 4,200 meters (13,779 feet), with the peak of Cerro Rico reaching 4,824 meters (15,827 ft).
Having spent the previous three days crossing the Bolivian Altiplano and the five days before that acclimatizing in the Atacama Desert, I thought I'd be okay doing the tour after only one night's rest in Potosí.
I was wrong.
It didn't help that we were in a tiny, dark, and enclosed space.
An entirely alien environment to anything I'd ever experienced. Compressed air hissed from pipes bringing oxygen into the mine.
I wasn't aware of it at the time, but a giant sinkhole had developed near the peak in 2011, and geologists warned the whole mountain was at risk of collapse due to how much it has been hollowed out over the last 500 years.
Our guide warned us not to touch anything yet said there was no need for face masks because the mine we were entering was wet, keeping airborne particulate down.
What was I doing inside an active third-world mine so dangerous it had claimed millions of lives?
And more importantly, how long was I going to last?
Arriving in Potosí
Having missed my flight out of Uyuni, I traveled by bus to Sucre to catch a flight to Santa Cruz de la Sierra.
I was in a rush because my fingertips were still not feeling right, a symptom of altitude sickness.
I'd begun taking Diamox and vitamins the day before to ease my symptoms on a Bolivian doctor's advice.
While I wasn't feeling immediately better, I wasn't feeling any worse.
Before heading for lower elevations, I decided to squeeze in a night in Potosí, along with a tour of what was once the world's largest silver mine.
The bus arrived in Potosí at 3:30 PM, and I made my way to the colorful Koala Den hostel, where I quickly met some travelers who'd heard good things about Greengo Tours.
Within an hour of my arrival, I went with several of them to book a tour for the following day.
I then spent the remaining hour of daylight walking around Potosí, a UNESCO World Heritage Site, and back in the 17th Century, one of the wealthiest cities in the Western Hemisphere.
Old churches showed signs of the Potosí's former grandeur.
Today, Potosí is the capital of the poorest department of South America's most impoverished country.
Miner's Market
The following day, I enjoyed a big breakfast courtesy of the hostel before heading out to the Greengo Tours office with several others at 9 AM.
There, we met our passionate Bolivian guide, Julio César Morales Zambrana, a former miner with the 10 de Noviembre miner's cooperative, operating in the Pampa Oruro mine.
In 1989, he began learning English and transitioned from working in the Potosí silver mine to working as a tour guide and translator.
We boarded a local bus to the Miner's Market, a place where miners can shop for their tools of the trade, as well as their vices.
They can buy everything from coca leaves and cigarettes to electric headlamps and dynamite.
We were all aware ahead of time that we'd need to chip in and buy the miner's "gifts" at the market.
Julio was a character, but it was clear he cared deeply about miners and their welfare.
Julio explained the importance of coca leaves, which the men chew religiously both inside and outside the mine.
The documented benefits of this Andean tradition are numerous, including help with high altitudes, appetite suppression, improved digestion, and boosts in energy.
I'd tried chewing coca leaves during the Salkantay trek to Machu Picchu but didn't care for it.
He also showed us the cheap cigarettes the guys like to smoke in the mine.
As if inhaling asbestos, arsenic, and other cancer-causing agents aren't harmful enough, many smoke tobacco.
Another favorite is plastic bottles filled with 96% alcohol. Yes, the miners drink almost pure alcohol during their breaks in the Potosí silver mine.
And that leads us to dynamite, the essential explosive for blasting new tunnels through the increasingly hollowed-out Cerro Rico.
In one of the shops, we learned dynamite in and of itself is neither delicate nor dangerous. To prove this point, I stuck a stick in my mouth for a cheeky photo.
I asked Julio about buying face masks, but he said the mine was low enough and wet enough to be necessary.
This sounded strange to me, but with nobody else worried about masks, I didn't go out of my way to buy one.
[Sidenote: Theoretically, it makes sense, but given the trouble I had breathing sans mask, if I'd bought one, I'd probably have taken it off once inside the mine.]
By the end of our trip through the market, we'd all chipped in to buy various gifts for the miners, which we had to carry ourselves.
I made the mistake of paying for a two-liter bottle of soda that Julio suggested. I was then responsible for carrying the heaviest possible object.
I recommend buying the coca leaves or dynamite instead for those who've yet to take the tour.
Suiting Up
From the miner's market, we walked to a small staging area inside a dilapidated building.
A room contained the protective gear we would need to wear before entering the mine.
Everyone in the group put on oversized pants, green jackets, rubber boots, and a plastic helmet attached with a battery-powered electric headlamp.
We were each given a bag to carry our gifts, plus bottled water and cameras.
Due to the dust in the bags and mines, you must bring a protective case or bag for your camera.
Alternatively, use a dust/shock/waterproof camera.
We also had the chance to use the bathroom here, which I recommend doing as you may be spending several hours in the mine without another opportunity.
Outside the Potosí Silver Mine
At a quarter to noon, we arrived at the 27 de Marzo mining cooperative. If ever there was an entrance to Hell, this was it.
Old mining carts littered the grounds; garbage was everywhere. Brisk winds whipped up clouds of dirt.
Llama blood was splattered on the buildings and smeared thickly across a sign above the entrance, offerings by the miners to Pachamama ("Mother Earth").
The remains of those llamas, some bones and hair, could still be seen in metal buckets on the ground. Julio explained there'd been a sacrifice recently.
The primarily Catholic miners believe in God above ground.
On the other hand, Cerro Rico, known colloquially as "the mountain that eats men," is ruled by a demon called Tío.
In addition to consuming the coca leaves, cigarettes, and alcohol themselves, these items are also given as offerings to appease Tío inside the mountain.
It is believed that if you make Tío happy, he'll reward you with the discovery of a large mineral deposit (silver if you're lucky).
But if you do something to upset or anger him, Potosí silver miners are injured or killed in accidents such as cave-ins.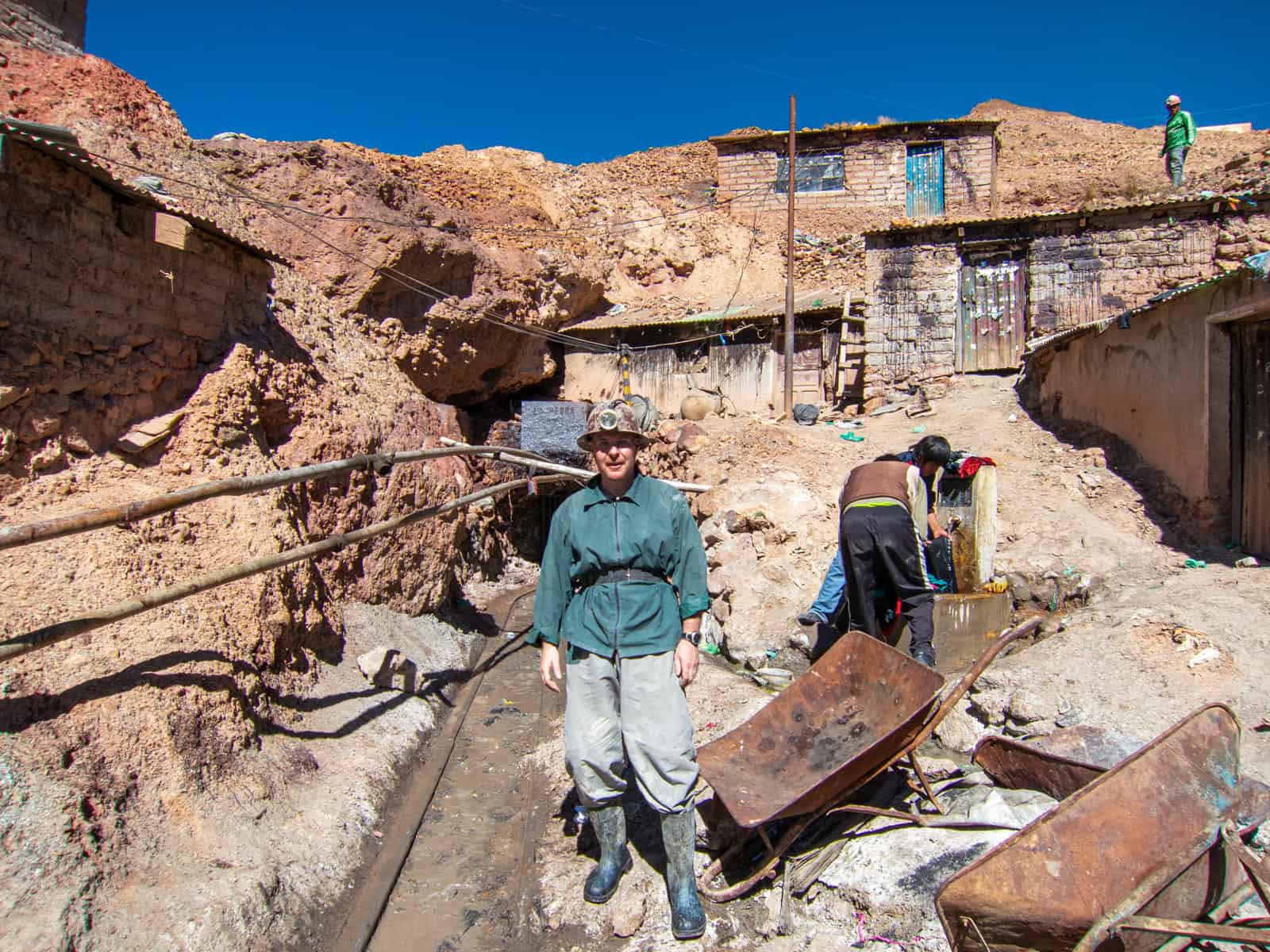 Cerro Rico was once the largest silver mine in the world.
The Spanish used slave labor to extract tens of thousands of tons of silver, with three to eight million people dying in the process.
Today, little silver is left, leaving the miners to risk their lives searching for less precious metals like tin, lead, zinc, and copper.
Those who survive accidents and cave-ins in the short term remain are at risk for Silicosis and other respiratory illnesses in the long term.
It's a well-known fact that everyone who works in the mine is trading an income two to three times the minimum wage for a reduced life expectancy.
Many career miners die by the age of 40.
Unfortunately, there are few other employment options for these hardworking and courageous men.
Before entering the mine, we briefly sat around, chewing some coca leaves with miners.
Like chewing tobacco, I find it a nasty habit, though given these men spent most of the day inside the mountain, I can't blame them for doing anything that helps take the edge off their work.
Julio gave us a final safety briefing before we entered the tunnel, warning us about the need to run when we first go in as there's nowhere for us to go if a mining cart comes flying down the tracks toward the exit.
Even the men "controlling" it would be unable to entirely stop such a heavy moving object before it was to hit any of us.
We had to depend on Julio timing our entry correctly.
At the very least, it's possible to hear an early warning sound made by the vibrations of the cart against the rails.
Here that sound, and you need to find an alcove, lest you be run over immediately.
Inside the Mine
Once Julio ushered us inside the Potosí silver mine, the race was on.
The sunlight faded quickly, and we were left with the light from our electric headlamps and some lights the miners were using.
Within meters of entering the mine, I ran straight into that crossbeam.
Had I been given a cheaper helmet, I'd have been knocked flat on my ass.
Thankfully, that wasn't the case, and I was able to continue jogging deeper into the mine, though now hunched down as low as possible.
Thirty seconds later, we were able to stop and catch our breath. I was breathing heavily.
I've never hyperventilated in my life, but I imagined it must've felt like what I was experiencing.
Before I was ready to continue, Julio urged us on.
There was a second guide who was following up on the rear for safety reasons.
I quickly fell behind as we made our way further into the mine.
In every nook where we stopped, Julio would explain a little more about the inner workings of the mine, but I couldn't take my mind off my breath.
Julio said that if any of us were having problems for our safety and that of the miners, let him know, and the other guide would lead us out.
He looked at me specifically, and I acknowledged his warning.
But what my mind wanted, my body did not, and after 30 minutes in the mine, I turned to the assistant guide and waved the white flag.
Until that point, to his credit, he had been very supportive and encouraging.
My fear of having a panic attack (exacerbated by the difficulty breathing due to the altitude) won out over delving deeper.
Exit Plan
The assistant guide relayed the message to Julio, and I confirmed my wish to make an early exit.
The assistant led me out the way we came but left me on my own for the remaining 100 meters. It was 100 of the scariest meters I've ever walked.
The fear of a mining cart plowing me down from behind was present in my mind every second and every step of the way.
I felt alone, despite passing a few miners heading in the opposite direction.
I'd only been in the mine for 40 minutes, but seeing the cylinder of sunlight stream through the exit was exhilarating.
My time waiting outside the mine was longer than anticipated.
While the rest of my group was giving out gifts to the miners, listening to their stories, tasting 96% alcohol, and feeling the vibrations of dynamite being detonated, I was left to entertain myself on the outside.
I noticed that regardless of how filthy they were exiting the mine, the miners cleaned themselves up with great care before descending into town.
I spoke with a few miners in Spanish, took photos, and paced back and forth.
I asked to use a bathroom and then regretted having done so after seeing more than one pile of human feces on the floor next to the squat toilets.
Two hours passed, and I was starting to worry. Where was the group? Were they okay? Do Julio's tours usually spend so much time inside the Potosí silver mine?
Eventually, they did come out, much to my relief.
I was beyond bored by that point and wanted nothing more than to get off the wind-swept, trash-filled mountain.
On the bus ride back to central Potosí, Julio apologized for the length of time inside the mine.
He said he got carried away talking to the miners, his friends.
At that point, I didn't care and was almost thankful my time was limited to 40 minutes.
It was enough. I'd entered the mountain that eats men, a verifiable Hell on Earth, and come out to tell the tale.
Child labor is a present-day reality inside the Potosí silver mine at Cerro Rico — another fact I was unaware of when I visited.
The Devil's Miner is an award-winning documentary about these child workers.
The full version in Spanish is available on YouTube, and the DVD with English subtitles can be purchased on Amazon.
___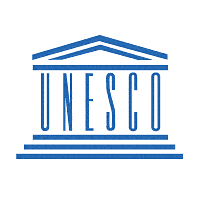 The City of Potosí became a World Heritage Site in 1987.
Click here for the complete list of UNESCO sites Dave has visited during his travels.
Dave is the Founder and Editor in Chief of Go Backpacking and Feastio. He's been to 66 countries and lived in Colombia and Peru. Read the full story of how he became a travel blogger.
Planning a trip? Go Backpacking recommends: